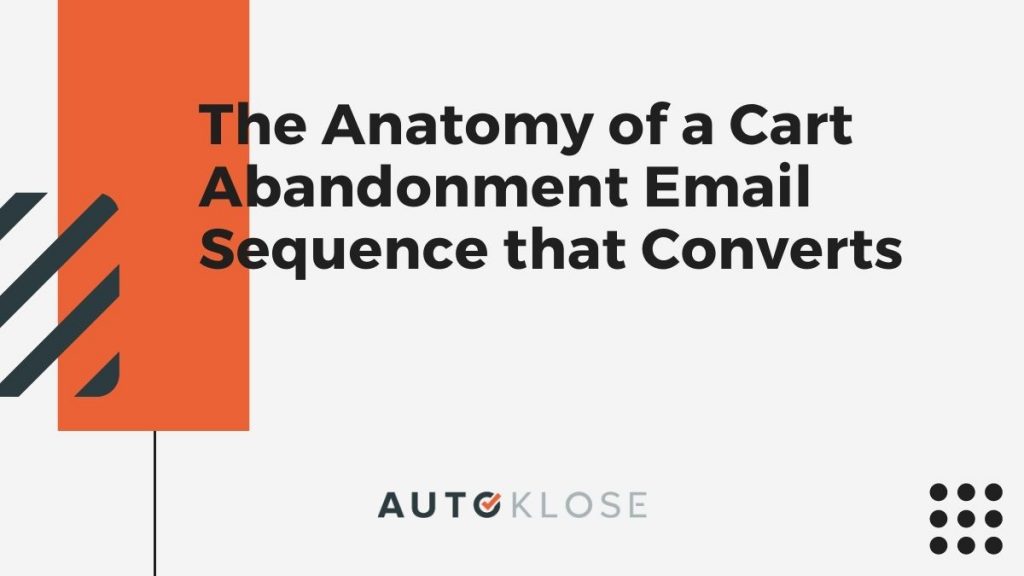 If you're selling online, cart abandonment could be the most significant drain on your potential profits. According to Sleeknote, ecommerce companies lose a staggering $18 billion in sales revenue in this way each year. The average ecommerce store loses over 75% of its sales to cart abandonment. In some industries, the abandonment rate is as high as 83.6%:
Source: SalesCycle
However, there are ways you can recover some of those potential sales. In this article, we'll discuss one of the most powerful tools you can use to get customers to return: the cart abandonment email sequence.
But first, let's ensure we're on the same page. What exactly is cart abandonment?
What Is Cart Abandonment and Why Does it Happen?
Cart abandonment is when a visitor to an online store puts items in their shopping cart but does not check out. If a store's cart abandonment rate is unusually high, the store owner should determine the reason and make the necessary adjustments to lower the rate.
The Baymard Institute surveyed over 4000 consumers and discovered the following principle reasons for cart abandonment:
Source: Baymard Institute
Not all of these reasons will apply to your store. It's a good idea to ask your prospective customers directly what made them abandon their purchase. A short survey is a great way to do this. You can then make adjustments accordingly.
For example, they might complain that the website crashes. If you hear this complaint several times, your ecommerce platform might be to blame, which is when a store owner might look for Shopify alternatives.
If shipping costs are the problem, you might offer a discount or provide free delivery over a specific amount. Furthermore, if your consumers complain about your delivery being too delayed, selecting to work with an order fulfillment company will help you to meet both of these goals in one go. You can choose among 3PL, FBA or Shopify Fulfilment if you don't want to deal with shipping yourself
Once you've identified the likely culprits behind abandoned carts, it's time to bring that rate down. In the next section, we'll look at how to create a cart abandonment email sequence that converts.

Creating an Effective Cart Abandonment Sequence
An email sequence is a series of automated emails sent in a specific order and triggered by a particular event or action. In this case, the sequence is triggered when a visitor puts products in their shopping cart but does not check out.
The emails in your cart abandonment sequence must give the customer a good enough incentive to overcome their objections and complete the purchase. Here are some elements you might want to consider for a high converting cart abandonment sequence:
Utilize Social Proof
Customers may abandon their carts because they are unsure of the quality of the products or the trustworthiness of your business. Leveraging social proof will boost your credibility.
Therefore, you might include a customer testimonial, a TrustPilot score, or any awards your business has won in your cart abandonment email. Here's an example from mattress retailer Casper:

Source: VWO
Social proof demonstrates to the customer that your products are of high quality, and your brand can be trusted. This might be enough to push them to complete their purchase.
Discounts and Free Shipping Incentives
Everyone loves a discount. According to a recent RetailMeNot survey, two-thirds of consumers have made a purchase based solely on a discount offered by the retailer. Invespcro found that a whopping 93% of online shoppers will buy more if offered free shipping options.
But don't offer the same discount to every customer who abandons their cart. You need to strike a balance between driving sales and protecting your bottom line. I recommend segmenting your visitors based on the items they left in their carts.
You might offer a percentage discount to those with a cart value above a specified threshold, and free eco-friendly shipping incentives for those with a lower cart value. Here's an example of a cart abandonment email with a free shipping offer from apparel company Huckberry:

Source: Smartrmail
Notice how the free shipping offer is in large print and positioned at the top of the email. It draws the eye immediately, and the customer will understand the offer even if they read no further. It might be enough to get them to click that "finish checking out" button.
Urgency and Scarcity
Fear of Missing Out (FOMO) is a powerful motivator. And the scarcity principle states that if something is in limited supply, people will want it more. Therefore, creating a sense of urgency or scarcity in your abandoned cart email sequence can work wonders. If your customers believe a product is about to sell out, or a discount will only be available for a limited time, it can spur them to take action.
Here's how Levi's does it:
The company offers a generous 25% discount and creates a sense of urgency by telling the customer that the offer is only available for 48 hours.
An Experian report found that emails conveying a sense of urgency enjoyed twice as many transactions as those that didn't. The answer is clear: appeal to FOMO if you want your cart abandonment emails to drive conversions.
Imagery
The purpose of your cart abandonment email sequence is to remind your prospective customer why they wanted the item in the first place. Including images is one of the best ways to achieve this.
If your visitor only left one product in the cart, that's the product you should depict in your email. Make sure the picture highlights the product's best characteristics. Here's an example from sportswear retailer Adidas:
Source: Sellbrite
But what if the visitor left multiple products in the shopping cart? In this case, depict either the best-selling product from their cart or the one that most often sells out.
A Compelling Call to Action
The call to action (CTA) is where you tell the customer what you want them to do. In this case, you want them to go back to your website and complete the purchase. Therefore, your cart abandonment emails must contain a clear and compelling CTA. You might use an instruction like "Check out now!" or "Continue shopping."
Don't be afraid to test different variations of your CTA, too. Even a very small change can make a substantial difference to your conversion rates.
Not sure how your CTA should look? Check out some amazing call to action examples to get you inspired!
Anatomy of a Cart Abandonment Email Sequence
Now that you know the elements to include in a high converting cart abandonment email sequence, let's take a closer look at how the sequence should go.
The typical cart abandonment sequence consists of three emails. According to Experian, companies sending three cart abandonment emails saw a 56% increase in revenue compared to those that sent only one. But more than three emails risks annoying the customer and driving them to hit the "unsubscribe" button.
But what should your three emails contain that will enable you to woo those visitors back?
First Email
Your first email's purpose is to remind your site visitors to complete their purchase and address any problems or objections. Therefore, the exact content will be based on the most likely reason the customer abandoned their cart.
Properly timing your emails is essential. The first email should be sent around an hour after abandonment to ensure maximum conversions:
Source: Rejoiner
After an hour, the act of "almost buying" is still fresh in the customer's mind. It's also unlikely that they've yet gone to a rival store and bought from there instead.
The first challenge is getting the customer to open the email. To do that, you'll need a killer subject line. Since an estimated 47% of email recipients choose to open an email based on the subject line alone, it's worth taking the time to get this right. It should be attention-grabbing, memorable, and appeal to emotion.
Do not offer a discount in the first email. You don't want to train your visitors to expect an automatic discount the moment they abandon a shopping cart. At this stage, you are merely giving a gentle nudge. Here's an example:
Here's a great example from FiftyThree:
In some cases, this initial email will be enough to push the customer to complete their purchase. If not? Well, that's when we move on to email number two.
Second Email
If a customer is ready to make a purchase, the first abandoned cart reminder will be enough. The second abandoned cart email targets are those who are still hesitating. At this stage, address their hesitation by highlighting the benefits of the product.
This email doesn't have to be dry and boring. In fact, you'll see a better conversion rate if you make it engaging and memorable. Remember, the tone must always reflect your brand identity and voice. Here's an example from Whisky Loot:
Source: Voymedia
At this point, you can also offer a discount or free shipping if you wish.
Send the second email 12 to 24 hours after the first. If you send it too soon, you risk annoying the prospect. If you send it too late, they may have either lost interest or purchased a similar product from a competitor.
Third Email
In your third and final email, your targets are those who have not been spurred into action by the previous two communications. This group is the hardest to convince, and this is your last chance to save your sale.
At this stage, you must evoke a sense of urgency and scarcity to prompt them to take action. You might remind them that the product is in limited supply or that the discount on the items will soon be gone.
Here's how Venus, a clothing retailer, does it:
Source: Remarkety
If you wish, you can also include social proof in the form of a review or testimonial.
Send this final email two to three days after the first. The whole sequence should take place over just a few days, while the memory of your store and product is fresh in the customer's mind.
Increasing Conversions
Cart abandonment is one of the biggest causes of lost sales for ecommerce businesses. With an average cart abandonment rate of 75.6%, you are potentially losing tens of thousands of dollars every year.
Fortunately, an effective cart abandonment email sequence can help you. Check out the results of this Rejoiner study that shows just how much revenue you can potentially recoup if you act quickly:
Source: Rejoiner
By sending a cart abandonment email an hour after the customer left the site, the business gained an additional $272,297.79 in revenue.
Creating the perfect cart abandonment email sequence requires time, effort, and practice. You may not get it right the first time. But if you follow these tips, you'll soon reap the benefits in the form of increased revenue and lower cart abandonment rates.
Here's to capturing all those sales!
Bio
Jimmy Rodriguez is the COO and co-founder of Shift4Shop, an ecommerce software to build SEO-friendly online stores. He's dedicated to helping internet retailers succeed online by developing digital marketing strategies and optimized shopping experiences that drive conversions and improve business performance.