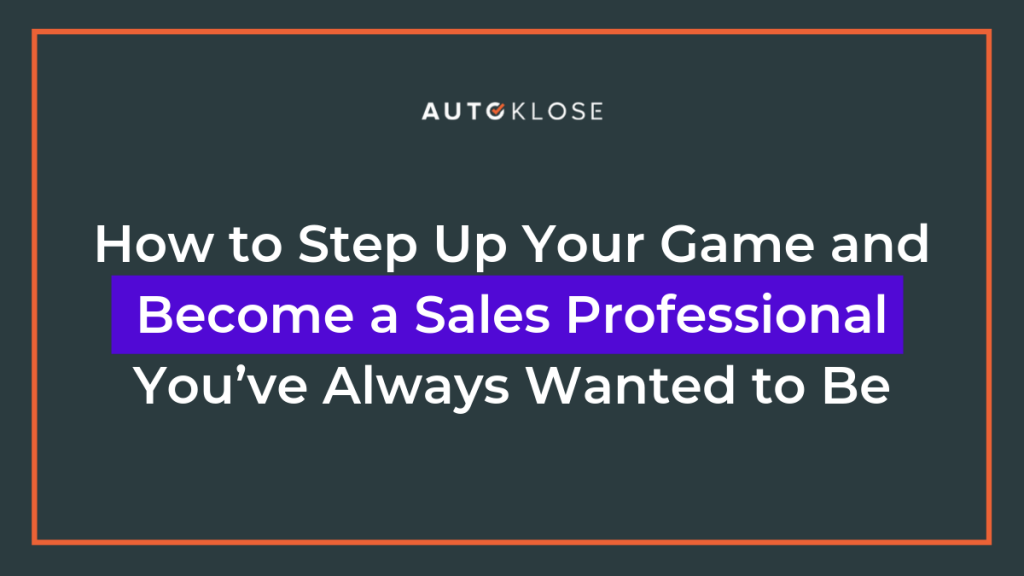 We've already discussed the topic of what distinguishes great salespeople from their average counterparts, and our LinkedIn community had a lot of tips to share.
This is the second blog post derived from our recent B2B Sales Handbook and the main points here are practical and actionable pieces of advice that can help you step up your game and improve your salesmanship.
Sometimes some obvious and commonsensical factors play an extremely important role in helping you achieve your goals and becoming the best version of yourself.
In other words, you don't need any complex and mysterious superpowers to unleash your inner great salesperson.
But that doesn't mean that you can do everything on your own – quite the opposite.
You need a coach and a team of dedicated people, who will help you navigate the white waters of the competitive marketplace. And, you also need to learn how to deliver an awesome demo.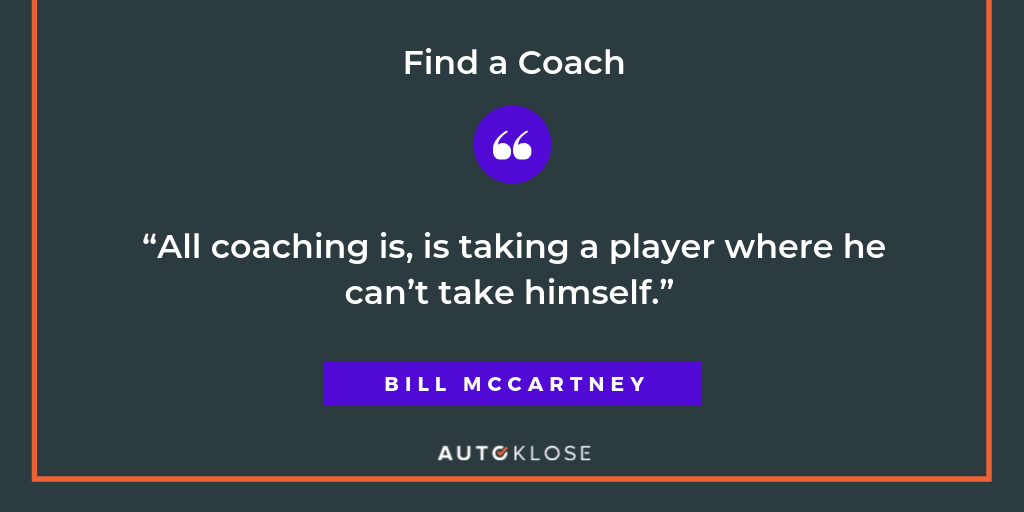 Find a Coach
"All coaching is, is taking a player where he can't take himself."
— Bill McCartney
It's important to introduce the concept of a follower <> peer <> leader. Every one of us, hard-working professionals, have peers, that is, friends and colleagues that are on the same or nearly the same growth level as we are.
We get to learn from as well as challenge each other.
We all have someone who looks up to us, and someone that wants to follow the same or a similar path. These can be our coachees, mentees, or simply followers. The ability to help someone reach the new heights is awesome but also very powerful and hence dangerous.
When coaching, we have to be careful not to project our ideas or goals onto others. As it's known with great power comes great responsibility.
The idea of coaching is to help a coachee to uncover their blind spots, ego, and other growth enemies; to help them understand their current position and what stands between where they are now and where they want to be.
That being said, we should all try to find a coach. It's of tremendous importance to find a professional who can help us take our life and career to the next level. We can walk alone, but together we can go and get there in a faster and smarter way.
Our entire team at Autoklose is networked in the follower<>peer<>coach type of relationships.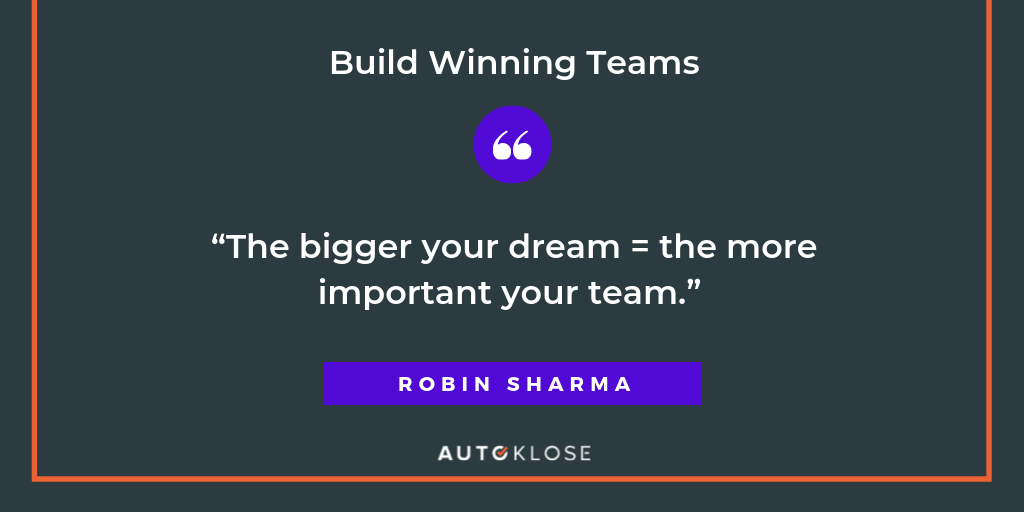 Build Winning Teams
"The bigger your dream = the more important your team."
— Robin Sharma
We believe that the team is everything. Everything starts and ends with the team. The team will take care of your business, customers, and other stakeholders. If you don't have the right team you cannot and will not build a remarkable long-lasting business.
This is how remarkable entrepreneurs build winning teams:
1) Show appreciation – say please, and thank you. Reward. Don't be too busy to do that.
2) Create a sense of belonging – your team has to feel that they belong to a special community. The sense of purpose it what will drive them. Encourage them to live by their culture and core values (which they share with your company), and make human connections.
3) When people come to work, they want you to help them grow. Your job is to challenge and develop your team. Give them proper feedback and do it often.
4) Celebration – don't wait for the end of the quarter or year to celebrate. Have a pizza celebration. Have an office party. Integrate fun into your corporate culture.
5) The secret to finding your passion is a sense of purpose. Always communicate with a compelling purpose. Constantly share a very clear, concise, and a bold vision of the future. Remind. People will give you their talent, energy, and their loyalty.
Four bonus tips:
Lead by example
Huddle often
Coach
Have fun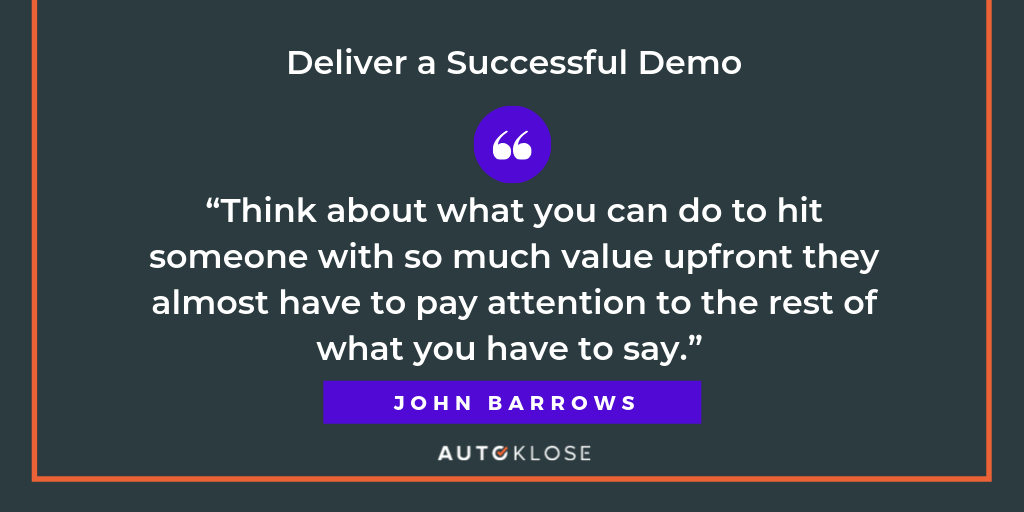 Deliver a Successful Demo
"Think about what you can do to hit someone with so much value upfront they almost have to pay attention to the rest of what you have to say."
— John Barrows
Before we dive into a quick story of how you will increase the effectiveness of your demos threefolds, let us pose a question:
What's the purpose of a demo?
In our opinion, it is the Proof. The proof that your product does what your marketing promises it does and that you can deliver value.
Your job is to give them that proof and do everything in your power to understand if there is a match; and if there is a match, go for your win.
Let's get into it.
Be a storyteller and don't show ROI calculations. You want to establish an emotional connection & get your prospects to make a decision based on it.
The best way to do that is by creating the before and after images in their mind, and highlighting the problem that you're trying to solve and comparing it with how the situation after you've solved will look.
Every time you get them to think deeply and calculate you are ruining the momentum and getting them off the right track.
There is a high correlation between a prospect who is asking lots of questions and a deal being closed.
So, how do you get them to talk more and ask important questions?
Ask open-ended questions instead of limiting, yes/no questions.
Don't drown them in a product demo.
Do the bare minimum and then stop.
Remember, the most successful demo is when a buyer asks a ton of questions.

Look often for engagement & always stay on track with concise messaging. 30 min should be fine. But if it is a more complex product that you are selling, better slice it into more demos.
John Barrows has a really nice principle called "time to value" – the more time it takes your prospects to understand the value of your product, the less likely they are to continue.
In the Autoklose case, we always start our demo with data and a campaign.
Don't save the grand finale for the end of your presentation.
It is counterintuitive but it works.
And that's also how you increase engagement earlier in the process because now they are asking questions. Besides, it will help you qualify them better because if you fail to engage them and have the questions pouring in during the quick "time to value," then they are probably not that much invested which means that they're not a good fit.
Also, if you start talking about the value first, then your potential customers will start asking questions. That's great because they feel that they're in control.
After that, you can use the momentum to slowly unpack the whole product.
A few more tips to have in mind:
Turn on your camera and use every chance to humanize your outreach. Having a camera turned on by both parties increases the likelihood of the deal being closed.
Don't leave on your instant message feed.
Know your product in greater detail – but don't show it all.
Know the industry of the prospect you are talking to.
Be able to answer questions about your competitive advantage.
Don't be harsh on yourself if you make a mistake.
Don't bad-mouth your competitors.
If there is a bug or a glitch, don't panic. The best strategy is addressing that elephant in the room and acknowledging it.
Fewer features will give more value.