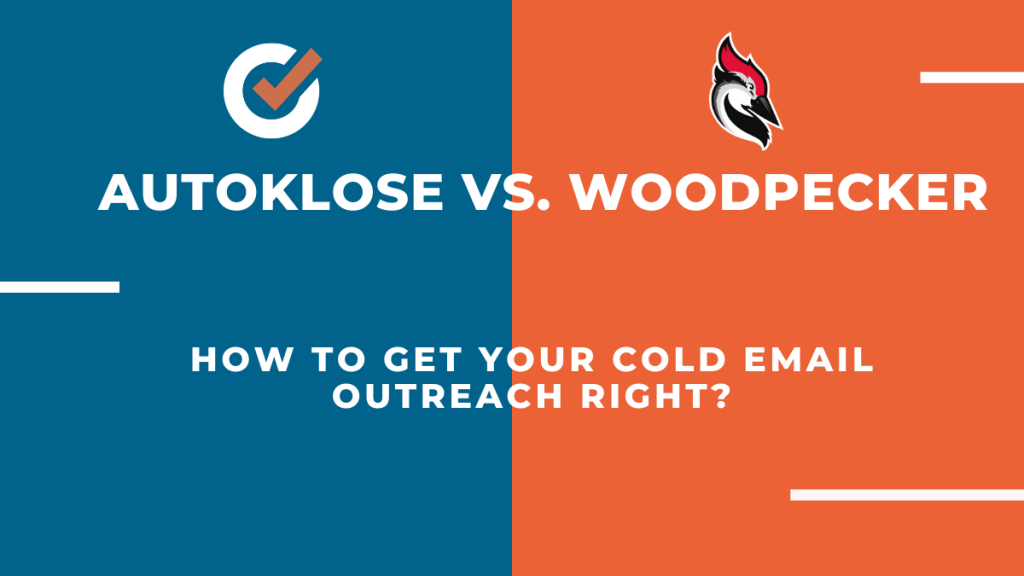 What's the best way to generate more prospects and build your funnel quickly?
In our opinion, and based on our experience, it's cold outreach.
Yup, we know rumor has it that cold email outreach is similar to spamming, which is why not many people think fondly of it. But that's a big mistake.
Cold emailing is a perfectly legal and exceptionally effective strategy for growing your customer base in no time.
The catch is that you have to play by the book and do it right.
Both Autoklose and Woodpecker are tools that can help you automate and personalize your cold emails so that they aren't classified as spam but as regular email messages.
But, despite being similar, these two platforms have significant differences.
Let's see which one you should pick if you want to nail your cold email outreach.
How to Choose Between Autoklose and Woodpecker?
If you need help automating your cold email outreach (and you probably do), you won't make a mistake by opting for either Autoklose or Woodpecker.
You'll easily build your campaigns by creating personalized cold emails and follow-ups and scheduling them to be sent directly from your inbox.
Also, whenever a prospect replies to an email, they're removed from the campaign, meaning that they won't receive additional follow-ups.
Finally, both platforms send emails like a human would do manually – one by one, and this is one of the most important factors for a good deliverability rate.
However, that's pretty much where their similarities end.
Let's discuss the main differences to help you choose between the two.
Autoklose boasts auto-unsubscribe, the Lead Qualification Points System, and a number of automations, all of which help you manage your email prospecting and sales engagement activities in a time-efficient manner.
Autoklose comes with a B2B database packed with over 40 million contacts with emails and direct dials from different industries. Besides that, our AutoVerify feature allows you to clean and verify your existing contacts. All this will supercharge your list-building efforts and boost your deliverability rate.
Autoklose offers two types of email campaigns – drip and regular.
Autoklose's Live Dashboard puts all your and your team's campaign stats at your fingertips. These metrics are real-time and accurate, which allows you to act right away and engage your prospects at the right moment.
Autoklose offers a number of highly-customizable email template sequences for different business situations. Our powerful Template Analyzer scans your campaigns for spam and highlights words and phrases that are problematic.
Autoklose boasts Sentiments™, a feature that tracks your replies and filters them based on the level of engagement.
Woodpecker has engagement-based follow-ups, meaning that they're triggered based on Opens and Clicks.
This is a TL;DR of the main differences, and if you're interested to learn more, book a demo here.
What Makes Autoklose Shine When It Comes to Cold Email Outreach?
No need to be humble about all the features, functionalities, and benefits Autoklose brings to the table.
We've been polishing our platform from the MVP phase and trying not only to meet but exceed our customers' expectations and help them succeed in their cold emailing efforts.
Apart from the obvious features that you can see the moment you log into your Autoklose account, there are many powerful and yet hidden gems under the hood ready to rev up your campaign performance.
1. Automatic Unsubscribe Link
When we're talking about not being marked as a spammer, it's crucial that you don't send unsolicited emails to your prospects. This can be challenging when you're reaching out to a lot of people, which is why Autoklose has a nice feature that will automatically move the prospects who click on the Unsubscribe link in your email to the Do Not Email list.
This means that you don't have to worry about sending an email to someone who has unsubscribed from your list.
Besides that, our Autoklose Sentiments™ feature (more on that later) can identify the context of a reply and decipher its meaning. So, when a prospect says something along the lines of "Don't write to me anymore," they will be automatically unsubscribed and moved to the Do Not Email list too.
2. Autoklose Points System
Autoklose Contacts tab features a cool functionality – you will see a number assigned to each and every one of your prospects.
This number shows how engaged a prospect is, based on opens/clicks and the type of a reply (Sentiments). The more points they have, the more interested in your offer and engaged they are. This can help you qualify your leads and spot the ones that are worth your time and energy, and most likely to convert.
3. AutoVerify
Building a list is a central task of successful cold email outreach. If your contacts aren't up-to-date and verified, you're both wasting your resources and risking being labeled as a spammer. Outdated and defunct email addresses are used as spam traps, so if you send emails to such addresses, your ESP will suspect that it's spam.
Autoklose AutoVerify is a feature with which you can validate emails on your sending list and improve your deliverability, sender reputation, and domain authority, all of which will keep you away from spam folders and blacklists.
4. Autoklose Sentiments™
With Autoklose Sentiments™, you'll have an organized insight into how engaged your prospects are. It's a smart way to track replies and categorize them into five groups – Engaged, Not Interested, Out-of-Office, Autoresponse, or Unsubscribe.
It will save you a lot of time, as you can filter all the responses based on these five categories and plan your next steps.

5. Live Dashboard
Our Live Dashboard displays real-time metrics and analytics such as daily and hourly open rates as well as top 3 warmest prospects, most clicked links, and converting templates, thus allowing you to monitor your prospects' activities and act accordingly.
In other words, you'll be able to identify the best timing to send your emails and figure out what works and what doesn't.
Just a glance is enough to see how your and your team's campaigns are progressing, as Live Dashboard shows all your stats in one place.
6. DataUnlimited
One of the biggest pain points every salesperson and marketer faces is finding fresh prospects.
Autoklose has a huge database packed with over 40 million B2B leads (and counting) from different industries.
A powerful filter allows you to select and organize them based on different parameters such as industry, title, seniority level, company size, etc. and add them to your campaigns. That's a convenient and pretty quick way to fill your funnel.
7. Drip camaigns
In Autoklose, you can choose between regular and drip campaigns.
Regular campaigns have the purpose of establishing a connection with your prospects and nurturing them. These are behavior-based and trigger-based, meaning that follow-ups are sent out when a recipient takes action (or if they fail to take action). Such a campaign is finished when a particular recipient responds.
On the other hand, drip campaigns have the purpose of educating your prospects about your company's products or services and they consist of multiple pre-written email messages scheduled for specific dates and times.
Woodpecker features engagement-based follow-ups, meaning that the platform will automatically send follow-ups based on opens and clicks.
Closing Words
As you can see, Autoklose and Woodpecker have certain similarities, but they also have a few key differences.
However, A B2B database packed with over 40 million contacts, lead qualification points system, and live dashboart to track your campaings, make Autoklose a clear standout.
Go ahead and book a demo with our experts to find out how Autoklose can help you succeed with your cold email outreach efforts.