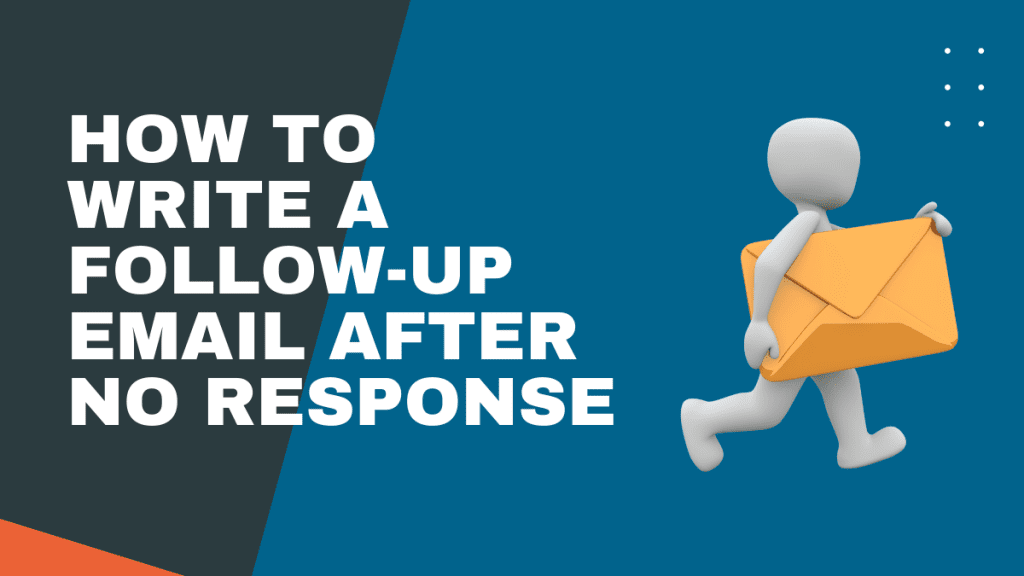 The odds are that your carefully crafted prospecting email won't generate responses from all recipients.
But that doesn't mean that you should give up on them and leave all those business opportunities on the table.
Most people feel uncomfortable when they have to follow up after their previous message resulted in nothing but crickets.
Here are some tips for crafting your follow-up email after getting the cold shoulder. 
1. Revisit Your Initial Message
Many sales reps and marketers tend to soften their approach in order not to come off as too pushy.
They believe that being direct and to the point will scare prospects off; instead, their messages come across as vague.
Leverage Micro-Closing
"I'd like to hear from you" isn't a question that calls for a response.
In other words, prospects sometimes don't understand what you want them to do.
To prevent this misunderstanding from happening, it's important to include a micro-close in your first email (and every subsequent follow-up.)
Closing doesn't refer only to the final instance of signing a deal. Every step leading to that moment is one micro-commitment on the part of your prospects.
Here are some examples:
Getting your prospect to respond to your email,
Moving forward from email correspondence to the phone,
Engaging them for a couple of minutes longer
Scheduling a demo,
Booking a sales appointment,
Starting negotiations about logistics, pricing, etc.,
Asking for a sale,
Sending a formal sales proposal.
All these gradual small wins lead and contribute to the final sale.
Be Straightforward 
You won't achieve much by beating around the bush.
Instead of being ambiguous or vague and saying something along the lines of "It would be great if we could catch up soon," go for firm questions that are more likely to elicit a response from your prospects.
"Are you free for a 15-minute call this Friday?" is an example.
Make sure to prompt your prospects to take action.
2. Determine How Long to Wait Before the Next Follow-Up
If you wait for too long, you risk that your prospects will forget about you, but if you follow up too quickly, you'll reek of desperation, which can be annoying.
We can safely assume that if someone doesn't respond to your email the day they receive it, they're not going to respond at all.
Of course, there are those who might really be busy and those who forget.
So, hitting that sweet spot between being persistent and annoying is crucial but, at the same time, challenging.
It's best to wait for 2 to 3 days before following up. Make these pauses longer with every next follow-up to prevent being perceived as a spammer.
Having the right follow-up strategy in place will help you with determining how many follow-ups you should send and structuring a successful email cadence.
Don't forget to monitor your metrics and adjust your campaigns accordingly.
3. Tweak Your Close Every Time You Don't Get a Response
We've already discussed the necessity of including a close, but if you already did that in your initial email, it's a good idea to review it and see how you can improve your odds of generating a response.
Try Lowering the Bar
Your next step should be removing any potential friction and lowering the bar a bit.
What this means is that your close should be easier to accept.
So, if your initial CTA revolved around asking for a meeting, this time, you can ask your prospect to refer you to the right person in their company who could be interested in your offer.
Get Personal
The more unresponded follow-ups, the more general your close should be.
You can even take things to a personal level and disconnect from work.
By asking them a personal question, you'll be more likely to elicit an answer.
Besides, this way, you'll humanize the entire conversation and show that you're a real person and not just someone trying to hit numbers.
After receiving a response, you can subtly go back to business topics.
4. Diversify Your Channels
We love email as it's very effective, but there are other channels that should be included.
Your email outreach is more likely to be successful if you start warming up your prospects by reaching out to them on social media or via telephone calls or video.
This is particularly important if your response rate isn't satisfying.
Social Media Platforms
Social selling is a popular strategy that should be among your top priorities.
Your prospects are on LinkedIn, and you should use this platform to find out more about them and their business endeavors, as well as to connect with them there.
This way, when they receive your cold email, they will already know who you are.
Add Video to Your Email Messages
Video is a powerful format that can achieve an almost 1:1-meeting effect.
So, when you're sending a cold email, it's a good idea to personalize it by including a video of yourself. It's much easier to establish rapport and connect with your audience when they can actually see you and hear you talk.
Autoklose makes this possible and easy with a GoVideo feature by Vidyard. This means that you can record a video and edit it without leaving your campaign editor.
5. Adjust Your Goals
Before you start composing your follow-up, make sure to reconsider your goals and decide what you want to achieve.
Don't let this confuse you – it's true that your ultimate goal is the same, and that's to sell, but in order to achieve it, other smaller goals within your campaigns will most probably change.
As every situation is unique, you need to adjust your follow-up based on the performance of your initial email and prospects' past engagement
So, have a clear idea about what you want from every individual follow-up before you start working on it.
Autoklose Decision Tree allows you to personalize your email sequence by tailoring your follow-ups so that they reference your prospects' actions or behaviors.
For example, if they open your email but fail to reply or click on the link, the next email in the sequence will reference this.
Decision Tree will help you create dynamic email sequences that will adjust different elements of your emails, such as tone, messaging, or links, taking into account every individual recipient's actions.
6. Use Simple Language
Simplicity plays an important role in catching your prospects' attention.
Don't try to impress them with high-flown language, complex phrasing, and industry jargon. It will only alienate them, and all your time and energy invested in composing a message will go to waste.
A comprehensive, 40-million email study from 2016 concluded that the most effective emails had between 75 and 100 words.
What's even more interesting is that the emails that used a simple, third-grade level of writing had the highest response rate – 53%.
Source: Boomerang
So, using plain language, simple sentences, and layman's terms will help you actually reach your recipients and get your message across.
Tips for Composing a Follow-Up Email
 Here are a couple of important rules that will help you come up with a follow-up email that will generate a response.
1. Put It Into Context
Remind your recipient about your previous email or interaction that you had with them.
As you can't be sure that simply mentioning this will ring any bells, you should offer a short reminder that will tell them what your email (or interaction) was about.
Don't elaborate – a simple:
"I'm reaching out in order to remind you about my previous email that I sent on Monday about (say what it was about) will do.
Or:"Have you had a chance to read my email in which I asked you (repeat your question.)
2. Don't Touch Base Just for the Sake of It
Your follow-up email will work only if you add value.
Always have something useful and relevant to offer or provide to your recipients. Make your email click-worthy.
This can be information about a free webinar, your latest e-book, or a consultation that you won't charge. Show them that you can be a helpful asset.
Here's an example of that:
Interested in a solution to the problem you asked about?
Hi Mike,
I saw your post in which you asked about the best way to generate leads during social distancing, and I decided to reach out to you because I came across this cool and informative resource on the topic: LINK.
Check it out, and if you're free next Monday, we can jump on a call to discuss it in more detail because I'd like to share my ideas on the topic with you.
Regards,
[Name]
3. Make It Fun
Receiving a fun and personal email in our stuffy, B2B world is like a breath of fresh air.
And you can be sure that your recipients will take notice of it.
In order to elicit at least some kind of answer and find out where you stand, it's a good idea to resort to a little joke. For example, you can say something like:
Hi George,
I'm aware that you were too busy to respond to my email, and I get that. I'd appreciate if you'd take time to type a number in front of a response that best describes your current situation:
1. I don't care about your product. Leave me alone.
2. Too busy ATM. Reach out to me in 2 weeks.
3. Tell me more.
4. Come Up With a Compelling Subject Line
64% of recipients decide to open an email solely based on a subject line.
Don't waste this opportunity to catch the eye of your prospects in their inbox.
Subject Line Lenght 
The length of your subject line matters a lot. Remember that most people use their smartphones to check their email, so make sure your subject line is displayed in its entirety on their displays.
Autoklose analyzed 700,000 emails to identify how many words the successful subject line contains.
Here's what we found:
Make Your Subject Lines Relevant 
Another thing is making your subject line relevant.
Tell your prospects that you have already reached out to them in case they have missed your email:
Got my previous message?
Let them know you included something they might consider useful. This can pique their interest and get them to click and see:
Sales resources for [Company Name]
Mention a pain point and suggest there's a solution in the email:
Want to save 6 hours a week?
Be bold and cheeky, but only if you know your audience won't mind:
Here's why your cold outreach sucks
Use a hyper-personalized approach by researching your prospect and referencing a blog post they published, their new promotion, or something related to their company.
This way you're showing that you're familiar with them, thus showing the message isn't part of an email blast.
This makes sense only if it's a potentially big client since it takes time to learn more about them:
Congrats on the promotion!
Question about your recent blog post
In Conclusion
Don't get upset if the response rate of your initial email isn't great. Use your metrics and these tips to create an entire follow-up sequence that will capture the attention of your prospects. Be cautiously persistent and don't give up, but don't spam your prospects every day. Finally, use the right tools to automate your cadence without sacrificing personalization.