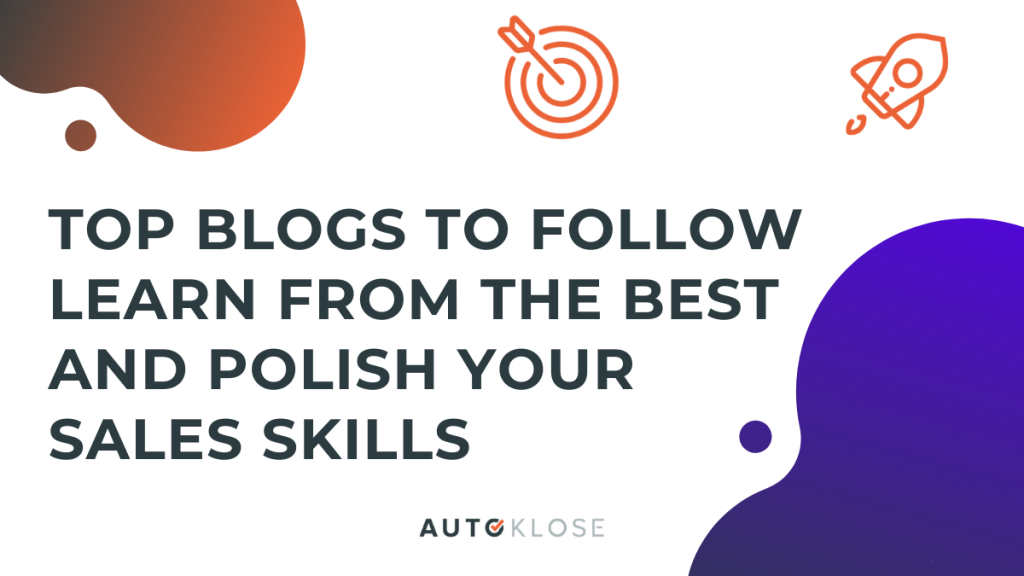 We know that you're a busy sales professional whose main goal is to klose, but in the spirit of lifelong learning, it wouldn't hurt to read a couple of interesting blog posts a week. 
Naturally, our own blog is highly recommended as we try to cover the most important areas of being a B2B salesperson and offer different tips and tricks drawn from our very own experiences.

The Autoklose blog attempts to be your all-around source for a gamut of sales- and marketing-related topics and issues so that you can make the most of all your automation efforts and boost your performance and improve your bottom line.
Here are some that we highly recommend as they make for interesting and information-packed reads that can help you expand your horizons and achieve your goals faster.
This should be your starting point, as HubSpot, besides offering indispensable tools for every sales rep, also thinks about helping all of us optimize our prospecting efforts, funnels, conversion rates, and generally speaking become more efficient and innovative in our approach to sales.
HubSpot's blog on sales is suitable for both sales reps and execs, as it covers a wide variety of different topics on different levels.
Some well-known names are among their contributors, which means that you'll be able to read blog posts by the likes of Anthony Iannarino, Grant Cardone, or Jeff Hoffman.
Topics cover every imaginable aspect of sales life, including cold calling and emailing, crafting a perfect subject line, getting a response from the CEO, or strategic planning for sales operations. 

The man behind this blog is John Barrows, a sales rep turned highly successful sales trainer, and his idea is to share his expertise and experiences he has amassed throughout his two-decades-long career.
His blog posts packed with valuable tips and key takeaways, but that doesn't mean that they're generic and long-drawn-out. John jazzes them up with numerous anecdotes that help bring his narrative to life and make it very personal and entertaining.
Such an approach results in memorable and engaging.
You'll learn how to deal with common objections, deliver stellar presentations, unearth what makes you tick, and sharpen your sales chops.

Heinz Marketing is a prolific blog – these guys release a new post on a daily basis.
Every salesperson and marketer can find a lot of useful insights for growing their contact lists.
Apart from your regular blog posts on how to build a pipeline, create an effective content marketing strategy, or grow your professional network, you'll also benefit from two other special features:
Matt's App of the Week is penned by the president of Heinz Marketing, and he discusses different useful apps in detail and explains why you should use them.
How I Work is a section in which some of the most successful B2B leaders achieve productivity and efficiency.

You've most certainly heard of G2 Crowd, and you most probably check different software and app reviews on their website.
Their blog is seamlessly organized according to different topics so that you can expand your knowledge on operations, commerce, software development, HR, and productivity, among many other things.
Given that this blog has several noteworthy contributors who are well-versed in their respective fields, their content is relevant and of superb quality.

The name of this blog says it all – tons of valuable and easily implementable sales hacks are within your reach.
The thing that sets this blog apart is that unlike many others, it tackles some important and frequently neglected fields such as sales enablement and sales operations. 
Also, besides publishing a detailed and useful post almost every day, Sales Hacker has plenty of other content types to help you crush your quota. Webinars, ebooks, podcasts, and videos they produce are also top-notch and worth paying attention to.

A top sales trainer David Priemer takes a unique scientific and data-driven approach in discussing sales.
He's willing to go well beyond usual tips and lists that you can find on other blog posts and delves into psychology, research, and various exercises that can help you optimize your sales.
Blog posts are written from different perspectives and take various factors that can affect the way you sell into consideration, thus making you rethink your existing routine and improve it.

This blog boasts being heavily backed by accurate data obtained by analyzing millions of sales conversations with the help of AI.
This advanced method makes sure that readers will have a clear idea about what distinguishes great salespeople from the average ones (if this rings a bell, that's because we wrote a community crowdsourced blog post on the same topic).
Since their goal is quality and not quantity, their publishing frequency is approximately one or two blog posts per week. But all of them are comprehensive and detailed and make for an excellent read.

Most salespeople, execs, and leaders spend a great deal of time on this social media platform for professionals because of its numerous benefits in terms of networking, prospecting, keeping up with the latest trends, and learning new things.
That's exactly why you should also start following the company's blog. It will provide you with different tips for making sure that you make the most of all LinkedIn features.
Naturally, the main focus of this blog is social selling, and given that this sales tactic has proven itself to be extremely effective, you'd better polish your social selling skills and stay ahead of the curve.

This blog is mainly focused on SaaS founders and entrepreneurs, which means that it's brimming with collective knowledge on how to run a SaaS or startup, how to pitch, find investors, and other useful things that every struggling venture needs for growth.
Since it's packed with content suitable for different stages of the entrepreneurial journey as well as niches, various filters are available so that you can pick the posts you're interested in.

Sales and marketing go hand in hand, which is why this blog amalgamates these two and offers the content which leverages their synergy for the best results.
You can expect a comprehensive and well-rounded outlook on all things sales and marketing, as well as discussions on what works and what doesn't.
Top tips for sales development, social selling and the law of reciprocity, and best practices to deal with phone anxiety as a sales rep are some of the topics that you'll find on this versatile blog.

Our blog deals with a number of different topics that salespeople and marketing will find useful.
In order to make sure that all the blog posts we write provide solutions to their pain points and frequently faced obstacles and challenges, we turn to our users and ask them directly what topic they would like us to cover. Apart from that, we analyze and process the data from our customer support channel and pinpoint the most pressing issues of salespeople and marketers.
Another reason why our blog is a must read, lies in the fact that we frequently team up with other companies that offer complementary products or services, which allows us to expand our main focus and discuss other fields adjacent to sales and marketing. This means that you can find a lot of useful tips and tricks about using videos in your campaigns, or learn how to use automated meeting scheduling for your own benefit.