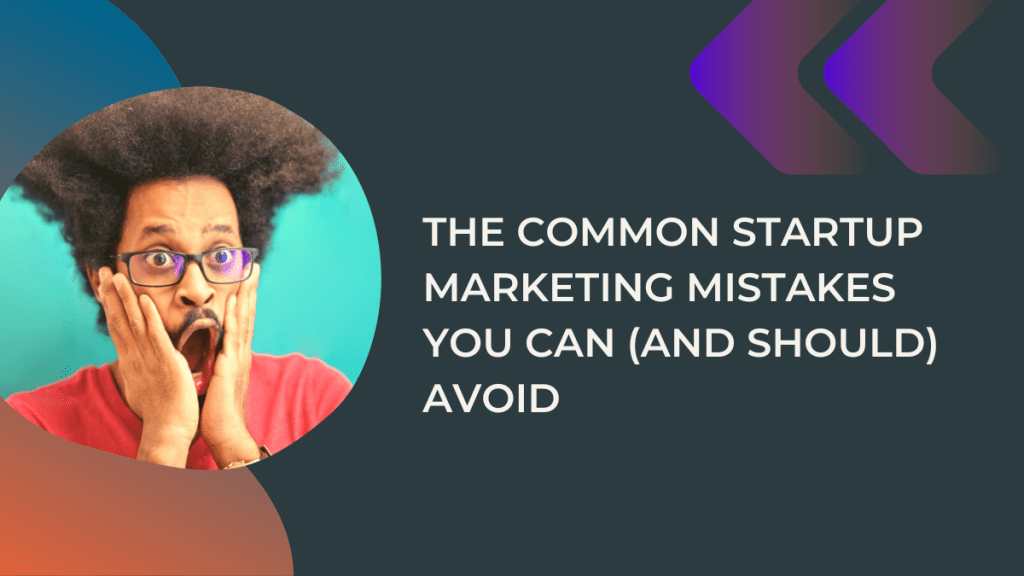 As entrepreneurs, we sometimes fall so in love with our business that we forget: Other people don't love it too — yet.
As longtime social media marketers, Stacy and Allana Jackson, co-founders of The B2B Mix, have made plenty of mistakes (who hasn't?). But their hard-won lessons can help the rest of us learn how to be proactive and avoid common startup marketing mistakes.
The business partners (and sisters) say new entrepreneurs need an optimized SEO website, which is key to unlocking a successful future for any venture. They recommend focusing on content that generates leads and connects with your audience and platform. They also discuss how to best leverage social media and design a budget with trackable outcomes in mind.
We all know that hindsight is 20/20, but what if you could alter the future and remove the messy learning curve of startup marketing? Would you travel back in time to start your marketing career again if you were guaranteed to avoid mistakes?
In the fast-paced and ever-changing world of B2B marketing, mistakes can sometimes feel like a badge of honor. But what if you can learn from others' follies instead?
In an episode of Growth Month, I am joined by the dynamic sister duo Stacy Jackson and Alanna Jackson, co-founders of The B2B Mix, to discuss our cringey startup marketing mistakes and how not to repeat history. We turn back the clock, pour some salt on old wounds, and give ourselves a firm reality check. Spoiler alert: Check your Twitter accounts now!
Every expert starts as a beginner
We were all new to startup marketing once, and we know that creating a brand, generating leads, and connecting with your potential client base can be overwhelming. Nothing compares to the rush of success or the sting of shame in our arena.
We constantly tell ourselves that the best lessons are hard to come by, even going so far as to repeat "no shame, no gain" as we remove a failed Instagram post and tagline. Stacy and Alanna like to focus on the positive and help the next generation of social media connoisseurs bypass these blunders.
Startup marketing mistake #1: Social media fatigue
Our conversation is hushed as we reflect on the dark day Facebook shifted its algorithmic ranking to prioritize users' friends and family in the News Feed over posts from business or other public pages. At one point, brands stopped investing in building websites because Facebook generated so much organic traffic and leads. Until the day they weren't.
I remember the day clearly because, at the time, my daily duties included writing Facebook posts for a business. It came out of the blue with no warning, and suddenly all my posts were tanking. I immediately thought: What have I done wrong?
Panic spread across the marketing community like wildfire. For the next few hours, folks and organizations deleted and re-posted, trying to regain the traction that came so easily the day before.
Alanna and Stacy nod in agreement over the mutual pain that still feels fresh after Facebook blindsided us. Alanna points out that we should always focus on more channels than just one. The overnight change was a costly marketing hardship, but it led marketers to diversify and put more energy into their websites.
Startup marketing mistake #2: Not creating a website with SEO
On the 0 to 5 Million podcast, Shawn and I often hear people express regret about neglecting to leverage SEO early on. It's the most overlooked marketing tool among new ventures and the most costly to go back and redo.
Stacy says when an entrepreneur launches businesses, they tend to get so focused on getting their website live and their products into the hands of future buyers that they forget: Nobody knows they exist yet.
"If you don't have the right SEO structure in place or information on your website, no one's going to find it," she adds.
Stacy believes the genuine enthusiasm you have for your businesses is to blame for these blinders toward SEO and marketing strategy. Recreating a website or brand after launch takes away from the hard-earned momentum you've slowly built.
The best bet is to use keyword, industry, and audience targeting as soon as you launch your social media and primary website.
Don't make spending painful: Create a budget to disprove misconceptions
In my experience, ad spend is a hurt locker. I've witnessed a lot of pain from misspent money and fruitless investments, but does budgeting fall under startup marketing mistakes? The simple answer is yes, but the long answer is like a Facebook relationship status: It's complicated.
Startup marketing mistake #3: The budget blues
There is a misconception about throwing money toward pay-per-click (PPC) or Facebook targeted ads — that they don't work. But they can if you have a strong strategy.
"Especially with Google search and social media ads, if you don't have a really clear thought process of what you want to accomplish … it's the same as flushing [money] down the toilet," says Stacy. Instead, she advises setting goals about what you'd like the ad investment to achieve and developing a specific plan to track results.
"Don't spend money you don't have right now, especially without a landing page or a purpose to your investment," Alanna warns.
Stacy's passion is discovering new tools that help people feel confident understanding their marketing. Wordstream is one of her all-time favourite ways to optimize SEO. She also recommends Ad Hoc Reporting for detailed ad management, AI advice on their performance, and tracking ad spending. Ad Hoc keeps her on track to ensure ad-buy ROI.
Identify the keywords, target audience, and sites you want to generate traffic from. The sisters recommend making decisions with stats and not a checkbook. The biggest thing new brands should avoid: Buying followers. Alanna says in the long run, pseudo-followers will always come back to haunt you. Without authentic engagement, sheer numbers typically won't earn any traction or momentum for a brand's future success.
Startup marketing mistake #4: Platform propaganda
Buying followers sparked a burning question: What mistakes do people make with social media and what should they avoid?
In the early days of social media, many marketers took a "rinse and repeat" approach. A brand posted a blog update, which was translated into a tweet, a Facebook post, and so forth. But duplicative posts didn't generate engagement. They were tiresome, time-wasting — and boring.
While my social media gaffes exist in my head rent-free, Alanna accidentally broadcast her most painful moment to thousands of people via a simple slip-up on Twitter: She posted a personal tweet from a client's account, not her own!
She quickly recognized the error and used the experience as a segue toward brand diversification. While Alanna's tweet was a mistake, it attracted attention to the brand's page because it was unlike any of its other messaging.
Stacy and Alanna point out that keeping your content fresh is a challenge. Recycling good content is fine, but wasting your energy by posting the same content — which tends to result in zero engagement — needs to end immediately.
Reuse the content that actively engages your community and tailor your messaging to suit each platform. Taking the extra step to make each post unique ensures your audience knows you're authentic.
Blast off for a successful future
We all start somewhere. Don't rush the process even when it feels like you're running behind. Trust your gut and work with people who support your vision. Don't let past mistakes dim your future — and step vibrantly into your present-day confidence. And, of course: Always check which Twitter account you're logged into.
This post is based on a talk produced as part of Growth Month. Organized by Autoklose, a VanillaSoft brand, this monthlong virtual event in June 2022 featured 48 experts who share insights, strategies, and tactics for growing startups while providing the opportunity to connect entrepreneurs, marketers, and sales professionals from around the world.