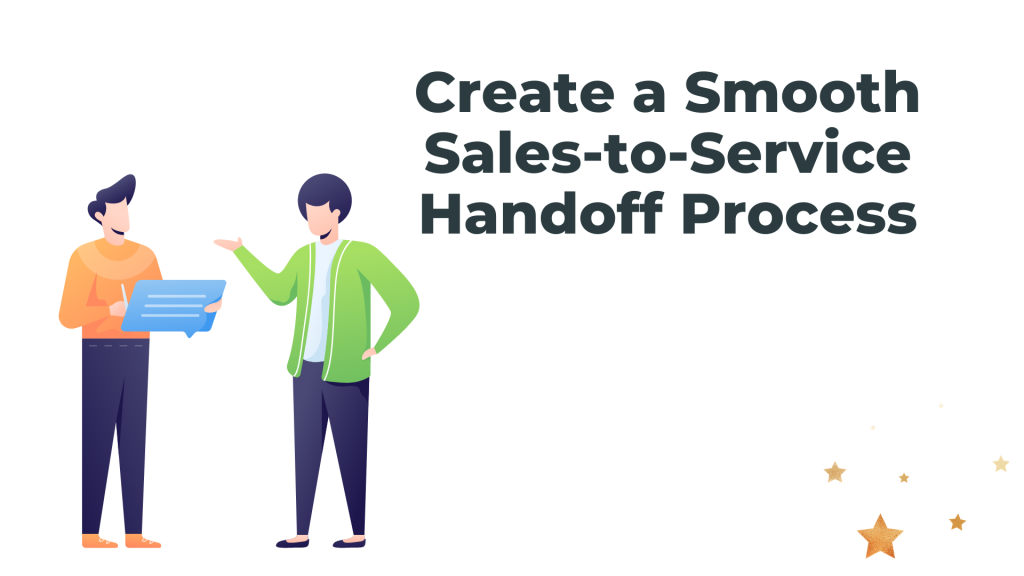 The ultimate goal of the sales process is closing a deal, right?
Wrong!
Yes, all salespeople supported by their marketing department strive to hit and exceed their numbers, but getting a prospect to say yes and put their signature on the contract doesn't guarantee a happy ending.
What you should strive for is customer retention.
Did you know that 80% of your company's profits come from only 20% of customers?
Similarly, the probability of selling to existing customers is between 60% and 70%, while for new clients, this figure plunges to 5-20%.
In a nutshell, the trick is to get your newly signed customers to start using your product or service as successfully as possible. Yes, we're talking about customer satisfaction and experience as indispensable parts of every successful sales process.
Proper onboarding followed by a smooth sales-to-service handoff guarantee to deliver consistent quality.
Here are some tips that will help you build a strong link between your sales and service teams and create a seamless transition for your customers.
What Is the Handoff?
Sales is in a way like a relay race – both individual and team efforts play an important role.
If marketing, sales, and customer success departments are well coordinated, the sales process results in a closed deal and a great customer experience.
Pipeline velocity matters big time too, but moving your prospects along the funnel has to be smooth if you want to prevent them from slipping through the cracks.
A sales-to-service handoff process is defined as the moment when a sales lead becomes a paying customer, and the sales team hands it over to the customer success team.
The former team focuses on shining more light on your solution's unique selling proposition and helping new customers understand how to make the most of it prior to the sale. The latter's task is to make sure the customer is consistently getting the value from the purchased solution throughout the course of the relationship.
Your sales team should make a (realistic) promise, while your customer success team should deliver on that promise. And that's what makes a successful sale, improves your retention rate, and creates predictable revenue.
The Importance of a Smooth Sales-to-Service Handoff Process
The key to sealing a deal lies in making an exceptional and memorable first impression.
But if you want this impression to last, you need to walk the extra mile all the time, even after your prospect has become your customer and paid for your product or service.
Because if your customer doesn't know how to use your product or service to their greatest advantage, or if you fail to streamline the implementation process, they won't extend their subscription or purchase from you ever again.
Moreover, some of them will decide to cancel the entire thing off before the end of the contract, if it's possible.
Given that many people tend to experience buyer's remorse, it's critical that they're immediately presented with all the resources they might need when looking for assistance. Not only will this convince them that they have made the right choice, but also make them feel confident that their relationship with the brand is evolving.
To sum up:
The handoff will set the tone for the entire business relationship. An exquisite customer experience means that you'll keep the new client and also generate some positive word of mouth. This is particularly important for subscription-based products and services as, in this case, it's renewals that make profits.
If the handoff isn't smooth, it can result in increasing the customer's time to ROI.
A long handoff process can make customers less excited about the product or service.
As you can see, if the handoff isn't smooth and if there's any friction, your customers might become frustrated and dissatisfied with your service and support, which will ruin the entire experience.
Given that almost 90% of customers leave after a band experience and opt for a competitor, it's obvious that you have to do everything it takes to wow them and make this transition seamless.
Here are some tips on how to do that.

Pre-Sale Stage
A smooth handoff process starts while the sale hasn't even been closed.
When the sales team obtains all the relevant information about a potential customer and has a high level of confidence that the purchase is very likely to happen, they should share all the information with the customer success team.
This will allow the service teams, both customer success and support, to prepare every element of the customer journey and welcome the new client properly. 
So, when the customer converts, there won't be any confusion regarding which customer success manager will take on the account, which in turn accelerates the transition and reduces the time to ROI for the customer.
Nobody wants to wait before they can get the ball rolling and start using the product or service they have purchased, so by filling in your customer success and support departments on all the relevant details about the deal, you practically lay the foundation for a seamless handoff.
In some cases, CSMs are automatically assigned based on the territory, deal size, industry, or availability. Regardless of how your company handles this, it's crucial to introduce the assigned CSM to the future client before the deal is closed so that they know who they will work with.
Another added benefit of such an approach is that your sales team will be able to set relationship management expectations early on in the sales process. New customers will be informed how the post-purchase relationship will look like, so there won't be any unpleasant surprises and hiccups down the road.
Some of the bases you should cover during the sales process include letting the customer know whether they will get a designated CSM or account executive, as well as whether they should use your general customer support channels.
Internal Team Handoff
A smooth handoff process requires keeping everyone on the same page.
But many companies make a mistake by not paying enough attention to internal meetings between team members.
Sales reps are goldmines of valuable information about a new client, and the best way to share everything they know is to set up an in-person or Zoom meeting. That way, no nuggets of information will be lost in translation or left behind.
Having a standardized questionnaire can speed things up, but meetings are essential for answering questions and discussing details that haven't been covered by the questionnaire.
This is particularly important if you're selling complex solutions that require custom plans for every client.
Your sales team should bring all their notes and information to this meeting, while the success team should prepare relevant questions.
Documentation
Your customer success manager should have access to all the documentation such as the contract value, the number of seats, as well as special terms.
The email correspondence and customer notes should also be handed over, together with the proposal versions and all the case studies and resources shared with the customer during the sales process.
Info About Stakeholders
Another thing that will help the CSM do their job is understanding the roles of the stakeholders, so it's very important to define who was rooting for this contract, who was against it, who made the decision, and who will remain involved.
Customer Goals
Last but not least, the CS team should have a clear idea about what the customer's main goals are.
This will allow them to provide effective support and prevent the customer from growing frustrated for not meeting their goals and expectations.
In other words, the exchange of the information should address and discuss the customer's biggest pain points, the solution they're currently using, their definition of success, and the reasons why they chose you instead of your competitors.
If they're abandoning a competitor in order to come to you, it's essential to shed some light on why that happened. This will help the CSM understand what bothers that particular customer and what the potential pitfalls and obstacles they can expect along the way.
Client Handoff
Although this is supposed to be a pretty standard step of the process, it's so much more than an introduction.
This is the moment when your customer success team should make an extra effort to impress the client and show them your company's commitment to helping them achieve their goals and succeed.
This requires preparing and sharing the materials in advance and making sure that the entire experience is customized and personalized.
We could say that this meeting sets the tone for the future relationship and dispel any doubts on the part of the customer that they made a mistake by choosing your solution.
Remember, this is the moment when you have to sell yourself one more time.
The client handoff should happen within 24 hours of signing the contract, but if there's a larger call involving a number of people, then the timeframe can be extended to 5 business days.
At this point, the customer success team should already have a detailed plan about how they intend to take the customer where they want to go and fulfill their expectations.
Implementation and Onboarding
Not all customers need the same approach when it comes to implementation and onboarding.
Some of them prefer the self-serve option, and you should provide them with answers to frequently asked questions together with a detailed introduction and explanation of your key product or service features and that's all. An email sequence can do wonders in this case.
On the other hand, some will require a more tailored approach, which means that they will need additional support resources and touchpoints. For such clients, establishing regular check-ins and a detailed on-site walkthrough can be highly beneficial.
Getting this part right is essential for securing renewals and referrals.
Tips for Improving the Sales-to-Service Handoff
Here are a couple of tips to help you optimize the sales-to-service handoff and ensure customer satisfaction in the process.
Align sales and service teams
You are already aware of how important is sales and marketing alignment for the success of your closing efforts. This is no different.
It's crucial to keep the lines of communication open and encourage your sales and service teams to work together in order to streamline the process.
They should share the information about the customer during every stage of the journey, keep track of customer reactions, and introduce regular feedback.
Introduce shared goals
The two teams should set a couple of shared goals that they will work towards achieving.
That could be positive client reviews or securing a renewal.
Use metrics to keep track of their performance.
Be customer-centric
Sometimes customer success teams tend to be product-focused and forget that it's their role to win the client over once again and that they're practically offering another product – customer service.
Instead of focusing on product features and specs, what they should do is nurture the client and help them navigate the implementation and set-up process, paying particular attention to customer experience.
Both teams are responsible for optimizing the customer experience from the beginning of the sales cycle all the way to the onboarding and implementation. By working closely with each other, sales and customer success teams will leave no room for errors and miscommunication, thus making sure that all the needs of newly acquired customers are met.