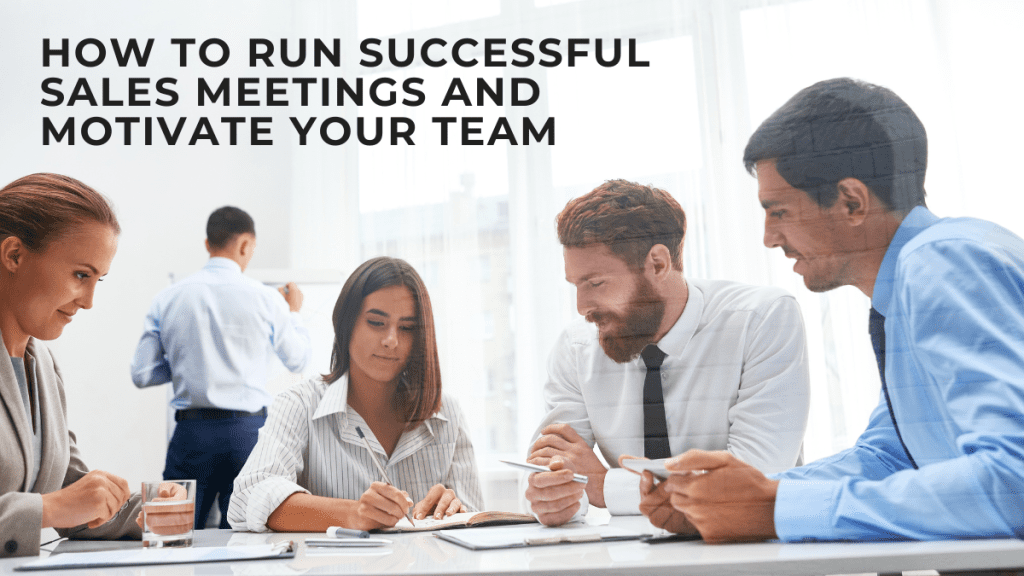 Here's what's wrong with sales meetings: not many managers are doing them right.
No wonder an average professional spends 21.5 hours per week in meetings.
In this post, we'll go through 18 ideas for productive sales meetings that will make your meetings purposeful and your sales team more productive and effective.
But, before we get to that, let's cover some basics on how to prepare for a sales meeting and what exactly are the elements of a successful meeting.
How to Prepare for a Productive Sales Meeting
Preparing for a sales meeting shouldn't be a problem if you have cleared three main points: set a single goal and stick to it, decide who will run the sales meeting, and keep it short and to the point.
1. Set a single goal for a meeting
Prior to this, you should make sure you really have a goal for the meeting you are planning to carry out.
Lots of meetings end up being a pointless waste of time just because they are called without a clear reason.
It's crucial to carefully choose one goal for the upcoming meeting and notify others about the agenda so that they know what topic to prepare.
2. Designate a meeting leader
Every meeting, whether it's a sales meeting or not, should have a designated leader who will make sure things stay on the right track. A manager or a head of sales usually takes this part, but they can also assign a person for leading the meetings instead of them.
Someone who is efficient in moving the discussion along, planning meeting times, and making sure all the important points are covered.
This can prove beneficial for both managers and other employees.
Managers can now listen more carefully to what is being said, while the team feels more relaxed because of the fact that the meeting is run by their peers and not a supervisor.
3. Collect relevant information beforehand
Do sales reps need time to prepare materials or give presentations for the meeting? If that's the case, plan ahead for how you'll go about collecting the necessary data.
An example of this would be providing reps with a standard deck and requesting them to update their information the day before the meeting.
If you have all the information you need from representatives before the meeting, you won't have to waste time during the meeting searching for documents or data.
4. Set a time limit (and keep it short)
Some meetings require half an hour, or even a full hour to get through all the points.
But these kinds of lengthy meetings should be the exception rather than the rule.
As said earlier, choose only one goal, and most of the time you won't need more than 5 or 10 minutes per meeting.
Elements of a Successful Sales Meeting
Inefficient meetings have no value.
Not to your team's performance, nor your business's overall value.
Don't let your team fall into the trap of holding meaningless meetings.
That's why we'll go through some crucial elements that will make sure your meetings aren't pointless snoozefests.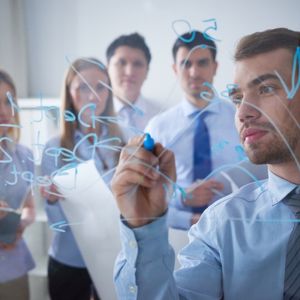 Standardized Agenda
Sales meetings are much easier if all parties know exactly what to expect.
If there's no confusion and no guesswork going on, sales meetings will turn out to be much more productive and effective.
So, use the standard agenda and don't try to reinvent the wheel for every meeting.
Providing Value
In every meeting, you should aim to provide your team with value.
Share some important and educational information, useful customer feedback, organize short and helpful training, or discuss a teammate's job well done.
Consistency
If your virtual sales team has the practice of recurring meetings, make sure to always hold them on the same day of the month, or at least on the same week of the month.
This builds up the rhythm that your team can rely on. It also helps everyone better prepare for meetings.
Inclusion
One of the most important elements of a sales meeting is for everyone to have their say.
Aim to include every individual in the discussion and let everyone express their thoughts, ideas, or feelings.
18 Sales Meeting Ideas
Okay, so we covered the precursors to an awesome sales meeting.
Next, we'll go through some examples of what your next sales meeting can look like.
1. Meeting for Setting Goals and Assessing Progress
Sales meetings are a great opportunity for sales representatives to discuss goals.
By knowing goals and deadlines, the team can better organize itself and provide progress info when the time comes.
Every individual can share updates about their work during meetings or share goal updates on the whole team's performance when there's more than one sales team in the meeting.
Check on deal progress
Check all pending deals in our customer relationship management system. For instance, if you're attempting to close a deal with a particularly important client, you can inquire as to whether or not the representative has made any recent attempts to contact the client.
Ask a few basic inquiries regarding the transaction if they haven't contacted you recently. This usually prompts a sense of urgency in getting in touch with the prospect.
Monitor outreach progress
Find out how many messages and calls your reps have made since the previous meeting.
If you need a firmer estimate, you may always consult the numbers. There is a high likelihood that the representatives may exaggerate or understate the extent to which they engage in outreach.
2. Motivational Meetings
Motivational meetings consist of five parts. To motivate your sales team, this is what you should do.
Start with an icebreaker
An icebreaker can be some funny thing that happened at work, an interesting new client, or just some non-work-related chitchat about a popular TV show.
Something that will alleviate the pressure right from the start.
Show appreciation
It's very important that you occasionally let your salespeople know that you are thankful for the hard work they are doing. By showing recognition and demonstrating trust, you will create a more homogenous and effective group.
Focus on the positives
It would be ideal if you can make group meetings only focus on the positives.
Embarrassing an individual in a group meeting is never a good idea and won't bring any benefit to your team's effectiveness.
More likely, the opposite will happen. Instead of that, save the grievances and negative feedback for one-on-one meetings.
Be a team player
Aim to remove the whole boss-employee border and create a pleasant atmosphere in which everyone can feel like a part of the team.
Every salesperson should be free to speak their mind and have their chance to shine.
Nurture transparency
Keep your team in the loop.
Explain the reasoning behind your strategies, tactics, goals. Share the data and information behind your logic.
3. Meetings With Colleagues From Different Departments
It's always a good idea to invite people from other departments, like marketing or finance, to sales team meetings.
Marketing and salespeople, in particular, should closely work together to develop broader strategies regarding the company's products or services.
Marketing can give sales teams insights on new lead generation tactics, while salespeople can provide valuable info to marketers regarding customer needs and preferences.
Given that smarketing alignment is one of the most common pain points salespeople face, we've covered that topic in one of our previous blog posts and discussed the importance of keeping the lines of communication open between these two departments.
4. Sales Role-Play Meetings
Role-play workshops are a great sales strategy.
They can help salespeople improve their sales pitches and deal with argumentative prospects or embarrassing sales moments in a safe environment.
Reps can pair up and alternate between representing a salesperson and a prospect.
Role-playing is a fun way to improve interaction or to come up with fresh ideas on how to upgrade their pitch which is a critical aspect of sales skill improvement.
5. Mini Training Sessions Meetings
A good idea for a meeting is one where you add value to your sales team by giving them training on a specific skill or going through some new pitch ideas.
Create a framework consisting of step-by-step actions they should learn and try, share stories from your own experience that they could find helpful, or experiment with some latest practices.
6. Career Goals Meetings
Goal-setting sessions help salespeople with their career path by providing them with insights and feedback about their work.
If someone has a desire to become a sales manager themselves one day, show them how to achieve this and what they should learn in order to become one.
But this should be voluntarily and no one should be forced to review their aspirations.
7. A Surprise Meeting for Your Team
As discussed before, meetings shouldn't always revolve around work.
You can surprise your team by taking the group to dinner or a round of drinks.
Just make sure you let them know about the meeting in time and schedule it for half an hour or more.
It's always refreshing for a team to have some downtime to boost up their energy and morale for future victories.
8. A Meeting to Celebrate Big Wins
And while we're at victories, every major one should be celebrated.
It's a similar concept to the previous one, with the difference that your salespeople will know upfront what the meeting will be about.
Everyone will get pumped up after big wins, and they deserve a reward and blow out steam after a job well done.
9. Status Check Meetings
From time to time, schedule quick meetings for status checks.
These meetings shouldn't last more than 5 minutes, depending on the size of the team, of course.
Status check meetings are great for learning where the team stands at a particular moment and what steps should be taken next.
10. Meetings to Uncover Bottlenecks
Get your team together and find out if there are some bottlenecks and roadblocks in the sales process.
Bottlenecks can be everything from outdated equipment or practice to a bad employee who isn't pulling their weight.
Sometimes the whole departments aren't well synchronized with sales or are not doing a good overall job.
Autoklose can come in handy when it comes to identifying bottlenecks and monitoring how well every member of your sales team is performing.
Our Team Management feature will give you a detailed insight into your team member's activities and help you see if someone is slacking off or needs some help with the workload.
11. Meetings for Sharing Prospect Feedback
Schedule a sales meeting with the goal of everyone sharing insights from prospects.
That's a great way for the whole team to learn what prospects think about your company, products, sales pitches, and everything else.
12. Meetings to Check Metrics and Set Targets
Call a meeting with a focus on the metrics your sales team has achieved in the previous period.
Gather collective data that can be helpful in future planning, and set the targets accordingly so that every salesperson is clear with what's expected from them in the following time period.
When it comes to sales forecast metrics, don't get carried away. The following 3 KPIs will do.
Sales activities
Every member of the sales team gives an update about the activities they perform that move leads further down the funnel and to the next deal stage.
For example, a follow-up email that takes the conversation to a phone call or an in-person meeting.
This KPI provides precise insight into the performance of your sales reps regarding moving sales opportunities from one stage of the sales funnel to another.
This could be the number of cold leads that accepted a demo or an appointment.
Won and lost deals
Every sales rep shares an update about the deals they closed during the previous week, as well as the value of each individual deal and the total value of closed deals.
Also, in case some deals were lost, they should provide feedback about what brought about such an outcome.
These reasons should be noted and discussed during the meeting in order to find a solution for overcoming the most common sales objections.
13. Meetings for Sharing Company Info
This kind of sales meetings' purpose is to let the sales team know what's happening elsewhere in the company.
Learn about the progress of other teams and departments, shareholder plans, new products or services, upcoming mergers, and anything that can affect them in any way.
14. Meetings About Competition
Use some meetings to talk about your competition.
Let your reps share what they have found about your competitors from talking to prospects and leads.
What advantages does your competition have over you?
What compels a prospect to choose their solution instead of yours?
Your sales reps are your company's direct contact with your customers, so every piece of information about the way they think and act is enormously valuable to sales and marketing teams.
While we're talking about meetings with your team, it's only natural to mention meetings, demos, and appointments with your sales prospects.
Having your calendar fully booked should be your main goal, but it's a difficult task given that it takes several messages to decide on the timing which suits both your prospect and you.
Autoklose takes the complications out of the equation with its integration with Calendly, thus allowing you to easily create and include a link to your calendar in your emails so that your prospects can pick a time slot and schedule a meeting without having to engage in an endless emailing session with you.
15. Include Your Remote Workers
Nowadays, an increasing number of companies rely on remote staff, either on an in-house or freelance basis.
This workforce tremendously increased since the pandemic hit us, as many companies extended the work-from-home period indefinitely. In other words, remote employees are in the majority.
That's why it's vital to include and engage your remote workers properly.
The trouble lies in the fact that when someone isn't physically present in a meeting, they can be easily distracted by a plethora of things in their surroundings and fail to stay focused on what you're talking about.
Let's not forget that they're sitting (or sometimes even lounging) in their living rooms or bedrooms, usually in their PJs. This means that they don't have to sit still and at least pretend to listen to what their co-workers are saying.
Apart from being more susceptible to zoning out, remote workers can also feel somewhat excluded from the team, and thus disengaged.
Here are some tips that will help you ensure that your meetings are effective for your long-distance employees:
Keep your meetings short and to the point in order to have their attention all the time
Try to engage every single member of your team by asking them to have their say and join a discussion
Make sure that everyone speaks loudly and in a clear manner so that even those who aren't in the room can hear and understand them
Prepare interesting visuals, fun icebreakers, and present your agenda in a way that will promote lively interaction
Share your agenda in advance and ask participants to prepare and write down their questions, remarks, and comments
Always record meetings so that your team could revisit them if necessary.
16. Create a Virtual Water Cooler
Working from home can be a lonely experience, meaning that your remote employees are susceptible to feeling emotionally detached and disconnected from their co-workers.
If we add that people haven't had much social interaction due to the anti-COVID measures, it's obvious that everybody could use some buddy time. Even if it's virtual.
To encourage building stronger bonds and relationships across teams, create a virtual water cooler, that is, virtual spaces where teammates can shoot the breeze and have casual interactions between tasks.
This will promote your company culture and help establish a team spirit. Don't neglect the importance of all these factors on your sales reps' performance and satisfaction with their job.
17. Leverage Subject Matter Experts
Meetings can be a great way to learn something new or improve working processes.
That's why you should consider inviting subject matter experts, that is authorities in a particular field, to your meetings every once in a while.
Ask company founders, product leaders, execs, top managers, and those you know have disrupted the industry in a way, made an impact, or developed a successful company or team.
These people's accounts of their career journeys could provide valuable insights into their daily routines and the way they stay productive.
They will share some practical tips and tricks, as well as their thoughts on the future of your industry, all of which will be extremely useful to your sales team.
It's also a good idea to ask your high performers to share their experiences with others in meetings and explain how they manage to hit their quota. That way, it will be possible to identify some best practices that your entire team could later use and benefit from.
In other words, make sure that your every meeting adds value to your team and teaches them something new.
18. Ensure Everyone Has Their Say
Last but not least, it's essential that all your team members get the opportunity to have their say and express their opinion.
That can be difficult, especially if the entire team is remote. Instruct everyone to speak loudly and clearly so that others can hear and understand what they're saying.
One of the things you can do to include every single person is by giving them tasks and assignments during the meeting. This will keep them focused and give them a feeling that they can contribute to the meeting in some way.
If you have a big team, it can be hard to collect information and feedback from all of them at the same time. Using a poll is a great and efficient way to ask your employees for their opinion and get it instantly.
Conclusion
These ideas can help you transform your boring sales meetings into interesting, dynamic, and productive events during which your employees won't roll their eyes and impatiently wait to hear, "That's all, folks. Talk to you soon."