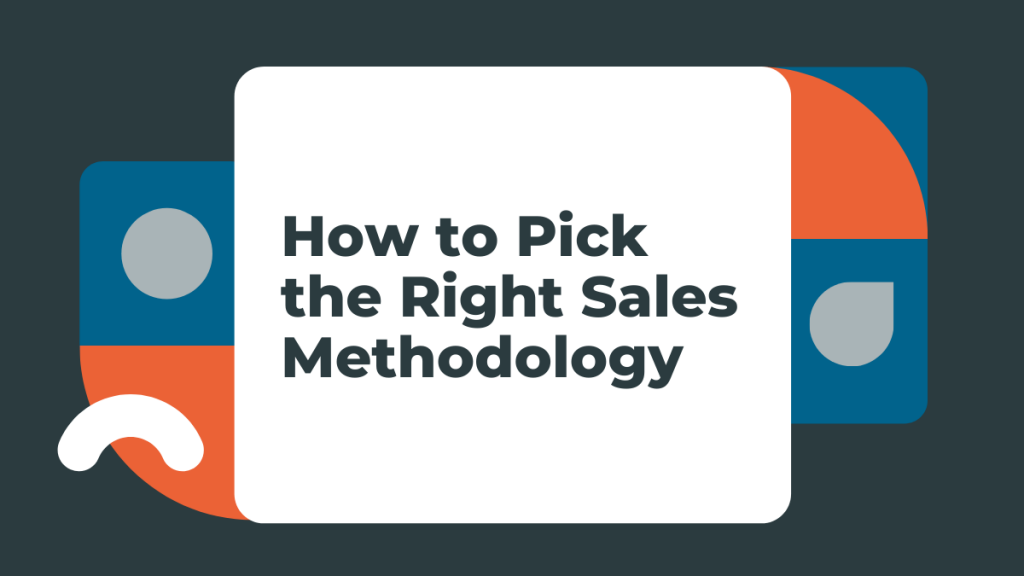 We've recently discussed what a sales process is and how to map it.
In that blog post, the difference between a sales methodology and a sales process was underlined.
So, what is a sales methodology?
It's a framework that refers to the "how" of selling, and unlike a sales process, it doesn't apply to the entire sales cycle but its particular segment, such as prospecting, discovery, or qualification.
Now it's time to delve into why the concept of a sales methodology is important and how your company can benefit from picking the right one. Long story short, putting a sales methodology in place will allow you to grow and scale your business in a planned, predictable, and organized manner.
This practically means that instead of putting in a great deal of effort into your sales activities and hoping for the best, you can repeat the most successful and effective steps that work and ensure success.
There are different sales methodologies, and it's up to you to identify the one that's most suitable for your business.
1. Target Account Selling (TAS)
There are different approaches to penetrating the market and landing new clients.
Target account selling boils down to assigning a couple of targeted accounts to every member of your sales team. In other words, instead of getting them to reach out to as many prospects as fast as possible and try to convert them, your sales reps will focus on several well-researched opportunities that are most likely to buy.
Target account selling is one of the most popular methodologies, mainly because it's a scalable model of the 1:1 approach. The trick lies in the fact that this way sales reps can build more meaningful relationships with their prospects.
Since they don't have to spread themselves too thin and nurture a practically limitless number of sales opportunities, salespeople can use their time to get to know their several prospects better, understand their challenges, needs, and motivations, and consistently deliver value to them.
In order for this method to be effective, your sales team has to closely cooperate with other departments – marketing and customer success. Namely, this method requires marketing to do thorough research, create outreach and nurturing campaigns, while sales will do the communication and relationship-building part. Finally, after closing a deal, customer support/success will organize a tailored onboarding process and deal with customer issues.
2. The Challenger Sale
According to the eponymous book by Matthew Dixon and Brent Adamson, salespeople fall into 5 different categories 
the Hard Worker
the Lone Wolf
the Relationship Builder
the Problem Solver
the Challenger.
The last category is singled out as being the most successful one in terms of sales. Challengers are sales reps who have a penchant for debating with and challenging their prospects. Of course, in order to do so, they need to have a strong and profound understanding of their prospect's business.
Challengers are capable of taking control over the conversations, and their strengths are the willingness to learn new skills, ask questions, and explore new and creative ways of connecting with their prospects successfully. What they do is analyze the habits, routines, and characteristics of top performers and truly great salespeople, and implement them.
It's important to say that the other four sales personalities can learn and implement the Challenger method.

3. SPIN Selling
SPIN is an acronym that stands for four different categories of sales questions that salespeople ask their prospects – Situation, Problem, Implication, and Need-Payoff.
Situation questions are those whose purpose is uncovering your prospects' existing situation. These questions should be part of an overall research strategy that also includes learning more about prospects from their social media profiles and websites.
Problem questions aim at getting to the bottom of your prospects' pain points, which is crucial for tailoring your messaging and pitch. Apart from learning more about their problems, it's important to get your prospects to think about these issues too and help them unearth pain points they haven't been aware of.
Implication questions should prompt your prospects to think about the impacts of not taking action to solve their issues. This stage shouldn't be focused on promoting your solution, but your genuine wish to help them.
Need-Payoff questions are those that will align your product or service and your prospects' pain points. In a nutshell, that's the stage in which they will understand the benefits of your solution and decide to opt for it. If you implement this method well, your prospects should realize how valuable your solution is without you telling them this implicitly.
4. Value Selling
This method relies not on your product or service and its features, but on the benefits and values your prospects can get by using it.
As you know, people don't care much about reading about specs and functionalities of a certain product or service – these are just numbers to them. What they want is to understand how that particular product or service will make their life better and how it will improve their business.
So, a sales engagement platform with a number of features and visually appealing user interface won't get people to subscribe for it, but its capability to automate and personalize email outreach, improve deliverability rates, engage recipients, and offer an accurate lead scoring system will.
Pricing plays an important role in this method too. Make sure that the price you charge is worth the benefits your prospects will get. The more valuable your offer is in terms of benefits and advantages it provides to your prospects, the less important the price becomes to them.

5. Inbound Selling
When we're talking about inbound, we're referring to the practice of focusing on prospects' pain points and helping them find a solution by adapting your sales process to their needs.
This means that marketing has the lion's share of work and responsibility in this method, as this department creates relevant, high-quality, educational content that attracts prospects. So, salespeople don't reach out to their potential customers out of the blue – it's prospects who come to salespeople looking for help in solving their pain points.
This modern method basically allows prospects to explore different products and solutions before they finally reach out to sales. In other words, salespeople meet their prospects halfway – when prospects already know a great deal about the company and products. Their interactions take place across prospects' preferred channels of communication.
So, marketing has to do a great job in creating the content that prospects will find interesting, helpful, and valuable.
What's also important about this approach is that it doesn't treat potential customers as passive leads that wait for someone to offer them a product they didn't even know they needed. They assume a more active role, and this reduces the chance of having bad leads in your funnel – prospects pick you and decide that your solution is what they need based on the content and resources you offer them.