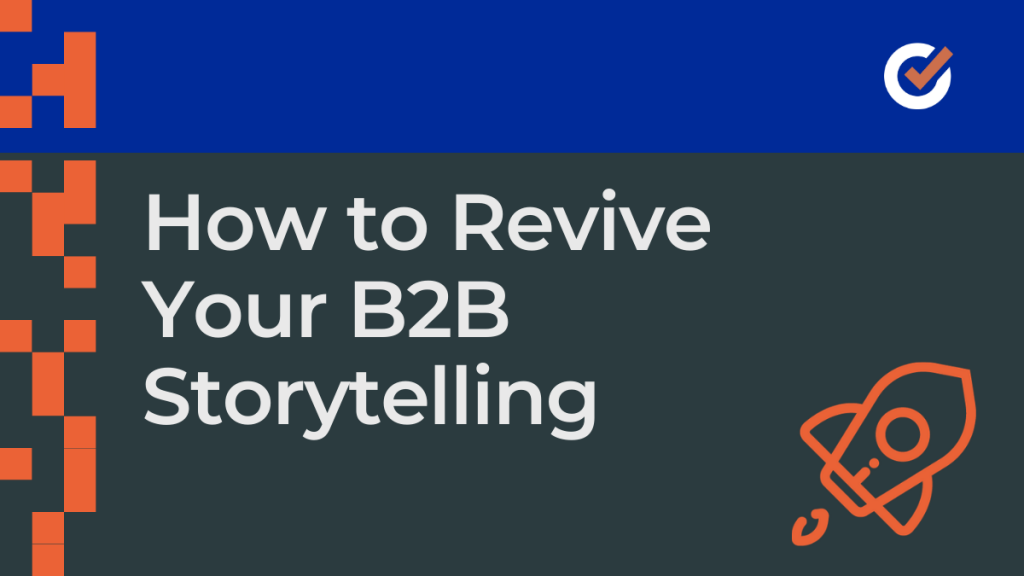 Within the world of business, it's the people who make buying decisions. Granted that we can analyze their consumer behavior, they are more than numbers and viewing them as so can limiting. After all, people buy with their emotions and justify those decisions with logic after the fact. That's what makes storytelling in the world of B2B so powerful.
Plenty of B2B content can be boring, filled with marketing speak that doesn't capture the imagination or provoke a response. Using storytelling in your B2B strategy can help you achieve these two outcomes, as well as build a deeper connection with buyers. Discover humanizing marketing strategies for your B2B storytelling that will catch buyers' attention and inspire action.

Connect with Your Audience
Remember that at the end of your day, your audience is real people. It's essential to understand their needs and wants; therefore, doing proper research is necessary. This will benefit you when it comes to humanizing your content and brand. In order to connect with your audience, you'll need to find common ground or something that you share.
That common ground can be anything from a shared goal to mutual frustration. Once you've identified that, then you can reach out to your audience and connect. At the end of the day, all good stories require a good connection. Perhaps one of the best places to connect with your audience is LinkedIn. The B2B audience and reach that this platform provides outweighs most other social media platforms.


Tone Down the Sales Talk
Too much focus on sales turn buyers off and can sometimes put them on the defense. When an exchange feels too salesy and impersonal, you can lose the storytelling element. Therefore, it's best to tread lightly and make your way into their sphere without that added pressure. An excellent way to do that is by sending them a bespoke message.
Interacting with your audience can be easier when you aren't trying to pitch them something. Instead of bringing up your company or whether they need help with something, start a conversation with them. This no-pressure approach will sow the seed for future conversations and leave them space to write you back in the future. When they do, they are likely to share difficulties they are experiencing, which will prompt you to begin your storytelling.

Inspire Change
Developing a connection with buyers requires patience, but inspiring them to change or take action involves storytelling. With your carefully crafted story, you can immerse buyers in your world and help change their perspective. To change their perspective, you'll need to provide a new and even disruptive viewpoint.
When you have captured your audience's attention by taking a risk with your provocative perspective, they'll be enraptured by your story. Taking that risk will help ensure that your content doesn't get lost amongst the sea of B2B sales pitches. Additionally, when you have your audience on the edge of their seats with your story, you can offer valuable insight and inspire change.

Always Give Proof
Although your story is what will hook buyers, the evidence you provide reels them in. Furthermore, for them to honestly believe your story, they need to see some proof.
In essence, storytelling and proof go hand in hand. Compelling storytelling requires knowing how to provide both insight and evidence for the audience to reach a decision organically. Of course, when these strategies are in full effect, the decision favors your business. The key, however, is to do it with such finesse that the buyer feels it was their decision.

Be Persuasive
There is a fine line between being pushy and being persuasive. Storytelling can be a delicate process, and you always want to err on the side of caution. Although you are empowering your audience to take action, you want them to do so willingly. That requires connecting their action to the shared goal or common ground established originally.
If you can make that connection and allow the story to come full circle, you are likely to have more success. After all, everyone loves a happy ending. The audience will feel good about their decision because they are acting on their behalf. Your strategy will simply be a catalyst for their happiness.
Plan Your Strategy
Every great journey needs a plan of action. As you go through each phase of your storytelling, it's helpful to have a map to refer to. This will make funneling buyers from one stage to another much more seamless. Once you have a clear picture of what's ahead, that will make the tasks at hand easier.
Moreover, having a plan for your strategy will also help you keep track of what works and what doesn't. As you go along, you can make amendments to your content, marketing, and objectives. Taking note of these crucial areas will allow you to measure your progress and growth.

Embrace Simplicity
B2B marketers can fall into the trap of overcomplicating the storytelling process. The reality is that having a smaller market can be an advantage. In terms of designing a message, this aspect can be challenging, but when it comes to marketing, it's beneficial. A simple way to take advantage of this smaller market is by allowing the buyer to tell your story for you.
With audience-generated content, you can target your specific audience without all of the added work. This approach allows you to address pain points and even present your business as experts. Not to mention that buyers will be more interested to hear from people in the same situation.

Final Thoughts on B2B Storytelling
Using storytelling to solve problems rather than sell a product is statistically proven to build trust. Once you have a buyer's trust, you can translate that into a lead and then into sales. All that's needed is patience and a great storyteller willing to provide valuable insight.

Bio: Estelle Liotard is an experienced blogger and content marketing specialist who is currently working on a book about how small businesses can use content to get a competitive edge. She has contributed to many online publications and works as an editor for Trust My Paper providing her clients with the best essays and loving every second of it.