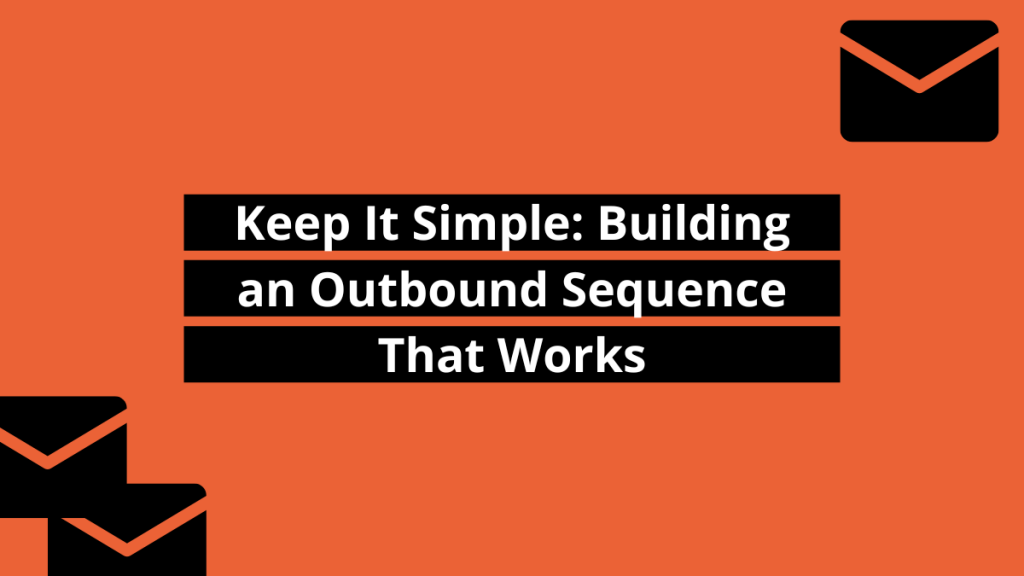 Jason Bay, Chief Prospecting Officer at Blissful Prospecting, helps sales reps build effective outbound sales sequences through Keep It Simple Sequencing (his "K.I.S.S." framework).
Using the K.I.S.S framework, you prioritize quality over volume in your outreaches and establish a sequence that is multi-touch, multi-channel, and three weeks in length.
Simplify and strengthen your outbound messaging through reusing content, cross-referencing your other outreaches, and identifying triggers that queue additional follow-up.
Nailing down the right outbound sequence can be a bear for even the most seasoned sales rep.
Finding the right cadence, choosing the right channels, and knowing just what to say in each follow-up is no small task.
Have you ever heard this advice? "Keep it simple, stupid." (It's actually a design principle that's been in use since the 1960s!) 
Did you also know that you can use that same principle to massively improve your outreach process? Jason Bay's Keep It Simple Sequencing — the K.I.S.S. framework — breaks down the most effective ways to create an outbound sequence that efficiently and effectively connects you with your prospects.
Ollie Whitfield sat down with Jason on an episode of the 0 to 5 Million podcast to discuss the nuts and bolts of the K.I.S.S. framework and how keeping it simple can maximize the impact of your outreach.
Breaking down the K.I.S.S. framework
The reasoning behind Jason's Keep It Simple Sequencing is that we tend to over-complicate our outreaches. Without a clear method, it's easy to get overwhelmed by how, where, and when to follow up with prospects.
But the K.I.S.S. framework sticks to three key characteristics for effective follow-ups. Your outbound sequence should:
Include multiple touchpoints.
Involve multiple channels.
Last for three weeks.
Before we break down best practices for each of these outreach elements, remember that quality is the most important piece of any prospecting cadence.
Jason explains that the outbound equation equals volume times quality, but many people underestimate the quality side of the equation.
If you're trying to overcome poor conversion rates, simply increasing your outreach volume isn't going to cut it.
Focusing on quality — by refining your message and ensuring your prospects are the right fit — will improve your conversion rate far more effectively than simply sending more low-quality outreaches ever could.
1. Your outbound sequence should have multiple touchpoints.
It takes an average of 12 to 15 outreaches to elicit a response from outbound prospects, according to Jason.
With this statistic in mind, coming up with enough content for an effective outbound sequence can seem like a lofty goal.
Some sales reps take 30 to 60 minutes to come up with each email in a sequence. And more often than not, they're left with a significant amount of work for a sequence that gets very few responses.
But Jason advises: Don't make email writing harder than it needs to be. "You actually don't have to come up with as many new ideas as you think," he says.
One way to approach content is through reusing and recycling, which can be a helpful tactic for both sales and marketing.
For instance, if you post something on Linkedin you can use almost identical messaging again six or more months later. Why? Because not everyone sees everything you post. And if you put time and energy into creating great content, why wouldn't you reuse that content again?
Identify two or three key talking points. Then, build "talking tracks" around them that carry throughout your emails, Linkedin outreaches, and phone calls. Consider different ways to illustrate the same point or communicate the same message across your outbound sequence. This will make your touchpoints more effective and streamline your process.
You should also make your message simple and repeatable. This will help your audience connect with your outreach and increase the likelihood of their response. 
Jason recommends keeping in mind this question: What is the least amount of work we can do to get the best results?
2. Your outbound sequence should involve multiple channels.
By now, it should be no surprise that you need to use multiple channels to communicate your message during an outbound sequence.
Use two to three channels minimum. This might differ from person to person, but typically, you should be using phone calls, email, and Linkedin combined.
One key practice across channels is cross-referencing your other outreaches — like mentioning your email's subject line when you leave your prospect a voicemail
Why? Because your prospects are bombarded with messages every day. You need to make the connection between your various touches clear to them.
Picture a "Where's Waldo" book (or "Where's Wally" if you're UK-based, like Ollie). Your outbound sequence should not make your prospect feel like they're doing a search-and-find puzzle to figure out which messages are from you. By using the various touches in your communication cadence to build on one another, you will avoid confusing your prospects. 
Jason puts it this way: "Think of the sequence as a personalized ad campaign. I want you to think about how you can do something really personal for this person to stick out in their inbox."
Show your prospects that all the touches and channels you use are connected, and ask yourself, What is it like to be on the receiving end of my communications?
Is your outbound sequence scattered and confusing, like trying to find the one real Waldo in a detailed illustration? Or is it clear, precise, and interconnected?
3. Your outbound sequence should last three weeks.
You need to have a clearly defined outbound sequence duration so you can streamline and plan your communications with prospects. Jason recommends a three-week cadence.
We already mentioned the importance of picking two or three key messages as a foundation for your outreaches. Jason also suggests that you pick a topic for each week of your cadence and let each channel offer a variation on that theme.
When you know the defined timeline for your outbound sequence, you can also "template" your week. Plan a sample cadence for the designated time period by deciding which days you will use which channels for outreach. 
But also leave room for triggers that queue a different form of communication. For instance, if someone has opened multiple emails in your outbound cadence, that may signal they're more likely to pick up a phone call from you.
Zoom out and examine your cadence from a high level to establish patterns in your outreach topics and channels. Then follow through on your planning and let the power of simple sequencing take over.
When you optimize and streamline your outreach process, you'll not only make your own life simpler and smoother. You'll also see more clearly to reach your prospects and communicate over and over that you understand them.
"What breaks through to a prospect has to do with the message breaking through, in my experience, and making sure it's really in line with their priorities and the problems that get in the way," says Jason.
At the end of the day, even the best sequencing structure can't make up for poor messaging. So make sure your outbound efforts are driven by messaging your prospects want to receive — and don't forget to keep it simple.