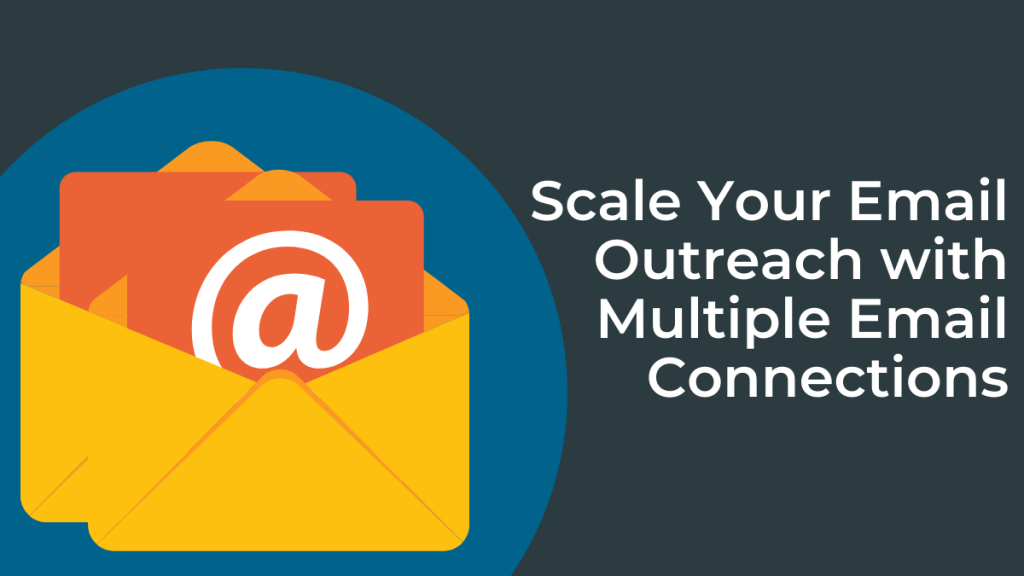 Automation is a critical factor in the success of your email outreach strategy.
But, it comes with certain limitations called sending limits whose purpose is to help you avoid being marked as a spammer and blacklisted by the internet service provider.
That's why you can send up to 500 emails a day using a single Autoklose connection.
I bet you'd like to override this limit and scale your email outreach while staying on the safe side.
Wanna hear something awesome?
Now you can!
What Is the Multiple Email Connections Functionality?
As of last week, Autoklose provides Multiple Email Connections as a standard feature, allowing you to send twice as many emails as before. This means that with your regular Autoklose license you will have two email addresses at your disposal, with which you can send up to 1,000 emails a day from a single account.
In other words, we have practically doubled your sending limit with no extra charge.
Multi-email connections isn't a standalone feature and you won't find it listed anywhere among drop-down menus in your Autoklose Dashboard. It's a new functionality that refers to how your email account is configured.
Check out this video to see what's new inside our app:

Plus, it's possible to add as many email addresses as you want and multiply your sending limit for a fee. Each new connection is $19.99 – ⅓ the cost of another Autoklose license.
Each new email address can be uniquely customized by setting up:
Email signature
Velocity (how many emails you want this account to send per day)
CC & BCC
Reading interval (i.e. how often you would like Autoklose to check your email account for replies)
Sender's name
Email alias
As a result, you'll be able to create multiple automated and unique outreach email campaigns directly from your personal account.
And all this at just a fraction of the new seat's price.
I'd say it's an excellent bargain.


What Are the Benefits of Multiple Email Connections?
Now that we've covered the technical aspects of our new functionality, it's a good time to tell you why this is great news for you and how you can benefit from it.
Autoklose's key benefit is that your emails are being sent automatically from your personal account, which isn't the case with other automation platforms. This significantly minimizes the likelihood of being flagged as spam, increases personalization, and subsequently increases opens.
1. Make more connections
By doubling the email connections, you can send twice as many emails and scale up your prospecting and outreach efforts, while filling your pipeline in the process.
It's obvious that the more emails you send, the better your chances of scoring more responses are. And since your new address is highly customizable, your outreach will be tailored and targeted, which means that you'll improve the quantity of your email volume without sacrificing quality.
Ultimately, such an approach to email outreach will drive more meetings, deals, revenue, and growth.
2. Scale your outreach in a cost-efficient way
Since you can add virtually as many email accounts as you want, you can dramatically increase your outreach volume.
Scaling your output does not mean each rep has to juggle more user licenses (requiring a login for each) but instead allows each individual user to easily manage more email connections from their account. And as each email connection is 1/3rd the price of adding another Autoklose user, scaling is much more cost-effective too.
3. Engage your recipients using unique campaigns
Automation and scaling don't have to come at the expense of personalization.
With the Multiple Email Connection functionality, your campaigns won't come across as generic. Detailed customization options make it easy to create unique campaigns that will seem authentic and as if sent by a human being and not a robot.
All you have to do is set up your email signature, sender name, CC and BCC fields, as well as determine how many emails from each particular campaign a day you want to send.
4. Run multiple campaigns
Campaign management has never been easier. Now you can run multiple campaigns using different email connections for different audiences.
For example, you can assign a connection to a specific audience and create unique and targeted campaigns for:
prospects
customers
specific industries
new markets, or
different purposes i.e. one for sales, another for marketing, another for hiring, etc.
Let us know what you think about multiple connections. Does it facilitate your prospecting efforts? Is it easier for you to scale and manage your email outreach without worrying about being flagged as a spammer?