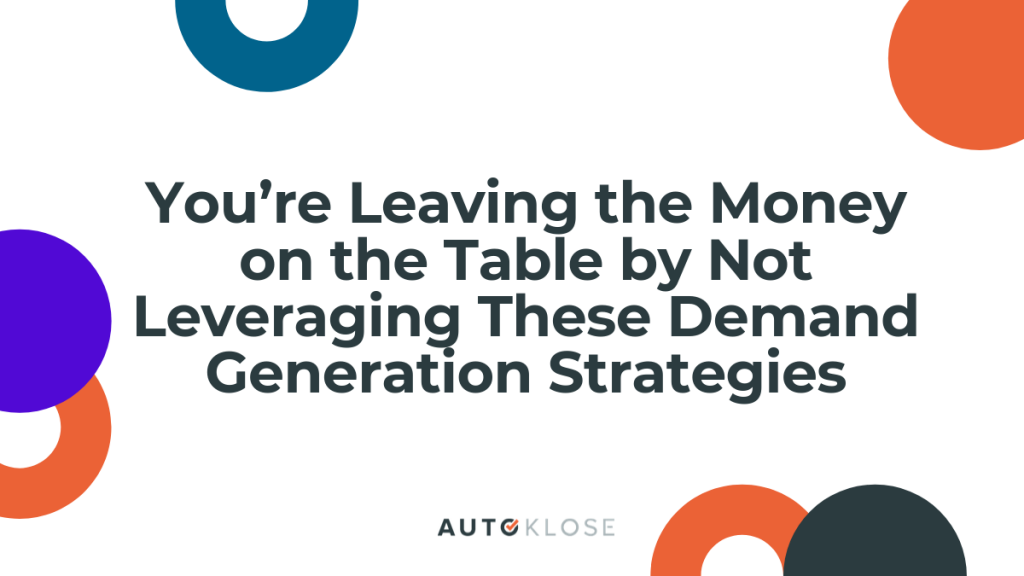 Companies that publish more than 16 blog posts a month generate 4.5 times more leads than those that blog fewer than 4 times a month.
The math is clear, but are we talking about lead generation or demand generation?
Aren't these two things synonymous?
And what does content have to do with it all?
Let's start from the beginning.
We all know that customers are the most valuable asset of any company, so marketers and salespeople bend over backwards to attract, acquire, and keep them.
Demand generation is a complex concept which employs various techniques in order to create the need for your product or service, and it's one of the most effective customer acquisition tactics.
Lead Generation vs Demand Generation
These three concepts can be easily mistaken for one another.
The main difference between lead and demand generation lies in the fact that the latter is a more comprehensive and holistic approach, whose purpose is to increase brand awareness and visibility and attract leads who are most likely to be interested in what the company has to offer. 
The first step of demand generation is identifying audiences who have a problem that your product solves and gradually creating a need for your product in their mind, through content and other subtle strategies. So, it's basically a significant shift from traditional sales approaches which relied on more aggressive promotional tactics.
Unlike lead generation, which tries to find a way to get your prospects to submit their contact information that you can later use to nurture and convert them, demand generation is focused on showing your prospects that there's a challenge that needs to be addressed and overcome, and then educating them about how your product can help them with that.
So, it's clear that lead generation can be a bit more efficient as it doesn't take too much time as demand generation.
In other words, demand generation works the other way round from lead generation – instead of offering a product or service, it first plants an idea that there's a problem that needs a solution in your customers' minds and sparks their interest in the solution you offer thus generating demand.
It's important to emphasize that both these strategies are effective, particularly when combined and enriched with other sales and marketing efforts.
Here are some lead generation strategies that can bring you a lot of qualified leads.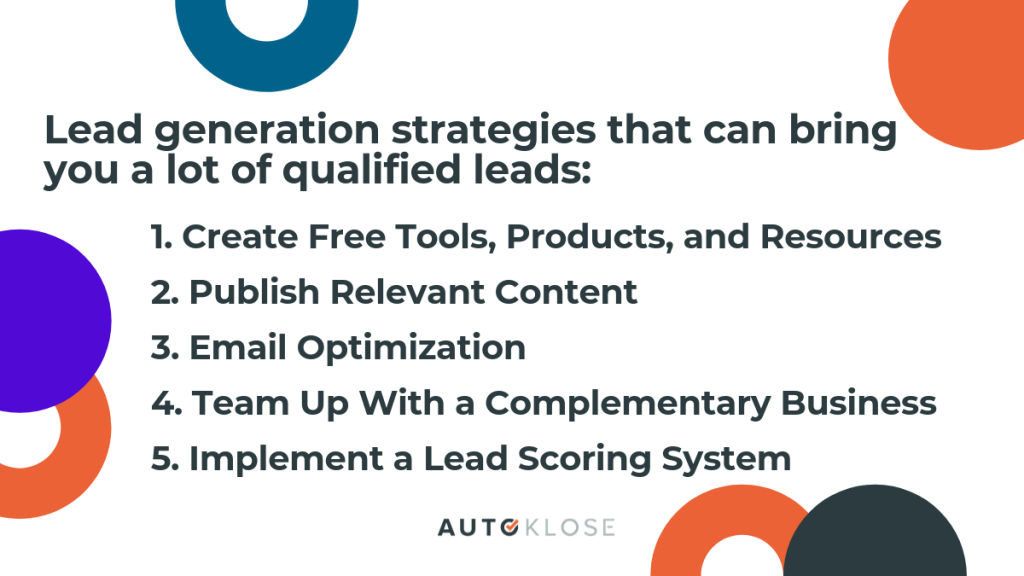 1. Create Free Tools, Products, and Resources
By offering free stuff you attract leads, capture their attention, and generate the demand for your core product.
However, if you want this strategy to work, you need to offer only the best stuff, because that way you build a relationship of trust between your brand and your prospects.
Even though this may seem like an expensive strategy, as developing free tools tends to be pretty costly, it ultimately pays off.
You can be sure that this strategy will also convert many of your prospects and customers into the ambassadors of your brand.
Finally, if you give them something of value, your visitors will be less reluctant to provide you with their personal information and bingo – you've obtained qualified leads.
Of course, this strategy requires you to meticulously research and identify your prospects' pain points and build a free tool that will help them overcome those pain points.
The same goes for webinars, how-tos, e-books, and other educational materials which address your prospects' concerns and issues in a helpful, problem-solving manner.
2. Publish Relevant Content
It can't be stressed enough how producing relevant and quality content is essential for lead acquisition.
According to Worldoeters, at the moment of writing this article, more than 2,589,459 blog posts have already been written and published today.
It's clear that we all have a lot of competitors breathing down our neck and trying to outperform us.
That's why the content you publish on your blog should be data-backed, and well-researched, while all your sources should be authoritative.
Adding infographics, videos, images, and other visually-oriented content will make it more appealing to your readers.
It's important to be careful when it comes to directly promoting your brand in your blog posts.
As we've already stated, your blog posts should be helpful and guide your prospects through solving their problems, and if you keep insisting on mentioning your products and services, it will be off-putting and aggressive.
So, it's a good idea to offer, for example, a valuable industry report based on your own research, or come up with an e-book which tackles a certain topic in an original and genuine manner and offers tips and advice drawn from your own experience. For example, our latest B2B Sales Handbook is the product of our joined efforts to compile and share our expertise and experience we amassed over our careers.
3. Email Optimization
Email marketing is of paramount importance for demand generation.
It's cost-effective and tremendously powerful, but many marketers tend to make mistakes that prevent them from taking advantage of it.
A/B testing is crucial for email marketing, and you should test every single element of your emails.
Subject lines can make a big difference, as they're what makes your prospects open your emails, so make sure to craft them carefully.
Even details such as a professional signature or opening line can affect the performance of your email.
One of the biggest mistakes that marketers make is that they blast their lists too frequently, sometimes even when they don't have anything new or special to offer.
This annoying behavior is severely punished by unsubscribing and losing their prospects.
It's ok to use blast campaigns, but only if you plan to offer something valuable to your audience.
Low-value giveaways will only harm your reputation and turn you into a third-rate brand.
As personalization is crucial for the success of your email campaigns, it's worth mentioning that one of the best ways to humanize and personalize your outreach is by adding a personal video to your emails. You can, for example, make a how-to video which would guide your recipients through the process of using your product. Explainer videos are also a good idea when it comes to the nurturing part of your sales process.
4. Team Up With a Complementary Business
This is a great idea to add even more value to your prospects.
You can either opt to co-create content with other companies from adjacent niches and cross-promote each other, thus tapping into the power of your shared audiences.
One of the best ways to do this is by co-hosting joint webinars and sharing comprehensive and combined knowledge from which both your audiences can benefit.
I frequently join forces with other industry leaders and run useful webinars that salespeople and marketers can learn a lot from.
Another way is integrating products with other companies so that your target audiences can enjoy added features that can help them improve their businesses – we have such a collaboration with Vidyard, for example.
The trick is to find a company that offers a product which is complementary to yours but not in any way competitive.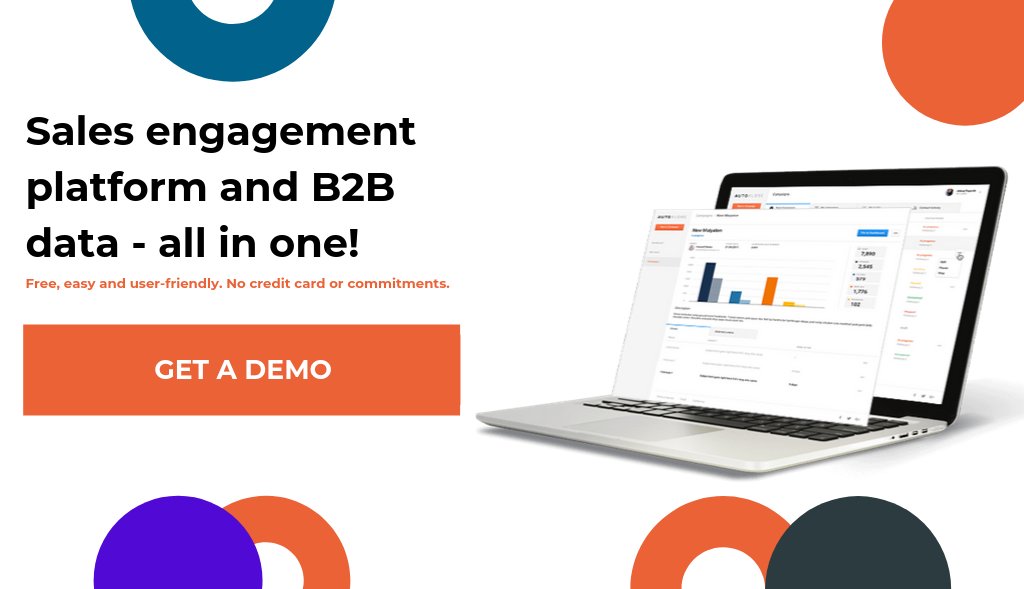 5. Implement a Lead Scoring System
As demand generation isn't about the quantity of leads that you generate, but about their quality, it's important to have a lead scoring system in place which will help you identify what leads are worth investing your time and energy into and what should be disqualified.
That's the only way to provide your sales team with high-quality leads that are likely to convert.
A lead scoring system assesses your leads' behavior over a period of time and takes into consideration all the actions they take in order to determine the leads which are "hot" enough so that they can be sent to your sales team.
The behavior of your leads during different touchpoints with your brand is being analyzed, meaning that it's observed whether they visited a web page, clicked on a link in your email, explored your product, checked the pricing, downloaded your free product, and many others.
All these actions bear a certain number of points regarding their significance in terms of showing an interest or a purchase intention.
Lead scoring also takes into consideration the strength of a lead, that is whether that particular person has a decision-making authority or not.
So, when you're creating your sales and marketing strategies, don't forget to include both lead and demand generation in the process, and leverage them properly for achieving the best results and klosing more deals.