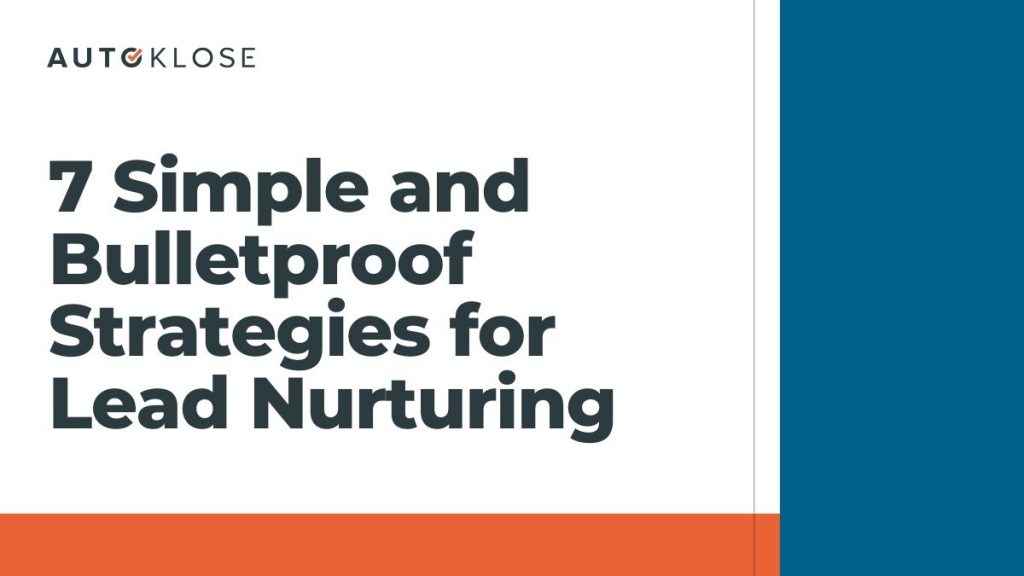 Back in the 20th century, when traditional marketing was peaking, salespeople and marketers used pushy ads and commercials to attract their potential customers.
So, it was perfectly normal to barge in on people, and interrupt whatever they were doing with your sales pitch.
And it kind of worked.
Many of these outbound campaigns weren't exactly subtle or personalized, and their only intention was to sell.
Things changed once digital marketing came into play.
All of a sudden, it was possible to reach potential customers through numerous channels, while marketing messaging switched from being salesy to being educational.
The point isn't to sell right away, but to guide and educate potential customers based on their needs and preferences, and to slowly build loyalty.
Lead nurturing is at the core of this whole endeavor.
What is lead nurturing?
Lead nurturing is a process of engaging in various kinds of interactions with your potential customers throughout their buyer's journey.
Leads should be nurtured during every stage of the sales funnel, and they should be provided with all the information and answers they need.
What's important to emphasize is that lead nurturing doesn't end once a prospect becomes a client, or if they haven't purchased from you for a long time.
96% of people who come to your website aren't ready to buy.
They're just looking around, and some of them aren't still aware that they need your product or service. Letting them slip away would decimate your customer base and bottom line.
According to statistics, 70% of those slightly interested and disengaged prospects have the potential to become paying customers in the future. Nurturing plays the most important role in this transition.
What are some of the most effective nurturing strategies?
1. Sales and Marketing Alignment
First things first. Surveys show that only 8% of companies have strong alignment between these two departments. On the other hand, companies with proper sales and marketing alignment report a 20% higher annual growth rate.
The problem lies in the fact that due to the lack of alignment, the sales department gets unqualified leads which automatically means they will sell less.
This happens because their goals are different – marketing relies on long-term goals, metrics, testing, and building loyalty; salespeople, on the other hand, have to hit their monthly targets and they move at a significantly faster pace.
The key to successful alignment, and subsequently, lead nurturing is in the following:
Regular, weekly meetings will help sales and marketing be on the same page;
Both teams should participate in content creation – salespeople are in touch with prospects and they know what makes them tick, which is why their input on what to write about and how to approach the subject is extremely valuable. It would be useful to run weekly brainstorming sessions and put the best ideas down in a shared document;
Coordinate sales and marketing efforts – whenever you're running a content marketing promotion, make sure that the sales team is informed about the latest offers. Moreover, after sending emails with your offer, forward them to the sales team because that way they'll be able to update their pitch and start taking actions;
Help your sales reps build authority and showcase their expertise by writing blog posts under their names;
Get to know each other. This step might be the most important one because you need to cooperate closely and it's of vital importance to connect with them on a personal level. Organize lunches, outings, and various team-building activities, and strengthen the relationships between these two teams.
2. Targeted Content
Even though this seems like an easy thing to do, the truth is that many marketers struggle with creating the right content and delivering it to the right prospects.
This strategy is instrumental in engaging your audience, and there's no real lead nurturing without it. Instead of creating universal one-size-fits-all content, make an extra effort, and offer your prospects something that will add value.
To do this, turn to your unique buyer personas and create targeted content, for each one of them, which will address their pain points, interests, and goals. You should also create different content based on the stages of the buying cycle.
Social media can help your content reach the right prospects with the use of keywords, hashtags, and phrases.

3. Email Marketing
There's no proper lead nurturing without the help of email marketing.
77% of B2B marketers use email marketing in order to drive traffic to their website. No wonder when this strategy provides a very high engagement rate.
Nurturing your prospects with the help of email marketing doesn't mean flooding their inboxes with your messages and trying to touch base for the sake of it. Here are a couple of things that you should bear in mind while you're creating your next email nurturing campaign.
An MIT study has shown that response time is of critical importance when it comes to ushering leads into the sales process. Namely, reaching out to a freshly converted lead within the first five minutes increases their chances of becoming qualified by 21%. The window of opportunity starts closing after that threshold and it's only cracked open after just 30 minutes. So, timing is everything.
We can conclude that lead nurturing automation is a must for large numbers of leads, and it gives you enough time to do research.
So, analyze your lead's recent browsing behavior to see what pages they have been visiting and how long they have been around (dwell time is an important indicator of how interested your lead is), perform a short background check on their company, and try to establish what their pain points might be so that you can come up with the best offer for their particular situation.
By no means should your email nurturing revolve around your own promotion, as that's the way towards the spam folder.
Instead of that, go out of your way to offer your prospects something that they need and something that will be of value.
For free and without any expectations or fine print.
And they'll appreciate that.
Regular follow-ups give you a lot of opportunities to ask your prospects what they need and how you can help them, thus enabling you to understand them better and offer them the above-mentioned targeted content.
There are certain things to pay attention to when it comes to email nurturing. Apart from segmentation, personalization, compelling copy, and intriguing subject lines, there are other details to tweak if you don't want to end up in the promotions folder.
Basically, to make sure that your email will pass Gmail's strict filters, imagine that you're writing to a friend and ask yourself whether you're making some of the following mistakes:
Go easy on images. While it's OK and even desirable to include a relevant image in your email, Gmail draws the line at more than one. Using multiple images can send your emails directly to the promo, or even spam folder.
Don't use too many links. Again, Gmail perceives more than two or three links in the email body as promotion and shoves your email to the promotions folder. But, in all fairness, putting too many links in your offer will only confuse your recipient, so it's a bad practice from every perspective.
HTML screams promotion. Use plain formatting, the same font, and conversational style as that's how your email will come off as just a friendly chat.
4. Facebook Retargeting Ads
It's true that retargeting is used if your prospects failed to convert on your initial offer. But, this tactic can also be used for nurturing. It's actually very simple and can be used for any stage of the sales cycle.
The point is to retarget a lead who has just converted and serve them the appropriate content – a video in which you thank them for opting in and offering them relevant, valuable information that will push them to another stage of the sales cycle.
You can add an extra twist by making it an explainer or how-to video. As the video as a format is all the rage at the moment, especially in terms of customer engagement, this tactic is a great and effective lead nurturing method.
5. Online Groups and Q&A Platforms
Maybe this seems a bit far-fetched, but if you want to be perceived as genuinely helpful you need to nurture your prospects all around the internet and not just in your backyard.
Join Facebook and other online groups dealing with the topics from your industry and start engaging with customers, answering their questions, and offering solutions.
This is an excellent method of generating new leads and nurturing the existing ones.
Not only will you attract customers' attention and build your authority and expertise, but you'll also get an insight into the problems your prospects face and their needs and preferences. Quora and similar Q&A platforms can also bring you a lot of qualified traffic because people who come there are the right audience simply because they're interested in a particular topic and it's very easy to engage them.
6. Direct Mail
Don't brush off direct mail as a relic of the past because this strategy is still very effective, especially for certain audience segments.
In today's digital world, it can be a breath of fresh air to receive a postcard or a handwritten note (in a regular envelope with a postage stamp from) a company.
The latter tactic is particularly useful after a phone call with a prospect that has a high lead score.
It certainly adds a human touch to the outreach not to mention that its level of personalization is very high. It's also a good idea to occasionally throw in some freebies and promotional items, and although it requires a larger investment initially, you can count on the fact that the reciprocity principle will work its magic and bring it back with a hefty interest rate.

7. Lead Scoring
When it comes to nurturing your leads, one of the most important things that you should focus on is their quality.
While a funnel packed with hot leads is every salesperson's dream, you can't expect this to be a reality. It's very likely that you'll come across leads that aren't the right fit for your product, those that aren't interested in purchasing, or at least the ones whose budget won't allow them to purchase your product.
And, if you treat all your leads in the same way, you'll lose a lot of time, energy, and most importantly, deals you could have closed if you hadn't been spending your resources on low-quality ones.
The key is knowing how to prioritize your leads.
That's why lead scoring can help you sift through all your leads and identify the ones that are most likely to convert and that will earn you the most money. We're talking about a methodology whose purpose is to rank prospects based on different criteria such as their behavior, level of engagement, and interest in your solution.
It's possible to implement lead scoring in most sales and marketing automation platforms by assigning numerical points and values. The more information about your leads you have, the better and more accurate your lead scoring results will be.
For example, if you use a software such as HubSpot to leverage your data to strengthen your sales pipeline, you can learn how to implement HubSpot lead scoring to close more deals.
When you identify high-quality leads, you can personalize your approach and leverage a sales account management strategy to increase the chances of closing them faster.
As you can see, lead nurturing is a make-it-or-break-it factor for the success of any sales and marketing strategy, so don't just give up every time a lead doesn't convert immediately.