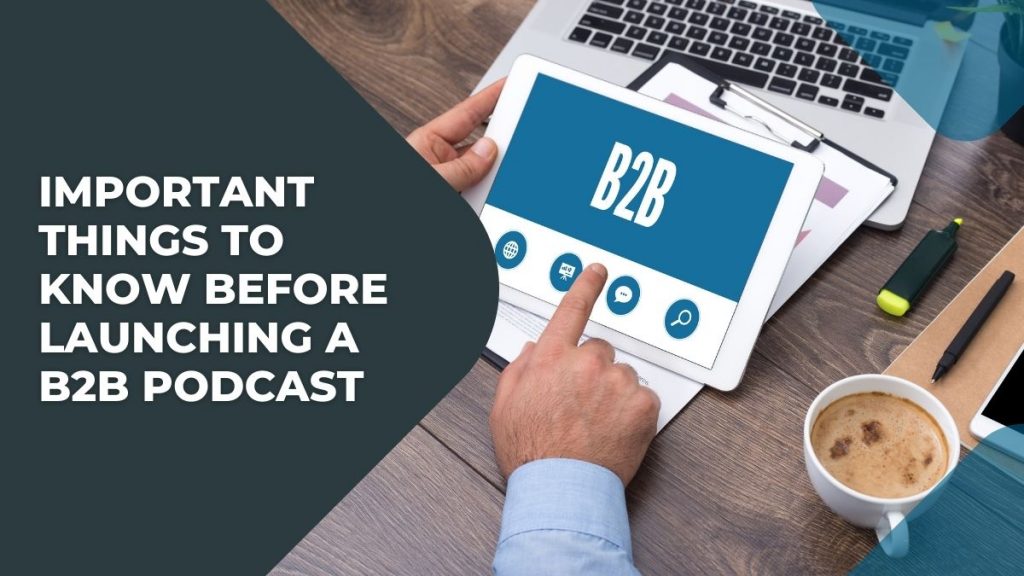 James Carbary knew he liked content marketing, but he didn't set out to host a podcast.
In January 2015, James founded Sweet Fish Media, a blog writing agency. Sweet Fish started writing Buzzfeed-style articles about the Houston local area and hosting a podcast for a church planning client. The content was a hit, and James wanted to replicate it for similar clients across the country. But there was a problem: a nearly nonexistent advertising budget.
He realized church planners also had no funding for marketing, so he decided to build a relationship that would be a win for both parties. He reached out to 100 church planners via email and asked if they'd like to appear as guests on a new podcast. When he got an impressive 80% response rate on his email, he knew he was onto something.
James thought: Why not do the same with B2B companies? He had learned that "sales leaders don't want to buy anything that smells like a marketing service," and providing in-demand content marketing help for creating podcasts seemed like a way around that.
Because of this lightbulb moment, Sweet Fish pivoted to podcast producing and started B2B Growth — one of the most successful shows about B2B content marketing, with over 2,000 episodes under its belt.
On this episode of 0 to 5 Million, James shares:
Why podcasts are the new blogs
How his team turns podcast guests into clients
Mistakes he made when he first started his podcast
His golden advice for starting your B2B podcast
The case for podcasting in a saturated market
When people ask James why their business should start a podcast, he asks if they have a blog. For most B2B businesses, it's a definite yes.
"If you don't have a blog, what are you doing?" James asks.
But that sentiment wasn't true 15 years ago. Blogs used to be like podcasts are today: many people thought they were a trend that would come and go. Moreover, they were concerned about competing with other blogs in their given industry.
Business owners now understand the value a blog can add to their online presence and bottom line — regardless of how many other people have one. Podcasts offer the same authority-building opportunity.
"So many different tactical executions of marketing are wrapped in a nice little bow with podcasting," says James.
He predicts that, in 10 years, having a podcast will be a no-brainer for every B2B business.
"Regardless of whether your competitors are doing it or not, you should be doing it for the same reason all these businesses have blogs: because it's still effective."


Converting podcast guests into paying customers
James dove head-first into podcast hosting. He took the high-volume approach to recording B2B Growth episodes — as many as nine shows in one day! And he says it was the most important thing he could've been doing because he was having conversations with his exact target personas.
However, he wasn't engaging in a ton of sales follow-up with his guests. By sheer numbers, he was closing a few deals because, in his words, "even a blind squirrel gets a nut every now and again." But he knew he wasn't a natural salesperson.
Despite shying away from sales, James did one thing well: relationship building.
He hosted dinners while traveling, inviting former podcast guests from that city to get together and talk shop about being B2B business owners.
His team also gave thoughtful gifts based on the snippets of personal information they learned about each guest.
By the time James hired a sales rep, he had built up enough relationship capital that his former guests were poised to purchase. They had all seen firsthand how effective a podcast can be and they were ready to start their own.
James says Sweet Fish's growth has been "up and to the right" since he brought on a sales expert.
He advises early-stage founders to seek out the expertise to fill in their weaknesses early in the game — or risk missing out on huge amounts of potential revenue.
What not to do when launching a B2B podcast
There are a few other things James says he wishes he had done differently from the start. If you're new to podcasting, try to avoid what James identifies as his key mistakes:
Neglecting original research. "People want to know data," says James. He wishes he had gathered some numbers early on about the B2B business owners he chatted with — it would've made for relevant social media and podcast content.
The fix: Survey your podcast guests, especially if they all fit into a particular category. The Sweet Fish team gained valuable insights about their target market when they started to ask the same questions of all the VPs of marketing they interviewed.
Disregarding the quality of the recording. When launching a B2B podcast, it's important to avoid using unreliable or low-quality podcast recording software. Poor audio quality can greatly detract from the listening experience and make it difficult for listeners to engage with the content.
The fix: Invest in high-quality podcast recording software that offers features such as noise reduction, audio enhancement, and multi-track recording. By using reliable software, you can ensure that your podcast sounds professional and polished, which will help attract and retain listeners over time.
Forgetting to care about listenership. James and the B2B Growth team were heavily focused on content-based networking. They cared more about guests than listeners. When they finally realized a lot of their new customers were long-time fans of the podcast, they decided to consider their audience a bit more in content decisions.
The fix: Make "stickier" content by aligning sales and marketing so you will naturally pay more attention to your ideal clients' wants and needs. James found out what his audience wanted by watching his podcast downloads and shares. Some of the most popular episodes of B2B Growth have been behind-the-curtain riffs like this one.
Best practices for podcasting like a pro
It's also important to know your ideal client, whether they're listeners or guests, so all the other details of your podcast creation appeal to them.
Here's how to get your podcasting journey started on the right foot:
Branding: James recommends branding your show after your ideal client, not after your own expertise or company values. "Nobody wants to know more about your company. They want to know what's going to help them get better," he says.
Pro tip: Take advantage of Apple no longer penalizing creators for adding taglines to podcast titles. A tagline can help you clearly communicate who the show is for.
Interview questions: Don't bore your audience with a long lead-up to the meat of the episode. This means you may have to tee up an inexperienced podcast guest with the right questions to avoid having them talk for too long about their background.
Pro tip: Set up a pre-interview to find an angle for each episode. At B2B Growth, the team goes through what they call "POV discovery" with every guest before a recording. They ask creative questions like "What's a commonly held belief in your industry that you passionately disagree with?" The guest's answers will allow you to build more pointed why and how questions for the main interview.
Episode length: James used to subscribe to the idea that shorter content was best because it was more easily consumable. Over time, he's changed his tune. "The content should be as long as it is good," he says. If an episode provides legitimate value, some people will listen for an hour or longer.
Pro tip: Determine your audience's preferred episode length by inviting critical feedback. Try sharing your episode with others in your industry on a platform like LinkedIn. Often, you'll get honest responses about which questions or segments don't work.
Like any other entrepreneurial undertaking, starting a podcast is daunting — but worth it.
In James's experience, it's not about having all the bells and whistles of high-quality audio production. You just have to be thoughtful about the show's premise.
"You don't need a laundry list of people in the credits at the end of your show to produce something great that people love listening to."
This is based on a conversation from The 0 to 5 Million Podcast, featuring founders, CEOs and revenue leaders from businesses between 0 and 5 million in ARR. Subscribe to future episodes to find out how they did it.