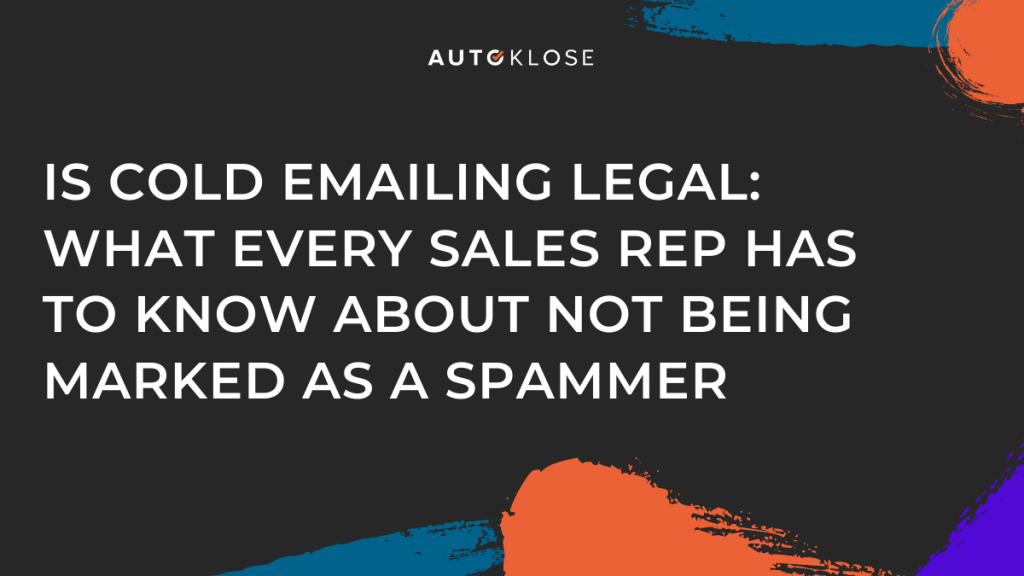 We at Autoklose are very big on cold emailing and email outreach.
With good reason, though.
It's a great practice if you need to grow your customer base quickly – while inbound is an essential strategy, it's a long-term one, and new businesses can't afford to rely solely on it for filling their funnel and keeping it full.
So, cold email, that is, email outreach can land you a lot of new business opportunities relatively quickly, and that's cool.
But, unfortunately, this practice is much maligned, and many sales reps and marketers avoid it, believing that it's the same as spamming. Also, some of the latest data protection regulations, such as CAN-SPAM, seem to be standing in the way of cold emailing.
Are they, and can you send cold emails to your prospects?
Is Cold Emailing Legal?
In a nutshell, yes!
This means that you won't be marked as a spammer if you send your prospects cold emails that are CAN-SPAM compliant.
In other words, reaching out to business contacts that you've never communicated with before or those that you don't personally know isn't illegal.
But why is there so much fuss about cold emailing then? And why do many people try to find out how to stop spam emails?
The problem with cold emailing lies in an unselective and pushy approach from the mid-1990s, when companies decided to test the newly available commercial use of the internet. So, they started bombarding random people with email ads, without taking into consideration their preferences and needs.
And this practice is what gave cold emailing a bad name.
Different countries decided to put an end to spam, and created various legislations that would prevent both B2C and B2B companies from sending irrelevant, unsolicited, and generic messages.
However, unless you want to engage in these grey-area practices, you can absolutely reach out to your prospects without worrying that your emails will end up in their spam folder, or even worse, that you'll be subjected to hefty fines.
Adhering to CAN-SPAM is crucial.
But What Exactly Is CAN-SPAM?
In 2003, CAN-SPAM (The Controlling the Assault of Non-Solicited Pornography and Marketing Act) came into force.
It applies to electronic email messaging whose primary purpose is the commercial advertisement or promotion of a commercial product or service. According to this legal Act, recipients are given the right to stop receiving commercial emails from businesses.
Violating this Act can lead to a $40,654 fine. Per email!
You do the maths.
Instead of risking your being marked a spammer and squandering a lot of money on penalties, you can do this the right way and cold email your prospects in a CAN-SPAM compliant way.
I have to stress that CAN-SPAM doesn't refer to cold email in general, just to the instances of not adhering to this Act.
How to Stay CAN-SPAM Compliant?
By adhering to the following rules, you'll be on the safe side, and your cold emails will not only be CAN-SPAM compliant but also effective in eliciting a response from your recipients.
1. Stay Away From Deceptive Subject Lines
CAN-SPAM or no CAN-SPAM deceptive subject lines are a bad idea.
The only way to build a loyal audience who'll open and respond to your email messages is by being sincere about what's in them.
This Act wants salespeople and marketers to stay away from clickbaity subject lines that don't reflect the content of their message.
While it's OK to get creative and funny in order to spark your recipients' interest and curiosity, thus getting them to open your email, it's way too far over the line to be deceptive.
Using bombastic words and phrases such as "urgent" or 'a time-limited offer" is a big no-no (even if you actually want to say something urgent or inform your prospects about a time-limited offer). CAN-SPAM will penalize you for trying to deceive your recipients – and even if you aren't trying to do so, such words are spam triggers.
Check out how to come up with a decent, CAN-SPAM-proof, and yet compelling cold email subject line in our blog post on the topic. As for spam filters, the Autoklose Template Analyzer is a tool that will highlight spam words and phrases in your subject lines and email copy.
2. Provide a Clear and Easy Opt-Out Option
As cold email boils down to reaching out to people or businesses you haven't had any previous contact with, it's important to be very careful about allowing them to unsubscribe or opt-out very easily.
That's why an opt-out button or unsubscribe link that's placed in the email footer will put you in CAN-SPAM's good books.
You can also include a link to your recipients' subscription preferences. This way, you can still keep them, but they will have an opportunity to choose the types of emails that they still want to receive and the ones that they don't want in their inbox.
3. Act Swiftly When You Receive an Opt-Out Request
According to CAN-SPAM, you have ten days to remove a recipient who unsubscribed from your list.
But, since you're most probably managing multiple lists and email accounts, it's best to use automation in order to make sure that all the opt-out requests are handled properly and in a timely manner.
It's important to understand that once a recipient clicks on the opt-out button, you shouldn't ask them to take any additional steps in order to be removed from your list. Charging an unsubscribe fee, asking for personal information, or generally speaking, continuing any contact with someone who clearly stated that they want to opt-out, is illegal.
4. Be Honest About Who You Are and Your Intentions
Don't try to deceive your recipients about who you are – tell them upfront and make sure that the "from" field shows the accurate information.
This means that you shouldn't hide behind the company or no-reply email.
CAN-SPAM will only allow messages sent by a real person, and this fact will also boost your open rates because people are more likely to open an email sent from a person that actually exists.
Besides that, don't forget to include your business or physical address in your email message, as that's another requirement for staying compliant with this Act.
How Can Autoklose Help You Stay Compliant With CAN-SPAM?
As Autoklose is a sales outreach and engagement platform, it comes with a number of features that will facilitate your cold emailing and outreach.
Here are some of the ways that it will make sure your cold emailing campaigns are CAN-SPAM compliant.
1. Autoklose Offers Personalization
Spam refers to any generic email blasts, that is, campaigns that send the exact same message to every recipient.
But, with Autoklose, you'll be able to automate your campaigns and ensure that your every email is tailored to your recipients. It's the next best thing to 1:1 communication. You can personalize every element of your email and provide a context as to why you are reaching out to your recipients.
2. There's an Automatic Unsubscribe Link
Remember the part in which you have to juggle opt-out requests among different lists and accounts?
Well, with Autoklose you don't have to do that, as it will automatically remove a recipient who unsubscribed and move them to the Do Not Email list. That's how you'll never make a mistake of reaching out to someone who has already opted out.
Besides these clear opt-out and unsubscribe requests, Autoklose is capable of identifying the context meaning "I want you to take me off this list," and act accordingly.
3. Autoklose Adheres to Sending Limits
This is another thing that's very important for CAN-SPAM.
Namely, exceeding Google's and Microsoft's sending limits is something that this Act will penalize. Autoklose complies with outbound sending limits of these two services and keeps you safe from being fined.