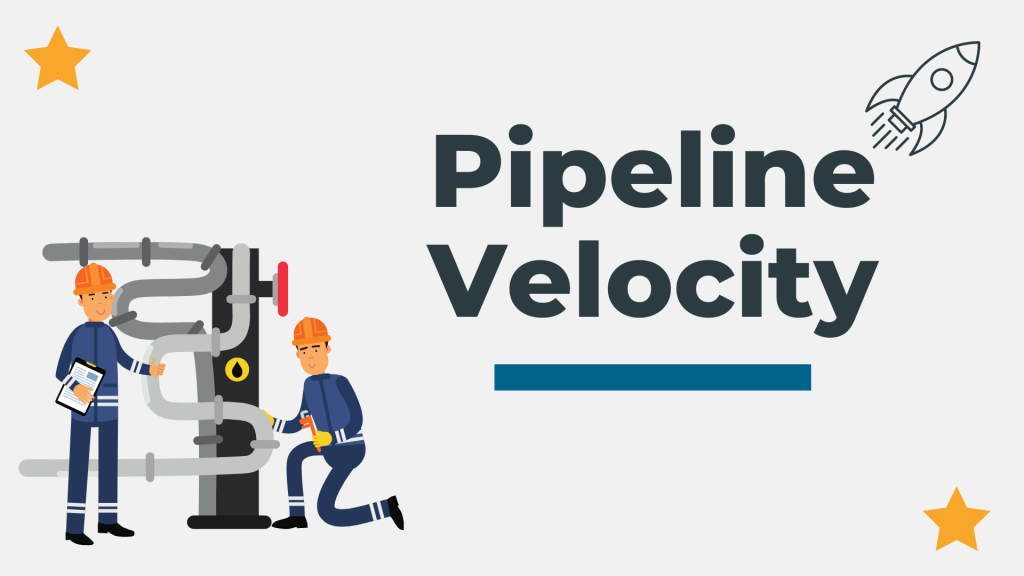 Salespeople face numerous challenges on a daily basis- to generate more leads and move them through the sales pipeline quickly.
As for lead generation, 34% of salespeople say that their efforts are only slightly effective. 
But, things don't exactly get easier once you jump over this hurdle and have precious leads sitting in your CRM.
Hate to break this to you, but when leads reach the top of the sales funnel, another roadblock pops up and prevents the average salesperson from hitting their quota – the speed at which prospects and qualified opportunities move through the funnel.
In many cases, there's congestion and these prospects move pretty sluggishly for longer than they should and never seem to reach the bottom of the funnel.
That's why we decided to tackle the topic of pipeline velocity, discuss what it is, as well as how to speed it up, and move your leads swiftly to a close. 
What Is Pipeline Velocity?
Long story short, pipeline velocity is the speed at which your prospects move from the top of the funnel to its bottom, regardless of whether you've won or lost them.
This concept can also be discussed from a financial perspective. In other words, pipeline velocity is a measurement that helps you understand how fast you're making a profit.
Another interesting insight provided by pipeline velocity refers to the value of every individual lead over a period of time.
How to Calculate Pipeline Velocity?
What you should pay most attention to when it comes to this metric is the change in the number of leads within a certain timeframe.
So, it's actually a formula and not just one single parameter that matters in this case.
This formula consists of:
The number of qualified leads over the predefined interval
The average closed deal value in the predefined interval
The win rate percentage in the predefined interval
The average length of the sales cycle.
As you most probably know, the longer a lead stays in the pipeline, the less likely you can close it. That's the reason why calculating the total value of your pipeline isn't something that you should rely on.
So, basically, the quality of your pipeline can't be measured only by the number of leads in it as well as the value of your average deal size.
Why is Pipeline Velocity Important?
A healthy pipeline is the one that ensures a smooth transition of prospects through all the stages of the sales cycle.
Even slight changes in the way you do things can increase the pipeline velocity as well as increase your revenue.
By monitoring your pipeline velocity regularly, you'll be able to grow your business and help it thrive.
Given that predictable revenue and sales forecasting are some of the most important factors for every business, it's obvious how understanding the speed at which leads move through your pipeline and the value of each and every lead can help you improve these numbers. 
With the help of this metric, you can find out how to accurately optimize every stage of your sales process and ensure higher conversion rates.
Let's see how you can speed up this process and move your leads through the pipeline faster. 
1. Make Sure That All Your Departments Are Aligned
Sales-marketing alignment plays an important part in pipeline velocity. 
Namely, if your marketing department sends half-baked and unqualified leads to your sales department, the pipeline will be slow and clogged.
So, by improving the communication between these two departments, you can also improve the lead qualification process, and increase the speed at which leads move through your pipeline.

2. Cut to the Chase and Help Your Leads Understand the Value of Your Offer ASAP
That "aha" moment is crucial for streamlining your pipeline because the sooner they realize how beneficial your product is for their business, the sooner they will be ready to move on to another stage of their customer journey.
Again, for this, you need to understand and research your prospects carefully and find out what makes them tick.
Go through their company's website, their social media profiles, and find other channels to understand what problems they face.
Finally, it's crucial to formulate your offer in a manner that addresses those problems and resonates with your prospects. 
3. Nurture Your Leads 
You can expect to move your leads through your pipeline by emailing or calling them once or twice.
The key is constantly showering them with valuable content, reaching out to them through social media channels, and simply keeping in touch with them.
By sending them a blog post, which doesn't necessarily have to be written by your marketing team, and saying "I came across this article and thought that you might find it useful," you're nurturing them even if you don't mention your product or service.
The point is in your desire to help them solve their problems and if your prospects realize that your primary concern is to be helpful, they'll give in and start considering your offer more seriously.
4. Focus on Qualified Leads
Although I do believe that you should give every possible lead a chance, I also think that you should be very particular about which ones deserve your utmost attention.
As you know, there are good and bad leads, and unless you have a good vetting and qualification process, it can be difficult to tell the former group from the latter.
This results in your sales team wasting too much time and energy trying to close unqualified leads that might not even be a good fit for your business.
So, it's critical to implement some of the following in order to make sure that only those who have the potential to purchase from you find their way into your pipeline:
Create your ideal customer persona and buyer personas
Create highly granular and targeted marketing campaigns
Narrow down your demographic for every social media campaign
Gate premium content
Set up a lead scoring system. 
The more, the merrier doesn't apply here, and it's better to have fewer quality leads than to pack your pipeline non-selectively. This means establishing what a qualified lead is and ensuring that every member of your team uses the same logic.
5. Leverage FOMO
People are susceptible to fear of missing out, and that's why you should generously use this effective tactic to speed up your pipeline velocity.
Limited-time offers, for example, create scarcity and urgency, and these two factors are critical ingredients of persuasion. So, when you give a discount or some kind of incentive, you should put an expiration date on it.
This will nudge people into saying yes since all of us love a good bargain.
When it comes to discounts, you should, however, be very careful about them. The thing is that if you have regular discounts, your customers might notice a pattern and wait for the next one before they make every purchase.
That's why it's maybe a better idea to instead of slashing the price throw in a premium feature or functionality into your offer. This way you can still push your leads into making a purchasing decision faster without risking a low operating profit margin.
6. Use Product Demos
Product/service demos play an important role in increasing pipeline velocity. 
Namely, if your product or service has been designed to meet your target audience's requirements and solve their pain points, it's important to show them all the benefits of your solution as early as possible in the sales process.
This particularly applies to the B2B industry, because products and services are usually complex and many people don't see their benefits at first sight. In addition to that, these solutions can be a bit difficult to use, which is why sales reps need to demonstrate best practices and mention notable use cases.
But, don't run generic demos – hyper-personalization is what matters big time for accelerating the sales process because every prospect needs to see how exactly they could benefit from your product or service and maximize the value of the purchase.
In a nutshell, focus only on features that every individual lead will find useful.
As you can see, pipeline velocity should be your priority if you don't want stale deals to congest your pipeline. These simple tips can help you optimize your sales process and accelerate it. To learn more about this topic and hear useful real-life examples, check out the SalesIQ podcast and hear Shawn and Luigi Prestinenzi talk about different sales tips and tricks that work.