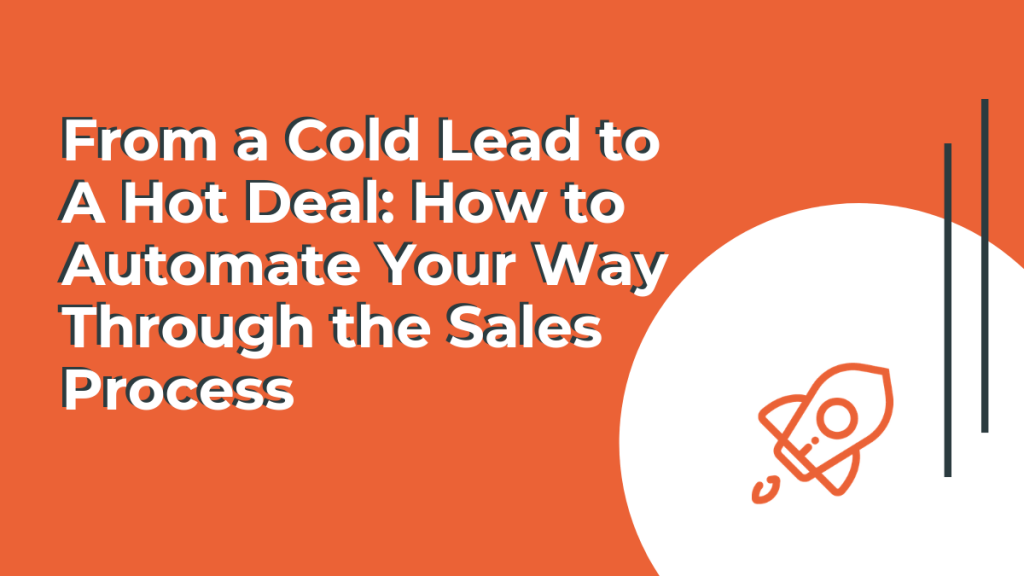 Believe it or not, but sales reps spend only 36.6% of their time selling int their entire sales process! Isn't it ironic that instead of calling their prospects, following up with them, nurturing them, closing deals and, you know, doing what they have been hired to do, they have to put in a lot of time into administrative, menial work that is draining them and killing their creativity?
A typical sales rep has to be a jack of all trades these days, bearing in mind that they have to do pretty much any odd job that comes along during the sales process – even those tedious, mechanical data entry tasks.
Some surveys say that 12% of sales reps' time is reserved for researching accounts and contacts. While we can agree that this activity plays a pivotal role in creating and polishing a tailored pitch, the truth is that trying to find prospects' emails, and other relevant contact information manually is an enormous waste of time and money.
Enter automation!
Luckily, we're living in the digital age, and there are various tools that can automate almost every step of the sales process, and allow sales reps to use their time productively by allowing them to build meaningful relationships with their prospects, listen to what they have to say, and give them what they need.
Autoklose is a cool new sales automation platform that can automate a great deal of these tasks and pick up the slack. Our idea is to automate and centralize all your activities starting from lead generation and researching contact information, across targeting and nurturing your prospects, all the way to closing a deal. With our help, sales reps will be able to schedule all these tasks in advance, get away from their computers, and start meeting their sales quotas, as well as their prospects.
Still, automation is valuable only if you know how to properly use it, and we're going to discuss some of the best methods for automating your entire sales workload.
Abundance of Leads
The fact that you can't find any leads, indicates two things: either you haven't achieved product/market fit or you're pitching to the wrong audience. It's very simple: if you've got a product that addresses a certain point and solves it, then, all you have to locate people who could benefit from it.
Easier said than done, especially if you don't know where to look.
Social media, for example, is a gold mine of potential leads. The latest stats show that LinkedIn has more than 530 million users in 200 hundred countries all around the world. You can only imagine how many of them would be interested in what you have to offer.
Twitter, which is primarily seen as an extremely effective WOMM tool, has 330 million unique monthly users. Although these two platforms are used for networking, they can provide you with much more than that. With the right tools, they can turn into tremendously rich sources of premium, qualified leads.
We're talking about people who will be responsive to your outreach and who have the potential to turn into your customers. And what's even better than that, you won't need to spend hours on your social media accounts trying to manually identify and contact them.
1. LinkedIn
There's no need to elaborate on how powerful this social media platform is for making connections and building relationships.
This particularly applies to B2B leads, because all relevant companies and business professionals have their profiles on LinkedIn, and 79% of B2B marketers say they effectively use this platform for generating leads.
Publishing content is a great strategy for engaging prospects on LinkedIn and driving traffic to your website. There's no doubt that your potential customers will look you up on social media while doing their research.
Decision-makers are very thorough when they're making their purchasing decision, and surveys say that before they give the green light, they pore over 10 pieces of content. That's why everything you post via LinkedIn Pulse has to offer them a reason to continue reading.
Try adding value to your content by, say, creating how-to videos and infographics, or by sharing information about your favorite tools, resources, and everything else that your audience might find useful.
While top-quality content can turn you into a thought-leader and authority in your field of expertise, and build you a stellar reputation, which will result in a steady influx of fresh, qualified leads, there are other strategies which take an even more proactive, one-on-one approach.
And, since talking to your prospects is the best tactic for converting them into your customers, it's good to know that there's a tool that can automate even this aspect of your job.
Dux-Soup
This little tool, which comes in the form of a Chrome plug-in, will help you get all your ducks in a row, and by that we mean that it will auto-visit LinkedIn profiles from a list you provide and scrape all available data, including their names, companies they work for, roles, social media handles, and emails (we'll discuss this in detail a bit later).
Now that you've managed to grab all these valuable bits of contact information, you can export it into a CSV file and use them for further research. As you know, whenever someone visits your LinkedIn profile, you receive a notification, and more often than not you're prompted to see who they are.
This natural curiosity is exactly what makes Dux-Soup so effective and efficient: just one click will trigger numerous notifications, so you'll experience a surge in profile views yourself.
That's when the warming-up process starts because people whom profiles you've auto-visited will get to know your business and if your tagline (or even better USP) is well-crafted, they will take an interest in your product or service.
This first touchpoint with your prospect is very important, so make sure that your profile speaks for itself, and has a compelling value proposition that will instantly capture their attention, because you've got somewhere around 8 seconds (which equals the average online attention span according to that famous Microsoft research study) to do that successfully.
Now, let's go back to the email part of the equation.
Dux-Soup can help you with getting the email addresses of the profiles from a list you feed it with. However, as there ain't no such thing as a free lunch, you'll either need to buy Dux-Soup points, or you can swap the email addresses of your LinkedIn connections for these points, and use them for obtaining new, mostly personal, email addresses.
This duck is all for fair play, so for each address you give, you get a fresh one.
As you can see, you can have your cake (or duck soup) and eat it. Now, you're all set to start capitalizing on all the information that you've collected.
Still, if you're concerned whether it's ethical to offer other people's personal information in exchange for, well, another batch of personal information then you'll be happy to hear that Autoklose gives you access to a massive, database packed with fresh, impeccably clean B2B leads from various industries.
Or, if you have suppressed that tiny voice saying it's not OK to share your personal connection with a scraping tool, you can, as we have mentioned, export your catch into a CSV file, and use it later for targeting these leads with Facebook Ads.
Finally, this tool will also expand your network by automatically connect you with 2nd degree connections. As you can see, Dux-Soup goes through LinkedIn and absorbs all contact information within a predefined niche, draws attention to you, and paves the way for the outreach.
OK, now you're ready to set things in motion and actually spark a conversation with all those people in your LinkedIn network. Since the whole point of this post is to automate the hell out of the entire sales process, there's no need to sit down with your list and manually send messages one by one, and wait for people to answer you back.
Linked Helper
Linked Helper is another Chrome extension that's a real lifesaver.
All you have to do is compose a message template with the variables, and this tool will send personalized mass automated messages to your contacts. This is a great way to automatically spark conversations, as Linked Helper does all the dirty, boring work, leaving the best part to you.
Imagine how many times you would have to type "Hello, nice to have you in my network" and click send.
Why waste energy and time on mechanical activities, when a tool can do better? It replaces the variables with first and last names and makes your messages even more impactful. You can take over from here and start building actual human relationships because you can bet that a certain number of people will answer back.
But, there's a catch if you want this to work. Immediately drop that pushy, salesy approach. Don't try to sell anything at first. Those are real people behind the screen, so take an interest in them and try to get to know them better. This will not only warm them up, but the things they tell you about themselves might come in handy later on when you start your campaign.
Make sure to ask them what they have been up to recently, and see whether share some interests. Try to be helpful whenever you can.
Yes, the ultimate goal is making the sale, this idea puts your prospects into a passive position – they're merely subjects that should succumb to your (often over the top) pitch. Show them some respect, instead of that, by offering them to take an active role in the process and be the ones who do the talking. You'd be amazed at how effective this shift of focus can be.
It won't be you pitching and selling, but them talking, asking, and making a purchase. It's a natural human instinct to ask you back about your business, and when they hear more about your product, they might be more interested in testing it. Or at least they will take your offer into consideration, which means that you stand a chance of being selected more than your competitors who haven't reached out directly. These are the first steps towards building trust and loyalty, the key ingredients for social selling.
This whole procedure will enrich your prospect base with tons of new, relevant leads, some of which have been warmed up. You'll have both business email addresses that you can use for automated cold outreach (with the help of Autoklose), as well as personal ones that can be used for Facebook Ads.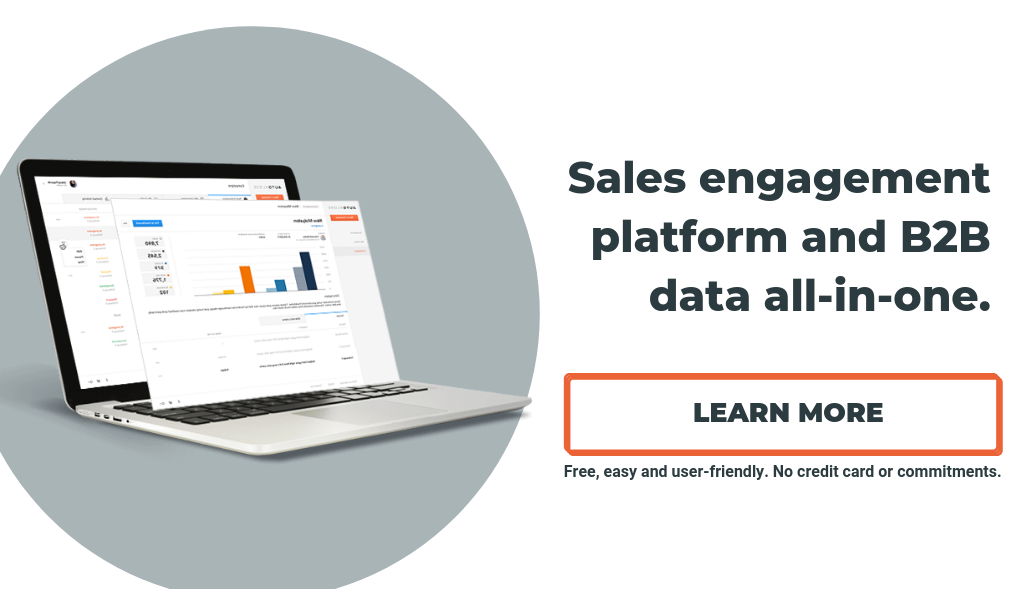 2. Twitter
Twitter is (or at least used to be) a great vehicle for some good ol' WOMM, but you can use some of its 330 million users in another, more proactive manner. In the wake of the recent scandal with more than a million fake followers on this microblogging platform, you shouldn't take all that engagement and influencers for granted, but this doesn't mean that you shouldn't connect with people and start talking to them. Again, speeding up this process is highly recommendable, so why not use a bot and proliferate your following?
Tweepi
Ok, this isn't exactly something that Twitter approves of, and it's bordering on questionable, but hey, as long as it's not illegal, it's a great way to find people from your niche and start following them.
If your feed is active and engaging, you can expect that they will follow you back. Tweepi is a handy app that will help you grow your following but on your own terms – you can select various parameters and the bot will start following people who fall under the description you provided.
This means that you can start following the followers and friends of your competitors. The difference between these two concepts is in the fact that Twitter friends are those people who follow you and whom you follow back.
Your another option is to enter specific keywords and search people who just tweeted about a particular subject and follow them. There are numerous following possibilities. What's good is that you can automatically unfollow all people who don't follow you back within a certain time frame.
Once you strike up an online friendship with people, it's time to start talking to them. Before Twitter suspended automatic DM option, it was possible to automate this part too and get in touch with your following more easily.
Followerwonk
Following your competitors' followers and friends is a pretty useful technique, but you know what's even better than that?
Obtaining their Twitter handles and exporting them into a single CSV file.
It's a no-brainer that people who follow and interact with your competitors on Twitter are your potential leads, and you should target them asap.
But, going through their profiles and copy-pasting their handles in a spreadsheet sounds like a nightmarish scenario that would take up almost all your time and energy.
Fret not, because Followerwonk comes to your rescue!
This extremely efficient and useful tool will analyze the followers of the accounts you select and let you download a CSV file.
The only thing you should do is check out whether some of those people are already following you and remove them from the spreadsheet.
Use Your Twitter Handles
Now that you have tons of Twitter handles, you can use them for finding out their email addresses. Use the following formula: a Twitter handle + @gmail.com and put the list into an email verifier tool.
Or, you can take advantage of a market research platform EnterpriseProspecting which can provide you with manually completed and verified contact information – first name, last name, company size, title, or anything else that you need for your campaigns, all based on these Twitter handles.
Let's Get Down to Business!
After all this prep, your funnel is full of quality leads, which is great, but you need to know how to use the valuable information you dug up, and how to do it efficiently.
Email marketing is the way to go. But, this cost-effective strategy usually starts with cold outreach.
Many salespeople will say that cold outreach is a challenge and that they actually enjoy it, but others will say Brrr! And shivers will go down their spine.
Either way, it's a good idea to warm up your approach a bit, and use a couple of tricks to improve your open and click-through rates.
We've already mentioned Dux-Soup which will auto-visit your target audience on LinkedIn and provide you with their personal email address which you can use to display them a skillfully crafted Facebook Ad. After this, your cold email won't be so freezing.
And here's another idea that we've already discussed: start chatting with your prospects on LinkedIn, ask them what their issues and needs are, and then serve them a tailored Facebook Ad which will subtly address their pain points and offer solutions. Of course, pair it with an irresistible free-trial offer.
When your leads are warmer, it's time to start engaging them.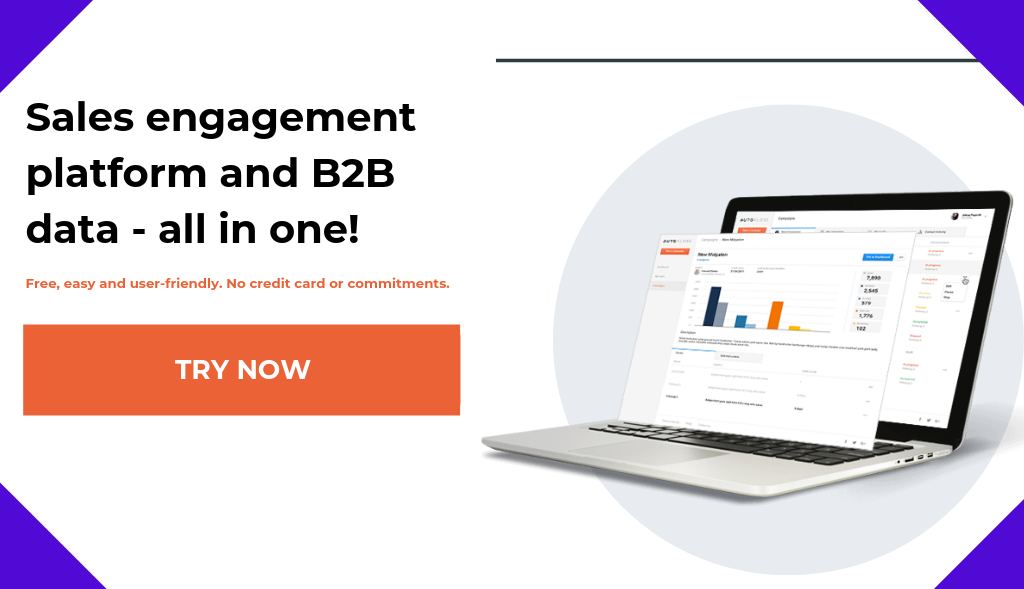 Autoklose Puts the Auto in Automation
Autoklose is a sales automation platform that you can use throughout your sales cycle. It's powerful but extremely easy to use, which means that even people who aren't exactly tech-savvy will figure it out in no time.
Let's start from the beginning. First of all, there are several ways of feeding leads into Autoklose – you can connect your Salesforce Account, upload one of those CSV files full of contacts that all the previously mentioned tools and methods helped you obtain, or take advantage of a third-party database packed with verified B2B leads which Autoklose puts at your disposal.
No matter what source you choose, Autoklose lets you create various contact lists that you can use for your targeted email campaigns. There's a number of different filters which will make sure that your outreach is surgically precise and sent to the right audience.
And here's the real deal: when you connect Autoklose with your email address, all the emails you sent will be shown as coming from you directly.
It's a comforting idea to know that when you're creating your campaign you can use high-converting email sequence templates. If you're strapped for time or if you simply can't come up with the email copy for various business situations, these customizable sequences have you covered.
Needless to say, these sequences will automate your follow-up efforts and keep everything under control. For example, once a prospect replies, the sequence will be stopped.
When it comes to personalization, Autoklose pulls all the data from the list you provided, and it includes your prospects' first and last name, organization, and job title.
Subject lines can be hard to create. You need a short, intriguing, attention-grabbing sentence, that is descriptive and yet not too revealing. And Autoklose provides you with a unique, carefully crafted subject line for every email template in the sequence.
OK, we're almost there. After this step, you need to schedule your campaign and Autoklose will launch it when the time comes.
But that's not all. Our recent upgrade allows you to practically run campaigns indefinitely. The Always running campaigns option will revolutionize your sales process.
All you have to do is add a new contact from any source (yeah, we enabled that too) and voila! Your successful, high-performing campaign is set to motion, and it's ready to harvest lots of fresh prospects.
As simple as that.
Cool, right?
To help you learn more about this major upgrade, we created a separate blog post which explains everything in detail.
By setting automated triggers, such as the automatic reply feature, or automated follow-ups, you will make sure that you interact with your prospects in a timely manner. Autoklose keeps track of all these instances so that you don't have to think when it's time to touch base again.
Another useful option that will certainly land you a lot of new deals, is integrating your calendar with Autoklose. This way, your prospects will be able to access it, find the time slot that works for them and book a meeting with you. Being available all the time is extremely important in this day and age, and Autoklose takes care of that for you.
Last but not least, detailed analytics is essential for the success of your campaigns. If you want to see how any member of your team performs, or check out email delivery, open, click-through rates and other important parameters in real time, simply go to your dashboard and see all campaign stats.
As you can see, a couple of well-engineered tools can help you manage your sales funnel, keep it stocked with high-quality, qualified leads, and maintain regular interactions with them, not to mention that you will save a lot of time and money.