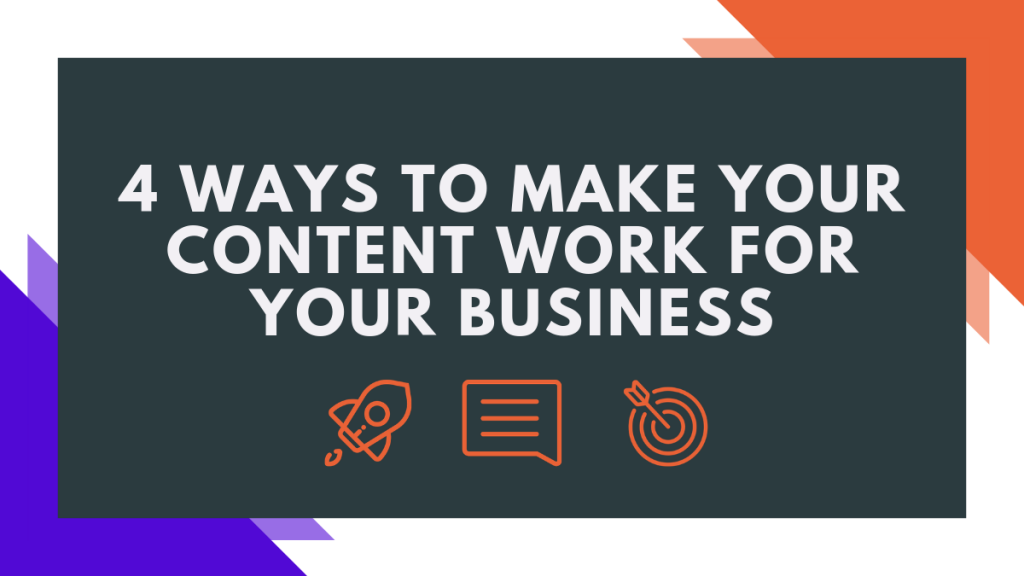 Long gone are the days when traditional marketing could cut it and attract your audience towards considering your product and service.
Nowadays everything practically revolves around content.
But not any content created just for the sake of it – if you really want to appeal to your audience and provide them value, you need superb content which will educate, instruct, and entertain, while resonating with those who are reading it.
And stats corroborate the claim that content is still on the throne – content marketing leaders experience 7.8X higher year-over-year growth in unique website traffic than those who don't leverage this marketing tactic properly. (source: Aberdeen)
And the math is simple: your business heavily relies on the leads you generate, nurture, and convert to paying customers, and content marketing is indispensable for every step of the buyer's journey.
Here's how to make this strategy work for you.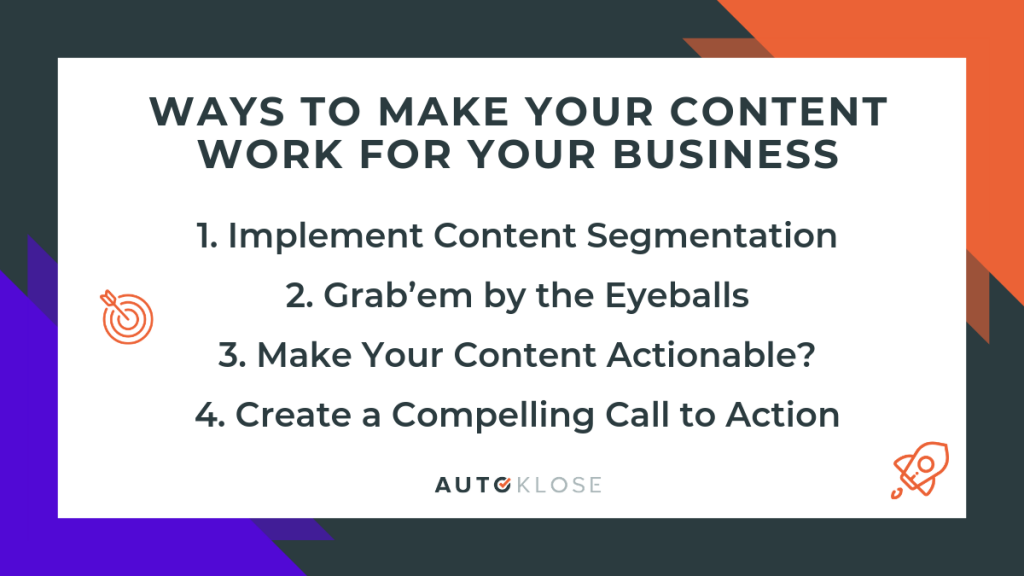 1. Implement Content Segmentation
It's only logical that your existing customers and those who are only eyeing the prospect of using your products and services won't be interested in the same kind of content.
This means that you need to segment your audience based on different parameters, including the ones referring to their position in your sales funnel.
So, think ToFu, MiFu, BoFu.
No, I'm not talking nonsense or mentioning the type of soy-based food.
These creative abbreviations stand for the top of the funnel, the middle of the funnel, and the bottom of the funnel, and it's crucial to understand where exactly your every prospect is situated within this structure, as that's how you'll be able to create tailored content for each of these segments.
When it comes to content marketing funnel, it's also divided into three stages corresponding to the ones mentioned above, and they are:
Awareness
Evaluation
Purchase.
As you can see, this division is based on your prospects' point of view, so the awareness stage is when they first hear about and discover your brand; evaluation refers to the process of deciding whether your product or service is a good fit, and finally purchase is something that all salespeople dream of, and that's when your prospects pull out their credit cards and become your paying customers.
This is somewhat similar to the general, marketing funnel in which you have to: attract, convert, close, and delight your leads.

Now, let's see what particular types should be used in each of the four stages of the marketing funnel:
Attract – in order to grab your leads' attention and prompt them to explore your brand, you can use ads, landing pages, explainer and demo videos, infographics, and some useful checklists, calculators, and other free tools that will bring them to your website. 
Convert – for getting your leads to become your subscribers or followers, you can use useful and educational blog posts, how-to guides and videos, case studies, and free webinars.
Close – to push your qualified leads further down the funnel and encourage them to actually purchase your product or service, you need to serve them ratings and reviews, questionnaires, and different kinds of social proof which will cement their belief that you offer exactly what they need.
Delight – wooing your customers doesn't end once they make a purchase – you need to keep on nurturing and delighting them if you want them to come back for more and become loyal. For this, you can use white papers, reports, e-books, more in-depth blog posts, newsletters, contests&giveaways, discounts, and pretty much anything else that will add value.
This entire process can be streamlined with the help of automation, as you can, for example, start generating leads with well-researched cold outreach, then proceed to nurture these leads with regular newsletter packed with valuable resources and interesting offers, and continue to cater to those who become your customers by sending them curated and tailored content.
🚀 Autoklose 🚀 can help you with all this as it provides you with access to a huge, well-maintained, and regularly updated B2B-lead database from which you can cherry-pick the leads which are a good fit for your business and nurture them with carefully-crafted email campaigns.
Check out how to automate your way through the sales process in this comprehensive blog post.
2. Grab'em by the Eyeballs
I'm sure you're familiar with the Pareto principle according to which approximately 80% of the effects come from 20% of the causes.
David Ogilvy implemented this principle in order to make one of the most important rules that every successful content marketer plays by – 80 cents out of your dollar should be spent crafting a killer headline.
Namely, a majority of people, or to be more precise 80% of them, read headlines only, and that's your chance to capture their attention and get them to read your entire blog post.
There's no exact recipe for a compelling and catchy headline, but here are some tips to help you get there:
Keep it simple and to the point. Yes, it's important to be straightforward and tell your readers what the post is all about, but you don't have to blurb it and be elaborate.
Use numbers. People love when the content is divided into bite-sized pieces of information that are easy to grasp and digest, and numbers reflect that approach.
Make it value-centric. Your title needs to tell your readers what they will obtain if they take time to read your blog post. So, if you say "12 Simple Ways to Improve Your Open Rates" your audience will expect to find relevant information which will tell them what exactly they should do and what actions to take to improve their open rates.
Use questions. Intrigue your readers by asking well-targeted questions which you know refer to their main challenges and pain points. For example, "Struggling With Your Bounce Rate?" clearly tells what the text will be about and implies that you'll offer some kind of solution.
Deliver! Let's take the same example from the previous point about the bounce rate – if you this title only to lure your prospects into reading your blog post without actually talking the issue and delivering on your promise to offer some good tips, you'll let down your readers and that will definitely cramp your style and compromise your credibility.
Use adjectives. Polish your headline by using some creative and interesting adjectives as they will boost your messaging – 9 Effortless Ways to Speed Up Your Sales Cycle. Other examples include: incredible, essential, amazing, state-of-the-art.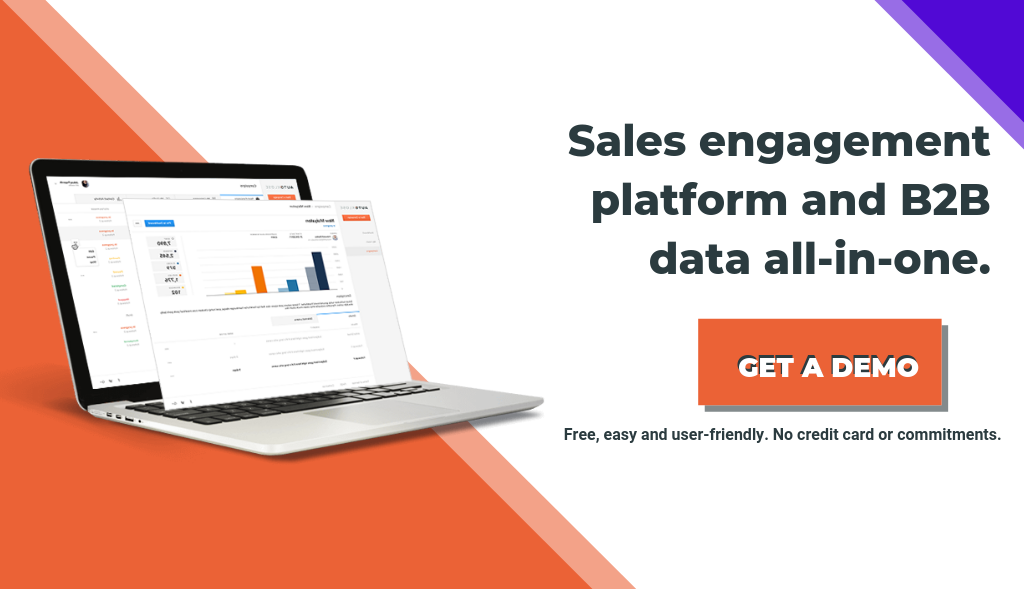 3. Is Your Content Actionable?
See what I did here?
I'm implying that your content should be packed with different tips and pieces of advice that your readers can actually use in practice. The trick is to provide them with the idea about how to implement what you've been discussing.
For example, in the previous paragraph, I tried (and hopefully succeeded) to tell you what you should pay attention to when creating your headlines and provided a couple of examples.
Also, one of our most popular blog posts is The Most Effective Sales Email Templates With Examples and it consists of a number of practical tips as well as actual, customizable email templates that you can use yourself. Every point made is illustrated and backed up by some proven stats and metrics.
Here's another example of actionable content: 7 Easy and Effective Rules for Sales Prospecting on LinkedIn. If you check out this blog post, you'll find pretty straightforward, no-nonsense tips that you can implement right now and increase your chances of successfully leveraging this social media platform for prospecting.
And one last tip is to avoid fluff and fillers, that is shooting the breeze which doesn't bring any particular value to your readers.
4. Create a Compelling Call to Action
A strong CTA is a make-it-or-break-it factor for the success of your content.
Just like you need a highly-conspicuous and strong CTA in your emails, it's important to do the same throughout your content and play on the fact that you've interested your readers with your blog post enough to explore your products and services.
So, if you want your readers to click on your CTA buttons, you first need to decide on what you want to achieve with them.
Is your goal increasing the number of subscribers?
Do you want to boost sales?
Are you trying to promote another piece of content?
As you can see, there are different goals that you can design, and your CTAs have to be created based on them.

Some of the rules for crafting highly-effective and clickable CTAs include:
1. It's ok to be salesy! If you're reading my blog posts, you've probably noticed that I always advise you not to be too salesy. But this time, I'll just say go for it! This is the moment where you should sell, so don't hesitate to be very direct. Your audience is expecting that, so don't try to be subtle or shy. "Sign up for our webinar", "Read our new blog post", "Get a demo" (and I mean it, get our demo and find out how Autoklose can make your life easier by automating your sales email outreach), "Download our e-book", "Buy our product". As you can see, you should cut to the chase.
2. Use action words. Imperatives work great for this content element as they're perceived as so-called power words. Just tell your readers loud and clear what you want them to do, and as you can see in the examples above, start with an action verb.
3. Add a sense of urgency. Play on your readers' FOMO and warn them that if they hesitate, your discount/special offer/free shipping might expire. Or, add the information that there are, say, only two items left. "Save your spot for our webinar until it's free" or "Call today and save 50%."
4. Highlight the benefit. In order for your prospect to decide and act on your invitation, you need to explain what's in it for them. Ask yourself why they should care and then offer them a reason. Use the so-called "So what" test. If your CTA doesn't have something irresistible, then you can't expect your prospects to buy into it. By outlining the benefit you can speed up their decision-making process and get them to click. "Use Autoklose and save 5 hours per sales rep a week!" How does that sound to you? By the way, it's true, if you start using Autoklose, your sales reps will be much more efficient and every single one of them will have 5 hours more a week to focus on selling instead performing some repetitive low-value tasks.
5. Images speak louder than words. I know, I know. It's not images but actions, but in this case, I can tell you that visually-oriented CTAs perform significantly better. People are visual beings and are more inclined to be attracted by a nice image, so use this fact to your advantage. Take a page from us, and check out all our vibrant CTAs which are designed in our brand colors.
6. Have a designated landing page. Your every CTA should take your prospects to a corresponding landing page. What I want to say is that you should create a new landing page for every offer, and avoiding using the same one for different campaigns. Similarly, stick to the "one offer per one landing page" rule because all that clutter will only confuse your readers. Bear in mind that companies with over 40 landing pages generate 12 times more leads than those with 1-5. To make your lander even more powerful and effective, use video as this touch can boost your conversions by 86%.
There you are, 3 extremely simple and technical tips that you can implement right now and see a tremendous increase in your content's performance. All these methods that I mention have been tested and proven by Autoklose, and lots of other business, so give them a try, and we'd appreciate if you let us know whether they work for you. Feel free to add some useful tips and we can update this blog post to feature your most successful tactics.