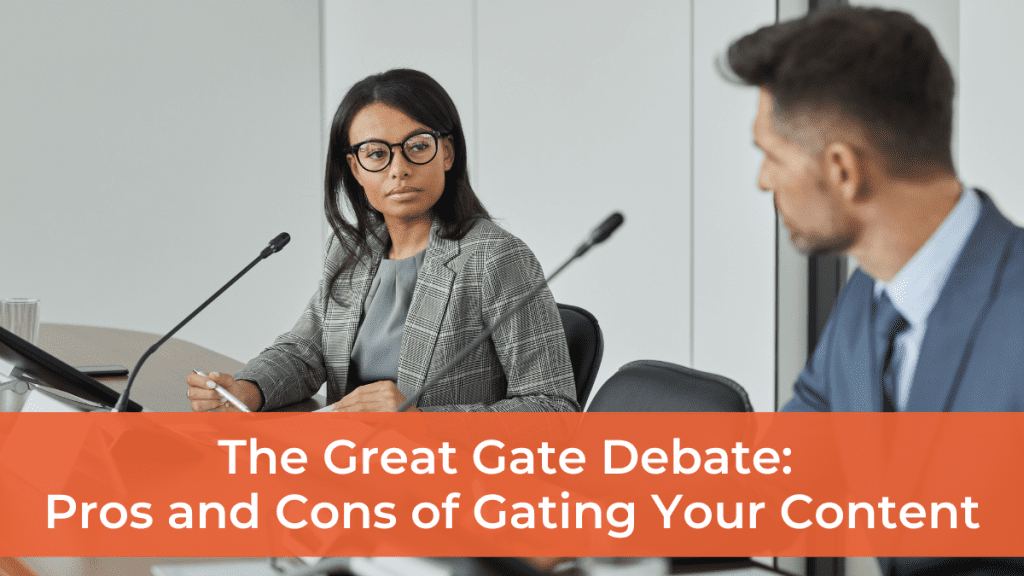 Marketers have hotly debated whether or not to gate content for years. Ollie and Shawn discuss the benefits and pitfalls of each approach — and how your business can strike a healthy balance of both.
Gated content generates business leads, while non-gated content brings higher site traffic — but both have the potential to make a long-term impact on your business.
A mix of gated and non-gated strategies gives you the best of both worlds. However, it requires an established following and a bigger team to pull it off.
To gate, or not to gate? (That is the question.)
Marketers have been debating this dichotomy for years, but the truth is, there's no one right answer — the solution often lies within the needs and capabilities of your company.
In an episode of the 0 to 5 Million podcast, hosts Ollie Whitfield and Shawn Finder break down this issue and go beyond the binary to discuss new ways of attracting leads with a mix of gated and non-gated content plans.
Gated vs. non-gated: a brief overview
Gated and ungated content alike has benefits and pitfalls. Understanding the basic purpose of each will help you determine which is right for your business.
Gating your content means that users can only access the content by performing a transaction, usually by offering contact information such as their email address.
It doesn't mean users have to pay a fee — rather, they 'pay' with their information, which content marketers can then use for data tracking, segmenting campaigns, and more. Gated content helps marketers to meet one of their key objectives: lead generation.
Commonly gated content types include (but aren't limited to) whitepapers, ebooks, research reports, or guides. Content such as blog posts, however, should never be gated.
On the other hand, ungated content is freely available to any user who visits your site. Ungated content is especially useful for generating site traffic and awareness.
While the outcomes of each type of content are different, both gated and ungated content bring value within a well-rounded content strategy.
Gated content: less is more
Gated content offers clear benefits to your business — when a high number of users choose to access your gated content (and self-select as business prospects), it means you're doing something right.
Your ungated content may be bringing anywhere from tens to hundreds of thousands of visitors to your site. But only that smaller number of gated content viewers — even if it's only 1-2% — may become leads and make a measurable impact on your business.
However, another core benefit of gating content is that it builds loyalty and trust with potential business leads. Data you gather from gated content users allows you to segment those users based on their interests.
That data is an invaluable asset that can help guide future email campaigns or marketing strategies. It also helps track which marketing strategies have led to engagement sales, so you can do more of what works well.
Ollie says that, from gated content, "I can draw a line to conversion, to [email outreach and response], to calls, to dollar value, and [to] deals closed much easier."
Gating your content also poses a significant risk, though. Potential business leads offer you their information with the expectation of high-quality content in return. If you don't deliver on that promise, you risk losing the lead and alienating your audience.
Plus, in order to maintain trust, you have to establish trust in the first place — and keeping your content behind a wall may make that difficult.
"If you don't have that reputation, if you don't have that branding, if your company is not well known, you're not going to get people to download [a demo]. Or you're going to get people to give fake emails, because I know I have one email address that I use to fill out all my forms," Shawn says.

From high-volume site traffic to long-term leads
Keeping your content ungated and open to the public brings more traffic to your site, a strategy that also has the potential to generate business leads.
Rather than hyper-focusing on the immediate needs of gated content subscribers, ungating your content leaves more possibilities for future business prospects. That way, you can focus on building better content for your website and improving its SEO to attract more visitors in the long run.
"If I work long term and I try and build the website traffic, … you can expect maybe 1-2% of people on the website to go for a demo. Out of 100,000 visitors, 2,000 people is pretty good," says Ollie.
For most companies, investing in SEO and website traffic is easier to maintain — and with ever-changing and always-packed calendars, some marketing teams may only have enough bandwidth to focus on those efforts.
Most companies Ollie deals with have ungated blogs, videos, and podcasts. He recommends that businesses that need to produce a high number of leads in one month focus their efforts on gated content. But when the marketing team has more time to build a loyal audience and work on SEO, gating content might not be necessary.
"The only difference is the team bandwidth and where I put my resources," he says.
The best of both worlds
An unexpected group of young people may have found the key to balancing gated and non-gated content: social media influencers and creators.
One of the most popular sources of income for influencers is Patreon — a subscription-based platform that allows paid viewers to access exclusive content while building a general audience through free content on YouTube, Instagram, or TikTok.
Why not create something similar for your business?
Instead of social media paired with Patreon, this could look like a "growth month" strategy — you might publish a series of non-gated articles followed by a final gated interview with a top industry expert.
"I think that kind of strategy works simply because you've gotten people into it," Shawn says.
This approach allows you to continue generating site traffic through non-gated content while gaining valuable leads with exclusive content.
A mixed strategy, however, is still a sprint beyond basic website maintenance and SEO strategy that may stretch the bandwidth of smaller teams.
The hybrid approach is also more likely to lead to success if you already have a significant following. You can cultivate loyalty over time with free content, but gated content may still only attract a small subset of people.
Salesforce is a good example — as a major name in enterprise tech, the company can attract tens of thousands of people to a four-part webinar, for instance. If the Salesforce team makes the first three webinars open and gates the fourth and final session, the series has the power to get a thousand people to hand over their information.
But if you don't have a large enough following to generate a hundred leads or so, the hybrid model might not be worth it.
Here's the bottom line: As in all things marketing, you need to approach content access based on what will drive the most value for your brand, based on its unique needs.
Then, whether or not you gate your content, you'll open the door to audience loyalty and business growth.