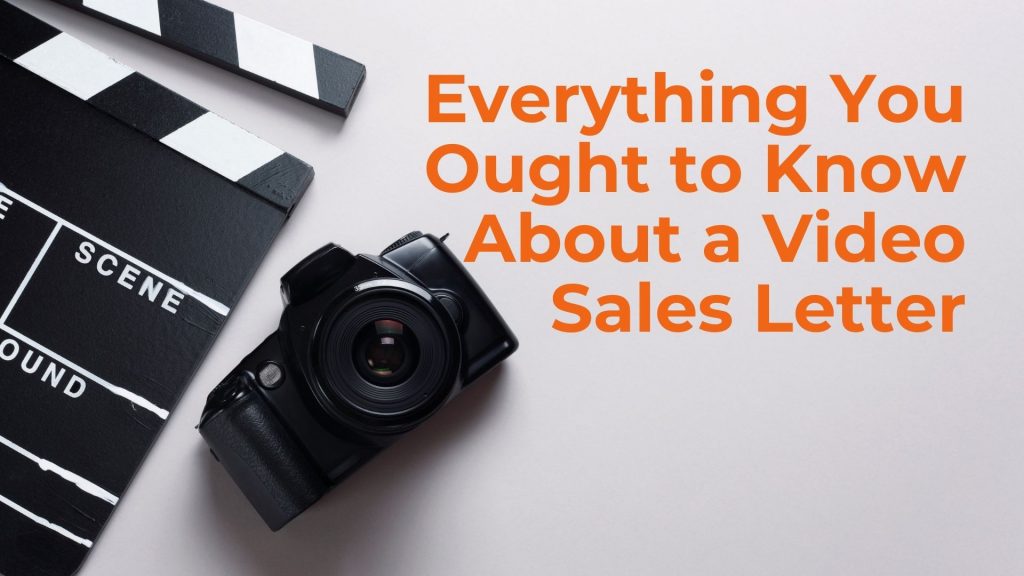 Selling is hard. You have to get your audience's attention and then convince a person to make a purchase. One of the most effective ways to engage and convert your audience online is through video.
This article will discuss how you can do this by creating a video sales letter that will help convert a prospect into a sale or a new email subscriber. You will learn the different types of video sales letter formats, how to make a video sales letter script, and where to promote your video.
What Is a Video Sales Letter?
A video sales letter should engage your audience and persuade them that they need your product or service. It's called a video sales letter because many videos just have slides and a narrator—a bit like the screenshot from a sale video below.
Creating these types of videos is straightforward. You just need to create your slides and then narrate. Of course, you don't need to restrict yourself to slides. You can include stock shots and more in your video sales letter.
The nice thing about video sales letters is that there's a format you can follow for the script. In fact, they follow the same format as many long-form sales pages. For example, you can use the AIDA formula – Attention, Interest, Desire, and Action.
Your script should logically walk people through why they should be interested in your product or service, what you have to offer, and how you solve their problems. Here's a nice example from SEOoptimer.
Source: SEOOptimer
You can see how they've broken down the script so that it logically covers the product features and benefits. When writing your script, do the following:
List what you want to cover in the video
Logically order your argument in the video
End with a clear call to action (CTA)
Ask a friend or colleague to review the finished script.
That final part is crucial. First, you need to get some impartial feedback on your script. Secondly, and more importantly, track how people engage with your finished video. After all, the most important metric you can measure is how well your video converts prospects into leads.
How to Create Your Video Sales Letter
The starting point for any effective sales pitch is an understanding of your audience. You need to define who they are, their pain points, and how your product or service will benefit their lives.
One way to do this is to create a buyer persona.
Buyer personas are semi-fictional representations of your target audience. They are semi-fictional because even if the names you give the personas aren't real, their characteristics are.
Here's an example of a buyer persona.
Source: Neil Patel
There are various ways to collect information about your audience. For example, you can use tools like Google Analytics to collect demographic information about your customers. In addition, you can review information on your CMS about customers, conduct interviews, and more.
The process of creating a customer persona should help you better understand your customers. Then, you can use the insights to create a video script that will get them to listen to what you have to say. Later, this script can also be used to generate video for any purposes by finalizing the whole process.


Writing Your Script
Writing a video script takes practice. Your script should follow a structure. Earlier, I mentioned the AIDA formula. The formula works because it's simple. It accurately describes the steps a customer goes through when considering a purchase.
You can apply the AIDA formula to paid ads, radio and television ads, email marketing, etc.
Here is a quick recap of what AIDA means and how to utilize this formula for your video sales letter.
Attention: You need to get your audience's attention first. Here's where your audience personas come in handy. When you know what your audience wants, you can determine what to start your video sales letter to get their attention. How about posing an interesting question? You can also start your script with statistics.
Interest: It's one thing to get your audience's attention. It's another, however, to hold it. You can do this by highlighting your audience's problem and emphasizing how it negatively affects their lives. Being relatable is a must as that way, your audience will feel there's a pressing problem they need to address.
Desire: At this point, you'd need to drum up the desire for your product. Present it as the solution to your audience's pressing problem. For example, you can present before and after pictures of a situation. The idea is to show your audience how your product could change their lives.
Action: Now is the time to persuade your audience to take action. You can do that by creating a sense of urgency. For example, give a limited-time offer or a bonus for those who act quickly. Then, mention your call to action.
Let me give you an example of an actual video sales letter that uses this approach.
Michelle Cornish's video sales letter is a great example of how to use the AIDA formula. The animation is great, but let's leave the discussion on that for another section.
Let's focus on the script.
Source: Michelle Cornish
In the video, Michelle manages to get her audience's attention by asking: "Are you paying way too much tax?"
To hold her audience's interest, she goes on to explain how dealing with taxes can be a "bookkeeping nightmare." Notice the use of the word "nightmare" to highlight the extent of the problem.
She then proceeds to present her "Keep More Money" book as the "hero."
That's the Desire stage right there:
Source: Michelle Cornish
Then comes the call to action: "Grab your copy and save more money today."
To give her audience that final nudge, she gives them an "added bonus." She says the book comes with over 100 questions her audience could ask when interviewing an accountant.
The script is simple and short.
The video is 50 seconds long. It follows a script that touches all of the elements of AIDA.
By making the video longer, she could cover each of the points in more depth. For example, she could discuss the benefits of the book in more depth and discuss what is covered in the book: the more information that you share, the more powerful the sales letter is.
Generally, the more expensive the product or service you are selling, the longer the video needs to be. After all, convincing someone to spend $5 is straightforward – the person probably won't think much about the decision. Convincing someone to spend $300 is harder, so you need to share more information.
Creating the Video
There's no one-size-fits-all approach to creating a video sales letter. You can opt for a simple video sales letter like this one, where you record yourself talking to your audience:
Or a video like this one using stock footage.
Source: Demi Bernice YouTube
It will take you longer to create this type of video as it requires more advanced editing skills. The video is still based on a proven sales script formula, though.
You might even decide to create a simple animated video like the one I showed you by Michelle earlier. There are advantages and disadvantages to each option.
If you opt for the traditional approach, slides, and narration, you can use a video collage maker that allows you to overlap layers, add captions, and support GIFs. You can even use your computer or smartphone for the audio recording.
If you want to use stock footage, you will need a bigger budget.
According to Thumbtack, on average, in the US, those services cost between $800 and $1200. The cost can go higher depending on the following factors:
Graphics
Total video runtime
Location
Number of cameras required.
The best approach will depend on your audience and the product or service you are promoting.
The more expensive the product or service you are selling, the more you should invest in your video. After all, the quality of the video production will impact how people view your brand.
Promoting Your Video Sales Letter
The final stage of the equation is deciding how and where to promote your video sales letter. One of the best places to place a video sales letter is on your landing pages, sales pages, or squeeze pages.
You can drive traffic to these pages through paid ads, email marketing, or search traffic.
It's not enough for you to have a great video sales letter, though. Think about what's next for your audience once they see your video.
If they want to make a purchase, where should they go?
Sure, you can ask them to go to your website, look for your product, and make their purchase there. But that would mean them doing much of the work.
People don't like that.
You have to make it easy for your audience to make that purchase, too.
Consider the example above from Impact. It's a simple but effective design for a video landing page with an easy-to-see call-to-action button.
Conclusion
Video sales letters can help increase conversions, but you need to know how to create one in the first place to achieve the best results. This article covered all you need to know to create a video sales letter. At the start of the campaign, you need to define your audience, identify their pain points, and consider what motivates them.
Once you've defined your audience, select the type of video you want to create and write your sales script using a proven formula. You should then embed that video on a landing page, squeeze page, or sales page. Make sure to track the conversion rate to monitor performance.
With these tips, you'll be able to create a video sales letter that generates the best results. You'll see those conversions coming in non-stop.


Bio
Michal Leszczyński is immersed in developing, implementing, and coordinating all manner of content marketing projects as the Content Marketing Manager at GetResponse. He has 8-plus years of expertise in online marketing with a Master of Science Degree in Strategic Marketing and Consulting from the University of Birmingham (UK). Michal is the author of more than 100 articles, ebooks, and courses for both GetResponse and renowned websites like Crazy Egg and Social Media Today.