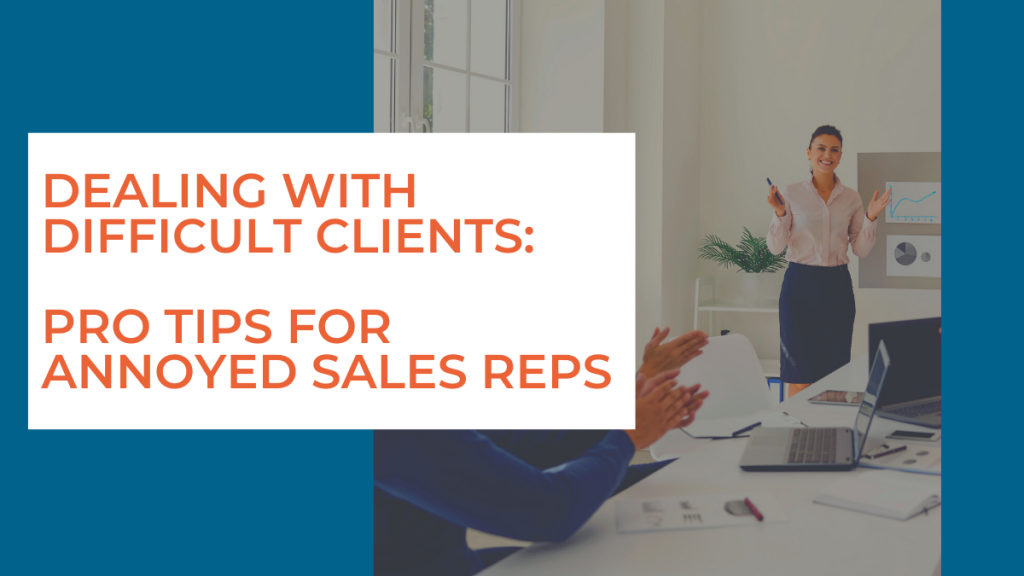 If you've ever gotten a knot in your stomach after just a few seconds on the phone with a client, you know how disruptive a difficult one can be. They might be disgruntled or demanding, but either could be enough to make you lose your professional footing — if you're not prepared.
Difficult clients surface in every industry, so it's a career-boosting imperative to have some strategies for making your interactions with them less painful.
On this episode of 0 to 5 Million, we discuss:
Why you should be reaching out to every client with authenticity and kindness
Tips for talking to a frustrated client
How to set appropriate expectations to prevent misunderstanding
The fundamentals: Get personal and be kind
Imagine you've recently closed a deal and your new client is in the process of onboarding. But this isn't just any client — they've had questions and frustrations throughout the whole process. You're understandably nervous.
This is the moment when you might veer off course, as many sales reps would, by using typical client-facing language. It's a habit for a lot of us, but it's not the right move to reach for a common catchphrase after someone has expressed a grievance. An angry client might misinterpret your neutral tone and perceive a different message than the one you intend.
Ollie says he doesn't consider himself a difficult customer per se, but he gets irked by copy-paste messages. And you can probably think of more than a handful of times when you too have hated hearing "We're sorry for the inconvenience," when you feel they really mean: "We're not sorry, but we're trying to appease you so you'll wait even longer."
Few people will appreciate a standard answer, but a client who's already frustrated could take a boilerplate response as an affront.
It's a big sin to skimp on personalization when you know someone is teetering on the edge of dissatisfaction with your product or service.
Instead, take a moment to think about what truly matters to them and speak like you care. After years of being rude to cold callers, Shawn got a wake-up call when his wife pointed out that the telemarketers who interrupt dinner are humans, just like everyone on our Autoklose team.
We may not approve of the way some people interact, but we don't have to follow suit.
Stay kind and true to yourself. The word authenticity gets thrown around a lot, but it goes a long way in building trust — especially with people who may expect you to not be trustworthy.
Be ready to perform difficult-client triage
Compassion is important, but so are boundaries. There are some ground rules you should aim to follow — even if the client doesn't.
Listen. You may think what the other person is saying is senseless, but they want to be heard. Allow them the time they need to fully express their feelings and opinions.
Stay calm. Your demeanor is everything when you're leading the conversation. If the other person gets heated, you can choose not to raise your voice in turn.
Take responsibility. If you or your company has messed up, offer a genuine apology and compensation, if appropriate. Regardless of a client's dodgy behavior, they deserve the same treatment as any other.
Finally, research the client's history. Don't set a precedent of giving in without doing some due diligence. Some clients are "always going to find something wrong with your product, something wrong with your server, or something wrong with your solution," says Shawn.
If you discover a person has been lying, or seems to have learned that their past actions or requests can get them deals or refunds, it's time to draw a line — carefully and professionally.
How to keep a client's problems from snowballing
Once a client has gotten a bad taste in their mouth, more issues are likely to develop. Problems can pile up if you're not ready to manage expectations.
Clients have expectations about your communication and your product or service. You can preempt problems in both areas.
Frequent updates can go a long way. It's easy to assume your clients don't need babysitting if you've established trust, but those with difficult histories need a bit more care. They'll be less likely to bombard you with endless questions if they feel you're paying attention to them.
Some problems are easily solvable when you're attentive. Shawn once had an unhappy client who complained about a lack of email clicks. In just a few moments, he discovered there weren't any hyperlinks in their emails! Once Shawn eliminated a minor issue that had caused major frustration, the client started seeing conversions and could fully appreciate the benefits of using Autoklose's email sequence templates.
In other words, Ollie says, make sure the house is actually on fire before you start looking for the nearest extinguisher.
Of course, there's a balance to be found between communicating and overextending, which Ollie found out when he made the mistake of setting a "precedent of immaculate service" while trying to recover a client relationship gone wrong.
Going too far above and beyond can create expectations you can't meet in the long term.
You also need to convey reasonable expectations about results. What kind of data should your clients be seeing after a few days, weeks, or months of using your solution? Show them measurable examples and help them compare averages to their outcomes.
This doesn't have to come in the form of one-on-one communication — you could include helpful stats in your promotional emails or on your blog to be sure new clients understand the potential impact of signing with you.
You might not save them all
Those of us in sales tend to be people-people. But our foundational desire to help and make great connections can get lost when we're dealing with difficult clients.
The problem is, you'll probably always be dealing with at least one person you find exhausting.
"If anyone tells you that all your clients are happy, they're lying," says Shawn.
We don't think that's a dealbreaker if you show up to every client conversation with some preemptive strategies in your back pocket.
Do your best, and remember that you and your company will carry on regardless of any one person's experience.
This is based on a conversation from The 0 to 5 Million Podcast, featuring founders, CEOs, and revenue leaders from businesses between 0 and 5 million in ARR. Subscribe to future episodes to find out how they did it.