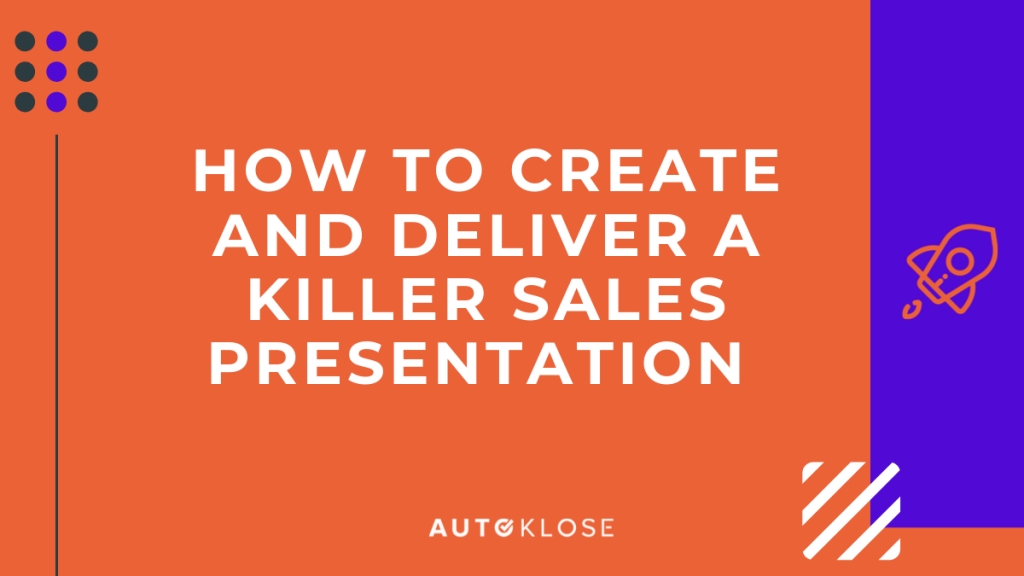 Death by PowerPoint is real, and we've all had an unfortunate opportunity to experience that phenomenon capable of putting even an insomniac to sleep in a split second.
Sales presentations are essential for closing any business deal, and if they're badly created and executed, they can ruin your chances with your prospects.
Long gone are the days when a PP presentation and an overtly pushy sales pitch lead to a handshake and a signature.
Now you've got to try much harder if you want to woo your prospects and make them want to do business with you. This means that your deck is supposed to be awesome and differentiate you from your competitors.
You most probably remember very vividly how Steve Jobs managed to capture everybody's attention with his unique, innovative presentations.
He was one of a kind storyteller and a showman, and everything he did while presenting a new product was synced to the smallest detail – he delivered every word and every slide at the right moment.
His secret?
Putting a lot of work into creating a message, designing every single slide, and rehearsing his act over and over again – he used to start working on every presentation weeks in advance.
Besides that, he spent the last two days before the launch at the dress rehearsal polishing every detail.
Here are a couple of tips that can help you deliver a killer sale presentation and mesmerize your prospects.
Less is More
Salespeople usually think that part of their preparation for a presentation includes making tons of information-packed slides.
This is a big no-no, as it's the fastest method of lulling your prospect to an open-eyed nap. We're talking about business people with hectic schedules here, and you're wasting their time going on and on about your company's mission and vision, product features, overviews, or awards.
Your prospects aren't interested in that at all.
All they care about are their issues and challenges, and that's what you should be focused on, too.
So, cut straight to the chase by making your main point.
Problems First
Instead of talking about (currently) irrelevant things such as how many employees your company has or how you plan on achieving your 5-year goal, you should start with the frustrations and problems that your prospect is facing at the moment and provide them with solutions.
Forget about all the features of your product or service, as that's not what's in the spotlight right now. As a matter of fact, it will sound like a classic case of overselling.
Leave different specs out the picture, but highlight all the benefits your product will bring to a prospective buyer.
Use the before-after tactic to get their attention – talk about how things are now and then describe how better everything will be with your product or service.
Steve Jobs introduced the first iPod back in 2001, saying, "Apple has invented a whole new category of digital music player that lets you put your entire music collection in your pocket and listen to it wherever you go."
Short, sweet, and to the point. This concise sentence spoke volumes about what people could expect from the device – it was small, had a huge storage capacity, and great battery life.
Here's another tip: if you've managed to engage and nurture your prospect well during your outreach and demo phase, and if you've established a meaningful connection with them, it will be much easier for you to prepare and deliver this presentation as you already know how they react and what makes them tick.
Content Optimization
If you're delivering your presentation live, it's essential to stick to one rule: avoid clutter.
You don't need to have everything you say written down.
It's boring and suffocating. Instead of that, fill your presentation with powerful imagery that will illustrate your words.
Apart from photos and slides, make sure to include a video as it's a must for any kind of content you're creating.
For example, 4X as many consumers would rather watch a video about a product than read about it. This stat is self-explanatory, and you can be sure that your prospects share the same opinion.
When it comes to presentations that will be emailed, you'll need to create compelling standalone content that will "tell the story" on its own.
People are visual beings, which means that you should pay attention to how your slides are designed.
Keep it simple and reference your branding style guide. Your slides should be consistent with your branding and communicate your brand message clearly.
Here are some tips to help you create an aesthetically pleasing presentation:
Stick to 2-3 colors
Use no more than two fonts
Illustrate your ideas with the help of simple icons and images
Don't clutter your slides with unnecessary design – remember that white space allows it to breathe
Avoid extremely bright colors that are hard to read
Never use unedited, blurred, and low-quality photos.

Case Studies
After you've captured your prospects' interest by addressing their problems and offering them solutions, it's time to show them how that worked for some other companies.
This is a crucial step, as presenting case studies of your previous clients makes you credible.
It's also essential for building trust and engaging your potential clients in a discussion.
You can use a case study to ask them whether they have had a similar situation and how they handled it.
Come up with a few questions that will give you valuable insight into your prospect's opinions and points of view, which might be useful for your future sales strategy.
Please, Interrupt
Whenever you notice that your prospect wants to say or ask something, or if their expression changes, encourage them to discuss it with you.
That's an excellent way to get spontaneous feedback and explore everything that concerns your potential customer.
Make sure to acknowledge the interruption, as whatever your prospect has to say is more important than keeping up with the speech that you've prepared.
This interactivity will provide you with valuable information, and give you a chance to explain any confusing points or dispel any doubts that your prospect harbors.
Bear in mind that this is a dialogue and that the more questions your prospect asks, the better. So always jump at the opportunity to transform your presentation into a lively discussion which will give you a chance to showcase your product or service and demonstrate your expertise and willingness to help your prospects solve their problems.
We've already discussed the importance of questions when it comes to closing a deal, so check out our blog post and find other useful tips that will help you avoid common mistakes and sell better.
Be Relevant
To create engaging, high-quality content, it's crucial to use engagement analytics.
Online presentations offer you this possibility, as you can see how much time prospects spend on each page, whether they browse all the pages till the last one or drop out, or what they skip.
After you analyze everything, you can use the obtained information as guidelines for structuring your next presentation.
Some stats say that the average length of the email presentation is 11 pages.
However, only the first five pages capture the prospects' attention.
This is to a certain extent similar to that famous David Ogilvy's saying that the headline is 80% of your message.
In other words, you should place everything that you think is important at the beginning of the text.
Online presentations can be tricky because you don't see your prospects, and you have no idea whether they're texting or checking their email.
That's why you need to make sure that your presentation is well-crafted and that it can hold their attention. Also, you should work on building meaningful relationships with your prospects online, as that's how sales and business, in general, will function in the foreseeable future.
Excell at Showmanship
I've already mentioned this as one of Steve Jobs' secret weapons, and though you might think that it's easier said than done, the thing is that it can be practiced and learned.
Your ability to make an entrance and present your prospect's problem and the solution your offer innovatively and compellingly will create the wow effect.
Easier said than done.
Many people are crippled by stage fright, and even though they're experts in their field, they can't deliver a coherent speech when there are eyes on them. And what's even worse, they don't want others to notice how nervous or shy they are.
And that's a big mistake!
What you have to say is much more important than the fact that you're uncomfortable and stressed out.
Here's what you can do about that:
Outline your story and pick your main points. Then add a narrative, jazz it up with some metaphors, relatable stories, and your experience. Try to help your audience learn something new and help them change their perspective.
Plan your delivery. There's no need to use a teleprompter because you don't want to sound artificial like canned laughter. Instead of reading from a screen or a piece of paper, make some notes that will help you stay on your course, and, just like Steve Jobs, practice, practice, and practice your delivery. Do it in front of a mirror, ask your friends and family to listen to you, and finally, have a final rehearsal in front of your colleagues.
Plan your multimedia. As you're going to have a deck consisting of slides, images, and videos, it's a good idea to be focused and make sure that your visuals follow your narrative. One more thing – don't use visuals just for the sake of it. Whether you create a poster or other visuals, make sure they serve a clear purpose and effectively convey the intended message. Use them only if they'll add some value to your presentation.
Work on your stage presence. Many people tend to move too much when they're nervous, and that shifts their audience's attention from what they're talking about. That's why it would be a good idea to limit your body movements during your presentation to not come off as fidgety.
There's no better way to learn how to deliver a speech or a presentation than watching TedX Talks and see how others are doing it.
Check out these videos, even though they're not sales related, and analyze the speakers' behavior:
1. What the sugar coating on your cells is trying to tell you – Carolyn Bertozzi
2. Fake it until you make it – Amy Cuddy
3. Why we do what we do – Tony Robbins
4. How great leaders inspire action – Simon Sinek
5. The puzzle of motivation – Dan Pink
I also suggest you read our blog post on what great salespeople always do as you can draw inspiration for your sales presentation from numerous tips and pieces of advice that our LinkedIn audience provided.
Have Conversations
I know that in the previous paragraph I told you that you should practice showmanship and command the stage.
But, remember that you're not delivering a Shakespeare monologue, and the spotlight shouldn't be on you but on your prospect. To do this, transform your pitch into a two-way conversation.
When I say that you should avoid one-way conversations, I mean that there shouldn't be periods of long and uninterrupted pitches during which you'll talk and your prospect will be a passive listener.
Such an approach is a red flag that you're not asking the right questions and that your prospect isn't motivated or encouraged to provide long answers.
To fully engage your potential customers and have a connected and meaningful conversation with them, you should know what sales questions to ask.
Believe in What You Sell
Last but not least, your sales presentation can be successful only if you believe in what you sell. In other words, when you're pitching your solution to your prospects, you should be sincerely enthusiastic because you know that it will benefit them.
This enthusiasm will shine through and your potential clients will see that you're not only trying to sell and take their money. Such an approach will convince them that you want to help them.
If your body language shows that you're tense and nervous, and if you're not energetic, your prospects will be under the impression that you're not certain that your solution will work for them.
Think about it. You can't expect your customers to be excited about your product or service if you aren't.
A Must-Read This Spring: Top 5 Books to Help You Polish Your Sales Presentation Skills
It's always good to pick up a few tricks and learn from the best, and that's why I've decided to share my favorite reads when it comes to flexing the presentation muscles:
Presentation Zen by Garr Reynolds
The Presentation Secrets of Steve Jobs by Carmine Gallo
Speak to Win Subtitle: How to Present With Power in Any Situation Author: Brian Tracy
Resonate Subtitle: Present Visual Stories That Transform Audiences Author: Nancy Duarte
Confessions of a Public Speaker Author: Scott Berkun