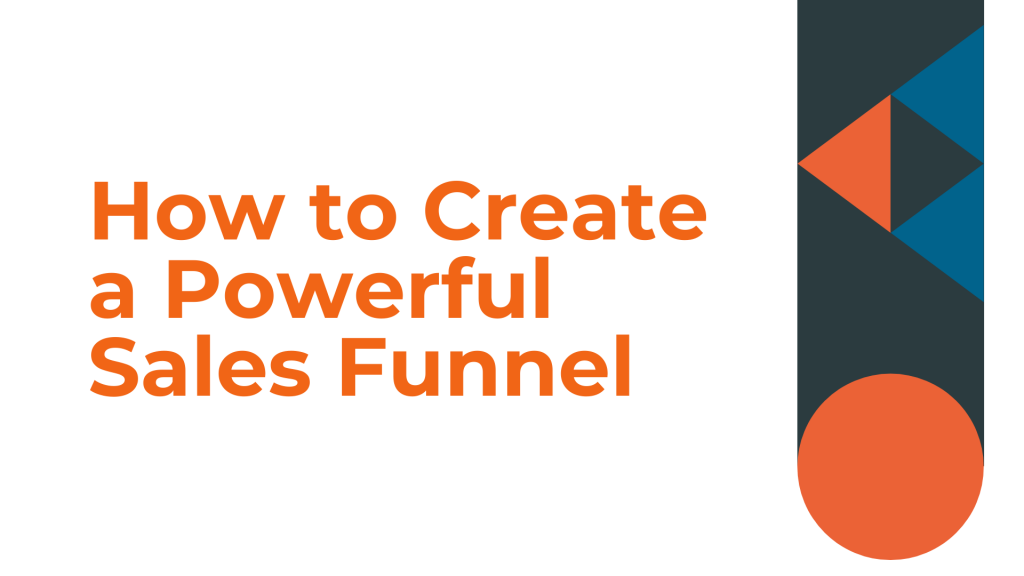 A sales funnel serves as a road map, pointing you in the right direction for achieving your digital marketing goals and increasing your sales.
Generating leads is a critical part of sales (and marketing), but if you cannot turn them into customers, all your efforts won't be worthwhile.
A lead or potential customer is interested in your products or your services, but they take their time to compare your offer with that of your competitors.
Therefore, your goal should be to get them to pick you!
In our digital age, people prefer to do research online before paying for something.
Approximately 96% of visitors that come to your website are not ready to buy, but they can be convinced and converted if you consistently nurture and educate them.
And that's what a sales funnel can help you with – optimize your conversion process and speed it up.
What Is a Sales Funnel?
A sales funnel helps businesses convert website visitors into paying customers. It is basically a framework of the customer journey from being prospects to becoming customers.
Once you get a visitor, you are ready to start the process of convincing them to buy your products or services.
A four-stage sales funnel will help you with this.
Right after a visitor lands on your website, there are predefined steps you should take to make sure you keep them engaged across the process and until they're ready to purchase from you.
A sales funnel is basically used to define the steps during the conversion and avoid the risk of losing a prospect by deciding what you should do next on the go. With a system in place, you can plan every single interaction, monitor the results, as well as repeat the tactics that work and eliminate the ones that don't.
It is crucial to create a powerful sales funnel since it provides businesses with an opportunity to grow organic traffic and boost sales.
The idea is not only to reach more people but also to attract the attention of those who are most likely to be interested in your services or products.
Benefits of a Sales Funnel
A sales funnel adds a professional touch to your digital marketing efforts by mapping out the entire smarketing process.
It's an effective way of breaking down the customer journey into stages.
When you manage the journey in a target-oriented way, the result will be much easier to predict.
So, for a powerful funnel, you need to plan each stage so that it fits each prospects' needs at that particular point of their buyer's journey.
There are digital marketing courses that can help you learn how to create your own funnel. Using a funnel template can be a good idea, but you will have to set requirements that are specific to your own funnel.
To sum up, the benefits of a sales funnel in digital marketing are:
The marketing process will be much simpler
Your sales insights will be more realistic
You will better understand your sources.
Successful marketing allows businesses to identify and better understand their target audience and find the best way to interact with them through remarkable content.
In this article, we'll present the essential stages of creating an effective sales funnel. Each stage requires a different approach when it comes to communicating with your prospects and converting them into your paying customers.
Stage 1: Need Analysis and Recognition
The first step of creating a sales funnel is identifying your target audience.
You must understand who your prospects are and what they need.
It makes no sense to offer your products or services to everyone out there, so you first should determine who your target customers are. After this, try to unearth all the characteristics of your target persona.
There are various ways in which you can get to know your audience better.
Web analytics data, insights from social media, or feedback from existing customers can provide valuable and detailed information about your potential customers. Use all the information you have collected to create your ideal customer profile and buyer personas.
You also need to analyze your personas' actions and behaviors through multiple digital channels.
Find out
What they are searching for
Where they click on your website or emails
How much time they spend on a specific page.
All this data will give you an idea about the interests and needs of your prospects.
Basically, in order to attract them, you should know how you can make their life easier or better. Asking the right questions is a great way to start:
How can you help them solve their issues and pain points?
How can your product or service fulfill their needs?
What kind of an experience do you offer them?


Stage 2: Raise Awareness
The second stage of building a sales funnel is reaching more prospects and making them aware of your products or services.
This is a crucial step to spark their interest and enhance your brand recognition.
Once you attract new visitors who are most likely to buy from you, then you'll start filling your funnel with potential customers willing to pay for your solutions. You need to get as many people as possible at this stage since only a part of them will continue moving down the funnel.
There are several ways in which you can reach more prospects, catch their attention, and increase your brand awareness:
Social media marketing,
Content marketing or
Search engine optimization.
Blog posts and articles are among the most effective content types at the early stage of a purchase. Your primary focus should be creating educational and helpful content that will address your target audience's problems and challenges and offer potential solutions.
Stage 3: Be Visible at the Right Time
The next stage of building a high-quality funnel is distinguishing yourself from your competitors and showing your target audience why they should opt for your products or services.
In other words, this is the moment when you should capture leads and start nurturing them.
People at this stage will start evaluating alternatives to see which one fits them best.
You can create a blueprint that will show people how your products or services will solve their problems and fulfill their expectations. This is how you can convert visitors into customers.
At this stage, you already know how to solve their problems, so it's time to use all the information you collected during your research.
Your blueprint must involve your overall goals, tactics, and metrics for each stage of the sales funnel. Then, you can offer customized content or trials for people who are interested in your brand.
Stage 4: Turn Leads into Customers
The last stage is the bottom of your funnel.
At this point, your main goal is getting prospects to purchase your products or services, a.k.a, increasing your conversion rates.
Since your prospects already know a lot about your product or service and have been considering it for some time, it's time to go that extra mile and close a deal.
This is the most critical stage, so you need to pay attention to personalization, which means you should tailor the communication with your prospects.
If your interaction with your target audience is effective, you can gain loyal, repeat customers and create predictable revenue.
Conclusion
Creating a powerful digital sales funnel requires a well-defined strategy that will bring you results and boost your sales. The essential stages of this process include:
researching your target audience,
increasing brand awareness,
encouraging your prospects to purchase, and
turning leads into loyal paying customers.
If you want to optimize your sales and increase brand value, you should also consider additional tactics and follow-up steps to measure how successful your sales funnel is. Continue marketing to your existing customers and stay in touch with them to keep them engaged.
You can also offer customized campaigns or coupon codes to entice your existing customers to purchase from you again. Gaining new customers should not be your ultimate goal – it's retention that's the holy grail of successful sales.
If you understand how to build an effective sales funnel, it is not so challenging to ensure customer retention and increase your return on investment. There are many skilled professionals that can help you with this task. You can easily find a good one among the digital marketing agencies for startups.
Bio
Gizem Tas, writer, editor, and translator. Experienced in blogging for marketing, translation, localization, and foreign languages with a degree focused in English Language and Literature from Boğaziçi University.