Starting your business and working for yourself can be an exciting new direction in your career.
Why work for somebody else and put up with being bossed around by soul-crushing micromanagers who try to organize your daily routine to the tiniest detail, when you can have your own venture and play by the rules you establish.
But, before you take a leap of faith, you should know that there's a dark side to being an entrepreneur and it casts a shadow over that glamorous idea of living a life of a successful business owner who has managed to turn their idea into a reality.
There's a psychological price that entrepreneurs have to pay as all the stress of growing a young company, keeping it afloat, trying to secure financing, and improving their product or service gets to them at one point. All this puts a huge mental strain on them and leads to anxiety, depression, burnout, and even heart disease.
But, there are ways to handle this rarely acknowledged and discussed issue among grinders and overachievers avoid its harmful consequences.
6 Things You Can Do to Cope With Stress
1. Prioritize Your Tasks
It's easy to fall into the trap of working on several different tasks at the same time unselectively.
First of all, recent research has shown that our brains aren't exactly well at multitasking. Moreover, this practice can even be detrimental to our cognitive performance, because what actually happens during multitasking is that our brains rapidly switch between different tasks. Needless to say, such behavior is a productivity and efficiency killer, and you should kick that bad habit right away.
Instead of that, make a list of your tasks and assess them based on their importance and urgency. This way you'll be able to focus on the high-value ones first.
Automating repetitive activities is the first step towards making the most of your valuable time.
Getting in touch with your customers and prospects is an essential part of your daily routine. This can be particularly overwhelming as your list grows, which is why Autoklose can help you stay on top of things and automate your email outreach.
It has never been easier to create an entire campaign, personalize it, adjust it in real-time, and monitor its performance. Our new Dashboard gives you a full insight into your email marketing efforts and helps you be in the know and never miss a chance to close a deal.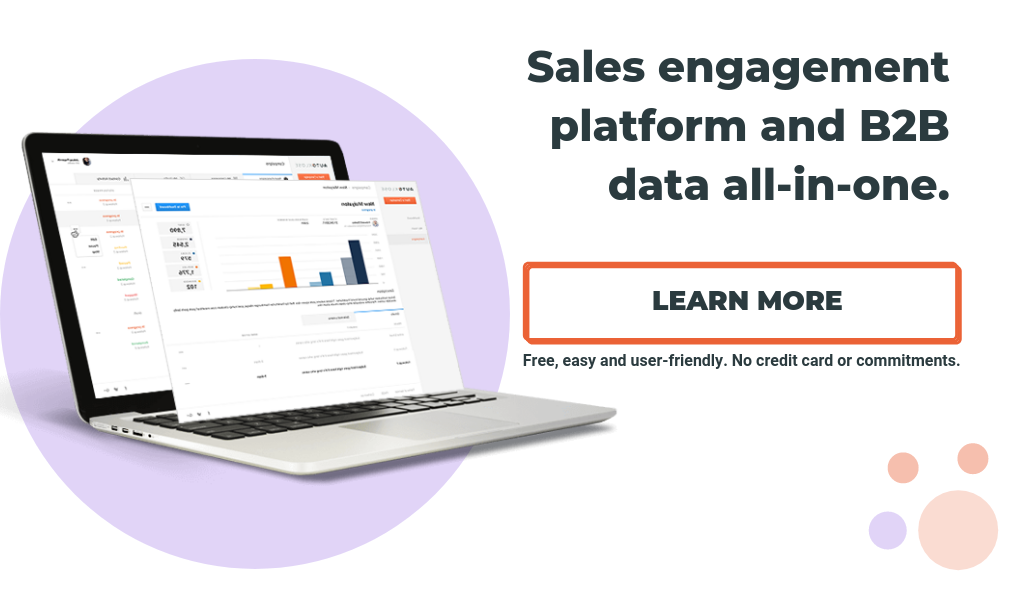 2. Separate Your Business and Personal Life
Many entrepreneurs bring their business home, and sometimes the lines are even more blurred thanks to the fact that their office is next door to their bedroom.
By doing so, you can never fully relax and spend some quality time with your friends and family, let alone take that much-needed moment to yourself. It's important to take a break from work occasionally and be alone with your thoughts and feelings.
That's why you need to leave your work and work-related issues where they belong and that's your office.
By setting these boundaries and, for example, not taking business calls in the evening or muting your email notifications until the morning, you'll be able to disconnect and ultimately attain work-life balance.
3. Exercise
Did you know that sitting is the new smoking?
No matter how hectic your life as an entrepreneur is, it's very probably very sedentary. You're sitting in endless meetings, business lunches, conferences, on your way to work, and in front of your laptop.
Physical inactivity is one of the main culprits behind cardiovascular disease, type 2 diabetes, and even certain types of cancer. But it's also the archenemy of your mental wellbeing as it's associated with depression and anxiety.
You can change all this by introducing an hour of physical activity every day.
Jogging around the block, hitting the gym, or simply walking your (or your friend's) dog can help you blow off steam and improve your physical fitness.

4. Meditate
Running a business means a lot of overthinking and obsessing over solving pressing issues, and all that can wreak havoc on your peace of mind, and in the long run, your life.
The Gallup Wellbeing Index says that 45% of entrepreneurs are stressed. But an even more alarming research study by UC Berkeley has shown that 72% of entrepreneurs in the sample were affected by certain psychiatric conditions, including depression, substance abuse, ADHD, and bipolar disorder.
Meditating can be a great way out of this vicious circle as it can help you control all the pessimistic ruminations that are plaguing your mind and stop them, thus allowing you to move on and focus on other things.
It's a good idea to wake up a bit earlier and start your day on the right foot with a relaxation method you like, be it meditation or yoga. This will help you kick off your day refreshed, filled with positive energy, and ready to face different challenges along the way.
There are even some apps for guided meditation, such as Headspace, that you can download to your smartphone and use at work or when you feel overwhelmed.
5. Ask for Help
Entrepreneurs like to be perceived as always being on top of things and capable of completing all tasks on their own.
But, asking for help doesn't mean admitting defeat. It's being aware that the workload has exceeded your capacity to deal with it, and the only constructive and responsible thing to do is find someone to give you a hand or a piece of advice.
Enlisting the help of your friends and family is a good idea but can be only a temporary solution if they already have their jobs and interests.
When you notice that you can't manage everything by yourself, it's time to hire your first employee and delegate your tasks. Outsourcing and hiring contractors is another way to overcome this organizational issue.
Besides, you should focus only on high-value tasks that bring you profit. There's no need to waste time trying to do something that's not in your area of expertise. By hiring the right people for the job, it will be possible for you to boost your productivity and keep your mind sharp – all of which is essential when it comes to making important business decisions.
If you're at an optimal stage of your business's growth to expand internationally, outsource certain organizational tasks that will still enable you to excel locally and internationally without any compromises. For instance, if you're starting a business in China, ask for the adequate help, regarding the recruitment, and management of your workforce, without having to navigate through the local labor structures and policies yourself.
But, most importantly, don't hesitate to find a reliable business coach to help you navigate the frothy waters of entrepreneurship.
Autoklose has a lot of useful resources, guides, and helpful e-books packed with tips and advice from established sales leaders that you can use in order to achieve success and overcome the pitfalls and obstacles along the way.

6. Find a Hobby
No matter how passionate you are about your new entrepreneurial job, you still need to find a hobby that doesn't have anything to do with it.
It could mean taking up surfing, hiking, fencing, gardening, or anything that you're interested in.
This new fun activity will take your mind off your business, and that's something that's very important if you don't want to be fed up with it soon.
Not only will this hobby be beneficial for your mental and physical health, but it can also teach you new skills that you will be able to implement in your job.
For example, hiking can teach you to be persistent, focused, and calm, while surfing, which is bit more on the extreme side, can teach you humility and show you that you can rely on your own strengths and abilities when things get rough.
These tactics might not seem too complex, but they can really change your life and business for the better, as sometimes simplicity is exactly what we need.