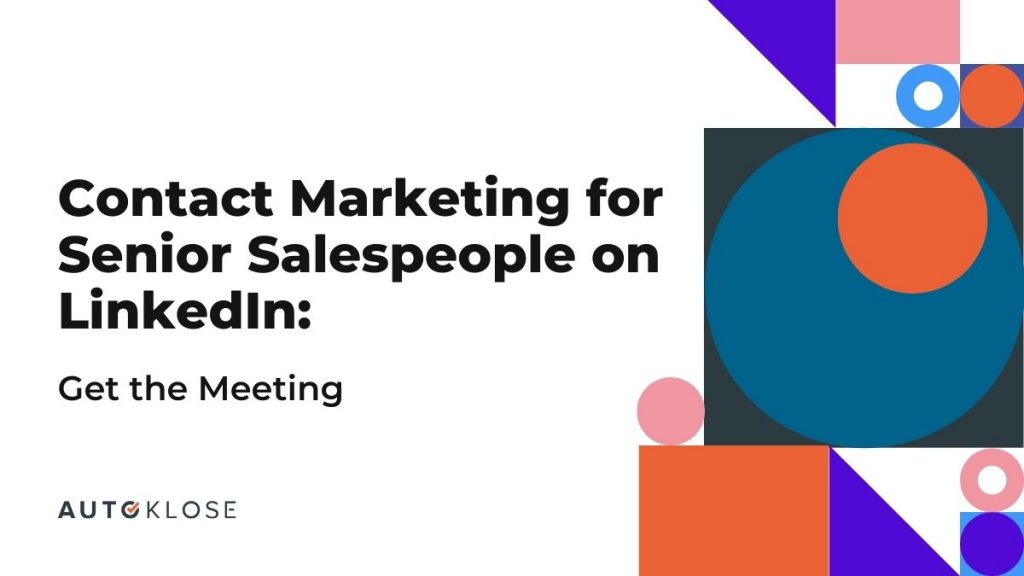 By far the biggest challenges for many salespeople are around how to reach the right decision makers, get a meeting with them, and ultimately close the deal. Decision makers are busy people and you will have an uphill climb on your hands to get them to pay attention to you.
However, senior salespeople who want to take their sales game to the next level may be missing a trick if they're not already engaging in a contact marketing strategy.
I've been working in the marketing space for over 15 years and have trained and developed sales leaders from companies including Coca Cola, UPS, Volkswagen and McDonalds. Today I want to share with you a few of the things I've learned about successful contact marketing.
What is Contact Marketing?
Contact marketing is a previously little understood marketing strategy that has gained major traction in the last few years. Contact marketing can be considered a form of growth marketing, since it relies not only on bringing in new leads and customers, but on building relationships and creating customer loyalty and brand advocacy.
In a nutshell, a contact marketing strategy is based around how you communicate with your customers and prospective customers. A robust contact marketing strategy is centered on building and maintaining a relationship with your customers and prospects.
The purpose of a contact marketing strategy is simple: to give your leads, prospects, and customers the absolute best possible experience of your business at every stage of the customer journey. If you do it correctly, you'll see more qualified leads entering your pipeline, fewer leaks in your sales funnel, and more conversions.
Why Contact Marketing Matters
Many customer journeys nowadays are becoming increasingly complex. Customers have more choice than ever when it comes to the products they buy and the companies they patronize. That means that the journey from lead to prospect to customer is no longer necessarily as simple or linear as it once was.
Customers will learn about your business in many different ways – through a Google search, social media channels, a recommendation from a friend, or seeing a paid ad. They will also choose to interact with you in any number of different ways. You need a strong contact marketing strategy so that you can build relationships with customers no matter how they find you, how they interact with you, and where they are in your sales funnel.
What is social selling?
In many ways, the principle of social selling is very similar to the principle of contact marketing. Social selling is a simple theory that can take many different forms in practice. It refers to using relationship building to move the sales process along.
Social selling often takes place over the various social media channels, like LinkedIn, Facebook, Instagram, and Twitter, but is not the same thing as social media marketing! Social selling can also happen over other digital channels, as well as offline.

Strategies to Reach Decision Makers, Get the Meeting, and Close the Deal
Today, we'll explore ways to reach those key decision makers through effective contact marketing. I'll share some of my top tips to help you get that all important meeting – the first step towards closing the sale.
It all starts with LinkedIn. Since you're trying to reach senior decision makers, chances are that you'll make plenty of use of this platform. In the next section, we'll take a detailed look at how to use LinkedIn to find the right people, start building a relationship, and get them to meet with you.
Let's get going!
Reaching the right people on LinkedIn
LinkedIn is the social media platform for professionals, and by far the biggest of its kind in the world. If senior business decision makers are your target audience, they're likely on LinkedIn.
You've probably heard that LinkedIn is an amazing lead generation tool, and it is. But without the right outreach strategy, your LinkedIn messages will go ignored and you won't see the results you're after.
You need a high-performing outreach strategy. And to do that, you'll need to start by knowing the kinds of people you want to contact. Here's a simple process to help you identify your first prospects.
Always start with a customer persona. This is a short profile of your ideal customer. What is their age, gender, and location? What type of company do they work for and what is their role? What problems are they facing that your product or service might be able to help them solve?
Here's how it might look:

(Source)
One great way to find prospects is to start with Facebook groups. I know this might sound strange, but stick with me. This can be easily accomplished with a quick search on Facebook. For example, let's imagine you're selling an innovative new email marketing strategy. You might start in a group like this:
Once you've joined the group, you can read and participate in discussions. Notice who the group regulars are, and do a little profile sleuthing to see what you can learn about them. If you can find a company name to indicate where they work, that's enough information to find them on LinkedIn. There are plenty of tools helping you build your leadfunnel on a scale with this tactic.
Sending a great initial outreach message
How many LinkedIn messages have you received that say some variation of "Hey, [Name!] I'd love to tell you more about what I do. When can we talk?" If you're anything like me, you probably ignore most of them.
Why? Because, apart from possibly the use of my name, there's nothing to indicate why they want to connect with me. They could have sent that message to hundreds of people on LinkedIn (and they probably have).
So if this strategy doesn't work any more, what is a marketer to do? The answer lies in personalization and hyper-personalization. Stefan Smulders, of Expandi.io, suggests numerous cold outreach templates that can generate a reply rate as high as 49%! The trick to all of them? You guessed it – personalize.
Personalization and hyper-personalization
I truly cannot overstate the importance of personalization when it comes to prospecting and connecting with potential leads. The more you can learn about them and include in your approach, the better! (Don't worry, I'm not suggesting stalking. All the information you need should be freely and readily available).
Great prospect research will not just help you personalize your outreach templates better. It will also allow you to connect with the prospect more authentically. And I'm not talking just surface-level research into what their company does and what their role entails. A little sleuthing on their website and social media can yield a surprising amount of useful data. For example, if you know they're a Game of Thrones or Chicago Bulls fan, you can use that to build initial engagement and find common ground.
Here are a few more bonus tips to help you make that connection:
Hyper-personalized images
Personalized images are working right now. Of course, we don't know if they will still work in two or three years. Right now, hardly anyone is using them – so it's your opportunity to be an early adopter and reap the benefits before it's too late and before everyone starts using them.
Example to catch attention with a virtual coffee date invitation and the prospect's name on the mug:

Source: Eduard Klein
Be funny and original
No one likes a snob or people who come across as boring! Use humor to catch your leads' attention and stand out. Remember to keep it tasteful and professional.
Use Dynamic GIFs to Skyrocket Your Reply Rate
A post that contains a GIF receives 20% more engagement for a B2C brand and 10% more for a B2B company. Tweets with GIFs get 167% more clicks than those with standard images. Besides using GIFs in social media, it works also great to use them in B2B outreach.
In this example the image in the cloud gets replaced with the prospect's company logo or the LinkedIn profile image:
Source: Hyperise
The sales team of Expandi used very creative hyper-personalized gifs in their LinkedIn outreach and reached an unbelievable 72% acceptance rate and a 40% reply rate to the follow-up.

Source: Expandi
Use a clear CTA
The call to action, or CTA, is the point at which you tell your prospect what you want them to do. Always write your outreach templates so that your prospect will know what to do next. In this case, you might ask them to book a short discovery call or virtual meeting with you to learn more about how you can help them. If they don't know what you want them to do, they won't bother to reply. Your message will be deleted and forgotten.
Write about them, not about you
Your prospect doesn't know you, so a message that's all about you won't interest them. If you write about them, though, they're more likely to be intrigued and to engage with your efforts to make contact.
Follow up
People won't always take action the first time they're asked. If you don't hear back from someone after a week or so, feel free to send them a polite follow-up.
Source: Hyperise
Build Authority & Start the Conversation with Topic-Focused Content
If you want your new prospects to come to trust you, then you need to start building your authority in your niche. One of the best ways to do that is through high-quality, topic-focused content.
According to Propeller CRM, 82% of customers interact with five or more pieces of content before making contact with a sales representative from the company. Content is a great way to start the conversion, show your knowledge, and demonstrate your authority in your niche. But many B2B companies either don't have a blog at all, or the content they post is of low quality and unlikely to help them achieve their goals. My recommendation is to outsource content writing to a specialist if you can.

Here are a few things you should be doing:
Optimize your blog for lead generation. This means creating high-quality, informative, long-form content that addresses pain points and solves a problem.
Use the right keywords and a clear call to action
Make it easy for prospective leads to get in touch.
Be visual! Use plenty of images and videos.
Promote and even republish your blog posts on LinkedIn. This will dramatically increase your reach. Did you know that LinkedIn has the highest organic reach of any of the major social media platforms?
Your content is one of the best ways to engage prospects. You can also bring them into the conversation by asking relevant prospects for their opinion on a topic as a thought leader in their niche.
Also, checking your content for plagiarism is extremely important. This not only helps you sleep better, but it may also save your SEO efforts. Then, to make sure you don't run into a duplicate content issue (which can harm your SEO strategy), make sure your syndicated content includes a link back to your original article.
Besides articles, you can also post interesting and inspiring posts on Linkedin to connect with like-minded people that share your values. Here an example of one of my recent posts:
Pro tip: keep an eye on who likes and comments on your posts, and contact them with a message to start the conversation right away.
Source: Eduard Klein
Boost Your Linkedin Posts with Engagement Pods
Just posting content isn't enough – you need to make sure the right people see it. Did you know that LinkedIn's algorithm actively encourages great content on its platform by promoting it to a wider audience?
One way to do this? Use engagement pods. The best way to do this is to download the Lempod Chrome Extension, joining relevant pods, sharing your content within them, and watch your views and engagements soar!
Move the Conversation to Your Own Channels As Soon As Possible
As you build a connection with your prospect, you want to develop a story arc. If it helps, think of it a bit like a Netflix episode! You can explain the ending (more revenue/profit for the prospective client), but your prospect doesn't yet know how they can get there.
You can move this process along by moving the communication to your own channels as soon as possible. You might send an email, organize a webinar, host a Zoom meeting, or use surveys to gain their attention with specific market research. I do this survey method very often and with huge success: I reach out to niche leaders and ask for their opinion for current reports I am working on. They get valuable data, visibility and acknowledgement in their niche .. and I get the ball rolling. And the best is that top level executives read and answer every email I send.
Be aware that LinkedIn wants people to stay on their platform for advertising reasons, but that does not help your business. So once you've made the connection, get that prospect to your own channels as soon as possible.
You can use your LinkedIn conversation as a reason to send a parallel email (Hi [Name], it was great to talk to you on LinkedIn …).
Templates & tools to help you
There are numerous tools that can help you with your prospecting, social selling, and contact marketing. I've mentioned some in this post already. Here are a few others I particularly like:
Once you hit upon a formula or two for your outreach messages that work, I suggest you keep them as templates. That way, you can save yourself time by simply amending the relevant details each time you reach out to a new person.
Source: Eduard Klein
Now over to you
Those who are not used to contact marketing often think that it seems like an awful lot of work. And it is, but that's for one simple reason: because it works. It's far better to undertake robust prospecting and research and to reach out to a few people really well, rather than to reach out to hundreds of people with a boring and generic message.
Why not give it a go? You might be surprised at the results you get!

Bio
Eduard Klein is an international digital growth marketer, blogger, and entrepreneur with a global mindset. He guides people through the process of starting and growing a digital business, and to ride the wave of digital technology and marketing without getting swept away.