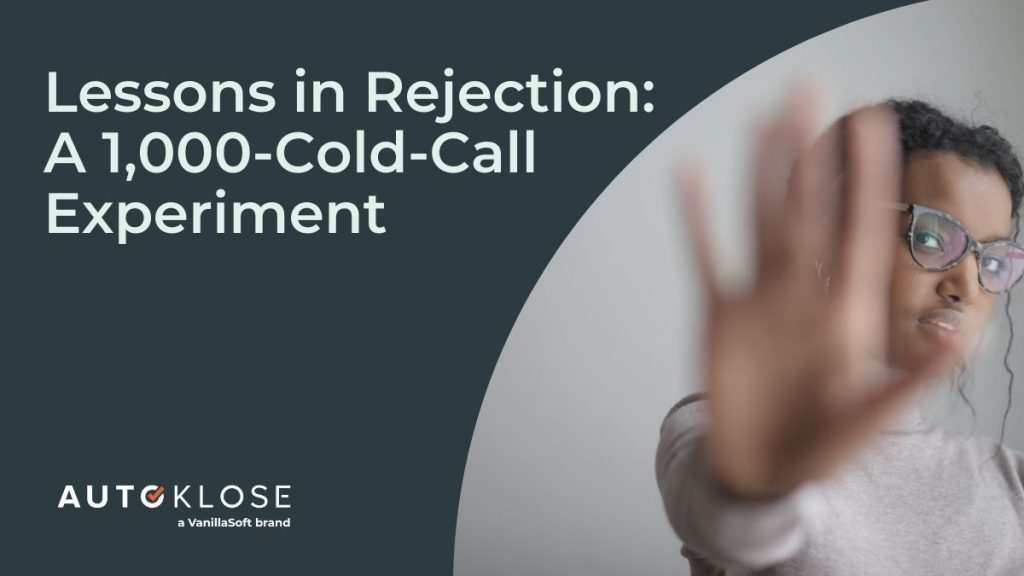 It's an age-old question in the sales world: Does more activity equal more results?
Numbers seem to make the answer an obvious yes, but there's still controversy in our industry about the effectiveness of a volume-heavy approach.
Starting with a 2% close rate as his foundation, Alex Alleyne, a successful sales manager in the UK, set out to prove that he was guaranteed to book some meetings if he made enough calls.
Alex joined Shawn and Ollie for a conversation about what he learned from his 30-day cold-calling project.
On this episode of 0 to 5 Million, Alex shares:
Why he took on an ambitious cold-calling experiment as a new hire, and how he set it up
How to face rejection gracefully and try something new next time
What genuine curiosity can do for your personal goals
The cure for a bad case of rejection-induced blues
Setting the stage for an intense phone campaign
When Alex started as a regional sales manager at Lacework, a data-driven cloud security platform, he set an ambitious goal for himself: five to six new business meetings a week. He wanted to be entirely metric-driven.

Yet that one goal wasn't quite satisfying enough. He took the metrics focus even farther and decided to embark on a big journey that would hopefully generate big rewards.
Alex's goal: 1,000 cold calls in 30 days.
The idea of having to dial a phone notoriously implants fear into the hearts of sales reps everywhere. But doing it 1,000 times? We suspect that sounds insane to some of you.
What makes this idea even more daunting is the fact that Alex had a lot of pre-work to do.
First, he segmented his prospects into tiers and set up targeted email sequences. This created some element of familiarity with them before he ever picked up the phone. Higher-priority prospects got LinkedIn messages or video message follow-ups.
When he was ready to dive in, Alex set a goal of making 100 calls every two days. Because he prefers the natural feel of ad-libbing, he chose not to follow a script.
After each call, he pushed the prospect into their next relative stage — usually, a more detailed email.
Overall, his approach was pretty standard. But the sheer volume of outreach was not.
The results: Alex's 2% close rate held steady. Thus, 98% of his calls (980 of them) were a miss.
What 1,000 cold calls — and plenty of rejection — can teach you
Alex knew he'd have to have thick skin to make it through 1,000 cold calls — and he was right.
Here's how the 98% of his calls that didn't close broke down:
90% went to voicemail
3% hung up
3% were dead numbers
2% had strong objections that Alex couldn't overcome
Regardless of the dire data, Alex still looked at the endeavor in a positive light each time he dove into his next batch of calls: "Every time I picked up the phone 100 times, I had two new meetings," he says.
What was he saying on these calls?
His opener was unique to the particular prospect's sequence, but there was one key thing he did in every call: Seek to validate that they're the person he wanted to speak to (in the role he was looking to reach and responsible for making decisions about new products — in this case, software). They'd inevitably agree that he'd reached the right person, which Alex says put them in a yes mindset.
Getting the person on the other end of the line to agree with you in the first few seconds is a good start, but it's not a guarantee that the rest of the call will go well.
Alex figured out that he was doing a lot of things wrong as a cold-calling newbie.
Early on, he caught himself making a couple of big mistakes:
Asking for permission to continue the call. Often, this resulted in quick hangups because it's equivalent to giving the prospect an out.
Jumping the gun with his pitch. In his excitement to practice, Alex let the pitch slip out too early instead of focusing on relationship-building.
As the days went by, Alex figured out the error of his ways and kept adjusting. "I'm a massive believer that you learn by doing," he tells Shawn and Ollie.
Pro Tip: Ask for mentorship! If possible, pick the brain of a cold-calling expert. Alex reviewed every mistake he made on these calls with a sales leader.
Seek to understand others — and your own drive
After hitting a dead end over and over, why would anyone continue?
The short answer is that you have to have a deeper interest in the people you're talking to – what they do and how you can alleviate their pain points.
"What really drives me is a genuine curiosity," says Alex. "I pick up the phone because I'm seeking to understand."
He's the type of person who stays driven outside of work hours, listening to podcasts and watching sales videos on YouTube while he's on the treadmill.
You don't have to learn (or exercise) the same way Alex does, but you probably won't make it through something as challenging as 30 days of cold calls without caring about your craft and its potential impact on the people you're trying to reach.
Feeling rejected? Just make the next call
Like Alex, you'll probably face huge amounts of rejection if you're brave enough to try cold calling on a large scale. And, like any human, you'll probably feel pretty terrible after that 1,000th person has hung up on you.
On dealing with rejection, Alex says, "You've got to have a really compelling why for everything you're doing. You're in the sales game because you have something you're seeking to unlock in your life or something that's driving you."
It's critical to hold onto that why when you hit a mental low in the game.
Both Alex and Shawn have discovered the key to developing grit when it comes to the harsh process of cold calling.
"The best cure for a rejected call is to make another one," Alex points out.
On the podcast, Shawn reveals that he came to the same conclusion. He used to directly tell his prospects they'd done him a favor by shutting him out, e.g., Thank you for saying no because I'm one call closer to getting my yes.
From this growth-mindset angle, cold calling looks like less of a dreadful task and more of an exciting way to test and boost your sales skills.
While you may never have a reason to make 1,000 cold calls in a month, you can borrow a page from Alex's playbook and take on a huge — and hugely insightful — task of your own volition any time.
This is based on a conversation from The 0 to 5 Million Podcast, featuring founders, CEOs and revenue leaders from businesses between 0 and 5 million in ARR. Subscribe to future episodes to find out how they did it.