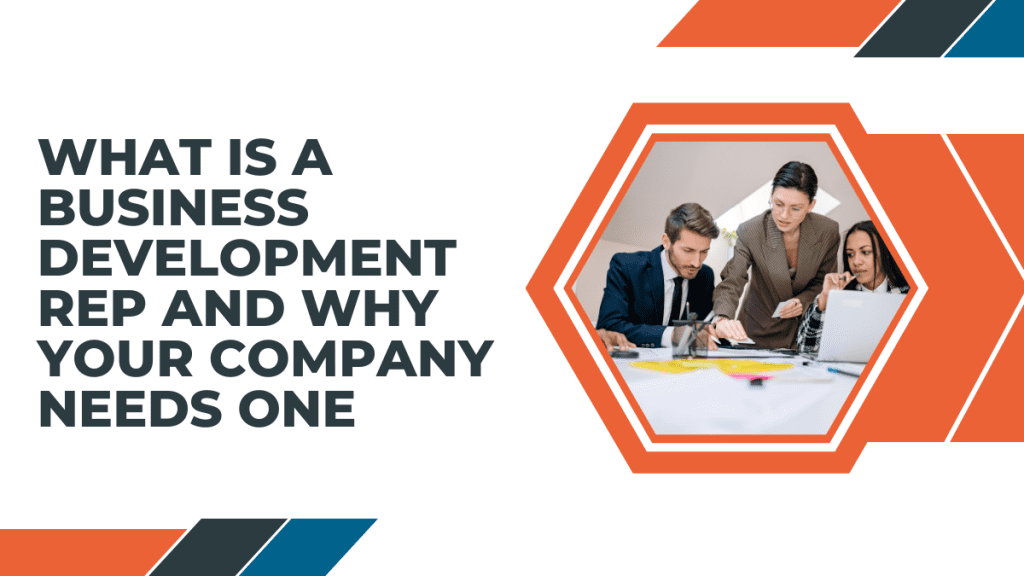 Many business owners are strongly convinced that a salesperson is somebody who will handle the sales cycle in its entirety. 
In other words, in such companies, sales reps are responsible for reaching out to prospects, nurturing them, and closing deals. We can even say they're considered to be jacks-of-all-trades.  
But, the sales process is so complex and challenging that it has to be mapped out and split into several different stages, each of which requires a separate team of professionals. 
A Business Development Representative in Short
Every successful company has someone who's:
in charge of generating and identifying new business opportunities,
monitoring market changes,
keeping an eye on your competition, and what they do, as well as,
looking for new ways to attract your target audience.
In a nutshell, that's what a business development representative (BDR) does.
What Is Business Development?
Business development refers to different strategies implemented to promote growth and boost the revenue of your company.
It consists of pursuing new business opportunities and converting leads into customers, which is why business development is used interchangeably with sales development.
However, business development reps and sales reps, though working towards the same goal and being part of the greater sales team, aren't the same and cannot be used interchangeably.
So, What's the Difference Between Business Development and Sales?
As we already mentioned, business development has the purpose of connecting, as well as establishing and maintaining relationships with your prospects. This process requires building buyer personas, increasing the visibility and awareness of your brand, and experimenting with different traditional and innovative ways of promoting growth. 
It's a BDR's role to leverage cold email, cold calling, social selling, and networking in order to bring new business opportunities. 
We can say that these professionals, in a way, break the ice, warm up the cold leads they bring, and qualify them before forwarding them to the sales team to convert them into paying customers. 
So, it's not a BDR's task to close deals. What they do is lay the groundwork and make it easier for a salesperson to complete a sale.
As for the job and importance of a sales development rep, check out our blog post on the topic. 
What Does a BDR Do?
Business development reps are at the forefront of the prospecting process – it's them who pique your potential customers' interests and plant the idea about your product or service in their minds. Even if your prospects aren't aware that they actually need a solution you offer.
It's important to understand that due to the fact that they don't close deals, BDRs are usually in the salespeople's shadow.
But their value is immense because they drive new opportunities that would otherwise be overlooked.
Before we discuss how they do all this, it should be mentioned that they don't rely on organic leads, that is, those that are already familiar with your business. BDRs tap into brand new, fresh opportunities, thus keeping your pipeline full. 
Startups and small companies that want to take things to the next level, hire BDRs to help them with the scaling process.
Here's how they do it.
1. Doing Research
This position requires a great deal of research and learning about the target audience.
Namely, it's essential to understand potential customers' interests, needs, pain points, preferred channels of communication, demographics, and all the relevant information.
BDRs leverage all the data on your existing customers, such as behavioral and historical data, in order to figure out who could be a good fit for your product or service.
2. Generating Leads
This is a crucial step of a BDRs job because it revolves around collecting contact details and building lists of potential customers.
Autoklose, for example, can make this task infinitely easier, because it comes with a B2B database packed with millions of clean and verified leads from different industries that can be used for lead generation efforts.
3. Engaging in Cold Outreach
BDRs use both cold calling and cold emailing in order to connect with potential customers. 
Although both these tactics are frequently criticized as being ineffective and too pushy, the truth is that they do bring results if planned and executed properly.
And if someone knows how to craft a compelling sales pitch or create an effective cold email campaign, it's a BDR. 
We've already discussed these strategies in detail and provided lots of useful tips as well as templates that you can customize for your cold outreach.
4. Connecting With People
BDRs are masters of networking.
They know how to mingle and establish connections with other people. They also excel in face-to-face interactions but can be equally persuasive over the phone or email. 
One of the most important aspects of a BDR's role is to build and maintain relationships with prospects.
They should be able to communicate effectively and understand their needs, pain points, and goals, in order to establish a connection and lay the foundation for future interactions with the sales team.
5. Practicing Social Selling
As social media platforms are indispensable these days, BDRs know how to use these channels to their advantage. 
By joining different Facebook and LinkedIn groups, participating in discussions, commenting, being helpful, and reaching out to other people via direct messages, BDRs subtly promote the business they work for.
They establish themselves as authorities, thus attracting potential customers.
6. Qualifying Leads
BDRs have yet another very important responsibility – they have to make qualifying calls to establish whether a lead they have been nurturing is the right fit for your company.
Otherwise, your sales reps whose task is to close deals would get unqualified, half-baked leads that would take a lot of time and resources to sign a deal.
That's why business development representatives have to find out whether each and every lead they hand off to their colleagues from the sales department is qualified for the next step and ready to be closed. 
The qualification call usually lasts somewhere between 15 and 45 minutes, and after it, a BDR determines whether the particular lead is worth forwarding to a sales qualified appointment.
The focus of every qualification call should be the identification of the lead's pain points and establishing whether your product or service is what they're looking for.
It's obvious that this task is something that only a highly skilled professional can handle because turning a lead completely unaware of your company into a qualified one in only a couple of interactions is a real feat.
Essential Skills of Every Successful BDR
Let's face it: hearing that dreaded "No" and being rejected is something that these professionals get a lot of.
And they need to be ready to accept it and move on without losing confidence.
Being in the know about the market is a must for BDRs, but it's not enough.
They need a set of skills and character traits in order to succeed.
1. Thinking Outside the Box
BDRs need to use outside-of-the-box thinking and creativity in order to be able to connect with their leads better.
This skill is particularly useful when it comes to addressing prospects' objections and turning an almost lost customer into a hot lead. 
That's why having a creative BDR can make your business stand out among the competitors and bring you a lot of new business opportunities and profit.
2. Persistence
Cold calling and emailing require a great deal of persistence. Prospects can often be evasive and unwilling to respond.
Following up is a must for everybody who's into prospecting, and given that it takes somewhere between 5 and 15 attempts in order to reach a prospect, it's clear why BDRs need a lot of patience and persistence. 
3. Active Listening
Skilled business development reps know that active listening can help them read between the lines and unearth useful information about their prospects.
So, they don't talk too much – they ask open-ended questions and listen to their prospects instead.
This tactic allows them to understand what a potential customer wants to say.
Such an attentive approach also helps them build loyalty and trust with their prospects who, in turn, feel more relaxed and free to talk to them and reveal what worries them – and that's crucial for learning how to present your solution in an irresistible manner.
4. Adaptability
The business development role is constantly evolving and requires adaptability to new market conditions, changes in the industry, and new technologies.
BDRs who can quickly adapt to these changes are better equipped to stay ahead of their competitors and successfully sell their solutions.
This skill involves being flexible, open-minded and willing to learn and embrace new ideas and methods.
5. Empathy
Empathy is the ability to understand and share the feelings of others. BDRs who can put themselves in their prospects' shoes and understand their needs and challenges are more likely to succeed in selling their solutions.
Empathy allows BDRs to build rapport with their prospects and create a positive relationship based on trust and understanding. This, in turn, can lead to more successful sales and higher customer satisfaction.
6. Positive Attitude
Maintaining a positive attitude is essential for BDRs who are often faced with rejection and obstacles in their daily work. They need to be able to maintain a positive outlook, stay motivated and overcome challenges with a smile.
A positive attitude helps BDRs stay focused, optimistic and resilient, even in the face of adversity. It allows them to approach each interaction with their prospects with confidence and a can-do spirit, which can ultimately lead to better sales outcomes.
7. Technical Savviness
With the rise of technology and digital transformation, BDRs need to be proficient in using a variety of software and tools to effectively carry out their day-to-day tasks.
For example, BDRs need to be familiar with CRM systems to manage their leads and customer interactions effectively.
They need to know how to use these systems to organize their prospects' data, schedule appointments and follow-up tasks, and track their progress throughout the sales process.
Conclusion
A business development representative will be a valuable addition to your team. Consider this an investment in the growth of your company as such a professional will allow your business to find numerous new sales opportunities and act on them.
However, before you say "You're hired," it is important to understand what a skillful BDR is, what their responsibilities are, and how they can contribute to your team. These tips can help you pick the right person for your team.