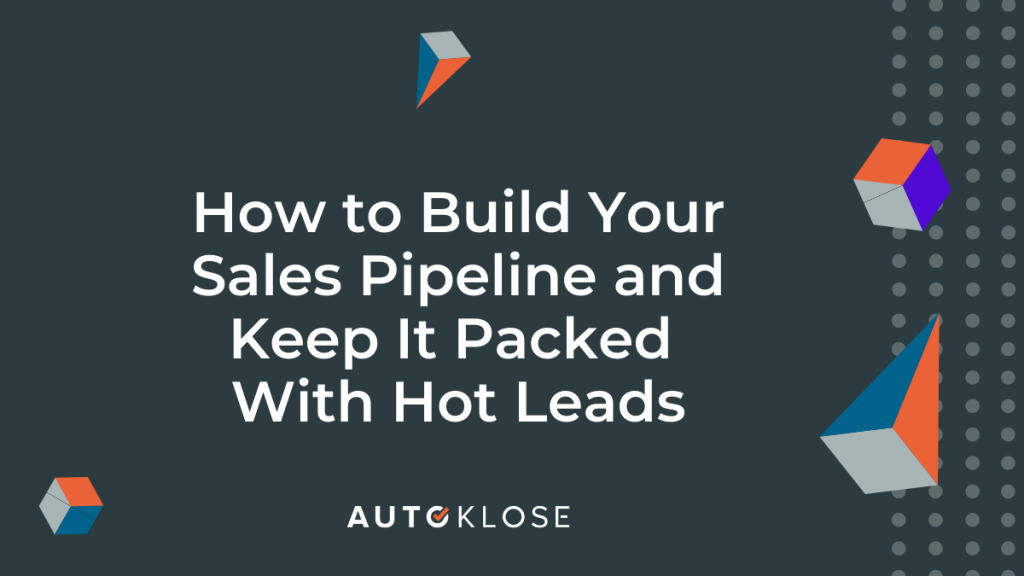 Your business needs a healthy pipeline that will streamline your entire sales process and provide your sales team with valuable insight into the place of potential customers within the buying process.
A properly managed and controlled pipeline will enable you to increase your sales speed as well as your revenue. The math is simple – if a lead spends less time in your pipeline, that is, if it takes you three instead of four weeks to close a deal, then you can count on a 30% increase in your bottom line.
I know that every company creates its own unique process when it comes to building a sales pipeline, but there are some basic procedures to follow if you want to do everything by the book and ensure that your pipeline is properly built and optimized for success.
Let's get down to covering the basics.
What's a Sales Pipeline?
You've noticed that we frequently mention terms such as a sales funnel and a sale pipeline when talking about generating new leads and nurturing them.
Now, although these two concepts are similar, they're not entirely identical. Still, many people tend to confuse them.
A sales pipeline is an established series of steps that allows salespeople to organize, manage, and have insight into every stage of the sales process.
The purpose of a sales pipeline is to navigate a prospect and turn it from a lead into a paying customer.
Apart from that, with its help, salespeople visualize where exactly each of these prospects is in the sales process so that they can understand what actions to take in order to push them to the next stage, as well as what particular stage requires more attention.
On the other hand, a sales funnel is defined as a visual of the quantity and average conversion rates of prospects that go through the stages of a sales pipeline.
So, although the sales funnel stages are identical to those of a sales pipeline, they're represented differently.
A pipeline report shows the value, quantity, and stage of your open deals at any point in time. In contrast, a funnel report gives you precise information about the percentage of leads passed through every pipeline stage.
Finally, you can think of a sales pipeline as what a salesperson does while a sales funnel keeps track of conversion rates during the sales process.
What Are the Stages of a Sales Pipeline?
Every sales pipeline has five stages, and they are:
1. Prospecting
This is the first step of every sales process, and it consists of lead generation or prospecting.
It's the stage in which salespeople identify people or companies that would be interested in their product or service and reaching out to them / trying to attract them, establishing a connection with them, and nurturing them systematically.
Lead generation can be done through different marketing and promotional activities that boil down to two different approaches – inbound and outbound.
Inbound marketing revolves around creating content, using search engine optimization, and other subtle ways of targeting potential prospects and attracting them towards your website or landing page.
On the other hand, outbound is a more traditional and direct approach, which consists of sending cold email outreach or cold calling your prospects and offering them to learn more about your product.
2. Qualification
Once you break the ice and establish contact with your prospects, it's essential to identify whether they're a good fit for your product. Otherwise, you risk wasting your time and money on someone who will never convert.
Start by researching their pain points, interests, budget, needs, as well as exploring all the other important features that your ideal customer profile and buyer personas should have.
The more you learn about your prospects, the better you'll be able to prioritize them and understand which ones are most likely to make a purchase.
You can also take advantage of different lead qualification methods such as B.A.N.T or CH.A.M.P. as they will help you carry this out strategically.
Autoklose features a lead scoring system and based on the number of points each prospect obtains, you can qualify them more easily and plan your future activities.
3. Demonstration
In this step, you should demonstrate your product or service to your prospect and highlight its features and benefits.
The point isn't just to show how your product works but also to explain to your prospect how they could benefit from using it. It's a good idea to create a narrative that will encourage prospect questions and feedback.
Don't get carried away and get too technical – it's more important to focus on your prospect's point of view and help them understand why your product or service and your competitors' should be their choice.
Don't use tech jargon and terminology they don't understand.
4. Proposal
If you've managed to interest your prospect in your product or service and if you establish that they have:
the need
purchasing authority
financial ability
timeline to buy
you can move on to the next step – making a tailored proposal.
It should be based on your potential customer's pain points and your unique sales proposition.
List all the necessary details, such as included features, fees, length of your service, and other relevant information.
5. Closing
This is the last part of the process, and though it can be resolved in two different ways, you will learn something new.
If your prospect decides to make a purchase, you should follow up and analyze your steps and actions so that you can identify what you think was essential for this positive outcome. This will allow you to optimize your sales pipeline further and improve your closing rates.
After this, you should proceed with the onboarding process and making sure that you keep your new customers happy and satisfied.
On the other hand, even if your prospect says no, you should follow up as it's a good idea to nurture this relationship because the situation might change in the future, and they still decide to give your offer a try. Besides, you shouldn't refrain from asking them for feedback to clarify what it is that made them give you a negative answer. This way,, you can avoid making the same mistake again.

How to Manage Your Sales Pipeline?
Now that you've built your pipeline, your work isn't done.
It's essential to keep it clean and well-maintained.
Unless your pipeline is healthy, you can't expect your sales process to function as it should. In a nutshell, you might have a pipeline full of leads that don't move for ages, and then you'll have a problem.
Not only will this prevent you from having accurate insight into how your deals are coming along, but you'll also get false metrics.
Here are a couple of things you can do to clean your pipeline and keep it fresh:
Disqualify stale deals that have been congesting your pipeline for longer than necessary. Decluttering your pipeline is one of the most important factors for keeping it healthy.
Estimate a regular, average closing period and see how all your deals stack up. After you do this, focus on the hottest, top deals with the highest likelihood to close shortly.
Monitor your pipeline metrics on a regular basis. It's important to always keep track of the number of leads in your pipeline, the average lifetime and size of a deal, how long it takes for a deal to pass through the entire pipeline, as well as what percentage of deals make it to the last step.
Based on the previous information, establish what sales strategies work, what stages tend to be sluggish, and how your sales team progresses and performs along the pipeline.
Tips for Enhancing Your Pipeline
Since keeping your pipeline clean will definitely reduce its size, we should discuss some effective ways to top it up and add new leads.
Harness the Power of Referrals
This tactic is pretty simple and it relies on asking your happy customers to put in a good word for you with their friends, business associates, and family.
If they're delighted with your customer service, there's no need why they wouldn't accept this suggestion.
As for the power of referrals, let's just quote a stat saying that 92% of customers trust peer recommendations.
Don't Hesitate to Reach Out to Influencers
Influencers from your industry can be a valuable source of high-quality leads.
Your and their target audiences overlap to a certain extent, and since their followings are usually very loyal, you can count on some word-of-mouth marketing.
There are different ways to team up with them. For example, you can pen an insightful blog post on a relevant topic that they will share with their audience, you can ask to be featured on their podcast, or you can invite them as a guest in your webinar.
Contrary to popular belief, they're usually not arrogant and unapproachable, so don't hesitate to reach out and connect with them.
Leverage Cross-Selling and Upselling
Here's another way of tapping into your existing customer base.
It's much easier to convince your loyal customers to purchase from you again than it is to get a new prospect to use their credit card.
Cross-selling and upselling work if you create tailored, laser-focused offers based on what you know about your existing customers.
If you're running a subscription-based business, you can observe your customers' use of your services and notice those who would benefit from premium features.
Give Reactivation Email Campaigns a Chance
Don't let your once engaged leads slip through the cracks – try to reactivate them with a tailored email campaign.
Start by asking them what happened and whether there's something you can do to change the status quo.
Not only will this give you a valid purpose for reaching out to them without being spammy, but it will also show that you take notice and care.
Maybe throw in a premium feature or a discount in order to additionally entice and encourage them to reconsider their decision.
Conclusion
Building a successful sales pipeline takes time, but it's essential to maintain it from the very beginning and get rid of those cold deals regularly. Once you set it up, it will be easier for your team to identify successful and effective patterns and repeat them, thus boosting your close rates and revenue.