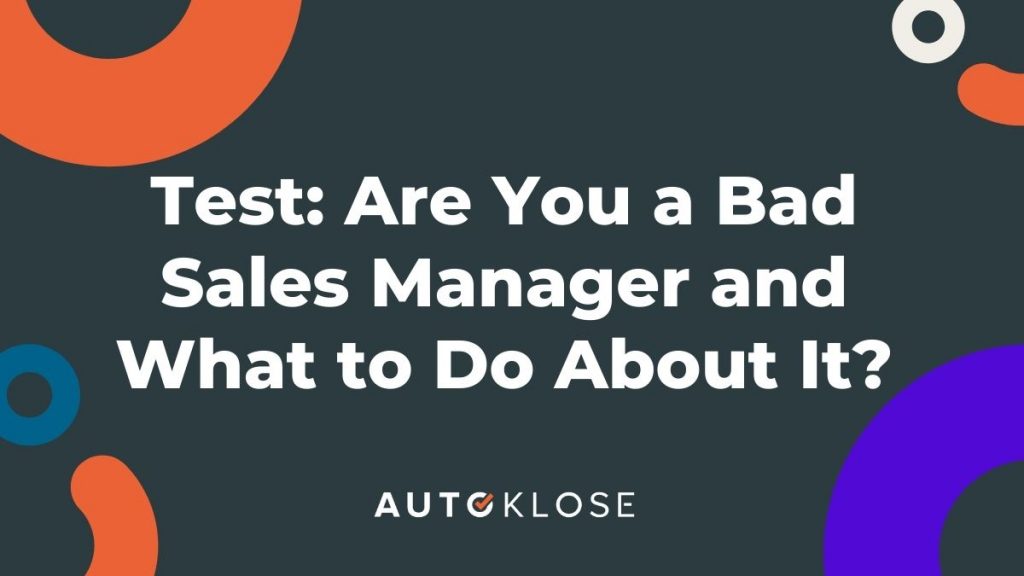 So, you're one heck of a salesperson, and you ferociously hit your quota and close deals effortlessly? No wonder you ended up being in charge of a sales team.
That's awesome, but it doesn't automatically imply that you're a great sales manager.
It's not easy to look yourself in the eye and admit that you're not exactly your team's favorite person and that it has something to do with your behavior.
But in many cases, sales managers are totally oblivious to the fact that they're the ones to blame for the fact that their team is unproductive and that they fail to hit sales numbers.
Let's not forget that people don't leave bad jobs but bad bosses, which is why you should do some soul searching, do this test, and see whether you fall in that category.
1. Your Communication Skills Leave a Lot to Be Desired
Is email your main communication channel with your team?
Yes, it's convenient, but nothing can beat face-to-face communication. Don't let the current work-from-home arrangement be your excuse for resorting to email and instant messengers. When the situation is regular, it's essential to have regular in-person meetings during which you'll not only discuss the workflow and potential issues but also catch up and connect.
In times like these, when we have to practice social distancing, use Zoom, Skype, and other platforms for video chatting – this way, it's easier to establish trust and loyalty.
Although we strongly advocate email as an excellent channel for reaching out to your potential customers and nurturing them, I can't deny that when it comes to internal communication with your team, it can be convenient only for informative purposes and not for having proactive conversations.
You can't expect to interact with your team only by sending them a flurry of emails with tasks and deadlines.
Such a distant approach leads to miscommunication, and if your team is disconnected and uninformed, it will definitely hinder the growth of your business and hurt your bottom line. Not to mention that the lack of constructive interaction and face-time will erode the relationships among the members of your team, cause conflicts, and result in a toxic work environment.

2. You Think That Manage Means Control
It's true that you're responsible for the performance of your sales team and that you should keep track of their quota and individual accomplishments, but it doesn't mean that you should hover over them.
Helicopter management, although sometimes coming from a good place, is a very bad thing that can damage your entire sales department. Your team will become stressed out, and their engagement at work will suffer.
Some signs that you have succumbed to micromanaging and controlling your sales reps are:
You're constantly asking for status updates before a task is due
You're offering your advice even though members of your team haven't asked for it
You're making to-do lists for your team.
Sometimes any of these behaviors isn't a bad thing, but if you keep on repeating the same pattern and see that your team members are annoyed, you'd better think about adjusting your approach and give them some breathing space.
You have hired them because of their skills and qualities, so let them show what they can do without you interfering and meddling.
3. You Dread Failure
There's nothing wrong with being afraid that you'll fail, but that should by no means prevent you from experimenting and taking calculated risks.
Bad sales managers don't like to change their sales techniques and try out something new.
If you let fear take over and be the main driver of your decisions, you're toast.
In other words, you can't be a good leader if you're scared of everything. Think about what makes you so reluctant to put on a brave face, grit your teeth, and take up the challenge.
This way, you'll also instill a sense of courage in your team and show them that there's nothing wrong with failing. As a result, you'll build a bold sales team that knows how to win but isn't afraid to fail either.
4. You Behave in a Petty and Rigid Way
It's your job to empower your sales team and remove any unnecessary obstacles on their way to success.
And sometimes one of the biggest obstacles can be you!
Asking for some insignificant reports just for the sake of it, holding inefficient, tedious meetings, and not providing your sales team with the tools with which they will streamline and automate their administrative seriously affect your team's productivity. By having to waste their precious time doing all this will make them less focused on sales and hitting their quota.
The best thing you can do is ask them what they need to be successful, provide them with all the resources they required, get out of their way, and let them do what you hired them for – sell and make money.
5. You Never Fire People
Sometimes a sales rep isn't the right fit for your company, meaning that they don't belong on your team.
They might ruin the team's dynamics or simply fail to contribute to your company's success. In other words, they have to go, and as a sales manager, it's your job to fire them.
It's an unpopular task, but it has to be done.
Bad sales managers almost never fire people because they rarely want to take responsibility for such harsh actions – they don't want to risk their job.
In order to let a team member go, you need to have a procedure in place.
It's crucial to be straightforward and tell them what went wrong and why they don't fit in anymore. Talk to them and ask them what their plans for the future are – it would also be nice to offer them some help in that regard. You can even offer them your referral for a new position. Don't forget to ask for their feedback and make sure that you provide yours – in detail. If you can recognize yourself in any of these statements, you're on the way to become a bad sales manager. If you tick all the boxes, you need a reality check right away. Whatever your results are, don't try to be a better sales manager – your ultimate goal should be becoming a good sales leader who leads and inspires salespeople and motivates them to become the best versions of themselves.