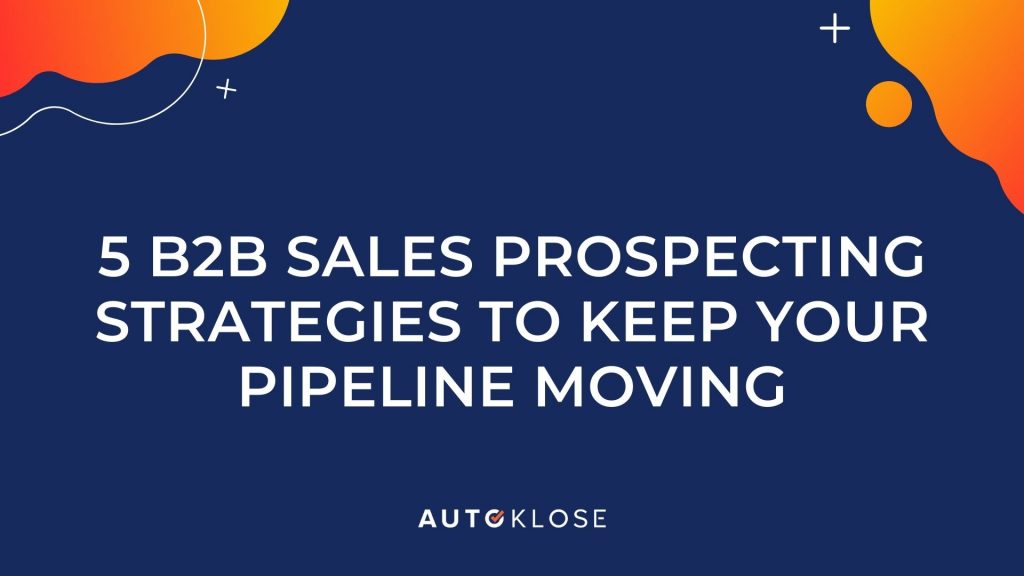 Unproductive B2B sales prospecting is frustrating. It wastes your precious sales time, keeps your reps engaged unnecessarily, and consumes your resources for nothing in return. If you want to build a strong sales pipeline, it's essential to develop a prospecting plan that gets results.
In this blog, you'll learn five ways to successfully prospect to maintain a robust pipeline.
What is B2B Sales Prospecting?
Anyone working in B2B sales knows that prospecting is one of the most challenging tasks. Having said that, prospecting lays the foundation of the entire B2B sales process, which is why it needs to be done right.
Simply put, B2B sales prospecting is the activity of searching for potential buyers to ultimately convert them into customers. Prospecting helps create a steady stream of sales opportunities to fill the pipeline by giving you control over the pace of finding new buyers.
Key Sales Prospecting Strategies to Never Let Your Pipeline Go Dry
B2B sales prospecting plays a critical role in fueling your pipeline. Improvements at every step of the pipeline will help your reps close more deals. Here are five strategies to improve your prospecting technique and always keep your revenue growing.
1. Use email automation to level up your prospecting game.
Time is one of the most vital factors in B2B sales prospecting. Once you know how to effectively automate the tedious work of prospecting, you'll stay at the top of your game. Leverage email tools to get through your repetitive email campaign tasks faster and spend more time building relationships with targeted prospects. Importantly, you can automatically send more engaging, customized emails and timely follow-up emails to reach prospects before your competitor does.
There are several email outreach automation technologies available that empower you to crush your sales quota. One of them is Autoklose, a sales contacts and email automation software. Use the all-in-one technology to automate email outreach and access verified, clean B2B contacts to advance your sales prospecting plan. Easily create targeted email lists, set up customized sequences, and use high-converting email templates with the software to prospect better.
Setup can be intimidating, but taking the time to plan out your system, build templates, and organize sequences will quickly start showing results.
2. Understand the needs and buying intent of targeted prospects.
One way to build a consistent and strong sales pipeline is to make intelligent use of actionable insights into the online activities and buying signals of prospects. Intent data is a perfect B2B sales prospecting tool to cover all of the requirements to help you reach qualified prospects who're ready to buy. It can deliver close to 4X pipeline expansion.
Use intent data to perform more targeted B2B sales prospecting and avoid wasting resources on prospects who have little intention of buying your products. Streamline your prospecting campaign as you get deep insights into the ways prospects solve their problems and the type of solutions they need. Prepare customized sales messages, score leads with higher precision, and capitalize on early prospecting opportunities with the power of intent data.

3. Personalize your outreach to resonate messages with prospects.
Personalization is a great technique to catch the attention of prospects and get them interested in your B2B brand. Use personalization to build trust in prospects and show them that you understand their pain points and what they're looking for. Your outreach messages will become more meaningful and relevant to prospects.
If done right, personalization can bring improved results by helping you better connect with prospects and start building a relationship with them. That said, it's one of the most common challenges in cold email outreach. Nevertheless, there are ways in which you can easily overcome the personalization challenge. For example, you can:
· Make cold emails more conversational, pertinent, and to-the-point
· end emails from a real person and not from a company email address
· Use customizable email sequences or templates for each prospect you target
· Segment prospects based on different categories such as industry or size to increase personalization
· Research prospects using data intelligence to target them more effectively
4. Find prospects, use tools, and optimize your profile on LinkedIn.
LinkedIn has a vast user base which includes C-level executives, prospecting tools like Sales Navigator and InMail, and a wealth of business opportunities to make prospecting easier. To better leverage LinkedIn, make sure you optimize your profile, consistently increase your connections, regularly post relevant and value-added content, and analyze profile performance.
It's not easy to increase LinkedIn connections and followers daily because not everyone will add or follow you. Instead of waiting on prospects to accept your LinkedIn connection request or hit the Follow button, you can use free tools like RevDriver to directly contact them and reduce prospecting time.
Simply install the free Chrome extension and collect 95% accurate, human-verified contact data of prospects not only from their LinkedIn profile but also their company website. If you're a premium user, you get to bulk export the data directly to your CRM.
5. Use video prospecting to improve results in the age of social distancing.
Create high-engagement videos and incorporate them into your B2B sales prospecting campaigns to cut through the noise and make a lasting impact on prospects. Video prospecting is not only a time-saver, but it also makes prospecting easier and more effective, especially amid pandemic restrictions.
With most companies working from home and the virtual selling trend, video prospecting can be a great way to boost your outreach. Videos add a layer of personalization to your prospecting campaigns. Moreover, they help differentiate your B2B brand when selling in the new age of a crisis.
Use high-quality product, explainer, creative, informative, or outreach videos to increase curiosity about your brand. Videos can be used in cold emails, social media messages, text messages, blogs, and landing website pages to grab the attention of prospects. Make it a point to keep your videos short. 68% of viewers watch business-related videos till the end if they're less than 60 seconds.

Conclusion
Maintaining an active B2B sales pipeline is difficult. It requires foolproof and result-oriented prospecting strategies like the ones explained here. With these five strategies, you can make sales while streamlining the whole process.
It's crucial to stay focused and avoid making wrong moves in desperation to reach prospects. Calling prospects too often, emailing them without having a strong reason, not doing proper research, using spammy buzz words, and not creating buyer personas could lead to B2B sales prospecting failure.
Don't shy away from using B2B sales prospecting tools to make the job of your sales team easier. For example, you can use the Autoklose Autoverify feature to bulk verify your emails before you send them. This will help you maintain a good sender reputation, reduce the email bounce rate, and increase the email deliverability rate. VisitorIntel is another prospecting tool that gives you insights into companies visiting your website and helps you identify net new "look-alike" prospects.
Bio
Jason Hubbard has literally grown-up in startups, including helping to grow three top 100 Inc. Fastest Growing Private Companies. Most recently, Cirrus Insight was number 41. He now serves as the VP of Partnerships and Alliances for SalesIntel.io. SalesIntel is the most comprehensive contact and company data provider that helps you target your ideal prospects and accelerate revenue growth. SalesIntel is the top provider of accurate and affordable sales and marketing contact data.