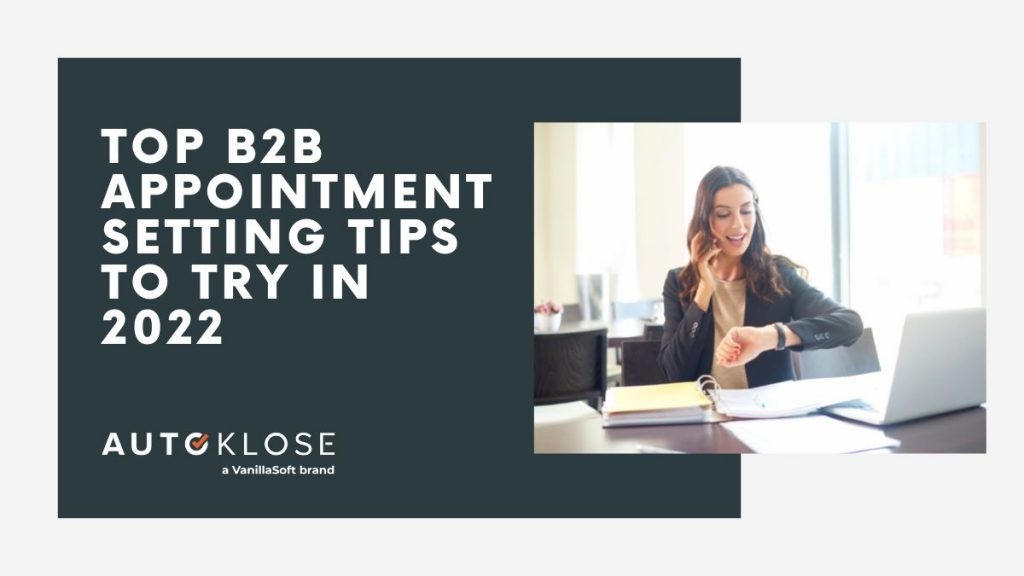 Lead generation, the first part of your sales process, is a complex, resource-intensive, and time-consuming endeavor. Without it, you'll end up with a depleted pipeline and no sales opportunities whatsoever.
It consists of numerous steps and activities, the last of which is super challenging in its own right.
Yes, we're talking about appointment setting.
Tedious, unrewarding, difficult, and demanding, this job is essential because if SDRs don't secure appointments, there will be no sales.
As simple as that.
But they rarely get a pat on the back for a job well done, as all the accolades are mainly reserved for sales closers.
That's why I decided to help our fellow appointment setters, aka SDRs, by sharing some appointment setting tips that work.
Also, check out the Appointment Setting 101 ebook by VanillaSoft.
1. Map Out Your B2B Appointment Setting Process
To set appointments, SDRs have to do a lot of cold outreach, either by calling or emailing prospects, and that's what a great deal of their discomfort and frustration stems from.
According to 63% of SDRs, cold calling is the worst part of their job.
Having a mapped-out appointment setting process in place will make their lives much easier and the outcomes of their activities more successful.
1. Targeting
Start by defining your target.
For this, you have to build and develop your ideal customer profile and buyer personas. Analyze your existing customers, identify their characteristics, pain points, and needs, as that will help you pinpoint the motivations of your future customers.
Once you have all this worked out, task your lead research experts with finding and verifying leads. This will take a lot of stress out of the process for SDRs since they won't have to waste their time engaging and reaching out to leads that aren't likely to convert.
Also, they will never reach out to a prospect only to find out that the phone number is wrong or that the person no longer works for the company.
2. Research
SDRs will get a list of potential customers together with all the relevant contact information, but before picking up the phone or launching an outreach email campaign, they have to do some prep work.
Researching their target and finding all the relevant bits of information about them will allow appointment setters to personalize their outreach and increase their odds of getting a positive response.
Building the tech stack
Using various automation and productivity tools will also help SDRs to lay the groundwork, collect all the information on their prospects, and get in touch with them when the time comes.
LinkedIn's Sales Navigator is the go-to tool for obtaining valuable prospect intel and nurturing, Autoklose has all it takes for an effective email outreach at scale, while VanillaSoft offers powerful features for appointment setting calls, including logical-branch scripting and VoIP.
By implementing the right appointment setting software, like VanillaSoft, you won't have to worry about managing multiple calendars, schedule blocking, and not having all the details about your prospects right in front of you.
3. Outreach
At the final stage of appointment setting, SDRs use different channels to get in touch with their prospects.
We're talking omnichannel here.
Phone, email, and social media- all these communication platforms play an important role in appointment setting. Bear in mind that it won't be a single call, email, or DM – it takes 18 dials to actually reach your prospect these days. 
To increase your chances of getting an appointment, diversify your cadence and use all the channels to warm up your outreach.
Now that we've established what an effective appointment setting process should look like, we can proceed to actionable tips.
2. Be Persistent and Follow Up!
Get ready for a lot of inbox crickets, unanswered calls, and cold shoulders.
It's frustrating, but it's crucial to not let these bumps on the road discourage you from reaching your ultimate goal.
Decision-makers are very busy people, and sometimes they simply forget to respond or really can't answer your phone call.
That's why you should set up a cadence consisting of no fewer than 8 touches. With Autoklose's always running campaigns, you can even follow up with your prospects until they either agree to have a meeting or tell you to stop reaching out.
This way, you put your email efforts on autopilot, which will allow you to focus on other channels.


3. Learn to Handle Objections
Although appointment setting outreach isn't the same as a sales call, you can expect to get all kinds of initial objections.
This can be quite disheartening, but whatever you do, never hesitate to ask for a no-strings-attached meeting.
Here are some tactics for overcoming initial objections.
1. Build trust
At this point of the sales process, it's crucial to set the right expectations and avoid overselling your product or service.
One of the best ways to build trust is being frank with your prospects about what they can expect. If you don't make unrealistic promises you aren't sure you'll be able to deliver on, you'll come across as authentic.
It's also a good idea to support your claims with data-driven insights about how your existing customers performed once they started using your solution.
2. Educate your prospects
One of the most common and seemingly most discouraging objections is "We don't have a budget."
It sounds like you can't do anything about it, but it's still too early to wave the white flag.
What you shouldn't do is start talking about different pricing plans. Instead of that, try to educate your prospect and explain why your solution is the best on the market for their particular pain point and use case.
The trick is to convince them to get on a demo or sales call. Emphasize that they don't have to commit as that will relax the situation and make it easier for them to say yes.
3. Look back
Keep track of all your prospects' initial objections, and analyze how SDRs handled them. Based on that, create a list of effective approaches and methods they used.
This way, you'll build a valuable objection-handling resource that the entire team will benefit from.
4. Revisit
Circling back to a prospect who said something to the effect of "The timing isn't right" is crucial.
Ask them whether it would be OK to reach out in a couple of months, and let them know you'll call them then.
Do this only if the prospect seemed interested and engaged.
4. Respect Your Prospect's Time
Keep your messaging short and to the point.
Remember you've managed to reach a very busy decision-maker/C-level exec who doesn't have much time, so be respectful of that.
You can even tell them you need only 65 seconds of their time, thus overcoming the possible "it's not a good time" objection.
Or you can use a simple trick that will immediately make you stand out from the crowd – ask your prospect, "How's my timing?" This succinct question doesn't ask for permission, but at the same time, it shows that you respect your prospect's time.
5. Improve Your Visibility
If you've ever listened to me talk about my go-to prospecting and networking strategies, you already know that I'm big on building a strong online presence.
It boils down to subtly engaging with your prospects on LinkedIn and getting yourself right in front of them without having to actually call, email, or message them directly.
These intangible touches are extremely powerful because they will prepare the ground for the appointment setting call or email.
In other words, your outreach won't be that cold since your prospect will already have seen your name in the comments section of their LinkedIn posts, read your content, or listened to your podcast.
So, it's not like you'll be a complete stranger when you call or email them, meaning your outreach will be at least lukewarm.
Here's how to catch your prospect's attention without being pushy:
Endorse them for skills on LinkedIn
Comment on their posts
Reply to their comments to other people's posts
Get into conversations with people they regularly interact with
Reference them in your content.
These are very simple and very subtle touches, but they will go a long way in making your actual appointment setting conversation engaging and successful.
6. Befriend the Gatekeeper
SDRs are not particularly fond of gatekeepers. How could they be, when these people's job is to prevent them to reach decision-makers?
But, that's exactly where your opportunity lies. When you think about it, gatekeepers are very influential. They know who the right person you should talk to is. They can even put in a good word for you with their boss. They can help you navigate the murky waters of reaching the decision-maker!
Here's how you can make the gatekeeper your friend.
Stop saying the "Gatekeeper"
Seriously, this word doesn't sound too pleasant, neither does it carry a positive connotation. You can almost imagine some ominous three-headed beast you have to slay in order to get to the decision-maker. Or at least a beefy bouncer in front of a hot, crowded club that won't let you in.
Instead of that, use a much better-sounding synonym "concierge."
Treat them with respect
As scary and unpleasant as they seem to you, concierges are human too.
Build rapport with them by being polite and respectful. Take their name and remember it. This simple gesture will show them that you don't think of them as unimportant.
Try to avoid them
Having said all this, I have to admit that many gatekeepers are tough cookies who fervently screen calls and filter emails. You can't blame them – they're paid to eliminate all distractions.
That's why it's sometimes impossible to get past them.
In that case, use plan B and avoid them completely. Try referrals, InMail, or some of the tactics we discussed so far.
Referrals are your best shot as you'll practically ask someone you know to connect you with the decision-maker and vouch for you.
Final Thoughts
Appointment setting is what sets the wheels of the revenue generation process in motion. That's why I believe appointment setting calls and emails are equally important as their sales counterparts. These tips will help you plan all your activities strategically and leave nothing to chance when you actually manage to reach your prospect.