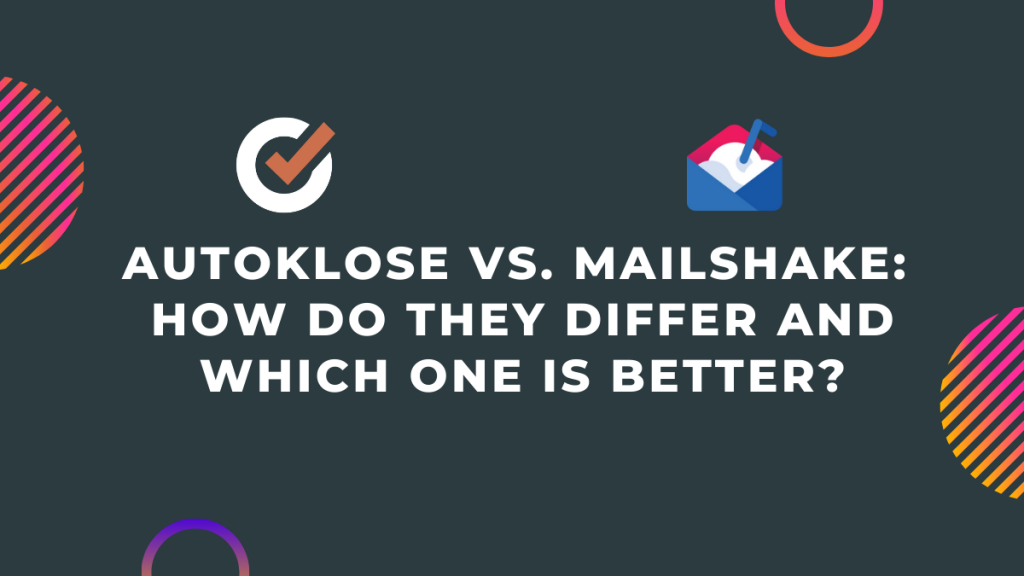 When it comes to doing your sales outreach and engagement right, besides your skill, persistence, and experience, you also need some tools that will help you streamline and automate different tasks that these processes encompass.
Luckily, there are many tools and platforms that specialize in automating prospecting, outreach, and engagement tasks.
This abundance is good as you have a wide variety of solutions to choose from, but on the other hand, it can be hard to take your pick when all of them have similar features.
We've already compared Autoklose to Hubspot and to MailChimp, and shown that each of these platforms has its own benefits and unique functionalities, meaning that they're used for different purposes. 
This time, we'll discuss how Autoklose stacks up against Mailshake, another email outreach and sales automation tool. 
Should You Opt for Autoklose or Mailshake?
Just like it's the case with the other comparisons, we're not talking about the quality of these two platforms here. So, in terms of whether they deliver, both Autoklose and Mailshake are a good choice.
Both are founded by serial entrepreneurs and CEOs who have a lot of marketing and sales experience under their belt – Mailshake by Sujan Patel, and Autoklose by Shawn Finder.
But, there are some of the biggest differences that should be highlighted right off the bat:
Autoklose is mainly focused on email outreach and engagement, and it comes with a built-in database with over 40 million B2B email addresses of different professionals from the U.S., built-in list cleaning service, and has a cluster of professional services for custom ICP and buyer personas list-building. Mailshake is not specifically oriented towards email outreach only, it has a built-in phone dialer and social reminders.
Autoklose was built with a typical sales rep in mind, as it has different functionalities that help these professionals do their job properly and efficiently. Mailshake was built with a marketing/SEO professional in mind and it scaled from there.
This is just a long-story-short comparison, and it's important to go into more detail and cover some subtle differences. You can learn more about this comparison in a live demo. Book here 🚀
What Are the Most Important Aspects of Email Outreach?
As we've already established, email outreach is the practice of sending cold emails to your prospects directly from your email account in an attempt to connect with and build relationships with them.
In order for this to work, you need to have impeccably clean data and highly-personalized email copy. 
Why Does Clean Data Matter So Much?
People change jobs, business email addresses, and phone numbers a lot. That's why data decay occurs, meaning that the information you have today won't be relevant in just a couple of weeks. And if you send an email message to a defunct or incorrect address, spam filters will be triggered. Do it again, and your ESP will be highly suspicious of your email activities.
In other words, you'll be marked as a spammer, because why else would you send an email to an address that doesn't exist any more?
This could ruin your email reputation and deliverability rate.
Autoklose boasts so-called DataUnlimited feature that offers access to a massive database packed with over 40 million of B2B verified and up-to-date leads from different industries. What's even more important, this huge pool of leads is regularly maintained, so that you can be sure that your email will reach the right person.  
On the other hand, if you already have an email list and you aren't sure whether it's still fresh, give AutoVerify a try. You can simply send us your list, our data team will verify it for you,  and you'll receive the results on your email address. 
How Will Well-Crafted Email Templates Boost Your Click-Through and Response Rates?
Once your email reaches your prospects' inboxes, there's another set of challenges to overcome.
The copy of your email and its subject line play an important part in whether your prospects will engage with your message and respond to it.
Well-crafted, to-the-point copy that is personalized and that resonates with your target audience makes all the difference.
Autoklose's Templates feature offers a growing number of email sequence templates for different business situations – together with catchy subject lines. All you have to do is customize them and you're good to go. 
To give this feature a test drive, check out our Free Email Template Library and see how it works for you. What's even better, you can submit your own, well-performing templates and help us grow this tremendously useful resource. 
What Sets Autoklose Apart as a Leading Email Outreach and Engagement Platform?
Besides specializing in sales email outreach, Autoklose also boasts a number of additional features and functionalities whose purpose is to significantly improve your campaigns.
Here are some of them:
A database with over 40 million B2B contacts and impeccably clean B2B database.
AutoVerify allows you to perform the email verification process automatically. This way, you'll ensure that you're sending emails only to valid and safe addresses, thus improving your deliverability. 
Hidden AI automations. These are SmartReply, Unsubscribe based on a reply, recognizing the context of a message, etc. All these subtle features basically analyze your prospects' behavior and messages and are capable of taking predefined actions automatically so that you don't have to waste time. They also ensure that you don't forget to remove a prospect who unsubscribed from your campaigns.  
Autoklose Sentiments™ – Sentiments are a way for you to track replies. You can track and filter the replies based on whether they're Engaged, Not-Interested, OoO, Autoresponse or if Unsubscribed. You have the full power over Sentiments and you can override the system when necessary.
Closing Words
The answer to the question from the title is that both Autoklose and Mailshake are great platforms, but their approach, as well as target audiences, differ. Autoklose is best suited for sales reps who require email outreach services, whereas Mailshake is tailored for marketing professionals and SEO specialists.
So, if you're a sales rep looking for a platform that can help you effectively automate and optimize your email outreach and engagement campaigns, Autoklose is the right choice for you.