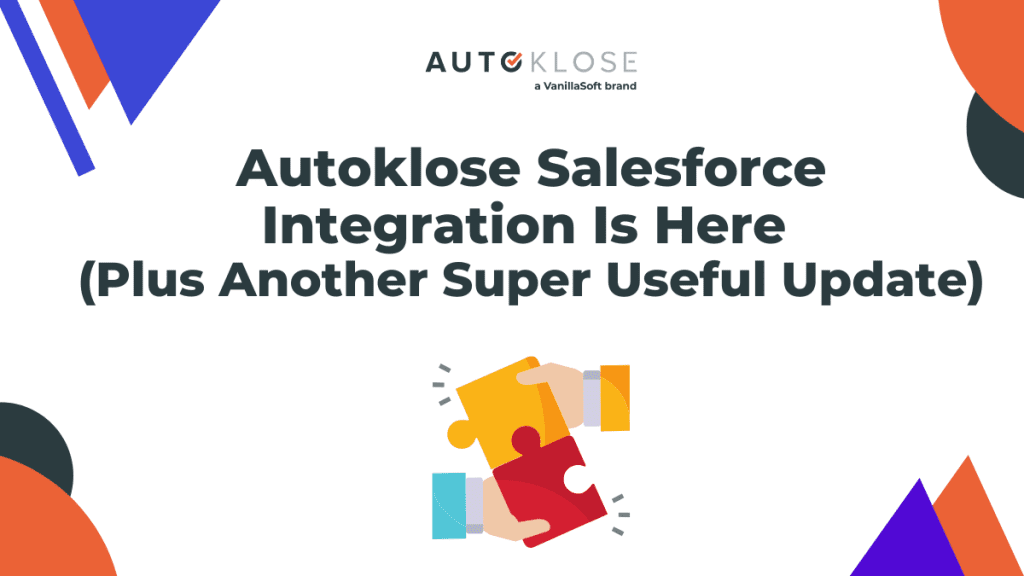 Autoklose just got not one but two amazing updates that will make your entire prospecting, engaging, and lead qualification process tremendously easier. Plus, you'll save a lot of time trying to monitor all your campaigns.
The first news is that we added the Salesforce integration, which basically means that you can enable two-way communication between the two platforms and sync Contacts and Leads.
The second update is our new Logs page, built to give managers a detailed insight into their team's and prospects' activities.
Let's see how all these new options work and why you should be excited about them, just like we are!
Speed up Information Flow With Autoklose + Salesforce Integration
How many times have you lost a potential customer because of a long lead response time?
But no one can blame you and your team. With the sales process being split among different sales engagement tools and CRMs, it can be challenging to catch up with the latest campaign developments and act on everything promptly.
And you already know that the sooner you get in touch with an interested prospect who replied to your email or clicked on a link, the higher your chances of a successful closing. Similarly, if you let a potential customer who took action wait, you're doing yourself a disservice.
Autoklose's integration with Salesforce aims to improve your lead response time and maximize sales engagement efforts.
This powerful functionality allows you to connect Autoklose and Salesforce accounts and sync your Contact and Lead data between platforms in both directions. As a result, your sales team will be on top of their tasks, since every time a lead takes action in a campaign, they will be notified and ready to respond immediately.
In a nutshell, with Salesforce Integration, you'll:
Get a 360-degree view of prospects and leads in both platforms from a single dashboard;
Streamline your entire sales process and break down information silos;
Take faster action on hot leads;
Have accurate information at your fingertips;
Combined with the Autoklose Automated Action and Decision Tree types of campaigns, Salesforce Integration allows for some new actions, such as converting a lead in Salesforce, closing a lead in Salesforce, creating a lead in Salesforce, or updating a lead in Salesforce.
For more information on how this integration works and how to set it up, check out our Help article. 

Get a Full Overview of Team Members' and Prospects' Activities Within Autoklose
The purpose of our new Logs page is to enhance the transparency and visibility of all activities within Autoklose — both team members' and recipients'.
It consists of two parts: Audit Logs and Activity Logs.
Audit Logs offer a detailed list of almost all actions individual team members perform inside Autoklose for the last 30 days. Managers can see at what time a particular team member logged into the platform and get a list of their actions, such as whether they changed email or account settings, created a campaign, and added or edited a contact.
This feature helps promote team members' accountability and improve their performance.
Activity Logs show your email recipients' latest activity. You can view recent clicks and replies from your campaigns and see who replied to a specific email from a particular campaign. It's also possible to see whether a recipient clicked on a URL inside a specific email from a particular campaign.
To get more information about the Log page and how you can make the most of it, read our Help article on the topic. 
Let us know what you think about Salesforce Integration and the Logs page. If you have any additional questions, reach out to our helpful sales team, and they will be happy to walk you through all the features.