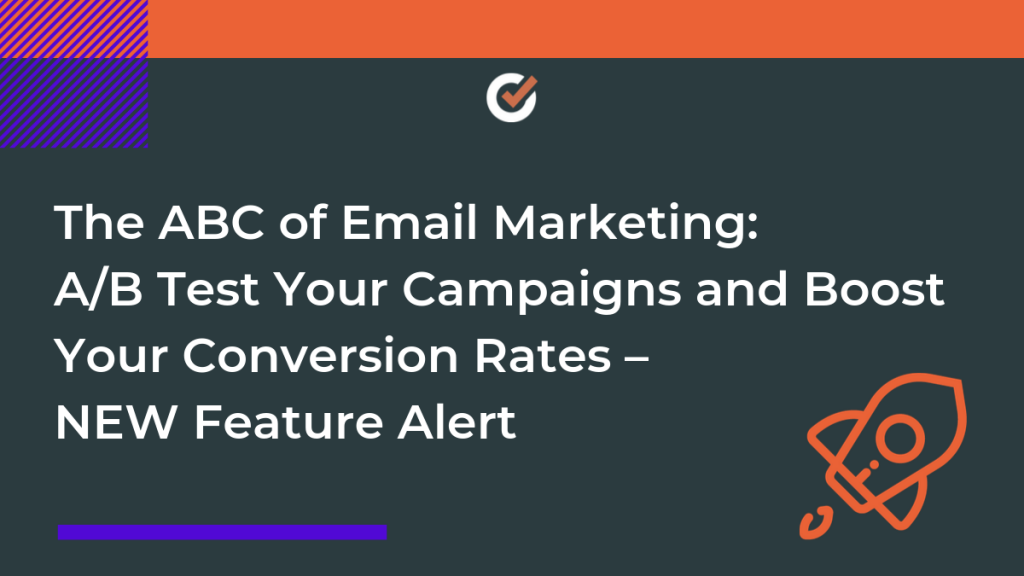 I'm happy and excited to present you Autoklose's new feature – A/B Test Your Campaigns!
It will additionally improve your email marketing efforts as you won't have to throw darts in the dark. Instead of that, you'll be able to make educated decisions.
Just like any other strategy, email marketing requires a great deal of tweaking, adjusting, and fine-tuning.
It's hard to hit the sweet spot on the first attempt, so you'll have to be persistent and try until you identify what works and what doesn't, and pick the best performing subject line, copy, CTA, or any other element.
And when it comes to email marketing, the devil is in the detail, which means that you need to pay attention to every word you use as your word count is limited and there's no room for long-drawn-out essays and narratives.
In a nutshell, you need to be concise and to the point.
The trouble is that there are numerous options to choose from and not much time.
That's when A/B testing comes in to save the day.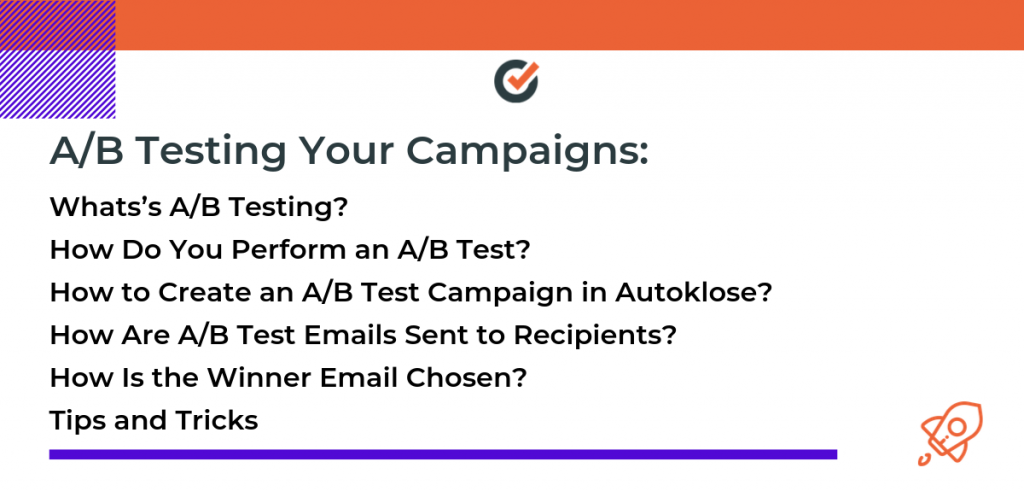 So, Whats's A/B Testing?
A/B testing or split testing is a statistics method implemented to test and improve the efficiency of a process by changing one or more variables of the same version, comparing a recipient's response to both of them, and determining which one works best.
So, basically, an A/B test is like a litmus test which allows you to easily compare two versions of the same element and determine which one stacks up better.
How Do You Perform an A/B Test?
The first is preparing two emails that differ in a certain way.
The elements that differ might be their subject lines, email copy, CTAs, or any other element that you want to test.
You need to be careful that you make changes to only one element at a time – if you change more than one element you won't be able to determine what caused an increase (or possibly a drop) in your statistics.
However, if you want to ensure that your test is relevant, you need to understand how to craft every particular segment of your email.
Then you form a list of addresses and randomly send these two emails. The results of responses will show you which test email is more effective and appealing to your prospects.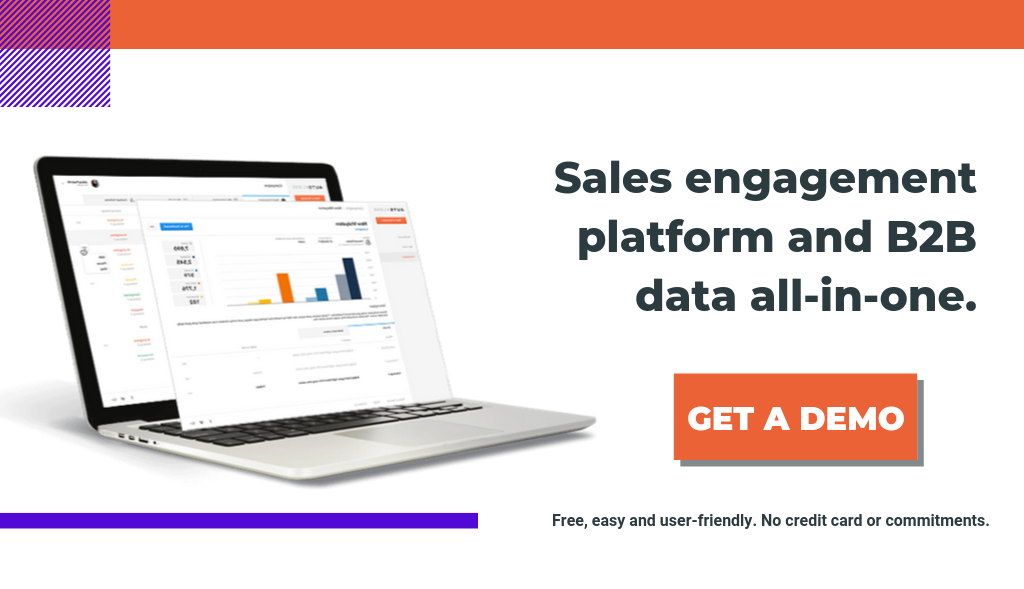 How to Create an A/B Test Campaign in Autoklose?
Log in to your Autoklose account or create one for free here.

Start a new campaign.
For A/B testing you can choose and split blank template if you want to write your own content, or you can choose and split one of the predefined templates and then change them to suit your needs.
While you're creating your email sequence you will have the + A/B test option below the text editor.
If you choose to create an A/B test email, after you click the + A/B test button, the editor will split it into two windows:
Blank subject/body window – If you don't create a copy before you click the + A/B test button
Duplicated subject/body window – If you've created the subject/body content before you click the + A/B test button.
You can add two types of email templates and change the subject line and the email body during any step and then run both combinations at the same time.
An A/B test email can be either initial or follow-up.
Although you can always make changes within active campaigns, we strongly advise against doing so. Pay special attention while creating an A/B test campaign, so that you can determine for sure which variable worked best.
Also, deleting one variant of A/B testing is possible if you don't want to conduct an A/B test, or you have made too many changes to the initial copy and want to easily reverse that.
How Are A/B Test Emails Sent to Recipients?
Contacts in your campaign will be split as evenly as possible, and then each variant will be sent to approximately 50% of recipients.
The system chooses who gets which variant randomly; for example, if you have a list of 100 contacts in your campaign, the system will automatically send the version A to 50 and the version B to the other 50 contacts. This will only work if you add your recipients in batches, as for a single contact, the variant will always be A.
Email steps are split up randomly and each step is randomized independently from each other, so if the Step1 variant was A, it doesn't mean that the same contact gets the A variant in the following steps as well.
Since A/B testing is random, you won't know who receives which template variant upfront. You will be able to see who received which email only after both emails have been sent.
Our recommendation is to add a short list of people for testing templates. 100 to 200 people is a large enough test sample.
How Is the Winner Email Chosen?
The winner email will be automatically chosen after 30 days based on the email performance, or you can manually change the number of days you want your test campaign to run before the winner email is chosen.
The most important statistic that affects the process of choosing the winner email is the number of replies; the second most important one is the number of clicks; the number of opens comes last in the order of importance.
You will get a detailed email report about the performance of each variant, and also the system will mark the winner email.
Please note that once your campaign is finished and the winner email is chosen, if a recipient performs an action afterward, that can alter the results of your statistics but won't change the winner email.
Once the winner email is chosen, your campaign will continue to send that version if a new batch of recipients is added to the campaign.

You can change the winner email manually in case you don't want to send that version of the email and want to send another version instead.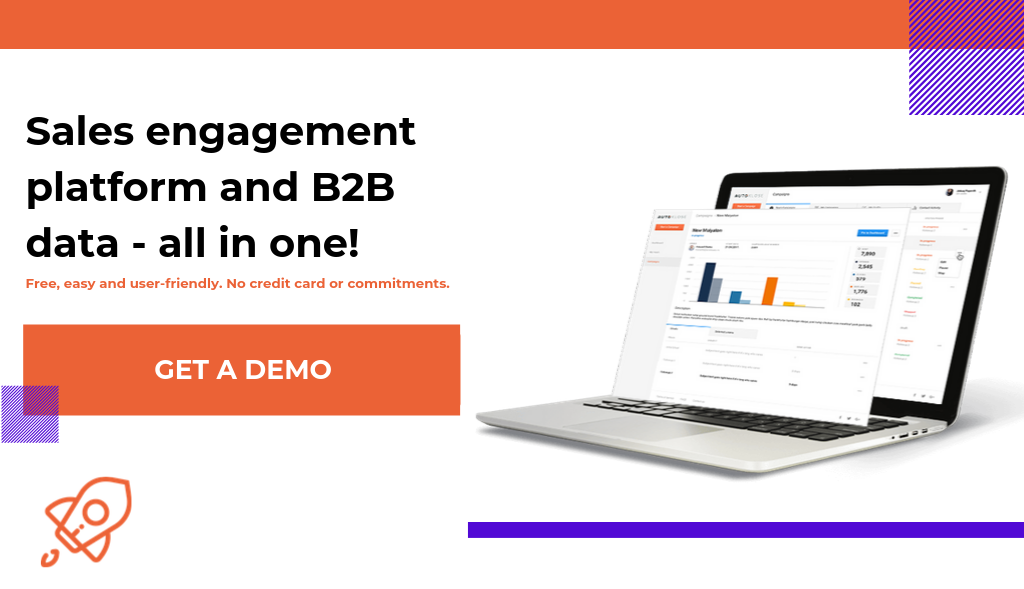 Tips and Tricks:
To conduct your A/B test campaign in the most effective manner and avoid common mistakes, you need to follow certain rules and best practices of proper A/B testing.
Carefully choose what elements you want to test depending on your key performance indicators (opens, clicks, replies):
Subject lines/calls to action/offers
Body text
Added value for your prospects
Each of these elements (and many others) is equally important because it can help you convert.
Let's go deeper and see how they relate to your KPIs.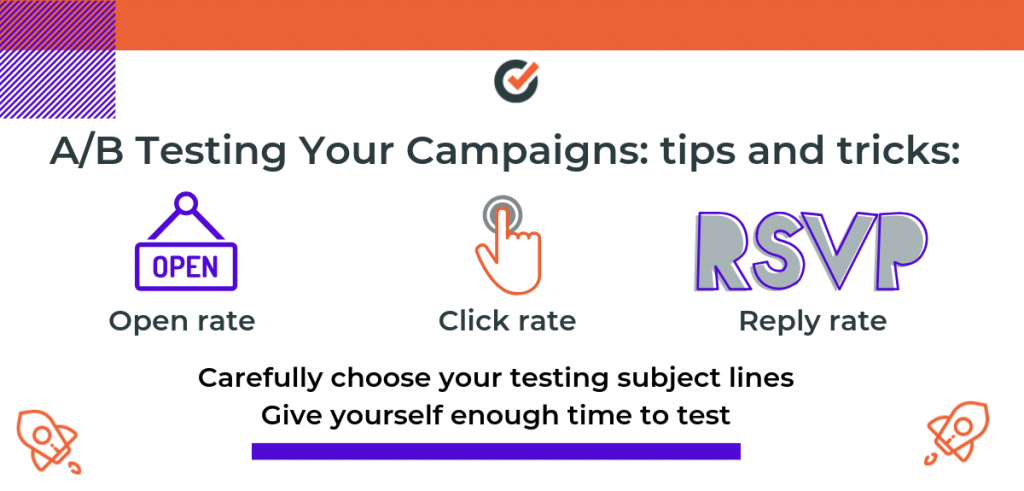 1. Open rate:
Your first goal is to get your prospects to actually open your email and read what you have to offer.
Craft your subject line to perfection and make sure you invest as much time as you need to make it as catchy and compelling as possible. This blog post might help you with crafting a perfect subject line.
Delivery time is also important if you want to A/B test properly. Narrow down the most likely times when your prospects will be going through their inboxes. Autoklose has the ability to adjust sending times based on different time zones for each individual campaign.
2. Click rate:
Too many links in the email body can lead to bad consequences and your email might land in your recipients' spam folder. Use only trusted links for your email content and avoid URL shorteners.

3. Reply rate:
This is the hardest part – how to get your prospects to reply to your email, and of course, give you a positive response.
Adjust the content length. you don't want to bore your prospects with endlessly long email body, but on the other hand, maybe your prospects actually like to have it all explained in one email. Since this isn't a one-size-fits-all answer, what you should do is try both versions and see what works best for you!
Use the right tone and wording, make your email fun to read and give all the necessary information.
Formatting your email body is also important – short and scannable paragraphs are easier to read.
Social proof is also something you want to include and test as some studies show that people will be more likely to do business with you if they see recommendations from trusted field experts. Drop a few names occasionally but don't overdo it.
Also, don't forget to do the following:

Carefully choose your testing subject lines
Pick a group of prospects you want to include in your A/B testing (for example 100 of them, as that number is enough for getting results in just a few days.)
Make the groups as equal in size as possible; you can also evenly distribute recipients according to their job title, location, seniority level, etc. That way, variations in these factors will have a minimal impact on your results.
Give yourself enough time to test
A/B testing should be conducted over a certain period of time in order to achieve satisfying statistical significance. If you test your campaign for a too short or too long period of time, you won't be able to tell whether the results are really significant or you will lose valuable time. Bear in mind that there is no guarantee that your efforts will bring satisfactory results, but you should give your test campaign enough time to produce results you can work with.

Don't drop everything or stop testing if one of your test campaigns fails, or stop testing after a successful one. Test your winning version against a new one, as that way you will have the most optimized version to use in your future campaigns.
Test drive Autoklose and A/B testing feature. Two weeks are on us. Start by clicking here.