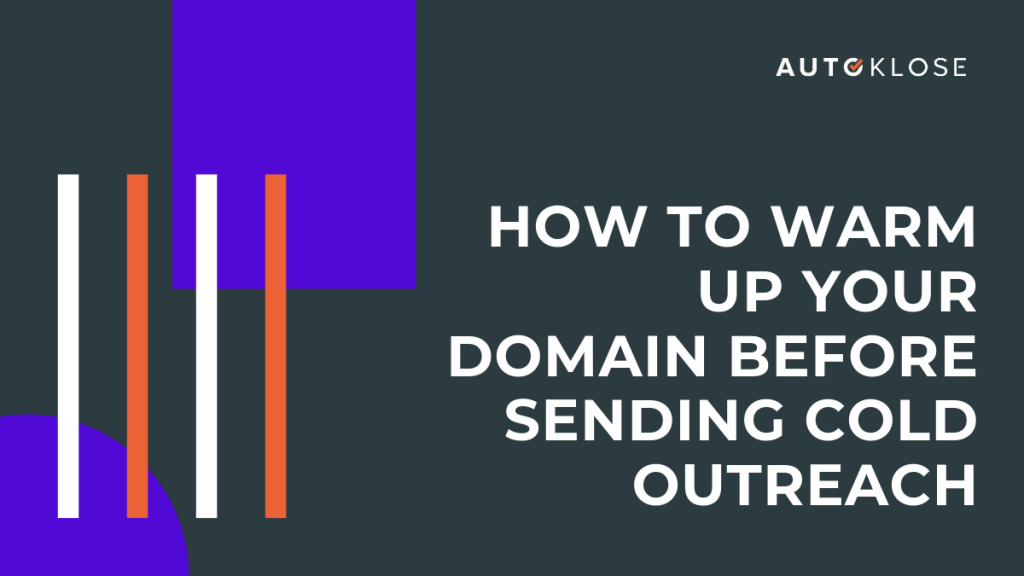 You've probably heard that cold emailing is a thing of the past. Critics say it will send your emails directly to the spam folder annoying your recipients in the process, and I won't tell you that this is impossible.
As a matter of fact, more than 20% of opt-in emails never reach their destination – that is, your recipients' inbox.
However, if you want to avoid such a scenario, you have to prepare everything in advance and warm up not only your new email address but also your domain for this kind of activity.
These two procedures are similar, but warming up your newly registered domain takes more time and patience.
Why Is It Important to Warm Up Your Email Domain?
If your email domain hasn't been adequately warmed up, you'll end up with poor deliverability rates, which means that your emails won't reach your recipients' inboxes.
Ultimately, you're headed for the worst-case scenario – burning your domain and rendering it practically useless for any email outreach.
ESPs are pretty strict about spamming people, and they'll do everything to protect their users from those who flood other people's inboxes with tons of irrelevant emails.
And unless you warm up your email domain, you'll be mistaken for a spammer.
And all your email marketing efforts will go down the drain.
Long story short, by exercising your due diligence, you'll
Improve deliverability of your emails
Make sure that your open rates are good
Protect your online reputation.
Although it's true that there are other culprits behind poor deliverability, such as:
subject lines,
your emailing list, or
your email address configuration,
Your IP address,
it's your domain reputation that carries the most weight.
The reason for this is very simple: you can recover your email and IP address up to 5 times a year depending on the ESP, while a burned domain is toast.
To be more precise, it's irreparably damaged and can't be used for sending emails.
Like, ever again.
And that's why I keep on stressing the importance of being very careful about this whole procedure. And I'm going to walk you through it.
Set Up an Email Account
The first step is setting up an email address that you'll be using for outreach.
Since different email service providers have different sending limits, make sure to check how many emails a day you can send from a single email address.
This number might be 500 or 1,000 but bear in mind that it refers to warmed-up domains.
If this seems a bit disappointing and doesn't fit your ambitious email outreach strategy, don't worry.
With the Autoklose multiple email connection feature, you can use more than one email address and send twice as many emails from a single Autoklose account.
The first thing you should know is that before your domain has been warmed up, it's recommended to set up no more than one email account.
After approximately two months, you can add another one.
This way, the warm-up process will be smooth, and you won't raise any red flags, which would lead to undesirable consequences.
You also have to configure the MX record (mail exchange record), whose purpose is to direct email to a mail server. Set up the "from" field and a signature, as this will add a touch of credibility to your campaigns.
Authenticate Your Domain
This is one of the most critical steps because unless you configure your email address and authenticate your domain, all the other efforts will go to waste.
Basically, if you don't authenticate your new domain, your emails won't get access to your recipients' inboxes even after the warm-up period.
To get the green light from email providers, you first need to set up SPF and DKIM.
These two acronyms stand for
Sender Policy Framework or a validation system used to prevent spam by verifying the email sender's email address
DomainKeys Identified Mail is a standard that has the purpose of indicating that a particular email has been sent by you and not somebody who's only impersonating you. That's an additional layer of protection from spam.
Here's the guide for setting up the SPF if you're using G Suite, while this tutorial will help you set up the DKIM for G Suite.
It's worth mentioning that some providers, such as Google or Microsoft, offer pre-configured domains by default.
But, that's not always the case, so you should check whether SPF and DKIM are configured before you start warming up your domain.
Start Warming Up Your Domain
Now that you've authenticated your domain, you can start warming it up.
As I've said, the trick is being as natural as possible and acting as if you are reaching out to your friends – you probably don't send them 100 emails a day.
Bear in mind that the warm-up process can take three months or even more.
Another crucial factor is the number of emails that you send per day.
But, before we discuss the limits, it's essential to mention that you shouldn't start sending emails right after you register your domain – wait for two or three weeks before you initiate any activity.
Now, here's how to play it safe when warming up your domain:
Start manually
Send out a couple of emails every day. If you want the exact numbers, I'd say that the best timeline should be sending no more than:
20 emails per day during the first week,
between 20 and 40 during the second week, and
between 40 and 80 during the third week.
As you can see, it's best to increase the number and do it consistently gradually.
While this approach is time-consuming, it's pretty safe and can help you ensure that your domain and email address have been warmed up properly.
But, don't despair because, with Autoklose's scheduling feature, you can stay on the safe side and automate your initial outreach while mimicking natural, human behavior.
Personalize and tailor your outreach
It's important to prove that you're not a spammer who sends irrelevant emails that nobody reads and responds to.
So, make sure to invest your time and energy into creating a really meaningful message and subject line.
Reach out to your friends
Another factor plays a vital role in the process of warming up your domain – your reply rate.
So, if you send your emails and nobody actually opens them and replies, then your outreach will come off as irrelevant, and you're in trouble.
But, if you message your friends and get a decent reply rate, then it's a good sign, and Gmail, in particular, pays great attention to that metric.
Send your emails to business addresses
This is also important, particularly if you'll use cold outreach in the B2B industry. 
So, if you interact with business addresses belonging to some strong and reputable domains, and if you get responses, then it will be a clear sign to email providers that you're not a spammer and that your emails are valuable.
A Word of Caution
Now that we've clarified the importance of warming up your domain and mentioned some best practices, I'd like to suggest something that will save you from a lot of trouble in the future:
Use a separate domain for your outbound campaigns!
In other words, it's a good idea to have a domain other than your own company domain when you're sending a cold email campaign.
This practice will save your company domain from being blacklisted or suffering some other consequences and interrupting your regular emailing activities that have nothing to do with your outreach.
This particularly applies to fast-growing companies whose sales teams are expanding.
Namely, if you're onboarding a number of new sales reps on a regular basis, that means they will get new email accounts that haven't been properly warmed up.
Now imagine what can happen when every one of them starts cold outreach at the same time. Your ESP will notice unusual activity, and boom!
Your entire company domain is blacklisted and marked as spammy.
Actually, there's one more word of caution:
Keep the name of your new domain consistent with your main one.
So, for example, if your main domain is Company.com, use Company.co as your additional domain for cold outreach as that way you won't confuse your recipients.
Closing Words
Warming up your domain is a must if you want to engage in cold emailing. Again, I can't stress enough how important it is to take things slow and avoid rushing the process. Follow these steps and don't forget that cold outreach is effective only if it comes across as natural and authentic.