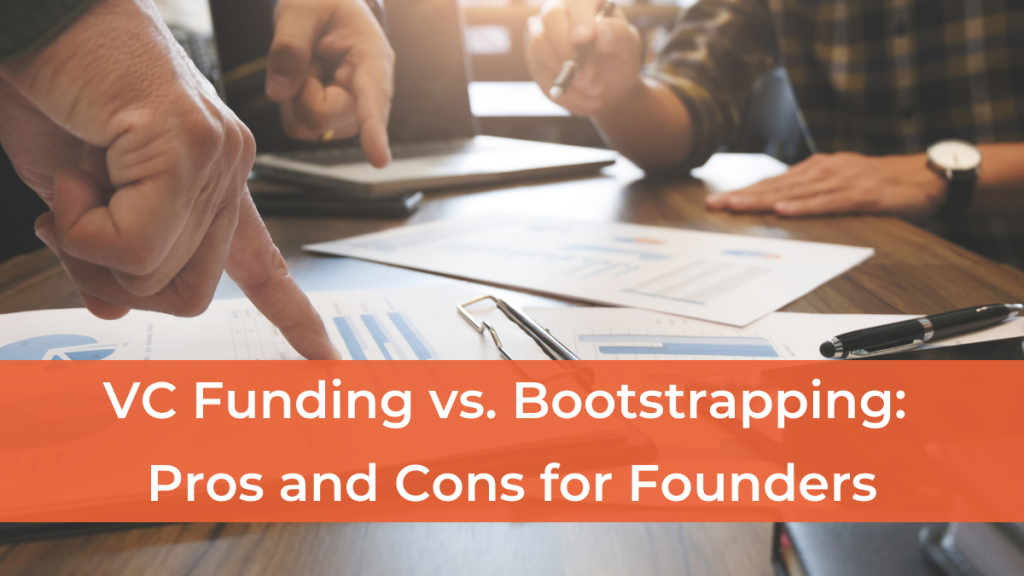 Pursuing VC funding versus bootstrapping is a personal decision for founders, guided by their personal priorities and business goals. The process of scaling takes time and careful consideration.
Bootstrapping allows founders to have complete control over scaling their businesses. But it requires a certain amount of runway upfront and a clear, well-defined vision for the direction of the company.
VC funding offers founders strategic direction from experienced outside investors and financial stability through rounds of funding. It forces a business to quickly grow or fail, and it hands a significant portion of a founder's control over to shareholders.
TL;DR
VC funding or bootstrapping? The pros and cons
If you're deciding how to scale your business, here's a quick-and-dirty snapshot of the benefits and drawbacks of each one.
VC funding:

Pros: External strategic guidance. Initial seed funding, followed by additional rounds after reaching certain goals. Being pushed to grow or fail encourages short-term growth.
Cons: Lack of control, which is usually ceded to boards and shareholders. Shares dilute with each round of funding. Limited say-so over goals and metrics of success.
Bootstrapping:

Pros: Complete control over the business. Allows for slow growth over time.
Cons: Need for runway upfront. Potential lack of stability and income for founder(s). Team members, who could make more money elsewhere, may need equity to stay.
Founders in the software and technology space know the critical importance of the decision to scale their business.
Choosing whether to seek out venture capital (VC) funding or take a bootstrapping approach is no small decision. It usually dramatically shapes the future of a company.
Either route has its fair share of benefits and drawbacks — and neither one is right for everybody.
Your priorities as a founder are your own: stability versus flexibility. External guidance versus internal control. Immediate short-term growth versus gradual long-term growth, and managing personal finances effectively to ensure both business and personal financial stability.
Only you can decide how best to scale your business.
Ollie and I want to level the playing field. On this episode of the 0 to 5 Million Podcast, we offer behind-the-curtain insights from their personal experiences to help you determine whether VC funding or bootstrapping is best for your business.
First things first
Before we cover the pros and cons of VC funding and bootstrapping, it's important to remember that the grass isn't always greener on the other side.
When you take the leap to choose one or the other (or a combination of the two), it may be tempting to daydream about how things could be — the stability of VC funding or the freedom of bootstrapping.
But trusting your gut as a founder is key. Understand your priorities first (and how they fit into your funding approach). This will allow you to make the best decision for your business.
Neither getting funded nor bootstrapping your business happens overnight. Each approach takes time.
As a founder, you probably know it can be easy to stress over the day-to-day. Or you might have had a highly detailed exit plan, only to find that buying or selling your business didn't go exactly as anticipated.
That's okay. Each stage of scaling will look different, whether going from zero to $1 million, $1 million to $5, or $5 million to $10. And it all takes time, patience, and dedication to your business.
Benefits of bootstrapping
Bootstrapping, like founding a company, is not for the faint of heart.
The key is having at least several months of runway to sustain yourself and your business through slow growth.
But the benefit of bootstrapping is having total control over your company and your vision as CEO. This is a level of freedom and flexibility that some founders just can't pass up.
In my experiences with bootstrapping several companies, I wanted as much equity as possible. My priority was to prevent investors from determining my specific goals as the owner of the company.
A bootstrapping approach allows you to have total control over the big-picture decisions for your company.
This can spell both asset and liability for some, though. Bootstrapping requires placing total trust in yourself and in your ability, as CEO, to take your company to the next level.
Bootstrapping can also mean less stability. As a founder, you might go for months without making a cent while bootstrapping, which can be very stressful.
And it can also mean less security if you aren't able to pay your top-notch team members as much as they could make elsewhere. When bootstrapping, you may reach a turning point in which seeking out equity through raising money, raising debt, or seeking an acquisition could take you to the next level.
But as the founder, you have the full say-so to chart the course for your company when you bootstrap your way to growth.
Fundamentals of VC funding
If you're a founder considering VC funding, consider this initial benefit: You don't need to have the kind of runway upfront that bootstrapping requires. For some, this is enough of a motivator to seek investors.
Having shareholders gives you access to outside resources you wouldn't have if you were scaling on your own. The wisdom and insight of investors who have grown businesses similar to yours can help strengthen your company and take you to new heights.
When a business is ready to grow, a founder needs to be honest with themselves about whether they are the right person to take their business to the next level. Sometimes they are! But other times, it's far more beneficial to have a strategic external mind step in.
VC funding will quickly push a business to grow or fail. Regular and consistent accountability from shareholders means you might not get to define your goals and success metrics for yourself.
Your investors get the ultimate say-so about where to put your resources since they fund your growth. And with each round of funding, your ownership decreases as your shares are diluted.
For many founders, this limit or loss of company control can be too restrictive. They would much rather scale on their own — and only answer to themselves.
Best practices > big mistakes
No matter what approach you choose, you should know the key best practices for both VC funding and bootstrapping.
If you're in the process of seeking VC funding, know this: the biggest offer isn't always the best one.
It might be tempting at first to take the highest valuation you're offered. But taking less money at a lower valuation might actually grow your company more.
Just as important as the offer value — and likely more so — is your investors' experience. Make sure to choose investors who have experience scaling your type of business.
You will want shareholders who can share valuable insights specific to — and who can steer you in a direction that works best for — your company. And this might not always correlate with the biggest offer.
If you're bootstrapping your company, don't get distracted.
You don't have investors helping you to steer the ship; it's just you at the helm of your business.
So it's crucial to know your exact plan for the business. If you've opted to bootstrap, you likely have the runway you need and the vision to take your business to the next level. So trust yourself to do that.
Once you've gotten clear on your plan and next steps for scaling the business, trust the process and don't waver.
It may seem trite to tell you to "believe in yourself."
But if you're a founder? That's the way forward. Onward and upward!