Every sales cycle is full of different trials and tribulations which can slow it down and prevent you from closing a deal within a reasonable and predictable timeframe.
These roadblocks vary and can be pretty hard to overcome, thus leaving you in a limbo of the sales funnel packed with sluggish prospects.
As if lead generation isn't already complex enough – 63% of marketers say it's their top challenge. So, after all your efforts to attract leads, the hardest part is still ahead of you.
But, luckily, there are tactics that can help you engage your potential customers and accelerate your sales cycle, thus being able to reach the holy grail of every salesperson – predictable revenue.
1. Rank Your Leads
Your content marketing, SEO, social media, and other marketing strategies, if properly executed, will bring you a steady stream of leads, which is great.
But, you need to make sure that these leads are a good fit for your business, because if you don't and if these unqualified prospects get the same amount of attention and nurturing as the qualified ones, you'll practically waste your and your sales reps' time and energy on cold leads that have no potential of ever converting.
And that's a non-selective approach is the culprit behind 67% of lost sales.
So, to speed up your sales cycle, it's crucial to prevent these bad leads from bleeding into your sales pipeline and going through the entire sales process.
Lead scoring is the process of ranking your contacts and evaluating them based on a predefined set of behaviors, characteristics, and activities. Account scoring is the same process in case that your leads are actually companies.
In a nutshell, lead and account scoring analyze how every single contact or company stacks up against your ideal customer and buyer personas. Different actions they take, such as subscribing to your free trial, booking a demo, or spending a significant amount of time on your website reading about all the benefits and specs of a particular product you offer, should be ranked based on their importance and likelihood to lead to closing.
Another thing that you can rank is the title or seniority level of those who engage with your offer somehow – C-level execs should get more points than people from the marketing department.
Don't feel bad if your lead scoring process decimates your sales funnel. These vetted leads you are left have great potential to make a purchase within a shorter period of time if they're properly nurtured.

2. Automate Repetitive Tasks
Did you know that an average SDR spends only 36.6% of their time actually selling?
Your sales reps are expected to deal with a number of sales-related tasks every day, but some of them are repetitive, mundane, and tedious.
For example, obtaining, double-checking, and verifying contact details, email addresses, and phone numbers of potential customers, not to mention organizing all the data, will take up a significant portion of their time every day.
Sales automation tools can pick up the slack and allow your sales reps to focus on high-value tasks such as building meaningful relationships with your prospects or giving demos. In order to pick the one that will fit your and your sales teams' needs, track all your activities and see what low-value tasks are there and estimate how much time each of them requires.
For example, you can start by automating company and contact research tasks, sales email outreach, or prospecting.
Autoklose can help you a great deal with your sales email outreach and stay on top of your campaigns. Our latest Dashboard upgrade will make it easy for you to keep track of your performance and identify the leads that are worth investing time and energy into.
3. Use Your Prospects' Preferred Communication Channels
With an abundance of channels of communication, it's easy to bite off more than you can chew and spread yourself too thin while trying to engage your customers.
But the point is that you should identify what the preferred channels of your prospects are and stick to them.
Some people feel more comfortable with using email for this purpose, while others love to chat on the phone. It's worth mentioning that in terms of nurturing, you can and should also use other outlets of getting in touch with your prospects.
Social media is one of them. For example, it's an excellent idea to strike up a chat with your vetted prospect on LinkedIn, especially if you're in the B2B industry. Send them useful resources, blog posts, ebooks, and relevant industry news.
This can be an additional tactic to support your email marketing efforts.
Another effective and particularly fruitful approach is implementing custom apps that will help you stay on your prospects' radar all the time.
Domino's Pizza is a great example of how such an app can skyrocket engagement. Namely, the company's mobile app with which their customers can order food and have it delivered to their address, or arrange to pick it up in-store increased online sales by almost 25%.
It's much easier to use a dedicated app to browse through the offer, get the latest information about discounts, talk to customer support, and make a purchase.
Finally, this particular channel of communication with your prospects provides seamless customer experience, which is one of the most important things when it comes to making a purchasing decision and staying loyal to a brand, which is your ultimate goal.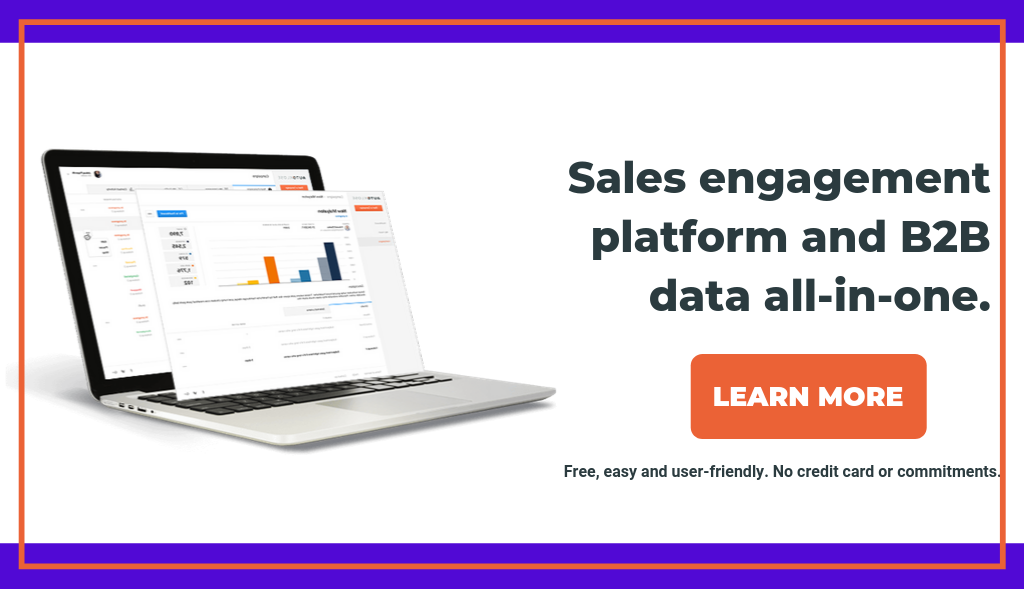 4. Address Your Prospects' Critical Pain Points
Your sales pitch shouldn't revolve around your company, products, and features.
Your prospects couldn't care less about all that.
A customer-centric approach means crafting your pitch so that it resonates with your prospects by including them and their pain points in your narrative will most definitely help you get their undivided attention.
The key to successful sales is understanding that your potential customers always ask themselves "What's in it for me?" And that should be your starting point when it comes to developing your sales pitch.
By making sure that your entire nurturing process is about offering different solutions to the issues which bother your prospects, you'll convince them that you have only their best interests in mind.
Being overly promotional and discussing your features can be a huge turnoff. Instead of that, talk about all the benefits that your prospect will enjoy should they decide to buy your product.
A good tactic is painting a before-and-after picture, that is, how things are now and how they could be once your prospect starts using your product – don't be afraid to mention the negatives, as it can be particularly effective for pushing your prospects down your sales funnel.
For example, if you're selling skincare products, mentioning sagging skin and wrinkles and introducing your product as a way to maintain a youthful appearance and firm skin will press the right buttons.
These four tactics are essential for pointing you in the right direction when it comes to qualifying your leads and engaging them. As a result, it will be much easier to speed up your sales cycle and get your prospects to make a purchasing decision sooner.
5. Pinpoint Potential Objections Early On
Don't be afraid to discuss your prospects' potential objections during the early stages of your sales cycle.
The fact that you're trying to avoid these objections doesn't mean they will disappear. Even worse, they will emerge during the later stages of the purchasing process and it will be even more difficult to convince your prospects that they should buy from you.
It's very likely that your prospects are harboring certain concerns and that they're worried whether your product or service will fit their needs.
Instead of trying to prevent those blockers from surfacing, it's a much better strategy to bring them up yourself. Be direct and ask your prospects if there's something that makes them question the effectiveness of your solution for their particular situation.
Such an approach will be met with a sigh of relief and will open the doors to a constructive discussion. Besides, your prospects will understand that your goal isn't just to sell no matter what – but to help them solve their pain points in the best way possible.
Addressing potential objections will:
Present you as confident regarding the effectiveness of your solution. A rep who's not sure that their product or service isn't the right fit for their prospects wouldn't be so open.
Engage your prospect. After their anxieties and concerns have been addressed and overcome, they will be able to focus on the features and benefits of the product or service.
These five tactics are essential for pointing you in the right direction when it comes to qualifying your leads and engaging them. As a result, it will be much easier to speed up your sales cycle and get your prospects to make a purchasing decision sooner.