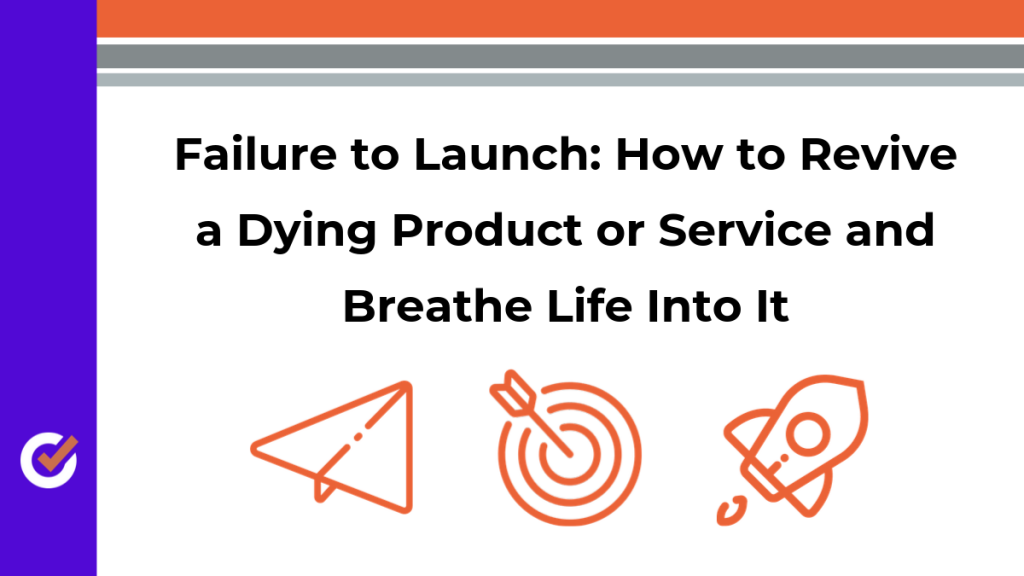 It can happen to anyone.
Even to the great Elon Musk. Just remember how many times the SpaceX launches resulted in failure.
We spend endless hours and sleepless nights planning, sketching, and designing a product and preparing for the launch.
We become so attached to our ideas and excited over our concept that we lose objectivity and sometimes can't see the obvious pitfalls in our campaign.
As salespeople and marketers, we pray that this never happens and that we are always focused on our customers' needs and wants, and capable of delivering on our promises.
Unfortunately, as you know the best-laid schemes of mice and men often go awry.
So, if you find yourself lost or not hitting your sales targets, then you need to revisit and reexamine your campaign and have an open and frank discussion with your marketing and sales team.
1. Is There a Market for Your Business Idea?
Maybe it's too late to think about this, but it's better than never.
Namely, your business idea can really be awesome, but if there's no pain point that it helps solve, nobody will be interested in purchasing your product or service.
So, taping into a non-existent market might be your No. 1 obstacle, responsible for the failure.
In order to overcome it, it's important to do your homework and get to know your audience better – understand problems they're struggling with and build a product that will provide a solution.
Customer Development is crucial for the success of your product or service, and the best way to do it is by talking to some real people and reaching out to your target audience, as well as analyzing what your competitors are doing.
In other words, what you need to do is identify product/market fit which will allow you not only to launch your product successfully but also to implement different growth hacking tactics and develop it.
2. Identify the Problem
If you've picked the right market and still your launch failed, the first question that you have to ask yourself and your teams is "Has the product research been thorough enough?'
Research is integral to any business, but if it was not conducted properly, the results may be skewed or misleading.
As there are many things that could be responsible for your failure, so make sure to analyze everything properly in order to find out what prevented your seemingly great business idea from translating into an equally impressive product and service that people would love.
Ask Your Audience
To get to the bottom of the issue, you'll need to reach out to your audience and ask them for feedback. Some of the questions that should be in your questionnaire are:
What were some of the reasons you disliked the product?
What features did you like?
How would you improve the product?
You can also think of any other questions that can help you figure out where you went wrong such as "What makes you buy?" or "What needs to change in order for you to buy more?"
Given that this is a critical part of your analysis, it would be a good idea to incentivize your audience in order to encourage them to get back to you with their answers.
Analyze Your Data
Sometimes it will turn out that your product or service has been just fine, meaning that it's your marketing approach to blame.
You can start by dissecting your website and finding out the following:
Your website's bounce rate. This is a pretty straightforward metric and it refers to the number of visitors to your website who leave it without exploring any other web page. This means that you should analyze your pages and establish which ones have the highest bounce rates and improve them.
Where your website is losing visitors. For example, if most of your visitors leave your website on your checkout page, without making a purchase, it can be a sign that your checkout process is long and complex. Similarly, if many visitors come to your landing page and don't take action, then you should inspect your offer, copy, and CTA.
It's a good idea to do the same with your email marketing campaign in which you promote your product or service.
Check your delivery, open, click, and conversion rates. These metrics will tell you how your campaign performs, and if you use Autoklose for automating your email marketing efforts, you'll have an opportunity to monitor all your KPIs and tweak your campaign in real-time.
Make sure that your subject line, copy, and CTA are compelling and well-crafted. If your email outreach hasn't been properly crafted, your recipients will ignore your message and never learn about your product launch, and all the benefits that your product offers.
Clean your database on a regular basis. If your contact list is inaccurate and not updated, you risk getting a high number of hard bounces, as well as reaching out to an audience that's not interested in what you have to offer.

3. Is It Your Pricing?
When it comes to your pricing, then your question should go along the lines of "Is the pricing of the product competitive?"
Namely, if you set a high price-point, even a great and viable product might suffer.
The thing is that some products are large and consisting of several components or services. Not every segment of your audience needs the same features and components, which is why there's no reason to sell your product in its entirety.
Split it into separate products or services, and allow your customers to choose what they will buy and use.
For example, Autoklose comes with a huge B2B-lead database, but our users don't have to subscribe to it if they don't want to.
One of the best ways to establish your pricing is by asking your early prospects how much they would be willing to pay for your product or service. This is a trick that I learned from David Cancel of Drift and used to get our first 10 customers for Autoklose.
Another pricing tactic that might work is so-called bundling pricing – offer several related products or services in one valuable bundle at a discounted price.
4. Or Maybe It's an Over saturated Market
Even if you played all your cards right, and researched your audience, built a great product, set the right pricing, there's a risk that your market is competitive and packed with numerous other products or services similar to yours.
In order to give your product a CPR and a boost, what you should do is create your Unique Value Proposition or Unique Selling Point, which will help you show your target audience what makes you unique and convince them to pick you over your competitors.
A great UVP or USP is a concise, catchy, and clear statement that highlights the benefits of your product or service as well as presents how you solve your prospects' pain points.
Just a word of warning: your UVP isn't a tagline or a slogan. No matter how cool and appealing Just Do It is, it still doesn't tell Nike's target audience what they can expect if they purchase the brand's sportswear.
So, even if your product isn't a revolutionary breakthrough, you can still find a way to position yourself in your market by finding a fresh angle and offering something that your competitors don't have.
Even if your product or service is on its last legs after an unsuccessful launch, you can follow these tips and revive it. Identify what the problem is, update your product plan based on these findings, create a new product road map, and re-launch your product into the stratosphere.   



5. Is It Your Marketing?
Many companies make a mistake by sticking to the promotional channels that are standard in their industry or by copying their competitors. That way, you can only limit your reach and remain in obscurity.
While it's OK to learn from others, you still have to experiment and see what works from you.
That's why you should analyze your previous marketing efforts as well as your messaging and identify if there's something that can be improved.
For example, LinkedIn is an excellent B2B channel, but you should review your current campaigns and see whether you're making the most of it. Maybe you need to improve both your personal and company profile and boost your networking. Also, posting updates and sharing news alone won't get you very far – it's crucial to join groups and communities related to your industry and start contributing. Make sure to engage in conversations and offer your perspective on different issues. People often look for advice, so sharing your expertise and experience will help you build your online visibility and reputation.
As a result, your company's online presence will be significantly improved.
Besides LinkedIn, try out other channels, including Facebook, Twitter, or even Instagram. There are different content types that you can leverage and connect with your audience. For example, Instagram can be a great outlet for short videos showing how your product or service works, as well as for presenting social proof, such as customer testimonials. Behind-the-scenes videos are also a good idea as they allow you to humanize your brand.
However, monitor your analytics, and if you see that your activities don't bring desired results, move on as spreading yourself too thin for longer than necessary can only drain your resources.
6. Is It Your Branding?
Sometimes the fact that people don't use a certain product or service doesn't have anything to do with its quality or usability. In certain cases, it's all about failed branding.
So, if your business is going down and your customer feedback doesn't indicate that there's something wrong with your product or service, it's time for rebranding.
In other words, you need to redesign your brand and ensure that it resonates with your customers.
Giving your logo a fresh update and shaking up your messaging can be just what your brand needs in order to attract your target audience and connect with them.
Also, when we're talking about a brand makeover, it doesn't only refer to improving visuals and your brand message – you also have to work on technical, under the hood details.
Streamlining your customer support is one of them. Your customers want their questions answered, and their issues solved right away, and they don't care whether it's outside business hours. Implementing a chatbot that will reduce wait times, provide timely support, and lift the burden off your support reps' shoulders can be a huge step in the right direction as it will tremendously improve your customer experience.
Similarly, fixing bugs on your website, speeding it up, and making it mobile responsive will definitely score your brand some brownie points with your audience.
Besides, a fast website that displays well across different devices shows that a brand is professional and that it wants to be perceived in a positive light.