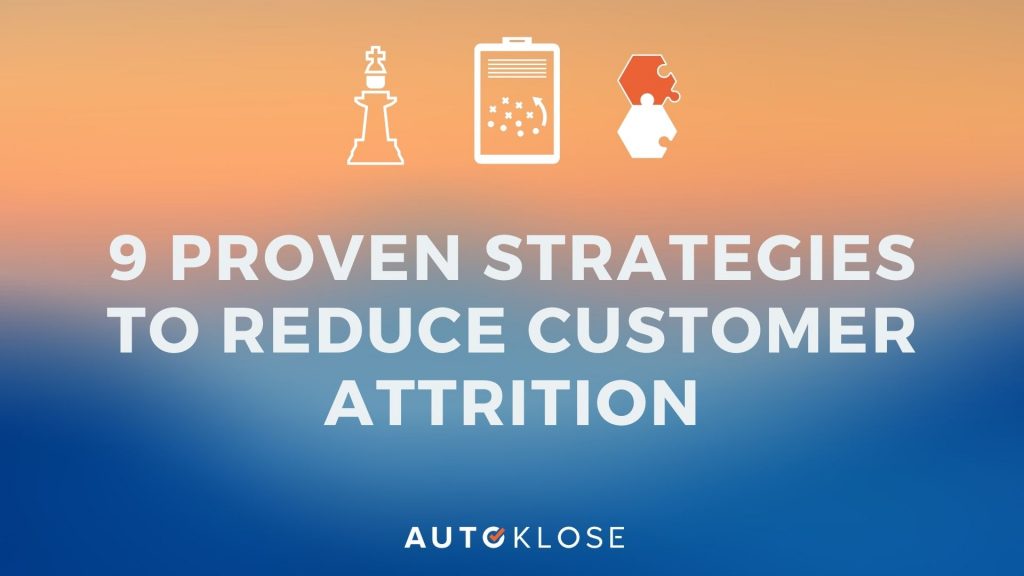 The truth is, some of your customers will take off (or even worse, ghost on you!), no matter what you do to prevent them, as there are some factors you just can't control.
However, as a high churn rate may seriously affect the further growth of your business, it's of vital importance to influence the factors you can control.
For example, 85% of customers churn because of poor service mistakes that could have been prevented.
As most of the customers leave because of reasons highly related to their customer satisfaction, your focus should be on creating great UX and making it an important part of your brand's identity.
If you are experiencing high customer churn rate or you want to do your best to prevent such an unpleasant scenario, here are some strategies you might use.
Find Out Why
To even begin tackling your customer churn rate, you will have to find out why they've decided to leave you in the first place.
Many companies settle for mere presumptions in order to avoid asking their customers important and direct questions, which can lead to some unpleasant answers.
Still, if you want to make the necessary changes which can reduce your churn rate, this is the step you mustn't ignore.
No matter how much you dread bad reviews and negative feedback, you should actually embrace it because that information can save your business.
Namely, 96% of unhappy customers DON'T complain, and 91% of them will simply leave without telling you the reason. These underwhelming stats show that the negative feedback is just like pain – it signals you that something is wrong with your product, service, or the way you do business, so use it for your own benefit.
There are many ways you can identify the most common reasons why your customers leave you.
One of the best ways is to ask your customers to provide you with feedback on a regular basis. As we've established, the fact that they're not complaining doesn't mean that they're necessarily happy and satisfied. Run regular customer surveys and get in touch with your prospects and customers via different channels of communication in order to identify and understand what bothers them.
However, if a customer decides to leave despite all these preventive measures, make sure to give them a call and ask them about their reasons for such a decision. This way you will show them you care enough to take the bull by the horns and undertake such an uncomfortable task, and you will most likely get an honest answer.
But you can also send your customer a personalized goodbye mail or an SMS with a quick survey or a multiple-choice question, something that won't take much of their time, but will provide you with some very valuable data.
And when you learn the reasons, do your best to fix them and prevent such incidents in the future.
Identify At-Risk Customers
You can prevent churn if you succeed in identifying customers who are close to abandoning you.
The most important sign is the lack of engagement, which means that they don't really use your service or application anymore, or they've significantly decreased the frequency of visits to your website.
You can use many techniques to re-engage your customers and reduce the chances of them ditching you.
It's a good idea to try and remind them of the value of your service or product, as well as all the cool benefits it provides by using automated email campaigns. Let your potentially prodigal customers know about your new features, or case studies and success stories which prove the benefits of sticking with your company.
Social proof is a powerful motivator, so pique their interest by sending them testimonials from your happy customers.
Also, make sure you've provided them with enough information on the types of customer support you are offering, and the best ways to reach them.
Adding a link in your email to your support manager's and reps' calendars may be helpful, as your customers can schedule their co-browsing or another kind of support session right away, directly from their own inbox.
In order to do so, use Autoklose's integration with Calendly which allows you to create a link to your calendar and add it to the body of your email or even better to your signature, so that your recipients can select the time slot that suits them and book an appointment with you without having to email you back and forth until you adjust your schedules.
Improve Your Onboarding Process
There is a well-known claim that 40-60% of users who use free software or a free SaaS trial, will use it once and never come back.
It's either because they were not able to see and comprehend the true value of your service, or they don't really know how to use it.
Still, no matter what is the reason behind this churn, these are the reasons over which you have control simply by improving your online support and providing your customers with a fascinating first-run experience.
Your customers' first run, according to Intercom, should bring a positive improvement in your customer's lives, which will come fast and be obvious. It should be followed by certain actions which will be connected to your business and make your customer feel awesome while doing them. Besides this, you should also give them a good reason to come back for more. The whole process shouldn't take long and must be transparent so the customers can have a clear idea that they'll become proficient users of your product or service very soon.
You can also try targeting those who spent less than several minutes in their first run, or first-time buyers who didn't complete the purchase and offer them personalized guidance through the process, and reduce newcomer churns.
Continue your onboarding support after the first run too, carefully guiding your customers through each new step they take using live chat, emails or phone.

Improve Your Customer Service by Co-Browsing
In order to make your customer feel valued and keep them, you need to offer them personalized customer service.
Surely, you can do that over the phone or in person too, but if you are doing business online, co-browsing can be just what your company needs to prevent your customers from fleeing.
Co-browsing forms a connection between your representative and your customer, and they can visually be on the same page of your application. It is a fact that people learn much better visually, and you can show them in a few simple steps a complex process you could have a difficulty explaining to a dissatisfied customer verbally.
It's a good idea to record your screen while you're having this video call, and send this recording to your customer so that they can refer to it should they have a problem remembering some of the steps.
Autoklose's GoVideo feature allows you to do that too – you can record your screen (as well as make a regular video of yourself) directly from your Campaign Editor and send a walkthrough video guide to your first-time users. This cool integration with Vidyard, an online video platform, will help you easily create useful videos, increase your engagement, and prevent churn.
Dedicated Account Managers
You can also improve your customer service by having dedicated account managers for your customers. They can check up your customers on a regular basis, using emails or phone calls, and make sure they are first to know if a problem arises.
Also, their tasks will be to put their best efforts in overcoming such issues and making your customer satisfied. This will highly be valued with your customers, as some stats claim that 7 out of 10 customers prefer when they can get in touch with the same account manager or business representative when they need some support.
Your customers will also be able to form a personal relationship with them and have fewer reasons to abandon you.
The fact is that after your customers form a trustful relationship with your brand, an become loyal, they tend to spend 67% more than your new customers.
Improve Your Product
In order to prevent churn rates, make sure you regularly improve your product, make upgrades, or add value by creating new useful features, if possible based on the feedback from your customers.
It is important to always keep an eye on your competitors, and follow the latest trends in your niche.
You can also offer your customers some other valuable content, such as various training programs, how-tos, or tutorials on how to best use your service or application, and in particular new features.
Here's how we do that – every new feature is followed by a blog post which outlines its benefits so that your customers can understand the value we provide. Also, there's an explainer video which shows how to set up the feature as well as discusses the best practices.
This way you will reduce the churn rate as you will give no reason for your customers to turn to your competition.
Appreciate Your Customers
30% of customers are ready to switch providers because they don't feel rewarded for their loyalty, so if you want to keep yours from moving on, you got to show them how much you appreciate them.
A digital loyalty program for your customers is a great idea, so think of the one which will firstly benefit your customer, and secondly your business. If you have your marketing persona, you will most probably know what makes them tick, whether it is a discount, promotional gifts, or a custom scavenger hunt.
Also, make sure to show your appreciation for your customers' feedback, rewarding them in a way which can make them feel unique and special.
You can show your appreciation on social media too, by sharing the most valuable feedback or customer success stories on your media channels.
Send Personalized Emails
Email automation is a widely used practice nowadays, making email marketing campaigns much easier to handle.
But not long ago, email automation implied that your emails will be bland and generic.
Luckily, the situation has significantly improved so that now you can automate your email outreach but not at the expense of personalization.
So, if, you should make sure to segment your contact list properly, in order to guide your prospects and customers them through your marketing funnel.
In other words, the emails you send to your at-risk customers, fresh leads, or the loyal buyers, should have different content and another kind of CTA.
Autoklose can help you with this too – not only will you be able to personalize standard email elements, but you can also create your own personalization tokens and take this whole process to the next level.
Another important thing is to personalize your email marketing campaigns, and include personalized details both in your subject line and your body text, as stats say that over 50% of marketers see their revenue increase from such campaigns with current customers.
If you want to do your best to prevent your customers from fleeing, focus on providing great customer service and showing your customers you truly care. With high-quality service/product and such a user experience, they will have no reason to turn their back on you.


Educate Your Customers
Don't expect your customers to sit down and study your product or service in detail. It's up to you to educate them and reveal the potential of all your features and functionalities, and paint the picture of how your prospects can benefit by using your solution.
Besides having a proper onboarding process in place, it's important to keep on educating your customers continuously and inform them about every new feature you add.
Here's what you can do in order to turn your customers into proficient users:
Explain how every single feature and functionality works and show them how to use it for their own needs.
Create different resources such as FAQ and Help sections, how-to videos, and documentation that they can use if they're not sure how a certain feature works. Share useful content on the channels you know your customers can easily access including your website, social media platforms, or newsletters.
Make sure that you're available 24/7 for their questions and issues. Of course, this doesn't mean that you or your support team should sit and wait by the phone or chat in case someone decides to reach out – implement a chatbot platform that can handle some of the most common issues and questions instead. 
Customer reviews can also be a useful source of educational content. Include reviews that discuss your product from different angles and use cases to show that it can meet different customer needs.
If you want to do your best to prevent your customers from fleeing, focus on providing great customer service and showing your customers you truly care. With high-quality service/product and such a user experience, they will have no reason to turn their back on you.