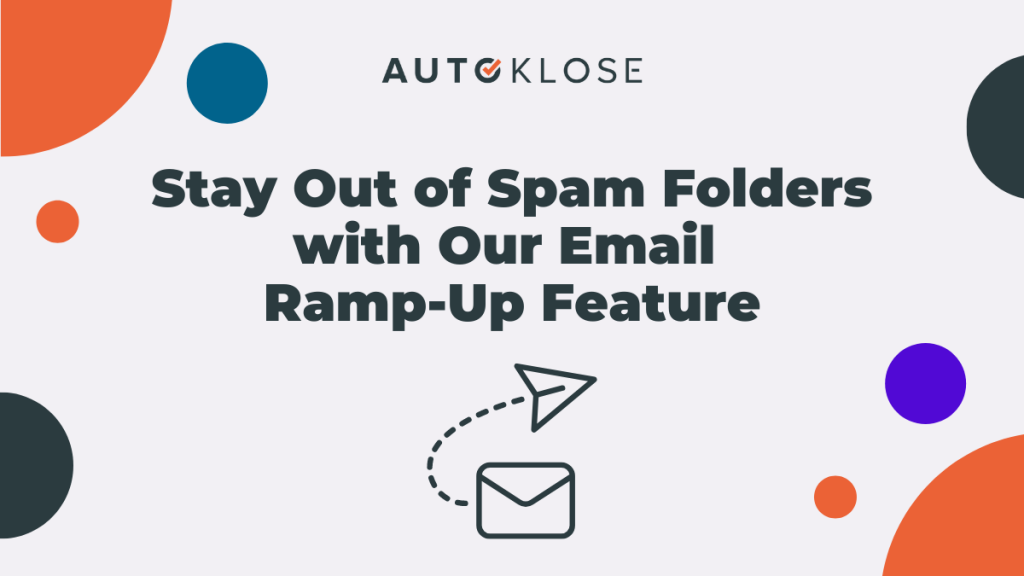 So, you've decided to automate your email sales outreach and nurturing efforts?
Great idea!
But, a word of caution: if you're not careful, you can easily end up getting flagged as a spammer.
And that means your emails will be automatically sent to your recipients' spam folders, not to mention that your online reputation will also suffer.
To prevent all this and keep your sender record squeaky clean, Autoklose has just rolled out a new ramp-up feature!
What Is Email Ramp-Up?
Simply put, email ramp-up is an effective deliverability best practice used to prepare your email address for sending high volumes of emails and gradually build its reputation with email service providers.
When you create an email account, the odds are you won't be able to just sit down and send out 1,000 emails right away, at least manually.
And that's exactly what email service providers are aware of and why they consider the practice of sending huge volumes of emails from new email accounts to be spammy.
So, before creating your first email campaign in your fresh email account, it's essential to ramp it up properly. In other words, this means you should start sending out small batches of emails and gradually increase the sending speed every day.
Again, manually adjusting the sending speed can be challenging and time-consuming.
That's why you need a ramp-up feature that will automate the process.
How Does Email Ramp-Up Feature Work?
Autoklose email ramp-up feature is basically a throttle that controls how many emails are sent per day so that you don't have to manually adjust your sending speed.
It ensures your sending volume gradually increases until it reaches the desired level and thus prevents your outreach from being perceived as suspicious activity by email service providers and subsequently flagged as spam.
But how do you configure the right sending speed that won't trigger spam filters?
You don't have to worry about this, as the feature will determine the best ramp-up sending speed based on the data you enter.
So, when you enable the feature, you'll be presented with a pop-up asking you what your desired sending volume is. Then, a drop-down menu will appear from which you will select how many emails you are currently sending.
Then the app does the math, calculates the best and most optimal sending speed for your email account, and presents you with a ramp-up chart where you can see the sending plan.
Once you save these settings, all your campaigns will be in the ramp-up mode, meaning that you don't have to remember to adjust the speed yourself and risk forgetting to do so.
There's also another super useful functionality of the ramp-up feature that you will love: if we notice your bounce rate is high, we'll pause your campaigns and let you know about these bounces. Plus, we'll provide advice on how to fix this issue.
The Most Common Use Cases
Email service providers hate spammers.
On the other hand, they prefer when email campaigns are sent out in a natural way. This means that sending your automated email campaigns in a manner a regular human being does will put you in email service providers' good books and help you establish a good sending reputation.
Here are some of the most common use cases in which email ramp-up is recommended for ensuring the natural flow of emails within a campaign, reducing bounces, and avoiding spam filters.
A new Autoklose user
This is someone who has just started using our email automation platform and has a high volume of emails they want to send per day as part of their nurture plan.
They have created a new email account for these emails. If they send the maximum number of emails per day as soon as they set up their account, this will alert ISP algorithms that this is likely a spam account.
The email account needs to gradually build to the daily maximum in order to appear "natural," so they use the ramp-up feature.
A long-time Autoklose user who created a new email account
Though long-term Autoklose users have an opportunity to build a strong sending reputation, things change when they create a new email account. This new account has to be ramped up before they start sending out high email volumes per day. Doing this will prevent such users from being flagged as potential spammers.
A user who wants to multiply the volume of emails sent per day
Let's say there's an existing email account that has been used for sales nurturing, but the user wants to double or triple the volume sent per day. As you can guess, this calls for a ramp-up process that will gradually increase the sending volume without flagging the account as suspicious.
The same applies if there's a long-term user who's been dormant and hasn't used their account for some time.
An Autoklose trial user
It's worth mentioning that the minimum ramp-up period is 20 days while the maximum trial is 14 days.
So, when the trial ends, the ramp-up will stop too. However, when the customer purchases the Autoklose subscription plan, they can switch the ramp-up on again, and it will pick up where it left off. Pretty convenient, right?
Try out the ramp-up feature, and let us know what you think.