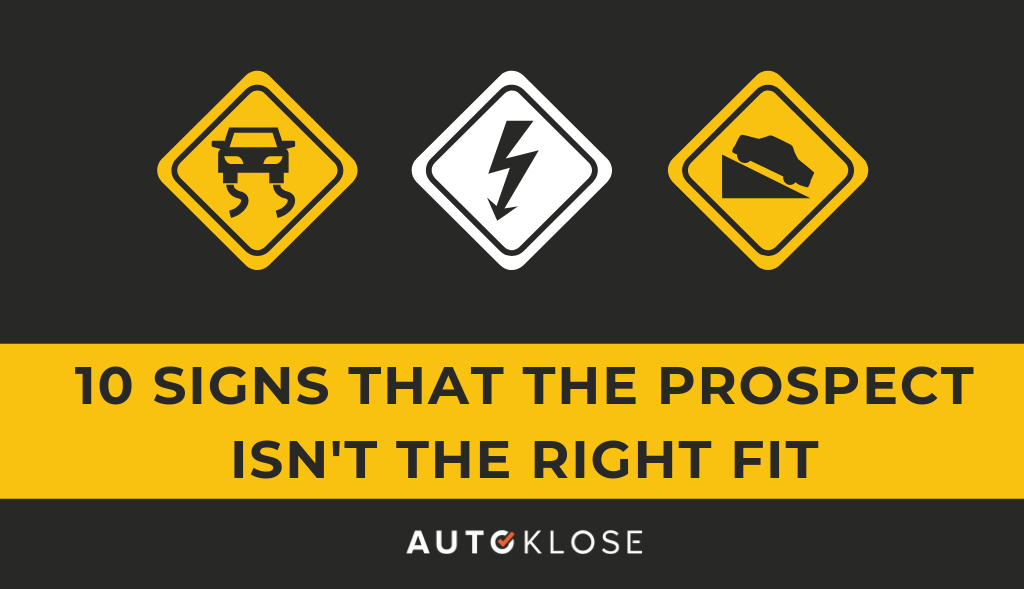 Stats say that at least 50% of your prospects aren't a good fit for what you sell.
As if generating leads and attracting potential customers isn't complex enough, salespeople have to deal with yet another along the customer journey – identifying prospects that aren't the right fit, that is the ones that aren't very likely to make a purchase.
It's hard when you have to ditch a poor lead, but unless you do, you risk wasting a lot of time, money and opportunities nurturing someone who won't bring you any revenue.
The best and most successful sales reps will tell you that your sales funnel is less about the quantity and more about the quality of your leads.
However, although we're all aware of this, it can be hard to disqualify leads as the process will decimate your sales funnel; that's why you need to make sure you can spot all the red flags and pinpoint the behaviors displayed by only those who aren't cut from the right cloth for your business.
Autoklose has a lead scoring system which can help you eliminate poor leads during the early stages of prospecting, but it's a good idea to know how to be sure whether your prospect is a dud.
Let's see how you can spot these mismatched prospects and disqualify them without having a guilty conscience.
1. They Don't Show Up to Scheduled Meetings
While it's true that you still should be persistent when prospects don't return your calls and reply to your emails, not showing up to an already agreed upon meeting is a sign that there's something off about the whole business.
Sometimes scheduling conflict occurs, and if this is just an isolated incident, you shouldn't worry, but if a prospect repeatedly ghosts on you, then it's time to start thinking about disqualifying them.
Not only is this a telltale sign that your prospect isn't the right fit and that they won't end up buying from you, but it's also a totally unprofessional behavior which makes them a bad lead.
It's clear that they aren't very interested in finding more about all the benefits of your product, so if they prioritize their time and leave you out of their plans you should act accordingly.
2. They Are Only Researching
And tell you so!
Now, while all of us want to explore our options before making a purchase, in this case, you have to think this scenario through and decide what to do.
Namely, if a prospect, who doesn't have the authority to make a decision, tells you that their boss asked them to explore your product, but they wouldn't be ready to accept any proposals or presentations until the next quarter or even year, you can:
Decide to focus your efforts elsewhere and subtly let your prospect know that they can get in touch when they're ready to make a purchase. If your pipeline is packed with sizzling business opportunities, it's only logical that you won't decide to spend time engaging in possibly futile talks, that won't lead to closing a deal in the near future.
Decide to go on and work with your prospect, hoping that they will decide to buy when the time's right. If there aren't too many viable prospects who deserve your attention in your funnel, maybe this can be a good idea. Sometimes it's a good idea to bear with your prospects, nurture them without too many expectations, and be there for them.
Apart from your pipeline health and size, what you should take into consideration is the size of the potential deal, as well as whether your product is a good fit for them and vice versa, and similar factors.
3. It's Hard to Identify an Actual Need
Another Gordian knot might appear in the form of a prospect who does have everything it takes to close a deal – the authority, the budget, and an interest in your product, but lacks a crucial factor, that is an actual, compelling need.
The thing is, this prospect isn't your potential customer.
Reasons for this somewhat illogical situation might vary.
They might be locked in a contract they can't break, and are only trying to find options for once they're free agents. Such a slow-burning prospect is, therefore, using another product and will be doing so for a certain period of time. If you find yourself in such a situation, be straightforward and ask them until when they won't be able to make any moves and purchase from you.
This prospect doesn't necessarily have to be a bad one, but you need to clear the air before you start investing your time and energy into them.
Another reason why a prospect might be window shopping without a need is to see whether they can get a better deal from their current service provider. If they're in the middle of negotiations, they might simply be weighing their options and trying to convince the company they want to buy from to lower their price.
This is the case of bargaining that you should stay out from because such a prospect isn't genuinely interested in your product and will ditch you the moment they're offered that better deal they're trying to get. So, instead of playing second fiddle, opt for prospects to whom your product or service is the No. 1 option.
4. There's a Complete Lack of Urgency on Their Part
Making a purchasing decision is a complex process that takes time, and it's OK to wait for your purpose, especially if a lot of money is at stake.
But, if your prospect is procrastinating without an obvious reason, and if they can't explain what prevents them from making a final decision, then you can conclude that they're in no rush. In other words, they want to have you on a string and keep you close, but they might never actually decide to buy from you.
Even if there's an obvious problem that your product solves, but your prospect doesn't seem to see the reason to address it right now, you're in a pickle.
For example, if their answers to your question as of why they're showing interest are "I think it would be a good idea to buy a sales automation platform" or "My boss asked me to explore your product and see whether it could be of use to our company", then there's clearly no real intent.
So, vague answers and a reluctance to move on to the next phase of negotiating is a signal that there's no urgency on their part. In this case, what you should do is slow down and ask your prospect about the potential timeline, that is when they will be ready to proceed.
5. They Don't Do Their Homework
As you know, educating your prospects is extremely important, especially in the B2B industry.
They need to understand how your product works as well as how it can help them improve their business. So, sending them different resources, advising them, and assisting them to better understand how they will benefit from your product is a standard procedure.
But, if you put all that effort into providing them useful and helpful resources and they fail to complete the assignments you give them, it's not a good sign.
This process also requires them to participate fully and do their part of the work, so that they can tell you their impressions and conclusions about your product, as well as ask any additional questions.
So, if they show up at the next meeting without having read a line of what you sent them, or without having tested your software, then it's obvious that they're not a serious prospect.
Even a task such as preparing you a list of employees that would be potentially using your product can be too much to ask from them, which is a huge bad prospect alert.
6. You Have No Idea Who Other Stakeholders Are
If your prospect is avoiding including other stakeholders once you've reached the Advise stage.
Although figuring out who's who in the decision-making process should be a part of the Explore stage, some prospects might be unwilling to disclose that they're not the only decision-maker even after you ask them directly.
The reason for being so secretive lies in the fact that they're just trying to explore all the options without any plans to actually buy anything soon.
Once you find out that your prospect isn't the only key figure and that they need somebody else's approval to make a purchase, but failed to inform you about that earlier in the process, you should be cautious about their intentions.
Another scenario which is a wake-up call that your deal isn't going anywhere is when a prospect tells you that there are other decision makers, but refuses to connect you with them.
Autoklose can help you with this as our database is packed with more than 28 million leads, together with detailed information about their email addresses, phone numbers, titles, and seniority levels. In other words, you will have a chance to reach out to decision makers directly, without wasting your time with those who don't have the authority to make the call.
7. They Try to Lower Your Price
It's important to state that negotiating about the price is something that's frequently done.
Also, it's good for you to know the size of the budget your prospects have at their disposal early on so that you can establish whether they're serious.
But if a prospect starts asks for a reduced price before they understand the value of your product as well as how they could benefit from it, you've got an opportunist who only wants to bargain without seriously considering making a purchase.
Questioning your price and asking you to lower it isn't exactly the best way to start a business relationship.
8. When They're Just After the Insider Information
Sometimes competitors want to find out more about your product so that they can win your prospects over.
So, a prospect who asks different in-depth questions about the industry or market, and doesn't seem to be willing to provide much information about themselves and their reasons for making a purchase.
These prospects are usually only trying to push their hidden agenda and you'll recognize them by their refusal to make any commitment and take your relationship to the next level.
9. When They're the Wrong Size or Demographics
Sometimes you'll come across a prospect who's not right simply because of the size of their business.
Your product is suitable for small businesses and they're looking for something for a corporate-size company. Also, the size of their budget plays an important role in deciding whether to get into the whole process – maybe your product is great for them, but they have less money to spend on it. Similarly, spot early on in the process whether your prospect if from a different country or time zone which your product doesn't support.
So, in order to avoid these and similar mismatching scenarios, make sure to build your ideal customer profile and stick to it when generating leads. All the research necessary for creating an ICP will help you get to know your target audience and understand their needs better.
Besides that, you should also make sure that you have your buyer personas figured out.
Check out our blog post on the topic and learn how to build buyer personas and segment your audience for the best results.  
10. They're Disengaged
So, you've gone out of your way to help your prospect and explain in detail how your product or service will perk up their business, and all you get is a lukewarm response?
It's time to reconsider everything and try to see where you stand.
Here's are a couple of warnings telling you that your prospect is disengaged and that you're wasting your time with them:
Even after a number of different touchpoints, such as demos, calls, emails, and presentations, your prospect doesn't seem to understand how your product operates and what kind of value it can provide;
They have been canceling on you a lot;
Decision makers in the company that you reach out to aren't responsive or interested in hearing you out.
The prospect sends mixed signals regarding the potential purchase.
If you notice any of the signals that we mentioned above, maybe it's time to send them a break-up email – it will stir things up a bit and get them to show their true intentions. If they're still unresponsive and disengaged, then it's time for you to call it a night and focus on somebody else.
Check out our blog post with 14 email templates that you can customize and use if you aren't sure about how to create an effective break-up email.