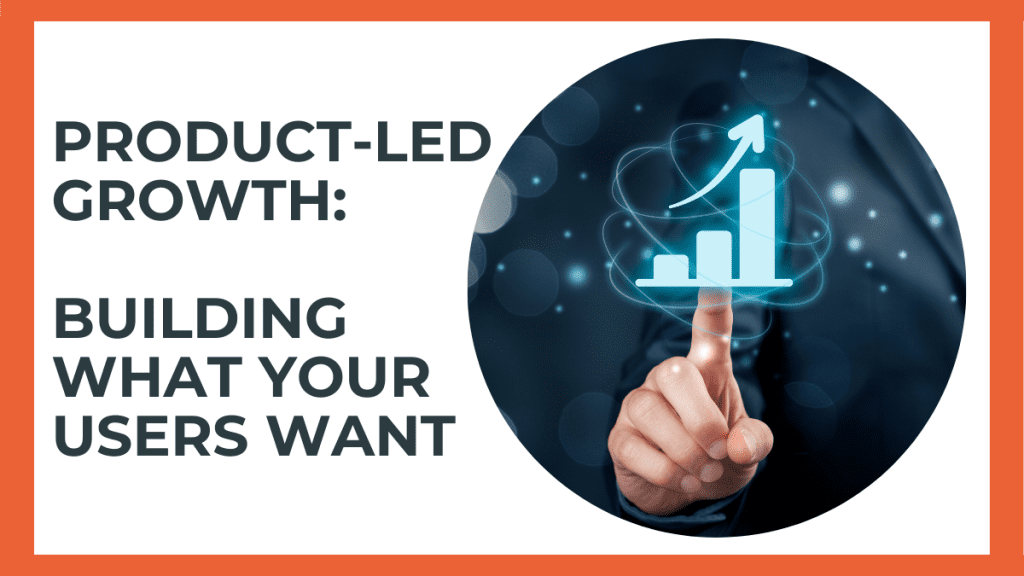 Product-led growth begins with users in mind. Instead of focusing first on bringing in revenue, the priority is building a product with the needs and feedback of users at the forefront.
The process of product-led growth involves thorough testing by a community of ideal users and design that incorporates the customer's needs.
The key to success in product-led growth is synchronizing sales and marketing efforts with product development.
"If you build it, they will come" isn't just a commonly misquoted line from a baseball movie. It's also a pretty great summary of product-led growth.
It can be tempting to dive headfirst into a new product by selling non-stop and bringing in revenue right away.
But product-led growth is a great way to scale up your success, build the features your audience wants to see, and foster brilliant brand awareness.
Shawn and I discussed this hot topic on an episode of the 0 to 5 Million podcast. We dive into the process, pitfalls, and pros of letting your product speak for itself.
Why Product-Led Growth
Which came first, the revenue or the product? Through the years (and in different ventures), Shawn has answered this question both ways.
Some founders choose to allow revenue to drive product growth. This places a heavy focus on sales and marketing upfront — revenue enables further product development and additional features. This means gaining clients before fully building out the product, based on plans for future features and development.
On the flip side, product-led growth focuses on building an incredible product first. This approach demands heavy involvement from your clients and prospects upfront to understand what they want.
Understanding how to solve your users' problems beforehand — and building your product to do that — is more likely to predict the success of your product. As with many areas of life, begin with the end in mind. (Or rather, the end-user.)
"One of the biggest mistakes people make in starting their business … is they end up building what they want," says Shawn. "They build what their team wants and what they think the market wants."
Instead, you should build what your user community wants.
Another benefit of product-led growth is that it allows you to develop a clear and customer-driven roadmap. Product-led growth helps you to avoid spending time and resources building features that users don't want or need.
Potential customers want to know your existing product meets their needs. Not only that, but they also want to know that user feedback informs your product roadmap. They want to know that six, eight, and twelve months down the road, you will continue to develop new features that solve their problems even better.
And product-led growth allows you to do just that.
The Product-Led Process
If you're pursuing product-led growth, your focus is first and foremost on the product, rather than aggressively selling to bring in revenue based on features you'll develop in the future.
Product-led growth means having the mindset that you should build an incredible product — and when you do, the users will follow. The process should, of course, start with building out your minimum viable product, or MVP. (That one's a given.)
In a product-led growth approach, your next priority is testing, testing, testing. One of the key benefits of product-led growth is the space to focus on what your audience wants as you build.
Product-led growth trusts that a quality product attracts an audience when the time is right. And it lets you lean heavily on user feedback to drive feature development and product improvements.
Shawn recommends testing your product with an audience of at least 25, but preferably 50 to 100, people who fit within your Ideal Customer Persona (ICP). Solicit feedback from these users throughout the process to understand whether your product is solving users' problems.
Then, evolve the product based on your target user's needs.
You should also avoid considering yourself a fully-fledged business until you have a sizable group of users engaging with your software day in and day out — and getting results. When the product is leading, the users and their feedback drive growth.
Another key to success in product-led growth is a focus on design and user experience, says Shawn. In addition to solving users' problems, design attributes craft an enjoyable user journey. Certain colors, for example, can encourage them to keep coming back. As a bonus, the good design reflects your brand well and deepens awareness.
Through user feedback, product-led growth provides an ideal environment to build software that people love.


Don't Skimp on Sales and Marketing, Either
If product-led growth seems too good to be true, don't worry. It comes with its share of growing pains.
There's a reason many founders lean hard into sales and marketing in the early stages of their startups. Clearly, those functions bring in revenue. And there is certainly some nuance to ensuring smooth growth when allowing the product to lead.
The key, Shawn advises, is ensuring synchronization between your sales and marketing efforts and your development work.
Allow the product and its upcoming features to guide your sales and marketing efforts. But don't put all of your eggs in just the sales/marketing or the product-only basket. Balancing the two will let your whole business succeed.
Another reason you can't neglect sales and marketing completely? For product-led growth to truly be successful, you also need great brand awareness.
When you have brand awareness and continue to build an incredible product, growth is unstoppable. Users will continue to love using your product, and they'll naturally bring others along.
Is Product-Led Growth For You?
Product-led growth is a great way to scale your product. But it's not for every brand.
My take is that B2C brands might be a better fit for the product-led growth approach.
For consumer audiences, letting your product lead can more easily overcome limited sales resources, especially when word-of-mouth marketing kicks in. On the other hand, B2B brands might struggle more if they don't have a rock-solid sales strategy because of the longer ramp-time to become viable.
Whether you're selling to businesses or consumers, it's always important to focus heavily on your product in a competitive marketplace. If you invest the majority of your resources in marketing and sales before you've made your product the best it can be, you'll likely be playing catch-up with the bigger players in the long haul.
"Because you've been so focused on growth and sales of what you currently have, I think you're just going to fall behind your competitors," says Shawn.
So whether you're living by product-led growth or not, neglecting your product will never serve you well. Invest in developing the best product you possibly can. A great product will mean happy customers — and, naturally, more of them.