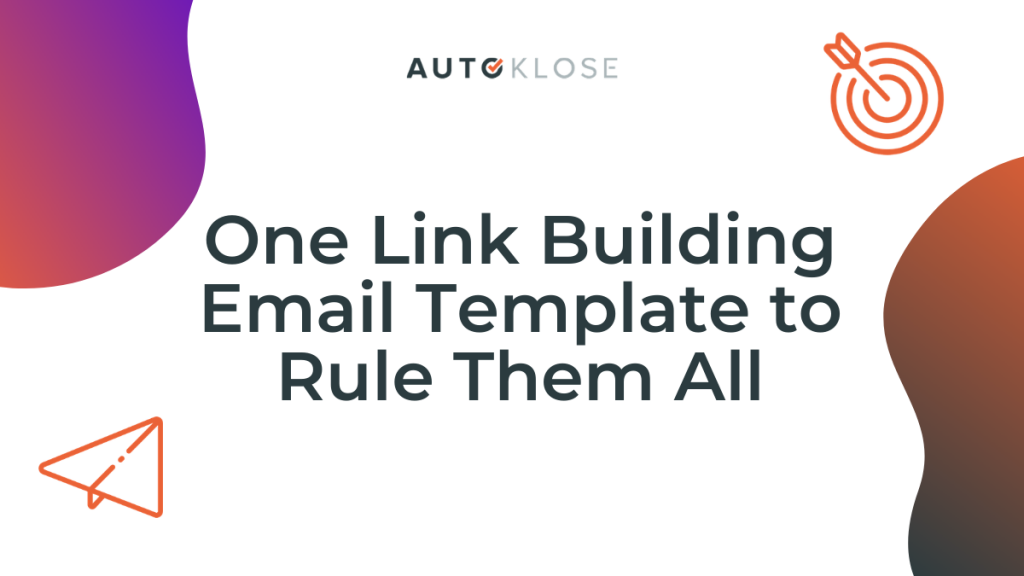 Here's the thing about outreach email templates: they tend to have a very short life span.
There are tons of link builders out there, and the vast majority just isn't very good at what they do, to say the least.

Most of them behave like spammers and have no regard for other peoples' needs but their own.

Truth be told, editors, bloggers, and content managers are kind of sick of link builders. And who can blame them? Link builders often have disregard for anything else but the link itself.

Believe me, I know, I've been there.

I started out in the SEO world as a link builder. I was taught that it's okay to be pushy and to lie and scam your way into someone's blog. All that matters is getting that link. That precious backlink which was promised to the client by the SEO agency and on which your paycheck depends on.

That sort of link builders and SEO agencies are in part to blame for SEOs having a bad reputation and oftentimes considered spammers.

At the same time, many marketing professionals are sharing valuable advice from which we all can learn a lot. There are also many articles online that try to explain how a perfect link-building outreach email template should look like, but unfortunately, do nothing but create even more spammers as those templates get popular over time and overused by those doing link building.

Just think about it.

No matter how good advice you read about an outreach email template in a blog post from an experienced SEO specialist or marketer – when people start overusing it, that template will inevitably become spam.

This occurrence is actually very frequent in the link building world. The tactic that does the job right and becomes widespread ultimately stops working because it's overused.

On the other hand, when done right, email marketing is more powerful than ever. It's still one of the most effective tools in your marketing toolbox. That's because email gives you the ability to communicate with your prospects in a very intimate place — their inbox.

And for it to work it must be delivered with an honest subject line and described in the thoughtful email aimed at the right person. It takes some time, some trial and error, and a fair share of A/B testing, but the general rule is that as long as you are genuine and don't sound like a spammer, you'll probably do okay.

What to do before you start with the outreach campaign?


Before you start your link building outreach campaign, you must be sure that the following boxes have been ticked:
You or your team have created something useful, well researched, and well written. In other words, great content that is link-worthy. Something your community and people of influence in your niche will love. This the hardest and most crucial thing when it comes to link building.
The website you are reaching out to covers the type of content relevant to your website and the asset you would like them to link to. That way the potential link you get will bring more value to your website.
They are not your direct competitors. Because if they are, even the best outreach in the world will not get you a link on their website, so you'll just waste your time.
Okay, so when you have that covered you can start planning your outreach campaign. If you want this done effectively and efficiently, you will need to set up a system that will ensure just that.

Some of the basic tools you will need to make things easier for you are:
Spreadsheet, like Google Sheets or Excel — for sorting your data about targeted blogs, pages, email addresses, etc.
Backlink prospecting tool, like SEMrush or Ahrefs — for finding sites on which your competitors have backlinks and evaluating sites that you'll target in your campaign.
Email automation tool, like Autoklose — for giving you the ability to scale your campaign and save outreach email templates.
The Only Outreach Template I Would Suggest Using
If you read some of the articles online that cover the topic of how to write the perfect outreach email, vast majority of them tell you that you should find out as much as you can about the site and the person you are contacting and use all of those insights to write as personalized and smart email as you possibly can. It sounds like perfectly reasonable advice.

But, what if I told you that you should do the exact opposite?

What if I told you that you should send a vague email without any sort of modification based on where and to whom you're sending it? You would probably think that I'm joking.

I'm not.

Bear with me a bit more and I'll explain.

Let's say that you find 100 websites that have pages that would be perfect to get a backlink from.
To do your research on a website and a person behind it, you'll need at least a half an hour.

After that, at least half an hour more to write a fully personalized outreach email. That's 100 work hours or more than four full days.

That wouldn't be a problem if you could be sure that each of those 100 emails will get read. But you can't be, and they won't.

Did you know that the average email open rate is a mere 18%?

If that's true then you have just wasted 82 hours of your work on personalized emails that will probably never get opened. That's just not an efficient way to do link building outreach.

From my experience, when sending outreach emails it's best to first send a short inquiry type of email without many details in it. This allows you to send a larger number of emails in a shorter time period. And then when someone answers it you'll know you have their attention and that they will also read the next email in a thread.

With Autoklose, you can simply pick one of our existing outreach templates, or create a custom one, import your contacts, pick the fields that you want to be personalized, and schedule your campaign.

As simple as that.

And Autoklose will do the rest – populate the custom fields based on the imported information, launch your campaign, and most importantly, provide you with real-time analytics so that you can identify which template performs best.

Also, since we're talking about spam, the Autoklose Template Analyzer makes sure that none of the words and phrases you use in your outreach email qualify as spam.

This will significantly improve your email deliverability and prevent your emails from ending up in the spam folders.

Okay, so are you ready to hear what's my all best link building email outreach template?

Here it goes:

Hi,

Can you please let me know if this is the right address for an editorial inquiry?
If not, I would appreciate it if you could direct me to the right one.

Thanks!

That's it, that's the best link building outreach email template I can give you. It a simple question you can send to literally every website and if there is someone willing to respond, you can then elaborate your request in the second email, which of course shouldn't be a template.

Important note: Don't be a spammer! Send your emails responsibly and contact only those websites that are relevant to you and with which you can see yourself in long-term business collaboration.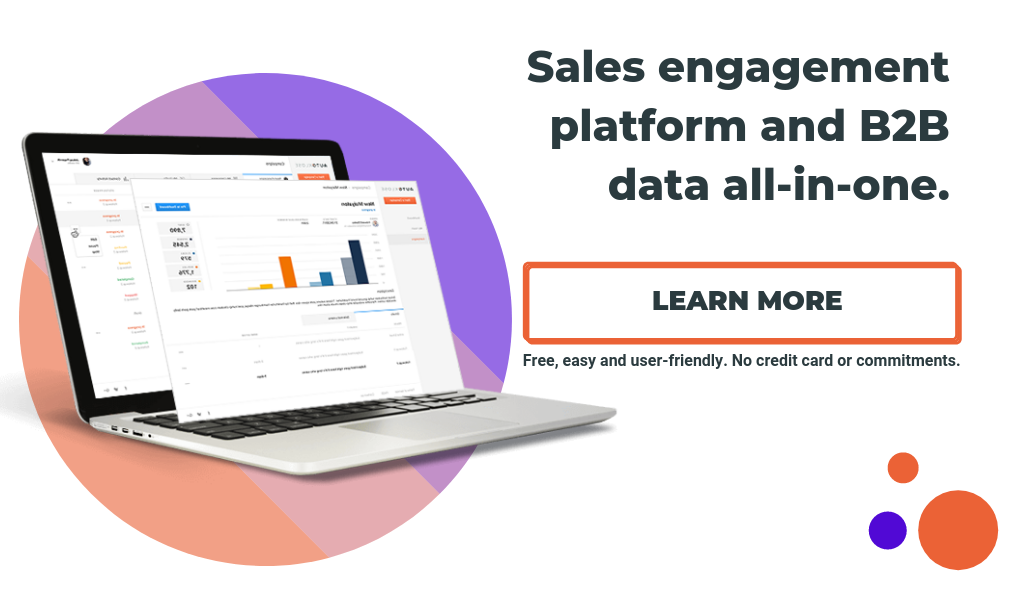 What to Do When You Get a Response?
This is actually the main focus of your campaign. When you get the reply to the first outreach email, you now focus all of your persuasiveness, honesty, and you use a unique voice to create an email that will get you that link.

But, as I mentioned before, don't just focus on getting a backlink from them, try to start a business relationship that will result in continuous collaboration and co-promotion.

There's more to be gained both for your own and for the site you are contacting. If you can achieve that, then you can get a constant stream of new links and leads coming to your website, and in the ideal scenario, a long-term promotion of your business from that relationship.

So don't forget to mention that in your second email and be prepared to offer something in return.

For all these reasons and potential gains, you need to take time and write a perfect email for every prospect. Be kind, honest, and respectful, and make sure you don't come off as pushy, demanding, or insincere.

Here are some other things you should consider when writing an email asking for a link:

Your email doesn't need to say everything
The goal is to get the person you are reaching out to interested in.

Explain how that resource or infographic you are sharing answers a question they or their readers might have, how it can solve a problem they might face, or how it gives a deeper insight into that topic they have covered on their blog.

After that, you just need to keep pulling on that thread. You want them to say 'that sounds interesting' or 'how did you guys manage that?' — to get them intrigued and interested in your work.

That way you'll get the chance to continue the conversation and ask them directly to take action — in this case, link back to your site.

Focus on the problem
Many marketers focus on promoting gain. But, the thing is, people react more to the pain.

People are looking for ways to avoid the pain and problems they have.

So, instead of telling your prospect how great and awesome your new ebook or infographic is, pivot that to something they or their readers will care more about and that is more personal to them.

Let's say your team made a great infographic about daily commute to work and in order to promote it, you would like some links that could perhaps boost its visibility in the Google SERPs.

When you reach out with your email template and want to further explain your intentions, instead of saying something like:

Here's a comprehensive infographic we made with many interesting facts about the daily commute.

try to find a problem people generally have with the commute and offer them a solution.

Or let's imagine that the person you are contacting is based in San Francisco; you can then write something along the lines of:

While gathering information for our infographic about the daily commute, our team has discovered that the average person from San Francisco spends 79 hours per year stuck in traffic. We then reached to some productivity experts and asked them what are some of the ways we can make commuting more productive. If you're interested in what they have suggested, I can forward you the link.

Be more specific
If you want to have more success in link building outreach you must BE MORE SPECIFIC.

Paint a picture with words. Explain it so people know exactly what you want from them and what they can expect from you.

If we continue with the previous example, instead of saying:
Let me know what you think of our infographic about the work commute.

be more specific and let them know what you want them to do next:
I'm sure some of your readers will appreciate the conclusions and advice that can be found in our infographic. If you agree, please consider linking to it from your blog post about the benefits of remote work. It can really put a new perspective on CEOs not yet considering remote work in their companies.
Closing Words
I hope this article gave you a different perspective on link-building outreach emails. As opposed to fully personalizing the first email you send, I truly believe that you will be more efficient if your outreach email is a simple template mail. When you get an answer to that one and the email thread is created you will know on which prospects to focus your full attention and come up with something that will be beneficial for all sides.

About the author:
Marko Maric is a marketing manager who has been working in the SEO industry for more than 5 years. His main focus is on helping businesses with online visibility and brand recognition. Marko has worked for several SaaS startups over the years and now works as the SEO Director at Clockify.