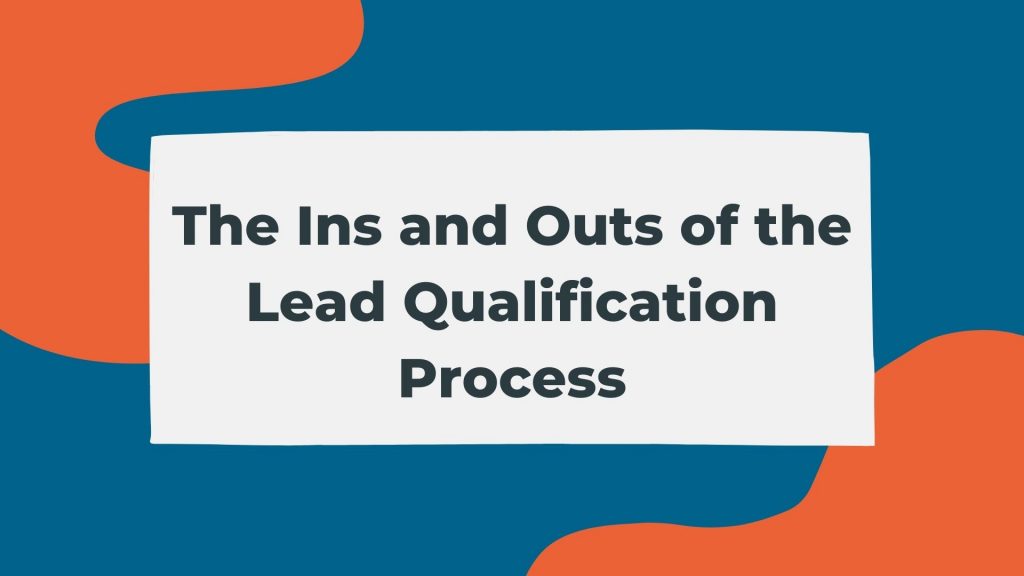 Driving growth heavily relies on attracting new business opportunities, or in other words, generating new leads.
The trouble is that, according to a recent study, 63% of business leaders pinpointed lead generation as their key challenge.
Hate it to rain on your parade, but even after you've managed to fill your funnel with new leads, you still can't heave a sigh of relief and expect a surge in conversions.
You first have to qualify all those leads and make sure they are the right fit for your business and that your sales reps won't be wasting their time trying to move them through the funnel and finally close them.
As you know, this can be very tricky, but luckily you don't need a crystal ball since there are different strategies and tactics combined into the lead qualification process that will make things much easier.
What Is Sales Lead Qualification?
Sales lead qualification refers to the process of determining how likely a particular lead is to become your paying customer.
We're not talking about making a stab at guessing who's really interested because shots in the dark won't get you very far.
Lead qualification is like a mathematical algorithm that takes into consideration different variables and parameters in order to offer an accurate prediction.
If it weren't for the lead qualification process, you'd spend your days talking to hundreds of random people or tire kickers only to close one or two deals.
Why Is the Lead Qualification Process Important?
A short answer would be because it will boost your closing ratio, but there's more to the lead qualification process than just that.
1. It Allows You to Identify the Best Leads
People come to your website, download your e-books, and schedule demos for different reasons – not everybody who shows an interest in your product or service is ready or even willing to become your customer.
Some of them will sign up for a free trial only to discover that they need something else or that your solution is out of their price range.
It's only logical that you shouldn't use your time and resources trying to engage those who don't actually need your solution or can't afford it. Instead of that, you should focus on the prospects who are most likely to purchase from you. VanillaSoft Lead & Sales Tracking feature can facilitate this by offering you greater visibility into every lead and real-time insights into their behavior and actions.  
The lead qualification process will help you sift through all your leads and organize them into three groups:
Hot leads, or the ones that are ready to buy immediately
Warm leads, or the ones that have the potential to convert but need to be additionally nurtured
Cold leads, or the ones least likely to purchase.
Once you segment your leads into these categories, you can adjust your next step and tailor your efforts accordingly.
2. It Helps You Understand Your Leads Better
The lead qualification process gives you an opportunity to research your leads, get to know them better, and understand their needs and pain points.
By asking sales qualifying questions, you'll unearth valuable information about your leads and gain some insights that will help you craft your pitch and tailor it in a manner that resonates with them.
This way, you'll be able to present your solution so that your leads can see how they can benefit from implementing it, solve their problems, and improve their life.
Finally, learning important details about your leads makes it possible for you to deliver a personalized customer experience.
3. It Makes Sure Your Efforts Will Be Worthwhile
Not all leads are made equal.
Some will take more time to close, others will spend more, while some will never decide to purchase from you.
Using the lead qualification process, you can forecast your sales targets more accurately and generate predictable revenue.
Of course, for these tactics to work, you need to have a powerful lead-management solution with which you can track your leads, capture all the data, and help your reps get in touch with the right lead at the right time with the right message.  
How to Qualify Your Leads?
This process consists of several stages during which you'll be narrowing down your list.
It's worth mentioning that sales qualification questions will be more and more specific as you evaluate and move your leads through the funnel.
To facilitate lead qualification, it's best to split it into 3 different levels: organization, opportunity, and stakeholder.
1. Organization-Level Qualification
At this stage, you should figure out whether the company fits into your ideal customer profile.
This is just scratching the surface, so your goal should be to find answers to the following questions:
What industry is the company in?
What's the size of the company?
Does the company fit one of your buying personas?
2. Opportunity-Level Qualification
The opportunity level is where you determine whether a particular lead has a need or pain point that you can solve, whether it's possible for them to implement your solution and whether they could benefit from what you have to offer.
Here's what you have to find out in order to qualify a lead on an opportunity level:
Does your lead know about your product or service?
Have they shown any interest in your solution?
Can you help them solve their challenges?
Can they afford to buy your product or service?
Do they consider solving this issue their priority?
3. Stakeholder-Level Qualification
If a lead passed the previous two qualification levels, it's time to establish if they have the authority to make a purchasing decision and greenlight the deal.
Ask your point of contact these questions:
Do they have the authority to make a decision?
Is there anybody else involved in the decision?
What are their main concerns about purchasing and implementing your solution?
These three levels are like a litmus paper you can use to disqualify leads that aren't the right fit.
Start with the organization-level qualification first.
For example, sometimes your point of contact will be a CEO of an organization with the decision-making authority, thus passing the stakeholder level, but if there's no problem your product or service can solve for their organization, there will be no need for them to purchase.
Therefore, first try to qualify based on the issues, needs, and pain points, before moving to the other two levels.
Finally, if you can't qualify leads on all three levels, don't move them to the next stage of the sales process.
Lead Qualification Frameworks
There are several lead qualification frameworks or techniques, and some of the most popular include BANT, CHAMP, and ANUM.
BANT
The acronym BANT stands for :
Budget – Can the lead afford your product or service?
Authority – Does your point of contact have the authority to make a purchase?
Need – Does the lead have a pain point you can solve?
Time – When will your lead make a purchase?
If the answer to at least three of these questions is "yes," then you can consider that lead viable and likely to purchase from you.
We should say that the BANT framework used to be more suitable in the past and that now it has to be implemented in a manner that complements a contemporary sales process.
CHAMP
CHAMP is a modern twist on BANT, and it consists of:
Challenges – What are your lead's challenges?
Authority – Who has the decision-making authority in the organization?
Money – Does your lead have enough money to purchase your solution?
Prioritization – Where is your product on your lead's list of priorities?
The key element in this framework is aligning your solution to your lead's business pain points. Also, pay attention to whether your lead considers your product a necessity or something that would be nice to have. If it's the latter, then your odds of closing a deal are reduced.
ANUM
Yet another take on BANT, ANUM insists that a sales rep's top priority should be determining whether they're talking to a decision-maker.
The components of this framework are:
Authority – Does your lead have the authority to purchase?
Needs – Does your lead's needs align with your solution?
Urgency – When will your lead be able to implement your solution?
Money – Does your lead have the necessary budget for making a purchase?
Closing Words
The success of your sales efforts heavily relies on how effective your lead qualification process is. If you approach lead qualification strategically and meticulously, you'll be able to forecast your sales, avoid wasting your resources, and focus only on those leads that deserve your full attention. Besides, you'll also prevent selling to a lead who will ultimately turn out to be the wrong fit.