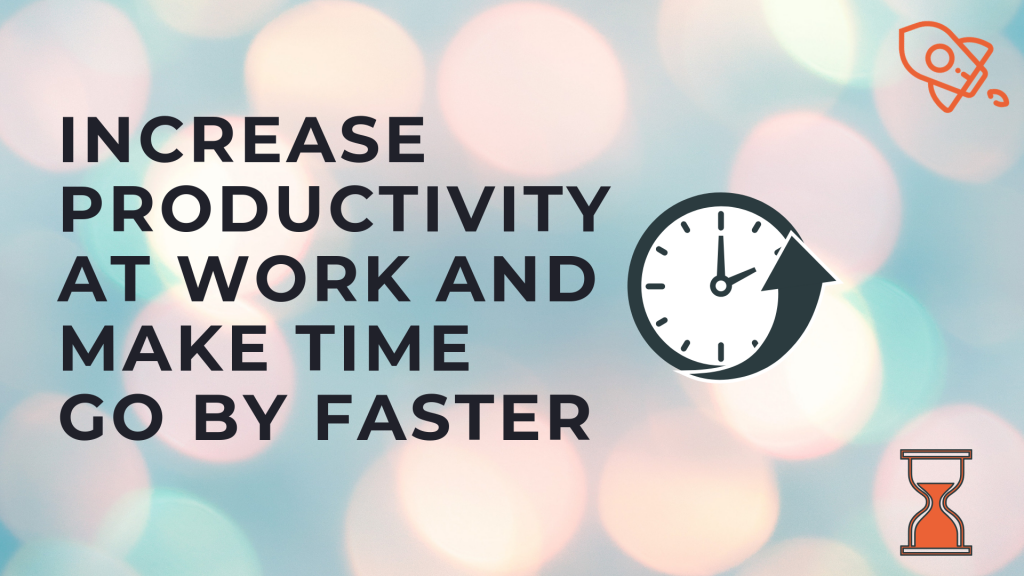 You know those days at work when everything seems hard and when that day just drags on and on while you check your watch in disbelief that it has only been 3 minutes since the last time you checked?

Of course, you do, everybody does.

But not everyone knows that there are some easy things you can introduce into your days to increase productivity and make them more enjoyable.

We'll go through 9 tips you should start doing right now to make your workday go by faster, while at the same time, you increase your productivity and focus.
Establish a Daily Routine
Sleep is important. Mornings are important. Because the way you start your day will probably determine the rest of it.

It's best to have your days planned out in advance, so you will feel more in control and more productive. These things don't have to be work-related. Just plan your daily activities which will give your body enough energy and your mind enough focus to last the whole day.

Get enough sleep — Sleep improves cognition and concentration, which lead to increased productivity and better performance at work.
Get up early — Getting an early start of your day ensures you'll stay ahead and on top of your task list. This way you can have some time just for yourself and you can fill it in any way you want. Meditating is good, for example, or enjoying your first coffee for the day in peace and quiet.
Plan your meals — meals are an important part of keeping yourself productive. Plan your meals ahead and prepare healthy lunch and snacks for the day to give you enough energy. It will help you avoid stress and make sure you eat more balanced meals.
Exercise — As soon as you wake up, try to exercise. It will help wake your body and mind up and make you energized and alert.
Make Good Use of Commute Time
Commuting is generally regarded as a waste of time and you just have to deal with the fact that you lose an hour or more every day while getting to and from work.

But instead of looking at it as a disadvantage, think of the commute time as a great opportunity to:
go through your emails,
listen to that cool new audiobook,
stay in the industry loop by listening to relevant podcasts,
learn a new language.
If you're looking for something interesting and useful to do while you're commuting, check out our recent blog post and find a comprehensive list of the best sales podcasts for 2019.
Improve Workplace Conditions
If you want to be more productive, make sure you are working in optimal working conditions.

Decluttering and optimizing the workspace will make time go by faster. But not only that, after you are done decluttering, you will feel more relaxed and eager to tackle that project you're working on.

For optimizing your workspace, you can:
Introduce some colors into your workplace: green for motivation, blue for creativity, and red for focus.
Bring in some plants, as they will make you feel more comfortable and thus more productive.
Make sure there's enough natural light, as it helps you feel more energized and focused at work.
Optimize Emailing
One study by McKinsey Global Institute showed that employees spend 13 hour s a week, or 28 percent of their office time, on emails. That adds up to 650 hours a year.
Needless to say, there's a better way to do your emailing. Try doing the following:
Test a new email tool — With Autoklose you can speed up your email activities significantly. By using email templates and email scheduling you can prepare all your emails at the same time and the tool will take care of the rest.
Designate a time of the day just for emailing — Don't let yourself be bothered with email throughout the day. Instead, choose a part of your day for performing all email communication. For example, 1 hour before you leave work.
Keep your emails short — Aim for making your emails straightforward and to the point. Include precise questions and answers. That way you won't waste your time explaining something over and over again.
See What Your Competitors Are Doing
When your day feels dull and your work hours drag on and on, go check and see what your competitors are doing. Nothing like a bit of spying and the Poirot mindset to make your day far more interesting.

Here's how to see what your competition is up to:
set up Google alerts for your top competitors, so you'll get a notification when they are mentioned on the web
check search engine results to see what title tags and meta descriptions they are using to lure visitors and try to optimize yours in a similar way
go through their reviews to see what their customers like and dislike about them and make sure to implement those findings in your business strategy.
This is a super fun and easy way to lose yourself in little investigative action, and you'll see how your time just flies by.
Take a Short Walk
In an experiment by Stanford University researchers have concluded that short walks had a positive impact on creative ideation in real time and shortly after. In fact, walking could increase creativity by 81 percent.

So, besides being a fun way to spend some extra time you have by stretching your legs, it's also very useful for clearing your mind and coming up with the next great idea for your job.
Put on Some Music
Listening to music improves your mood and helps you complete tasks quicker and with more creativity.
Upbeat music without lyrics is great for repetitive tasks.
Up-tempo music improves mood and motivation.
Relaxing, repetitive music can help with cognitive tasks.
Start Something New
Are you feeling bored at work?
Think about some new ways you can help the company and pitch it to management.
One-third of the employees are experiencing boredom at work because they don't have enough work to do.

When you task yourself with finding new projects and thinking of the next great idea that will boost sales, you'll not only feel more engaged and productive, but your employers will also appreciate your devotion and initiative.
Give Time Management Techniques a Try
There are tons of time management techniques you can try to give a boost to your productivity. They are all pretty simple and easy, and they work quite well if you find the one that best suits you.

Some of the most popular time management techniques are:
Pomodoro technique — Here you divide your work into 25-minute sessions with a 5-minute break in between. After you have done four cycles of work, you take a 20-minute break.
Eat the frog — introduced by Brian Tracy, this technique is aimed at prioritizing tasks. You pick your most important or hardest task (the "frog") and tackle it first. Only after you are done with your most difficult tasks, can you proceed to the less complex and difficult ones.
The 10-minute rule — This one's really simple. You tell yourself you will be doing work for 10 minutes straight, and after those 10 minutes are up, you decide if you will continue or not.