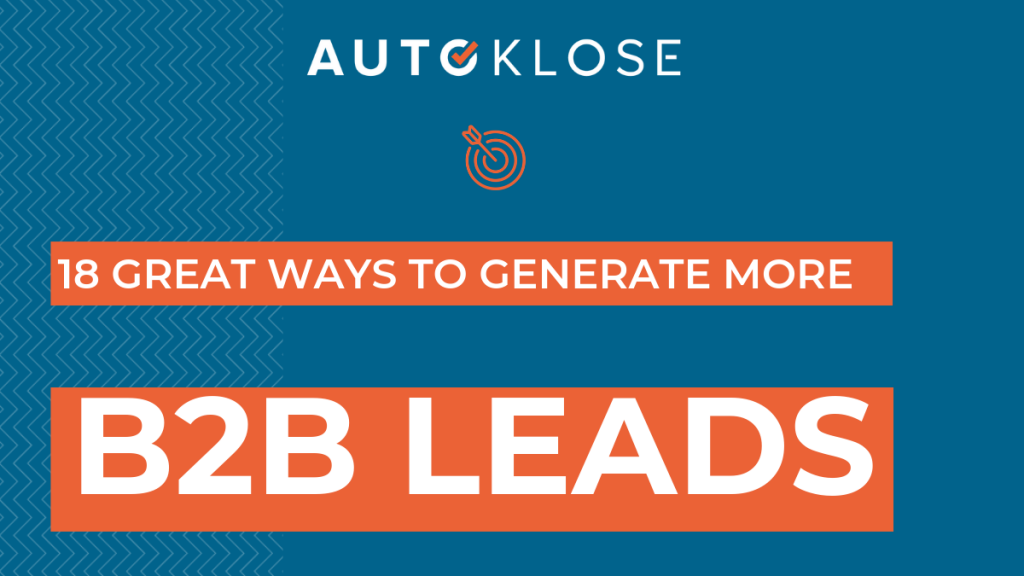 If you want to generate more B2B leads you should know it is a non-stop activity. Luckily, today there are more ways than ever to find potential customers for your business. You just need to do everything you can think of to reach them.
Sounds simple, right?
But, I believe that you often scratch your head and ask yourself "How do I get more B2B leads?"
Here, we'll go through some effective ways to get you started generating B2B leads, but really the only limit is your imagination and motivation.
1. Networking and Mingling
Meeting face to face and starting a conversation with potential leads and industry peers has always been one of the most simple and one of the most effective ways of growing your brand and business. Take every chance you get, no matter when and where to talk about your business and your products or services. There's no 9 to 5 here. Promoting your business is a 24/7 activity, and no occasion is too small and insignificant for this.
2. Send Cold Emails
Email is still one of the best channels for business communication. Although the first email was sent way back in 1971, email is still going strong today. In fact, email is more popular and more useful than ever. Research has shown that email is the preferred method for communication for 72% of businesspeople. This all means that email marketing should be at the very top of your list when it comes to tactics for generating more B2B leads.

Today, there are email automation tools like Autoklose that will make your email campaigns even more effective by enabling you to find email addresses and make use of templates that will help you easily send hundreds of personalized emails in no time.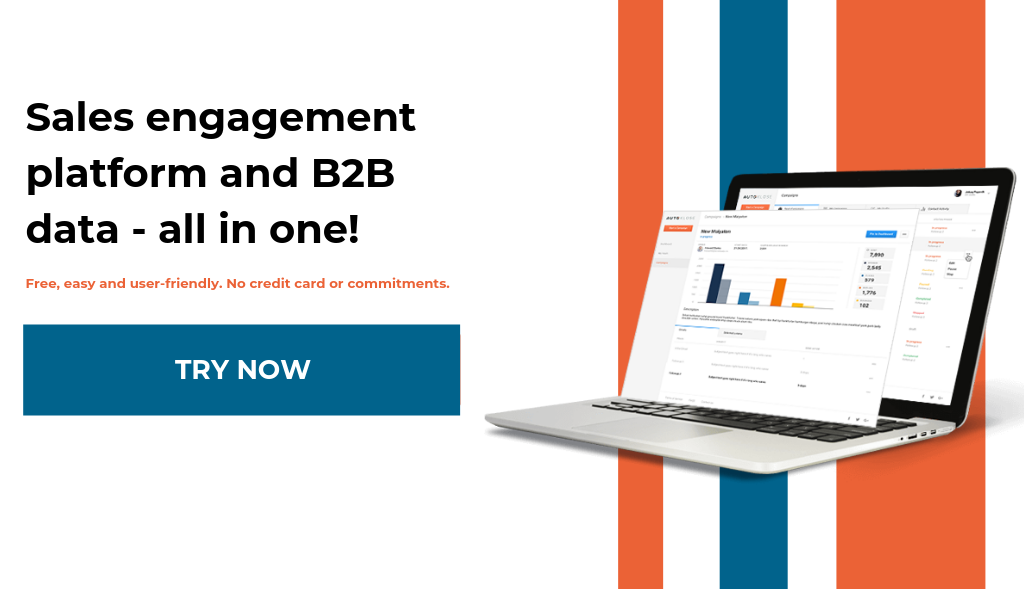 3. Set Up a Live Chat Option on Your Website
Live chat is getting more and more popular every year. And for good reason. It's one of the most direct and timely ways to answer questions your site visitors may have about your business and troubleshoot potential issues. They are like a direct messaging system that connects you and your current and potential customers. There are countless live chat options to choose from, but the most popular ones are Live Chat and Intercom.
4. Help a Reporter Out
Help A Reporter Out or HARO is a new platform that has taken the internet by storm. The idea behind it is to apply to be either a journalist or a source for discussion about a certain topic. Being a source on HARO and sharing your knowledge in a particular field or helping with a problem people have can help you reach many new leads. The other benefit is that it can help you gain recognition as an authority in your business niche and help your brand grow.
5. Answer Questions on Quora
Similar to HARO but much more well known is Quora. Quora is a Q&A platform where people ask questions they need help with while experts answer them. By answering questions related to your business, you can help drive lots of quality leads to your website. It's free and it works great.
6. Use Social Media
There have been doubts over the years whether or not social media is effective enough as a marketing channel. But nonetheless, there's no denying that if done right, social media is a gold mine for new leads.
Of course, you just need to do some prior research and find out where most of your potential customers are hanging out. B2B leads can mostly be found on platforms such as LinkedIn, but don't neglect Facebook and especially YouTube as their potential in this regard is still growing each day. By connecting Facebook Custom Audiences and Typeform, you can easily capture these leads and send them automated emails.
No wonder that the popularity of social selling has skyrocketed. Check out how to tap into its lead generation potential.
Also, check out our Facebook, LinkedIn and Instagram pages for some ideas.
7. Increase Website Traffic With SEO
SEO or search engine optimization is a powerful tool in your arsenal when it comes to generating leads online. In short, by applying some good SEO practices and making your website rank better on Google and Bing, you will get plenty of search traffic directed to your site's money pages.
Additionally, don't forget to keep your Google My Business profile up to date. Google Maps can be a powerful tool for B2B lead generation.
People are already actively searching for someone to help them with certain problems and needs, so it might as well be your business.
8. Write on Guest Blogs
There are many websites on the internet where your potential customers are hanging out, so why limit yourself on only to your own blog for spreading your message?
Reach out to other websites and blogs that cover similar topics as you do and ask to share some of your expertise with their audience. That way, their audience becomes your audience too. You can even help your SEO if you manage to get a backlink to your site from your guest post or author bio.
9. Write Ebooks
Another way of using your own knowledge to generate more B2B leads is by writing an ebook. Later, offer the book for free to the visitors that subscribe to your newsletter. By providing value to people, they won't mind giving you their email address and will be more willing to open your emails in the future.

Emails are a valuable commodity in the digital era. No wonder people say that 10 email addresses are more valuable than 1000 likes on social media.
10. Get Featured on Industry Podcasts
Podcasts are huge at the moment. The number of people that listen to podcasts has grown sharply in 2019. Now, more than a third of people in the United States regularly listen to podcasts, according to a recent research study.
What you need to do here is to make a list of podcasts that are relevant to your business niche and reach out to their hosts asking them to feature you. That's a great way to make new business connections and get a good number of leads along the way.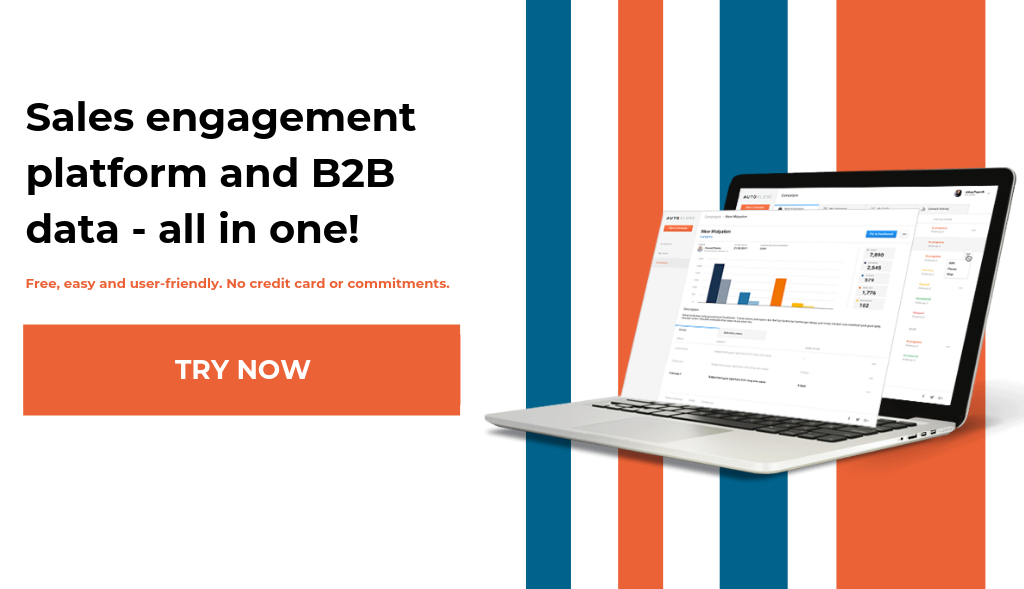 11. Do Webinars
Making educational content like webinars is a great way to help leads to see the value of your products or services. Hosting webinars and explaining the details and nuances of your products is a sure way to turn your leads into paying customers. You can host webinars when introducing new products, implementing new features in existing products, or on any other occasion that requires helping potential customers better understand your company and it's solutions.
12. Implement a Referral Program
Why not use your existing customers to get new leads to your business? Simply create a referral program that will offer your existing customers certain benefits for recommending your business and providing you with a continuous stream of new leads. People tend to trust their friends when they recommend products and businesses, and that's exactly the card that you should play.
13. See What Competitors Are Doing
"Good artists copy; great artists steal." This quote by the late Apple founder Steve Jobs may not look like a good piece of advice to honest people. But if we think about the context a bit, it's actually a great tip for running a business. If you copy, you are making something that someone already has, and that's not easy to sell. But if you "steal" something (not literally) and make it better and your own, you come out on top. That was Apple's strategy all these years, and they are one of the most popular brands on the planet. They didn't make the first computer or smartphone, but they did make the best computer and the best smartphone the majority of people wanted and needed.

So, look at what your competitors are doing to get sales leads, continuously tweak your strategies and tactics accordingly, and try to use what you think is the best and most effective strategy for your own lead generation efforts.
14. Speak at Conferences
Attending and speaking at conferences puts you where the action in your industry is. You not only get the chance to network with influential people but to also share your company's vision, goals, and best practices. After your presentation, you have the opportunity to meet new people, give out credit cards, and invite everyone to check out your business or blog.
15. Organize Meetups
You can organize meetups around a certain topic that aims to connect people on similar positions. Let's say you are the sales manager of a SaaS business. It's a good idea to meet with other salespeople who work in similar organizations and have a casual exchange of ideas and best practices.
16. Leverage LinkedIn
LinkedIn has grown from a business-oriented social-media-like platform to a real marketing and sales machine when it comes to working in B2B markets. It's a great and easy way to showcase your experience and expertise, to share ideas, do research, and most of all create valuable business connections.

Our recently published Biggest Catalog of Sales Software in 2019 lists several useful tools that can help you leverage LinkedIn and make the most of its more than 500 million users.
17. Give Free and Useful Tools to Your Visitors
If you have the resources, make a simple and useful tool that will help get new visitors to your site. Think about what your targeted audience searches online and see whether you can provide it to them and be helpful. Good examples of this practice are email signature generators, interest rate calculators, timesheet calculators, etc.
18. Collaborate With Influencers
Influencers don't only have to be role models on platforms such as Instagram. An influencer is anyone who has a certain follower base based on his or her knowledge and authority. For example, Neil deGrasse Tyson is an influencer in astrophysics and science fields with more than 13 million followers on Twitter alone.

Find who people you want as your customers follow for advice and look up to. Arrange some form of a collaboration that's in mutual interest and watch your new lead numbers grow.

19. Get More Online Reviews
Nothing demonstrates that your business is trustworthy and credible like online reviews written by your existing happy customers.
Nowadays, customers are more likely to trust other customers over brands, which means that if you want to really cement your good reputation, you can't do it by blowing your own horn. You need others who aren't any way affiliated with your company to provide you with positive word of mouth and in a way vouch for you.
Don't forget that your potential customers are browsing the internet when they're looking for a solution to their pain points, and if they stumble upon a number of good reviews from different people, they'll be more likely to give your product a try.
Apart from providing excellent customer experience and delivering on your promises, which are essential factors when it comes to generating positive customer feedback and online reviews, it's also necessary to encourage your clients to put in a good word for you.
Ask them directly to leave an online review. There's also nothing wrong with incentivizing people to share their positive experiences with your brand but only if they're genuine and sincere – make sure to understand the difference between buying online reviews, which is a shady practice which will be detrimental in the long run, and offering a discount to customers who are really satisfied with your product and asking them to express their opinion publicly.