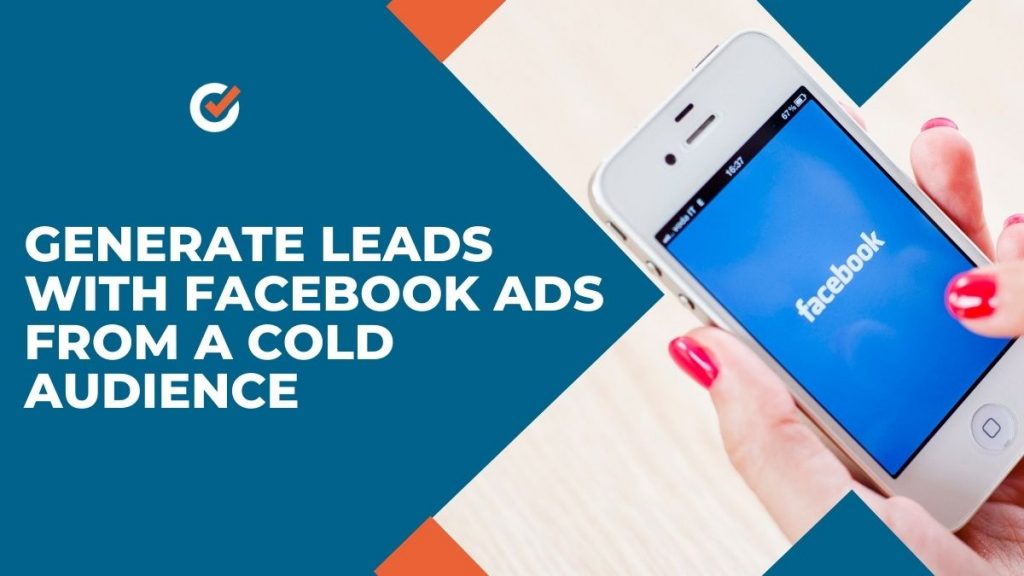 With over 2.7 billion users on Facebook, there's no doubt that the Facebook platform has a lot of potential for businesses of all sizes. The question remains: how do generate measurable results like leads from your Facebook ad campaigns?". This is exactly what we're going to be covering in this article.
Please note: If you're new to Facebook ads and not really experienced I strongly recommend you to take a look at this other article I wrote about how to advertise on Facebook which will discuss how to create your account, the different campaign goals that are available to you, what a proper account structure looks like and much more!
A Winning Facebook Ad Lead Generation Strategy
The truth is that unless you've got a business that sells the most unique and unsaturated product or service in the market and you have virtually no competition, you will need a well thought out strategy in order to truly see results with facebook ads.
The strategy I will share will be most effective if you've never ran any ads on Facebook, don't have accurate data or don't really know who to target. An ads library can be a valuable tool for optimizing your Facebook ads strategy by allowing you to see what has worked well in the past and gain insights into what types of ad creatives and copy resonate best with your target audience.
When advertising on Facebook it's all about the audience, whether or not your message resonates with it. Given the fact that you're reading this article, your main concern is that at this point in your advertising journey you don't have a quality audience you know will produce results. So we need to create one!
Let the audience create itself
I know this sounds a bit confusing because aren't you supposed to target the audience that YOU want? Well yes… but no.
What we want to do is create an audience that is relatively broad, and see who of that audience is interested in your service by tracking who watches your video.
So, instead of just picking an audience based on what YOU think is great, you will truly have a more defined audience that has already shown some interest in what you do.
Why Video First?
A video is one of the best ways of introducing your brand to new prospects because it's quick and engaging. But it can also be difficult to get across a brand awareness message while simultaneously a call to action. By building a video view custom audience, it's possible to create a very simple two-step sales funnel.

With this strategy you will:
Step 1:
Choose the video views campaign goal
Build an audience that is a broadly your target audience
Show your video to as many people as possible
Step 2:
Create a lead generation campaign
Retarget the audience that viewed your video
Create a lookalike audience of those that viewed your video from those that interacted with your content to then target them to generate leads.
Step 3:
Follow up with the people that opt-in with a sales sequence
In order to pick your audience based on interest, age, and location they're in, you need to have an idea of what an ideal customer looks like for you. Then, you can use the information from your ideal customer profile to determine what their online behaviours are and develop a buyer persona.
You'll want a well targeted, but large enough audience for a video view campaign. The larger the audience, the more data Facebook will be able to gather for you.
From there, you'll be able to tell who of that audience is actually interested in your product or service's by getting metrics on how many people in that audience watched what facebook now calls a thruplay. But we'll be even more interested in those who watch more than 25% of your video.
Why start with a video views campaign instead of lead generation?
If you simply ran a lead generation or conversion campaign without first creating some brand awareness, you are essentially asking someone who has no idea who you are to give you, a complete stranger, their information.
Without an audience to retarget, you may be spending your advertising dollar on people who may not be interested, and at a higher cost. Video views are very inexpensive which is why it's great to let the audience create itself with the low cost video views campaign goal.
Step 1: Create the video
In order to do this, you'll need a great video that is actually giving out value, and have Facebook users want to stop and watch.
Keep in mind your biggest competitor on Facebook isn't other businesses… It's your audience's friends and family members because they are on these types of platforms to connect with others… Not have deals and promos thrown at them. So your video needs to be eye catching, give out great value and also be entertaining to watch.
Giving value through a video: the goal is to create a short video between 15 seconds to 1 minute long and get as many playthroughs as possible. So it's crucial that the topics you cover in the video provide real value and is relevant to your overall campaign goal. The best way to make sure it's quality is by asking yourself "Would I stop scrolling the feed to click and watch the video myself?"
If you don't answer yes, neither will the audience.
Subtitles: on facebook, most people scroll through their news feed with the sound off, and if they find something they like they put the volume up. On stories, the majority of people watch with sound on. Regardless, you should always include subtitles in your videos for those who watch it with the sound off. Facebook makes this easy with the "auto generated subtitles" which you can edit after.
Understanding who you're targeting: It's important to have an idea of what an ideal customer is for you so you can accurately create a buyer persona. I understand that the reason you might be using this strategy is that you don't have past data and no audiences available, but here are a few things to get you started:
Do some research on your audience. If you are a general contractor, is your target market men or women? Who typically needs your services? What are their online buying behaviours
Use the Facebook audience insight tool to get an idea of what groups, pages, and interests are relevant to your target audience.
Rules & metrics of the campaign
You'll want to keep the video views campaign running for about 1-2 weeks depending on the results you get and your daily/lifetime budget. Obviously, the more you spend the faster you'll get the data.
If you can have a video view campaign running at all times and not just during the beginning phases, this would be ideal. But, not everyone can afford that.
A few great metrics to look at to make sure the campaign is running as best as it can and getting views for the best price is to look at the cost per thruplays but also look at the quality ranking & engagement rate ranking. The quality ranking & engagement rate ranking should both be at "Above Average" but it's fine if one of them is at "Average" but never both.
Step 2: Retarget the audience
After letting your campaign run for a reasonable amount of time and you've followed the instructions, you will end up with a lot of video views.
You should aim to get as many as possible. In this case, the bigger the audience, the better chance Facebook has at gathering data. But what do you do with that data? The answer is you retarget them, and other people who look like that audience.
The idea behind retargeting video views is that instead of simply creating an audience with Geography, interests, and other behavioral data, you only retarget the users that have watched a certain percentage of the video.
Time is the most precious thing in the world and if they've spent time watching a video that showcased your brand all by giving out value… Those are the users you know are more interested that more, and you should choose to target with your lead generation campaign.
There are a few different ways to create a lead generation campaign with a retargeting audience. Even if you're a more advanced Facebook Ad user and know how to do this, I'd recommend you keep reading since you will be sharing some tips and tricks.
Create a new campaign
You can't use the same goal objective as the video views. In order to retarget for lead generation, you need to create a whole new campaign because the goal will be different.
Choosing the right goal for your unique situation
As I mentioned there's more than one way to generate leads. You have the option to choose Lead Generation as the campaign goal or Conversions as the campaign. goal. Which one is the best? This is one of these answers where it depends…
Advantage of Lead Generation goal:
You're keeping all the action of Facebook (the lead form stays on Facebook) so Facebook will compensate you for keeping their users on their platform and give you a cheaper CPC & Con. Cost.
You can also retarget the people who opened the lead form and didn't convert without needing to set up any advanced tracking pixels.
Disadvantage of choosing the Lead Generation goal:
If you have a complex product or service it's hard to convey your message with the small lead form they give you.
You're very limited in what you can track since it's not your platform.
Advantage of choosing the conversion goal:
With that specific goal you're driving the traffic to your website so you can literally track everything with Google Analytics so that you can optimize your pages accordingly.
You can use data to create custom audiences in Google Analytics and retarget users that came from your Facebook ad but didn't convert and target them on the Google Ad display network.
Disadvantage of choosing the conversion goal
You're taking users away from Facebook and that's the opposite of what Facebook wants… so they will charge you more for your results.
Then, name your campaign, ad set and ad so you can easily keep track and analyze.
Retarget Using Custom Audiences
To retarget people who viewed your video, choose "custom audience" at the ad set level.
Turn on Campaign Budget Optimization as this will distribute your ad spend evenly across ad sets.
Choose where you would like to send the traffic, and set up the Facebook Pixel to track your conversion events.
Choose "custom audience" to retarget people who watched the video.
Choose video views, then choose the desired video you'd like to pull the audience from.
Choose people who have watched at least 25% of your video. You could also test this against others who have watched only 3 seconds, or 75% of your video. But choose 25% to start.
Select the video you would like to create a custom audience with.
Name the audience something that will distinguish it from other custom audiences and choose a window timeframe that people have watched your video. Then press "create audience".
Ad creative
Since this is a conversion campaign, the need for compelling ad copy is a necessity in order to get your audience to convert. However, keep it simple.
Test different variations including long form, short form, and bullet points by either using the dynamic creative option, or seperate ads. By testing different kinds of ad creatives and copy, you will be able to see which can get you the results.
Your offer
Your offer really matters in terms of seeing success with Facebook ads. For a business like Nike, they could simply put out an ad and generate a ton of sales simply because they have an established brand, and everyone knows who they are.
For smaller businesses that are not well known, you can't expect to get lots of sales or leads because no one knows how good your product or service is.
It's important that you offer something fantastic because that's what's going to get you to stand out, get them to click on your ad and convert. What I recommend is that you heavily heavily discount the "first-time" buyer. For example X% off, or FREE consultation…
Your offer plays a huge factor in the success of your Facebook ads. Creating a low barrier off will help you stand out from the rest and get results! You just have to be willing to give something heavily discounted. Then, word of mouth will do its job in getting more returning customers.
One Step Further: Create a lookalike audience

Facebook wants it's advertisers to see as much success as possible, and it's gotten quite good at finding other people who are likely to reach the goals you want. So we recommend creating a lookalike audience from the video views audience you've created.
Audience size ranges from 1% to 10% of the combined population of your selected ad set locations. A 1% lookalike consists of the people most similar to your lookalike source. Increasing the percentage creates a bigger, broader audience.
1. Duplicate the ad set to preserve all the ads you've created.
2. Click small arrow beside the audience name and press "Create lookalike audience"
3. Facebook only lets you choose a country to make the lookalike audience. So, choose the country you are targeting, then you can narrow it down further at the ad set level and facebook will choose a lookalike audience that also only lives in the smaller region you've chosen.
4. Once that populates, scroll down on your ad set targeting and choose the region you'd like to narrow down.
When making a lookalike audience, keep the targeting options open. (18-65+, no demographics, or interests.) Unless you only want to target a specific gender. However, your audience should never be under 100,000 people.
For local businesses: Depending on the size of the area you're targeting, I suggest a 10% lookalike. Don't narrow down any further with demographic, interests or behaviour because this will make the audience too small. The lookalike audience will already be choosing these interests since they look like the audience you want.
For international businesses: This audience will be much larger, so you can opt for a 1% lookalike. Again, do not narrow the demographic, interests or behaviour because this has already been done for you when you asked Facebook to create a lookalike.
Test, Test, Test!
You need to be testing all the time. Test your original audience against your video views retargeting audience, and also against your lookalike audience. There is no one size fits all for any strategy and therefore you should always be testing.
Measure and analyze
Now that you've put together an entire campaign, how do you measure and analyze the results you're getting?
The KPI's you're looking for is the cost per conversion. Whether that is for a free piece of content they give their email address for, or a free consultation, you are asking facebook to optimize your campaign for conversions so this should be the #1 metric you're looking at.
Note that typically the smaller and more targeted an audience is, the more expensive the CPR will be.
You should optimize your campaign to be getting the lowest cost per conversion.
Step 3: Follow up
So now that you have a better understanding of a simple 2 step funnel strategy you can use to generate leads from a pretty cold audience, the question then becomes, what happens after you generate the leads?
The most important thing to have aside from a great Facebook ads strategy is an even better sales process. If you don't have a great sales process it will be really hard to see an ROI or even a ROAS if you have a service based business.
That's why I've reserved a section in this article to bring that to your attention. I know a lot of companies that are generating a ton of leads everyday but don't see any gain from these leads because they can't convert them into actual customers.


What happens after I get a lead?
The best way to fix this problem is to create a sales journey for the new leads that come in. It's called a sequence (some call it cadence) and it's a journey that a lead enters in to make sure they receive the same,exceptional sales experience as others. It makes sure that no leads are slipping through the crack.
Key elements of follow-up sequences:
Be human. No one likes an email blast that looks like it's been created by a bot for everyone on the planet.
Make it look like the email was created especially for them by using some personalization tactics
Include calls (if you can). Everyone's email gets filled up with so much spam nowadays that they can easily miss something that isn't right in their face. A phone call is out of the ordinary and is rarely used.
Be out of the ordinary by starting a conversation directly on the Facebook platform. Might not be overly professional but people aren't necessarily so focused on professionalism these days. Keep the messaging professional but the outreach casual.
So, what do I do next?
You don't become a Facebook ad expert or sales expert overnight. This takes practice and understanding both how to use the ad platform, and how to advertise to an audience.
Many that begin marketing will quit because they never did it long enough to see the results. Like anything, it takes perseverance and time.
But the key is developing a strategy, getting started, and sticking to the plan.
Author: Cedric Potvin from Vertex Marketing Agency