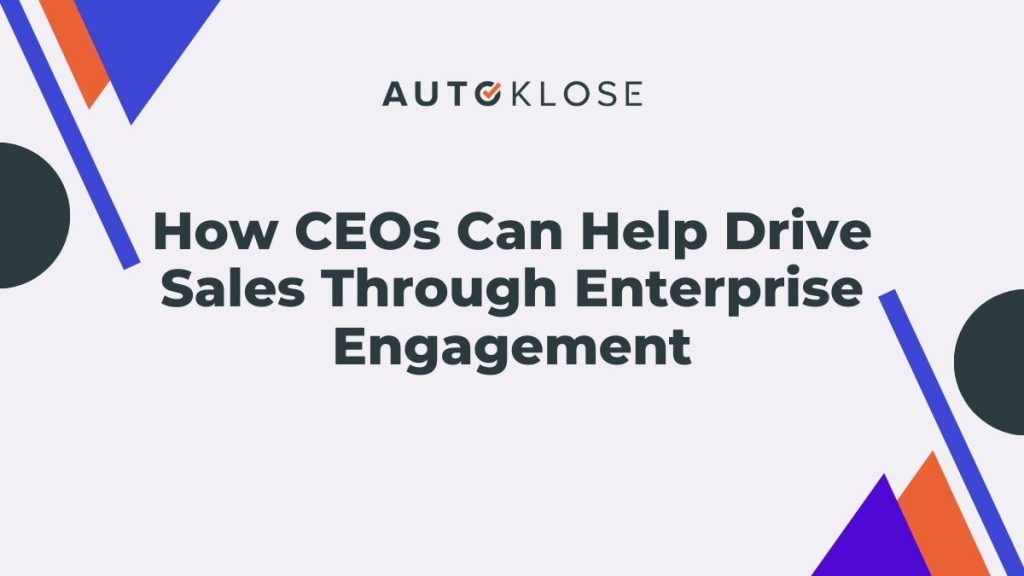 A career in sales can get lonely and stressful.
Salespeople are on their own when they're trying to convince their prospects to spend their money and make a purchase.
It's usually a 1-on-1 meeting or a phone call, and there's nobody to back them up.
What's even worse is that the average sales rep faces rejection and lost sales deals on a daily basis.
Many times prospects don't respond or even open their emails, while 90% of people screen their calls and never pick up if they see an unfamiliar number. In other words, it takes more than 8 sales calls to reach a prospect.
But, even when prospects answer or respond, that's just a beginning. It's not a guarantee that the deal will be closed.
All this takes a toll on salespeople's productivity and performance.
However, these challenges can be overcome if CEOs implement enterprise engagement.
Let's see what exactly this is and how you can use this strategy to help your sales reps and drive sales.
What Is Enterprise Engagement?
Engagement has become somewhat of a buzzword in sales and marketing, and it can be used to describe a high level of commitment of your employees or customers. In this case, they're more than happy and content with the relationship they have with your organization. It can even be said that they're proud to be associated with your brand, which makes them enthusiastic about its success.
Engaged employees and customers relate to your brand, and they're more than willing to contribute to and actively participate in the growth of your organization.
Enterprise engagement takes this entire concept to the next level – it's a coordinated approach that aligns people, performance, and profitability. In other words, it goes well beyond customers and employees, as this strategy includes all the other key stakeholders, such as partners and suppliers.
It practically helps your sales department get all the support they need for closing deals and handling rejection. With enterprise engagement, the responsibility for generating sales and profit is spread evenly across the entire organization. Although it's your sales reps who are at the forefront of this process, the other key constituents and stakeholders should also do their share.
Understand Salespeople's Role
First of all, CEOs should understand what their sales teams need in order to successfully pitch and close.
It's true that hiring sales reps who are the right fit for your company and for the job is a crucial step, but let's now forget that they need proper onboarding and consistent training in order to reach their full potential within your organization.
So, don't throw your sales reps in the fire and expect them to figure everything out on their own – they need guidance and support, too, because that's how you'll be able to build a great, high-performing team.
Another important factor is providing your sales team with all the information, tools, and resources they need. It's crucial to keep the lines of communication between sales, marketing, product management, customer support, and other departments open so that your sales reps can have regular feedback and data about prospects and customers. This way, they won't have to make educated guesses when they're reaching out to prospects.

Set Reasonable Goals
The success of each component of enterprise engagement requires setting clear and reasonable goals.
For example, if we bear in mind that the average employee engagement is about 30%, you should try to raise the bar and set your goal to reach 50% during the first and 75% during the second year.
Do the same with customer attrition rate, partners, and suppliers – by having clear and easily measurable goals, you'll be able to monitor the progress of your activities. Use the ROI methodology to identify how much these engagement initiatives actually contribute to increased sales numbers.
Besides this, it's a good idea to define some milestones regarding the implementation of the strategy itself. For example, you can track how many people you trained, how many initiatives you launched, as well as how well the implementation across the entire organization and among individual teams is progressing.
Tie Goals to Rewards
Incentives play an important role when it comes to achieving goals, making an unusual effort, and being effective. Hence, the trick is to align them with actions.
If you want your sales reps, customers, partners, and suppliers to implement the engagement strategy properly, you need to reward them. They need to know what's in it for them, which is why a well-structured incentive program will serve as an excellent motivational tool.
Rewards and recognition will increase the morale and satisfaction of all the key constituents of the enterprise engagement strategy.
No matter how enthusiastic those who implement this strategy are with the vision and plan behind it, they won't be able to relate to it unless they're properly recognized and rewarded for their hard work and dedication. The fact that you hold them accountable for implementing the enterprise engagement strategy and expect certain results implies that they qualify for an incentive for a job well done.

Implement Tactical Plans
The complexity of this strategy lies in the fact that you have to plan and execute numerous tasks associated with its different elements – employee engagement, customer engagement, partner engagement, and supplier/vendor engagement.
When it comes to employee engagement, the strategy can be to put managers and supervisors in charge of increasing the numbers. One of the tactics might be developing training that will help them build awareness regarding the importance of employee engagement as well as provide them with better skills for goal setting, coaching, offering feedback, and recognition. This will allow your sales reps to close more deals.
As for customer engagement, there are different tactics, but the core ones include having a superb customer support team, growing a brand, and offering rewards. 
Channel partners are an important link between employees and customers. That's why engaging them emotionally means that they'll be more likely to actively participate in the success of your organization. And this doesn't mean just hitting their monthly quota – the more engaged and enthusiastic they are, the better your sales will be. To achieve this, you should train, equip, and reward them regularly.  Apart from margins and commissions, you should introduce recognition awards and bonuses. 
The component of enterprise engagement that's by far least developed is supplier/vendor engagement. The key to this component is understanding your suppliers' business as well as their strategic goals. For this to work, it's crucial to appoint dedicated relationship managers who will be able to understand your suppliers' perspective and align it with your organizational requirements. The first step towards achieving this is selecting the best suppliers, but not just in terms of price and quality. You should also take other factors such as cultural fit, shared values, and compatibility into consideration, as that's how long-term relationships with suppliers and vendors are built. 
Enterprise engagement is a relatively new holistic approach to engaging different stakeholders and achieving organizational sales goals. Instead of focusing only on sales teams and their efforts and activities to sell and bring profit, enterprise engagement enlists other constituents including customers, suppliers, channel partners, and all the departments within the organization to contribute to success.