Video killed the radio star!
Ever since this medium appeared, it caused stir and excitement and even after more than a century later, it's still fresh and attention-grabbing.
It's exactly these qualities that make the video outreach so effective in sales and marketing. Despite the latest trends and high-tech gimmicks like VR and AR which have taken the world of advertising by storm, video still reigns supreme and drives engagement and conversions, particularly if it's combined with email marketing.
This old-school strategy needs a facelift from time to time, and video can boost its effectiveness tremendously.
Of course, if you want this combo to work, you need to send out a steady stream of emails on a regular basis, and that's where automation comes in.
All these topics were thoroughly discussed in our latest webinar which we co-hosted with our friends from Vidyard.
Here are some of the most important takeaways topped off with actionable tips & tricks which will help you revamp your outreach.
Why Video?
People love videos. The fact that more than 500 million hours of videos watched on YouTube every day illustrates this.
Besides that, according to stats which vary, somewhere between 64% and 73% of people make their purchasing decision after watching a promotional video.
Let's crunch some more numbers:
approximately 30% of all online time is spent watching videos
These stats are clearly very impressive and they speak volumes about the popularity of video, but we'll put them in a relevant email marketing context and shed some light as to how all this can affect your business.
It's worth noting that both B2C and B2B industries can benefit from using videos in their marketing efforts.
It's self-explanatory how glamorous industries such as fashion, sports, and consumer electronics can attract and entice their customers by targeting them with videos of their sleek and fancy clothes, kicks, or gadgets, but what's a B2B software company to do with its extremely helpful but ultimately complex tools whose value and usability is hard to grasp at first glance?
Now that's an excellent question!
Explainer videos, how-to guides, or any other type of personal video which tackle your customers' pain points and show how different features and functionalities of your product solve them successfully can do wonders for your conversion rates.
Let's see a couple of reasons why video is so powerful when it comes to catching your customers' eye.
Video is the next best thing to being in person, says Michael Litt, Founder of Vidyard, and he's right. There's no better way to provide your customers with first-hand experiences and solutions and get them on board with your ideas and messages. Or as James McQuivey of Forrester Research puts it "One minute of video is worth 1.8 million words."
Video conveys nonverbal communication, which is extremely important in terms of understanding what the speaker tries to say. Text is stripped of all those prosodic features of speech and video preserves body language, tone, specific word choice, emotional undertones, and other visual cues thus getting the message as well as the emotion across successfully.
Video has the ability to include all other mediums, both visual and auditory. So, you can show images, charts, infographics, and text within a single video. Needless to say, you can record yourself and that's essential for establishing rapport with your audience as you can, basically, "look them in the eye" while you're talking to them.
Video offers quick and rich content. This medium allows you to condense your message and deliver it quickly, and that's exactly what you need to do in our fast-paced world. Your busy audience with hectic schedules will appreciate this. They can consume it while they're commuting to work, jogging, or during their lunch break, and since it's much easier to focus on the spoken words paired with interesting visuals especially when using earbuds, you can be sure that people will be more likely to click the play button than the "read more" link.
Video drives emotional connections and loyalty. Psychology says that emotions play an important role in making a purchasing decision, which is why a carefully crafted, customer-centric narrative can do wonders for your sales. Instead of focusing on your product, you can "bond" with your audience through behind-the-scenes videos showing your team at work, or by showing your company participating in an initiative or campaign for the greater good.
As you can see, there are good reasons why 7 in 10 marketers report that video converts much better than other formats.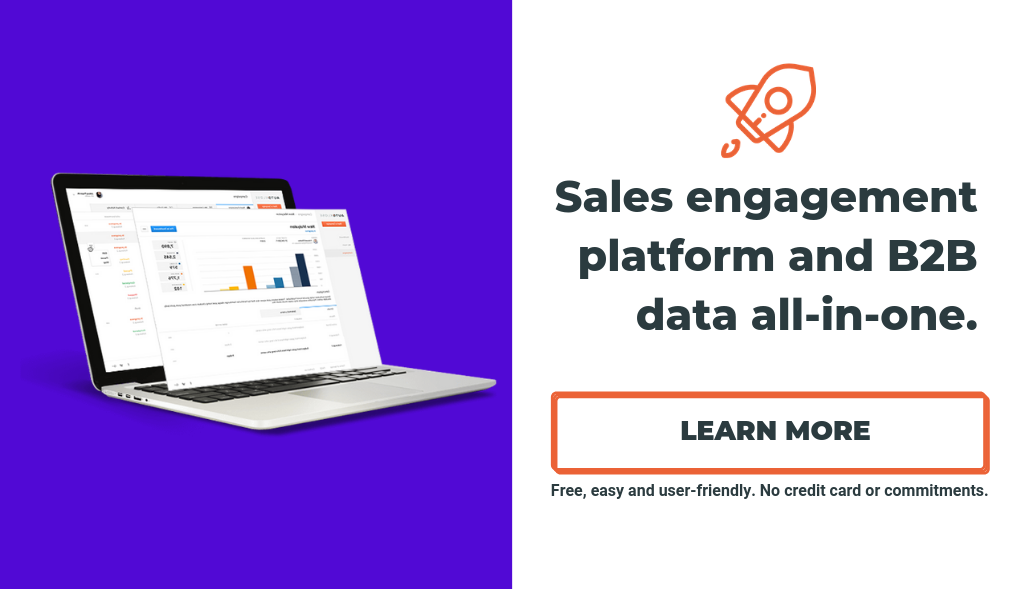 The Power of Video in Sales
As a marketer or a salesperson you most probably use all kinds of marketing strategies in order to attract, nurture, and close your prospects, but research studies have shown that video is the most likely to elicit a reply.
The 1-on-1 video is particularly successful in eliciting a reply and it has the same percentage of success as a direct phone call, which is why you need to include it in your sales strategy.
Many startups and SMBs believe that video works only for big companies with hefty marketing budgets, but that's only a misconception.
No matter what the size of your business is, you can and should take advantage of video in your sales strategy.
And guess what? You don't need any expensive equipment and gadgets, and you don't have to worry about how to make a recording of yourself or your desktop, but more on that later.
One of the biggest challenges of sales email marketing is how to stand out in your prospects' overcrowded inboxes. We've already talked about this topic in one of our recent blogs, but it's time to elaborate on how video can help you with this demanding task.
Namely, on average business users send and receive 121 emails a day and it's expected that in 2019 it will reach 128.
However, even if you manage to make get recipients to open your email, you're already faced with another obstacle – how to connect with them. 51% of your prospects are willing to make a purchase but aren't willing to advocate for a deal to be sealed.
Finally, this failure to connect results in an extremely modest lead-to-deal conversion rate which is rarely higher than 1%.
But, first let's get one thing clear: 81% of people check their email on their mobile devices.
This means that they will be also flooded with tons of other notifications from social media platforms, SMS messages, and missed calls. And it's really hard to compete with all these distractions and actually create a pipeline.
Another obstacle lies in the fact that many salespeople send unsolicited and non-personalized emails, which make it impossible for them to genuinely connect with their prospects. Autoklose can help you with this as our platform offers different personalization options including:
Powerful filters that will allow you to target your recipients based on a number of parameters. Paired with our database packed with millions of fresh, clean, and verified B2B leads, this feature can do wonders for your personalized campaigns;
Custom fields which allow you to personalize whatever you want within your email and add your own fields and parameters;
Email sequence templates, that is, customizable, premade email sequences for different business situations, paired with high-converting subject lines and outstanding copy.
Finally, B2B sales require a complicated and sometimes lengthy decision-making process, because of the complexity of the products themselves, as well as because it's usually necessary to have at least 7 stakeholders willing to back up the buyer, and that's way too many demos to run and scheduling conflicts to overcome.
And, let's rewind to the part where we mention that video is the next best thing to being in person.
And voila! Here's the solution to all the obstacles from the previous paragraphs.
There's no reason to waste your time waiting for all interested parties to be available for a demo. Instead of that, record a video of your demo or presentation, add it to an email, and send it to all those stakeholders.
The result?
You'll capture their attention and boost your click-through and response rates.
Besides that, you can also make responding easy by means of in-video calls-to-action!
And, wait for the best part – you can do all this directly from the Autoklose email editor through Vidyard's GoVideo integration.
This means that any tech noob can record high-converting, personal videos themselves, and they only need only a laptop and its webcam.
That's it!
Check out our step-to-step guide to see how to do that.
With this simple procedure, you'll easily generate your sales pipeline, qualify prospects and opportunities, and Klose deals!
Humanize your communication with your audience by putting your face next to your name and turn your sales pitch into a real, genuine, two-way conversation.
Sales Automation
Sales automation is essential for the success of your sales process. It makes your outreach effective and efficient.
The very sales process has undergone a big change over a period of a couple of decades.
In the early days, sales reps had to engage in a lot of door-knocking if they wanted to promote their products and actually sell. Then came individual prospecting and cold calling. Both these strategies are still used these days, but the inbound approach has become indispensable in our business.
The crowning touch of this evolution belongs to automation, which took the best elements of every strategy and transformed sales. It also eliminated bad thing such as that annoying pushy attitude and allowed sales reps to connect with their prospects on a personal level without having to push their agenda and blatantly brag about all the amazing features and benefits of their products.
With video, automation goes even further when it comes to establishing loyalty and trust with your audience and supercharges your personalization efforts.
Different surveys have shown that salespeople spend 66% of their day not actually selling.
Instead of that, they waste time on other tasks, which shouldn't be part of their work routine.
In other words, they research their leads, writing emails, scheduling meetings and attending them, or reading industry updates.
It's crucial to mention that some of these tasks can be successfully automated – writing emails, data entry, scheduling meetings, and prospecting can be put on autopilot, which is exactly what Autoklose can help you with.
By automating all these tedious, repetitive tasks, you'll free up enough time to sell and make money.
Lead generation is one of the biggest obstacles salespeople encounter. As a matter of fact, it regularly takes somewhere between 5 and 13 touches to generate a lead.
But!
Shawn Finder, our CEO, conducted an experiment. He added a video to one of his campaigns and the results showed that:
The open rate of the campaign with no video was 31%, while the CTR was 2.3%;
The open rate of the campaign with a video was 47%, while the CTR was 5.4%.
These results speak for themselves, and the conclusion is that by including personal video in your automated sales outreach, you can skyrocket your metrics.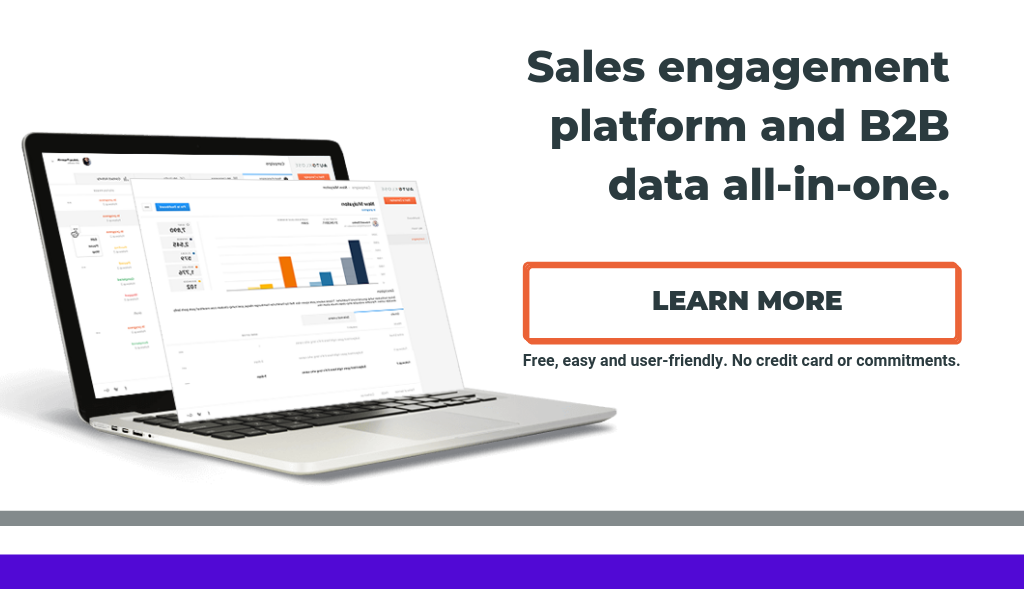 Tips & Tricks to Start Using Video
Many people don't feel comfortable when they're behind the camera.
But, this is something that can be practiced.
There are three things that you can do to overcome this fear of video:
Prepare yourself thoroughly but not in the sense that everything you say has to be scripted. Make notes which will point you to the direction that you want to go, but make sure that you don't sound as if you're reading. It's a good idea to practice your speech a couple of times, but don't overdo it.
Pay attention to the lighting and sound of your recording. Experts suggest that sitting next to a window or other source of light and mute background noises with the help of headset. It's important to remember that using fillers such as "um" and "ah" is something that most people do so don't worry about that.
Use the word "video" in your subject line as there's evidence that it improves open rates. Also, don't elaborate and retell the contents of your video in your email. Simply include thumbnails and encourage your recipients to click by using persuasive and catchy CTAs.
Bonus tip:
Watch this webinar by Shawn finder, CEO of Autoklose, and Shikha Bindra, Business Development Manager at Vidyard, and learn more about how the synergy of sales automation and personal video can bring you more conversions and profit.
To end things on a high note, make sure that you're enthusiastic, convincing, and above all, sincere in your video, because your audience can smell insincerity and fakeness.